Poor weather led to multiple cancellations and delays across the English Premier League in Matchday 26.
NBC Sports Soccer recaps some of the news around England:
Bad weather playing havoc across England on a wet & windy Wednesday. Man City-Sunderland is OFF. Stoke-Swansea delayed by 15mins #BPLonNBC

— NBC Sports Soccer (@NBCSportsSoccer) February 12, 2014
Everton's match against Crystal Palace was also postponed:
BREAKING NEWS: Tonight's game has been called off due building damage which has led to safety concerns. #efccpfc

— Everton (@Everton) February 12, 2014
Everton's official website released a statement:
Everton officials will speak to the Premier League on Thursday morning to open discussions on when the rearranged game with Crystal Palace can take place.

The game was postponed on Wednesday evening due to damage sustained to buildings surrounding the stadium and safety concerns for spectators visiting Goodison Park.

Supporters should note that MATCH TICKETS, SEASON TICKETS and HOSPITALITY TICKETS for tonight's fixture (Wednesday 12 February, 2014) will be valid for the rearranged game.

The Club will communicate in due course the new date of the fixture and any additional ticket information.
The damage was likely caused by heavy winds, which has been a problem throughout the area. The Manchester Evening News registered an alert for this problem:
Amber alert issued for 'potentially damaging' gale-force winds - and snow still forecast http://t.co/4NNUlXZvBQ pic.twitter.com/CmlQ70Gs5e

— Manchester News MEN (@MENnewsdesk) February 11, 2014
The match between Manchester City and Sunderland was the first to be postponed due to the weather, as reported by the Daily Mail:
BREAKING: Manchester City's match with Sunderland has been called off #mcfc #safc

— MailOnline Sport (@MailSport) February 12, 2014
GMP City Centre also added that conditions were unsafe:
GAME OFF - Manchester City's V Sunderland has been called off because conditions are deemed 'unsafe'. #MCFC

— GMP City Centre (@GMPCityCentre) February 12, 2014
Manchester City defender Vincent Kompany described the situation on his account:
Game's called off! Make sure you get yourselves home and be safe, weather is terrible! #mcfc

— Vincent Kompany (@VincentKompany) February 12, 2014
The Daily Mail joked that Jesus Navas would be blown away in these conditions:
It really is windy at the Etihad...a programme booth's been blown over. What would it have done to tiny Jesus Navas? pic.twitter.com/ObQatb33hi

— MailOnline Sport (@MailSport) February 12, 2014
Edin Dzeko provided a look at the pitch with debris blowing around:
Man City released a statement on its official Twitter account:
Manchester City can confirm that this evening's fixture versus Sunderland has been postponed due to exceptional and escalating weather 1/3

— Manchester City FC (@MCFC) February 12, 2014
2/3 conditions. The safety of those in around and travelling to the stadium complex cannot be guaranteed. This decision has been made by

— Manchester City FC (@MCFC) February 12, 2014
3/3 the Safety Officer and Greater Manchester Police. Both managers and the match officials understand and support this decision

— Manchester City FC (@MCFC) February 12, 2014
City currently sit in third place in the league table after consecutive disappointing results. The club lost for the first time in league play at Etihad Stadium when Chelsea won 1-0 on Feb. 3. Norwich City then held the squad to a scoreless draw.
However, Chelsea—which entered Matchday 26 on top of the table—only managed a draw on Tuesday against West Bromwich Albion. This left the door open for Manchester City to get back to the top.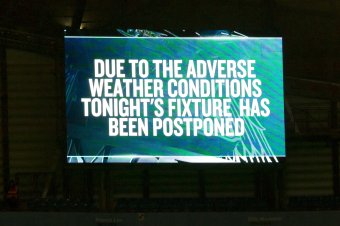 Jon Super/Associated Press
Meanwhile, Sunderland will end the day in the relegation zone with 24 points in 25 matches.
Still, they have earned three wins and a draw in their previous five EPL matches. It is never easy earning points at Etihad Stadium, but this recent momentum might have given the club a chance.
In the other postponed match, Everton were looking to move back into position for a top-four spot after falling to sixth place heading into the week. Considering Crystal Palace only has a single road win all year, this seemed like a good opportunity to get a victory.
Unfortunately, all four sides will now have to wait for another day to compete when the weather improves around the country.
Follow Rob Goldberg on Twitter for the latest breaking news and analysis.