It is January. Football fans know this not because they have consulted a calendar but because it is the time of year when Arsene Wenger's complaining grows louder and more frequent.
Last year, the Arsenal boss stated his dislike of the January transfer window, based on Newcastle's dealings in the market.
When the Toon Army (successfully) attempted to stave off relegation with the purchase of six new signings, Mr Wenger said this was unfair, as those facing Newcastle in the second half of the season would not be facing the same team as in the first half.
His solution to this injustice was to close the window completely or limit it to just two players.
In an age of spiralling transfer fees with more and more riding on every game, this sounds like a reasonable isolated suggestion.
However, with intrinsic precision, Wenger has voiced similar complaints in this window. Now Le Professeur is angry with Chelsea for selling underused midfielder Juan Mata to rivals Manchester United for a club-record fee of £37 million.
Wenger's logic is that some teams—Arsenal included!—still have to play the Red Devils twice and they will be at a disadvantage. Chelsea, meanwhile, have already played United twice and have effectively given them a tool to help beat their other title rivals.
Jon Super/Associated Press
Added to this Mata complaint is his very familiar sounding diatribe against the January window, which he believes should be scrapped.
For the record, this writer agrees that the January window should be abolished or radically changed. I even wrote a piece in support of Wenger prior to his Mata rant.
But the window isn't broken because big clubs sell each other players and create inequity for the second half of the season—this is a unique grievance of Mr Wenger. And it is growing very tiresome.
In a bizarre case of traditional role reversal, it is Chelsea manager Jose Mourinho who is the voice of reason to Wenger's self-pitying bleating. The Portuguese manager defended the Mata sale at a press conference on Friday (via the Telegraph):
Wenger complaining is normal because he always does.

But I think it's also a bit of his nature. We have to accept the way he is.

I think it's not fair I play against Southampton, and I play twice against Lovren. And Lovren is injured and won't play against Arsenal. Is that fair? That's football! I call Pochettino and say: 'You don't play against Arsenal, you wait for Lovren to be ready! I want you to play Lovren and Fonte because against me you play Fonte and Lovren.'

If a similar situation happens and instead of Man United, it's Arsenal or City, Tottenham or Liverpool, we would do the same if the offer was the same and Juan desired to go. A team can only play with 11 players, not 12. City, Arsenal and United are full of top players, so if Juan plays for them it means somebody else is not playing. So why not? Every club does this in other countries, so why not here?
Despite charging fans grotesque amounts for tickets, Arsenal generally invest sparsely and wisely, with very few reckless last-minute purchases. This is a virtuous and relatively approach at the top of the table, but this virtue shouldn't give Wenger the right to bemoan all his opponents buying world-class talent.
Arsenal are free to buy whomever they wish, but they are limited by a self-imposed wage structure, the financial burden of loan repayments for the Emirates stadium and Wenger's own prudent transfer philosophy.
To say that the Mata deal is unfair makes Wenger sound bitter, with the implication that all other clubs should abide by Arsenal's upstanding financial principles. In a results-driven industry with increasingly impatient owners, this cannot be.
Mourinho is also right to pick holes in the "unfair" argument. Is it also unfair that a star player is injured when his club faces one team and not another? Was it unfair that some clubs faced Liverpool when Luis Suarez was suspended last year and some didn't?
Teams change year-on-year, too—is that unfair to the clubs who aren't spending? Sometimes the weather is worse in one particular game than another, that sound unfair, too? Where does one draw the unfairness line?
If the Gunners boss was granted his wish and none of his competitors strengthened their sides in January, one gets the impression he would find something else to complain about instead.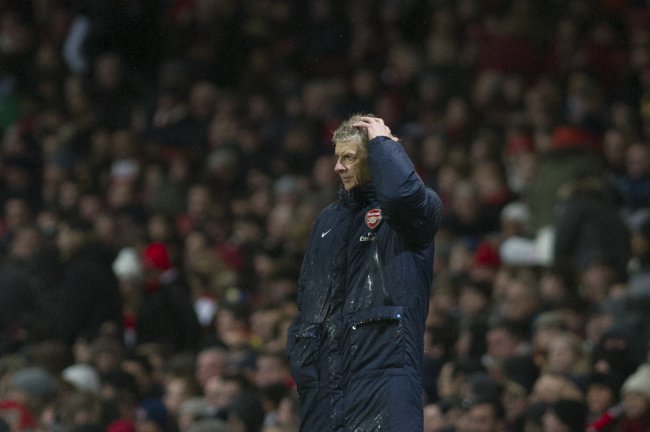 Bogdan Maran/Associated Press
Arsene Wenger is a very smart man. There is a good reason why he has kept his job 10 years longer than anyone else in English football. But his complaints are a discredit to his character, a huge chip on his shoulder and a crutch upon which he seems to justify a lack of silverware.
The man at the top of the league needs to stop whining and keep winning.