Updates From Monday, Jan. 27
AC Milan have officially announced the signing of Michael Essien from Chelsea:
Welcome to #ACMilan @MichaelEssien! Here's a picture of Michael at Casa Milan with Adriano Galliani. pic.twitter.com/TDOx1xt4DW

— AC Milan (@acmilan) January 27, 2014
Essien had previously confirmed his completed medical, despite earlier reports that he had failed the examination:
Haters will broadcast your failure but whisper your success.Medicals done,looking forward to start my new life with AC MIlan.#jahbless🙏

— michael essien (@MichaelEssien) January 26, 2014
--Original Text--
Chelsea continue to make moves in the midfield, this time sending Michael Essien to AC Milan.
Chelsea reported the deal:
The 31-year-old veteran has been a part of Chelsea since coming over from Lyon in 2005. Over the next six seasons, he saw a great deal of individual and club success as detailed by Squawka Football:
Michael Essien on way from Chelsea to AC Milan on 18-month deal.

— Eurosport Transfers (@eurosportmoves) January 24, 2014
However, Essien has fallen out of favour with his club and was unable to get onto the pitch. After spending the 2012-13 season with Real Madrid, he returned to Chelsea this year but only made two Premier League starts all season.
Manager Jose Mourinho explained that he had no intention to change this any time soon, via John Drayton of the Daily Mail:
I offer nobody - not Michael, not nobody (guaranteed playing time).

I understand that players think about national team, the World Cup and playing regularly, but my players have to think of the team before the players. Michael knows that perfectly.
As a result, he will be part of big changes at Stamford Bridge during the winter transfer window. The club has already sent Juan Mata to Manchester United and brought in Mohamed Salah from FC Basel, according to ESPN FC.
Meanwhile, AC Milan now get an experienced player who can help out immediately on the defensive end, an area that needs a dramatic improvement. The club currently sits in 11th place in the Serie A table, despite ranking eighth in the league in goals scored.
The Italians have struggled to prevent opposing opportunities, and it leads to a high number of goals against. Essien has proven to be a quality tackler in the defensive midfield and someone who is almost always in the right position to mark a man.
Michael Essien made 250 appearances for Chelsea, scoring 25 goals. He won the Premier League twice, FA Cup 4 times & UCL once for the club.

— Squawka Football (@Squawka) January 24, 2014
Additionally, the veteran has been utilized as a defender at times in the past and could provide depth if needed. This versatility is certain to help out the historic club as it looks to get back near the top of the league standings.
This is a great opportunity for everyone involved as Essien gets an opportunity to play for the first team, AC Milan get a quality player and Chelsea removes dead weight on the roster that was not getting onto the pitch anyway.
With Essien also trying to prepare for the World Cup as part of the Ghana national team, this is a win for all parties.
Follow Rob Goldberg on Twitter for the latest breaking news and analysis.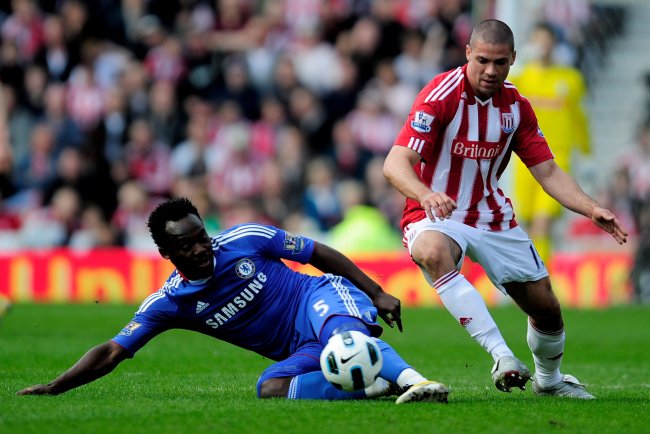 Jamie McDonald/Getty Images