West Brom midfielder Youssouf Mulumbu recently distanced himself from comments made in an interview with French media, in which he claimed to be the subject of transfer interest from Arsenal.
Although the player moved quickly to quell speculation, Arsene Wenger would nevertheless be wise to acquire the player's services as much-needed backup to the Gunners' free-flowing midfield.
The combative midfielder, who was suspended for the Baggies' clash with Manchester City on Wednesday, recently fought back against quotes attributed to him by the French press, in which he was alleged to have said his current teammates are "not professional" or "mature" enough, per Brendan McCloughlin of the Daily Star:
"I would never refer to my team-mates that way," said the 26-year-old. "I admitted there has been interest in me from other clubs, but I didn't speak about Arsenal."
The former Paris Saint-Germain player, who represented France's Under-20 and Under-21 sides before opting to play for DR Congo at senior level, is an important enforcer in the centre of Steve Clarke's team.
He had been an ever-present in the Midlands side this campaign, starting all 13 games prior to the visit of City.
Mulumbu's physical presence alongside Claudio Yacob provides West Brom with balance and control in the centre. His willingness to cover ground, tackle doggedly and work endlessly for the team has seen him average an impressive 2.3 tackles and 3.7 interceptions per game this campaign, reported by WhoScored.com.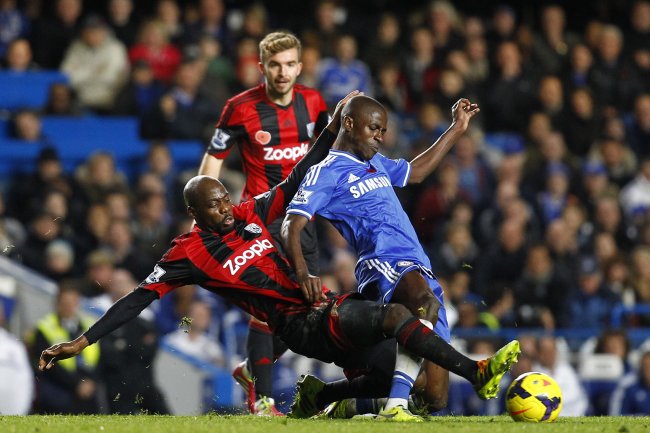 Charlie Crowhurst/Getty Images
Although Arsenal's midfield is stacked with creative talent, the output of players such as Aaron Ramsey, Santi Cazorla and Mesut Ozil hinges on Mikel Arteta and Mathieu Flamini patrolling the halfway line and the space in front of the defence.
Like West Brom, the Gunners deploy a solid base that is used to support the side's attacking threat, providing them with a safety net when play breaks down.
As highlighted during the North London club's battling 2-0 win over Crystal Palace on Oct. 26, Arsenal cannot afford to traverse numerous fixtures without Arteta or Flamini in the side.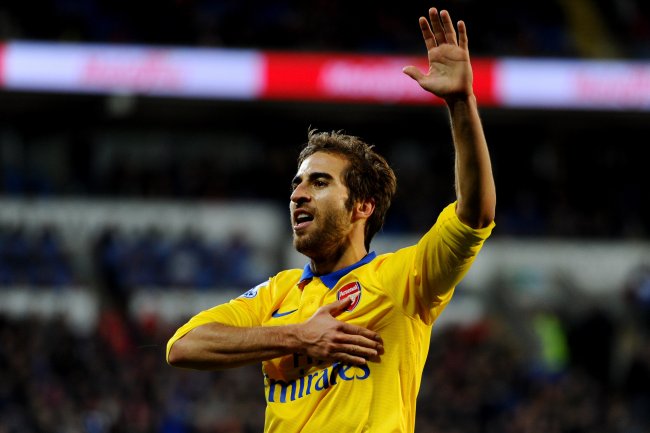 Mike Hewitt/Getty Images
The latter was forced off with injury after eight minutes at Selhurst Park, per Alistair Magowan of BBC Sport, leaving a gaping chasm in the centre of the team's 4-2-3-1 formation.
This allowed Palace to hound the visitors out of possession, pressure them into making mistakes and gave the home side's midfield plenty of space to work the ball forward, although the newly promoted team's lack of tempo ensured they ultimately failed to deny Arsenal the win.
Against stronger opponents, this deficiency of aggressive midfield cover could come back to haunt the Premier League leaders.
While it's optimistic to say Mulumbu is a long-term successor to Flamini—who is three years his senior at the age of 29—the Baggies behemoth is more than equipped to galvanise Wenger's ranks.
Aside from Flamini, who has always thrown his weight around the pitch, Arsenal do not possess a natural defensive midfielder in the centre. Arteta's transition is the byproduct of him losing a yard of pace, perfectly acceptable when you consider the 31-year-old has adapted brilliantly.
Jack Wilshere, although able to tackle, lacks the dominant physical style to impose himself on weighty opponents.
Although Abou Diaby is working his way toward fitness after yet another long-term injury, per John Cross of the Mirror, his consistent fitness problems render him unreliable, especially when it is considered he has only ever played more than 30 games in one of seven full seasons with Arsenal, recorded by ESPN FC.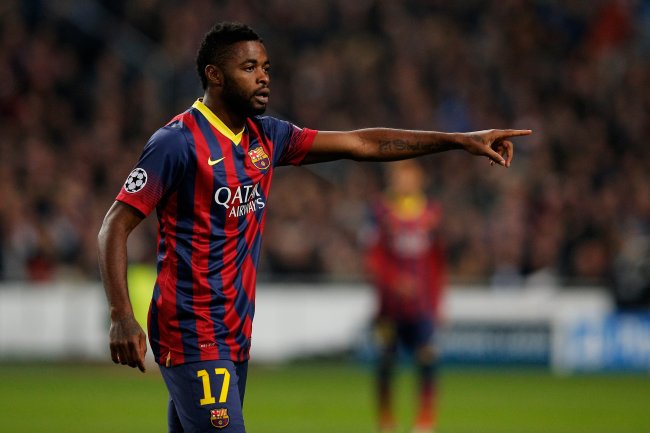 Dean Mouhtaropoulos/Getty Images
Alex Song's departure to Barcelona in 2012 also left Arsenal short of crunching ability in the middle, something that was only addressed with the return of Flamini this summer.
While it's likely any new midfielder would struggle to get into the side on current form, Wenger must have a garrison ready to replace either of Arsenal's two defensive midfielders, should they succumb to injury or fatigue.
Mulumbu lacks the creativity of Song, but his concentration and ability to fulfil his duties would offer Wenger's squad a safety net it doesn't currently possess. His recent links to the club shouldn't be batted away without thought: this is an individual who is talented and determined enough to operate at a higher level than he currently is.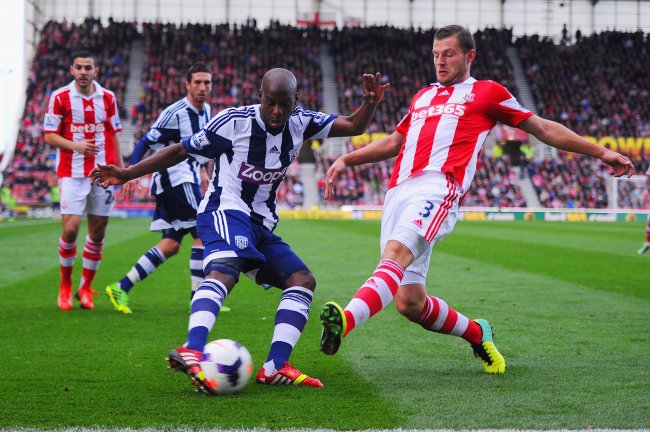 Michael Regan/Getty Images
Should Arsenal strengthen their squad with the signing of Mulumbu?
January's upcoming transfer window will see the Gunners linked to a plethora of world-renowned names. For £42.5 million signings such as Ozil to happily go about their work, players like Mulumbu also need to be identified, a notion strengthened by Flamini's importance to the team.
Should anything happen to the Frenchman, Mulumbu's power-based game is more than able to fill the void. Arsenal are expected to compete on all fronts this season, but any major injury threatens to overshadow a squad that needs bulking up.
With the addition of Mulumbu, Wenger would achieve just that.