Loudest Stadiums in World Football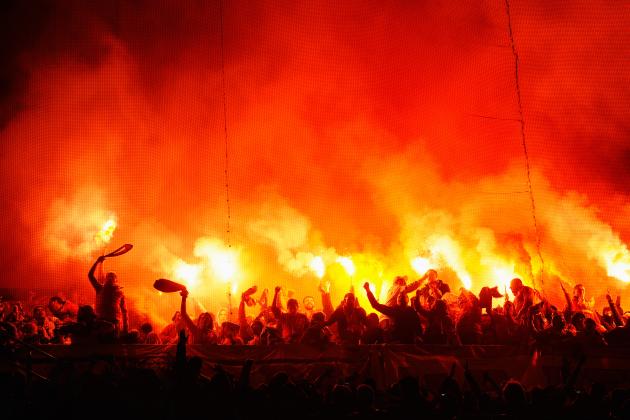 Manuel Queimadelos Alonso/Getty Images

There is nothing like watching a game in a stadium. The vibe of thousands of fans chanting and jumping is indescribable.
The passion for football goes all over the world. From the Premier League to the Superleague Greece, the ambiance is something that any one who calls himself a football fan must experience at least once.
Join me in this list to find out which are the loudest stadiums of this fantastic sport.
Begin Slideshow

»
These five stadiums are certainly some of the toughest and loudest in the world. They did not make it to the final 10, but they deserve a shout-out.
15. Estadio Centenario; Peñarol, Uruguay
14. San Siro; AC Milan & Internazionale, Italy
13. Stadion Miejski; Wisla Krakow, Poland
12. Ibrox; Rangers, Scotland
11. Estadio Azteca; Mexico national team & Club America, Mexico
Opened: 1884
Capacity: 45,276
Record of attendance: 61,905 in 1952 (it wasn't an all-seater stadium).
Liverpool fans surely know how to support their team and put some serious pressure to their rivals, especially from the Kop.
Although plans of an expansion have been in place since 2002, Anfield is an Asset of Community Value, so there must be an approval from City Council to make it happen.
You'll Never Walk Alone is one of the most popular anthems in world football (3:05 in the video above).
Opened: 1937
Capacity: 51,117
Record of attendance: 65,427 in 1968.
De Kuip is the home of 14-time Eredivisie champion Feyenoord. The stadium is located in Rotterdam, Netherlands, and has had two renovations.
Its original capacity was 64,000. However, in 1949, 5,000 seats were added, and 45 years later, it was reduced to 51,117.
Some traditional songs are Hand in Hand, which happens to be the club's anthem; Feyenoord 'til I Die; and Just Can't Get Enough.
Opened: 1940
Capacity: 49,000
Record of attendance: 57,395 in 1940.
Its official name is Estadio Alberto J. Armando and was renovated in 1995. It's the home of Argentinean club Boca Juniors, one of the most successful and best supported in the country.
La 12 is the ultra (barra brava) of Boca Juniors, and it's characterized for using drums and fireworks while they chant Boca Es Mi Vida (Boca Is My Life) and Dale, Dale Boca (Go, Go Boca).
Opened: 1892
Capacity: 60,355
Record of attendance: 83,500 in 1938.
Located in Parkhead, in the East End of Glasgow, it underwent a renovation from 1994 to 1998, and it consisted of three phases with a cost of £40 million, according to BBC.
Come on You Bhoys in Green, The Celtic Song and The Fields of Athenry are some of the most chanted songs.
Opened: 1959
Capacity: 28,703
Record of attendance: 45,252 in 1976.
The PAOK Stadium was renovated for the 2004 Summer Olympics. Among the features, it has a new roof and a four-story building with VIP suites that have a bar overlooking the pitch, a media center with 120 seats and offices.
Two of the classic chants of this facility are Toumba Will Boil and Partizan.
Opened: 1974
Capacity: 80,645
Record of attendance: 83,000 in 2004.
The Signal Iduna Park is a world-class stadium. It hosted four games of the 1974 World Cup and six of the 2006 World Cup. In both events, it reached its maximum capacity for international matches: 54,000 in 1974 and 65,000 in 2006.
It has been renovated four times, the most significant being between 2002 and 2003, two years after Germany won the World Cup bid.
Heja BVB, Allez Borussia Dortmund Allez and Ole, Here Comes the BVB are a must in the stadium.
Opened: 1963
Capacity: 55,538
Record of attendance: 110,000 in 1975.
Otherwise known as Marakana, it is a loud and intimidating place. It is the home of Red Star Belgrade, the most successful club in Serbia.
It was renovated in 2008 (new grass). But, its capacity has changed through the years. It held 55,000 supporters from 1963 to 1964. From the latter to 1993, it hosted 110,000 fans. Finally, in 1993 it was adjusted to receive 55,538.
The fans (Delije) usually sing Ale, Ale, Aleo; In Winter, Rain, Sun, Snow or Wind; and Pobeda.
Opened: 1908
Capacity: 50,509
Record of attendance: 50,025 in 2003.
It is the home of Fenerbahce SK that has won 18 Super Lig titles and six Turkish Cups.
When it was opened, the stadium had a capacity of 25,000, but it underwent several renovations: 1999, 2006 and 2013. The purpose of the current one is to welcome 62,000 supporters.
Fenerbahce Sen Cok Yasa (Fenerbahce God bless you) and Seninle Olmak Var Ya are traditional chants.
Opened: 2002
Capacity: 76,092
Record of attendance: 79,414 in 2002.
Besiktas are playing their home matches in this facility because the enigmatic BJK Inonu Stadium was closed in May 2013 due to a new stadium project that will have a capacity of 41,903, which means around 9,700 more seats.
The Besiktas fans have managed to make this venue one of the loudest since their arrival this season.
Classic chants include the Besiktas Anthem, Hadi Hisset (Come On!), Gucune Guc Katmaya Geldik (We Have the Strength)
Opened: 2011
Capacity: 52,652
Record of attendance: 52,044 in 2013.
Two words: Record Guiness.
The Turk Telecom Arena held the record for the loudest crowd roar in a sport stadium as the Galatasaray fans reach 131 decibels (check this comparison chart).
They lost it on October 13, 2013 to the Kansas City Chiefs whose fans delivered a 137.5 decibels performance.
The fans manage to turn the Turk Telecom Arena into hell. Their Marsi and Cim Bom Burya chants can intimidate any team.