Barcelona vs. Real Sociedad: Score, Grades and Post-Match Reaction
September 24, 2013

David Ramos/Getty Images
Barcelona's 100 percent start to the season continued with an emphatic first-half performance and a final 4-1 scoreline over Real Sociedad, who had only conceded three goals in their five previous La Liga games.
It took just four minutes for Sociedad to fall behind, after some inept defending and hesitation from goalkeeper Claudio Bravo gave an easy finish for Neymar from two yards. Even before that, though, Barca may have been behind when Haris Seferovic struck the crossbar after just 90 seconds.
Less than three minutes after Neymar's opener, though, it was pretty much game over as the Brazilian turned provider for Leo Messi's diving header for 2-0.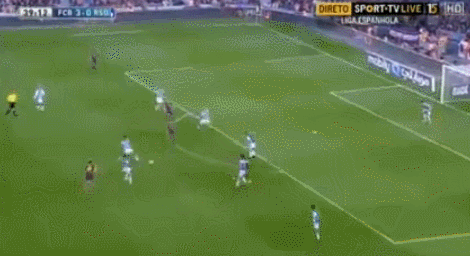 Barcelona's domination was total, and the speed and accuracy of their passing in and around the penalty area was nothing short of breathtaking at times, with Andres Iniesta and Neymar key to much of their good work.
Sergio Busquets fired in a magnificent third goal for the table-toppers, who had also seen two goals ruled out for offside in the first half of the game.
The second half followed much the same pattern, but without Barcelona adding further early goals to their tally. It wasn't for lack of trying; Messi missed two presentable chances inside five minutes, and Sociedad's defence worked hard to deny Neymar and Iniesta.
Instead it was Sociedad who netted the next goal, with Antoine Griezmann doing well to challenge for a high ball and Seferovic placing a cross to the back post for Alberto de la Bella to tap home. Griezmann twice shot from range just afterward as the away side sought to lower the arrears, but Barcelona opened up their three-goal lead once more with 15 minutes left to play.
Messi beat three challenges inside the box and crossed low over the six-yard box, where the unfamiliar figure of Marc Bartra was on hand to tap home for 4-1.
The game petered out with a few more breakaway chances for the home team, but the comfortable win allowed them to take Messi and Neymar off early for well-earned rests.
FC Barcelona win first 6 matches of a Liga season for the 6th time in club history, previously set in 29/30, 90/91, 97/98, 09/10 and 12/13.

— Infostrada Sports (@InfostradaLive) September 24, 2013
Key Player Grades
Neymar: A

David Ramos/Getty Images
An excellent display from the Brazilian, especially in the first half where his movement and ability to beat his man in one-on-one situations was at the fore. A bundled-in goal and an exquisite assist inside 10 minutes made for a good start, and he kept up the attack for an hour or more.
Leo Messi: B+

David Ramos/Getty Images
The only thing missing from Messi's all-round game was his finishing, which is so usually dead-on. He scored one with a diving header but saw several close-range efforts stopped, hit the bar from two yards out and blazed over or wide with another chance or two after the break. Still, he was largely unstoppable and involved in several of the buildups for goals.
Antoine Griezmann: C+
One of the few Sociedad players who provided any kind of attacking threat, Griezmann was involved in his team's goal and tested Victor Valdes more than any other player on the side. Unfortunately he was also one of the midfielders failing to deny Barca space and time on the ball in the first half, and he gave the ball away cheaply for Busquets' goal.
What's Next?
This midweek fixture means Sociedad will have a quick chance to get this defeat out of their system, as they face bottom club Sevilla at the weekend. Barcelona are away to Almeria, who have not yet won this season.