MLS Week 30: Complete Schedule and 5 Things to Watch for This Weekend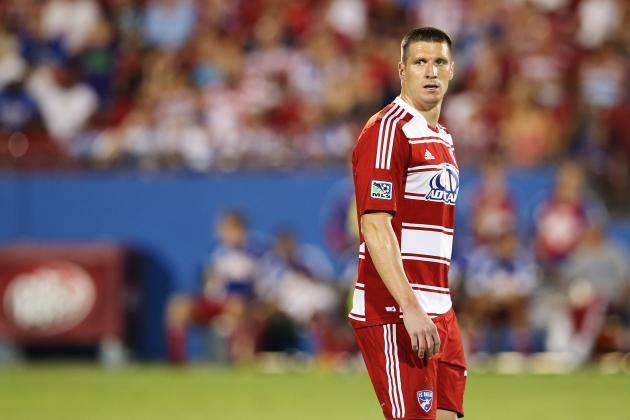 Kevin Jairaj-USA TODAY Sports
Kenny Cooper will return to Red Bull Arena in Week 30, but will he be featured in the lineup?
Kenny Cooper's return to Red Bull Arena is the story to watch in MLS Week 30, but an additional four storylines will complete your weekend preview.
Only five of the nine matches scheduled for the coming days will be covered in great detail. Each of the five selected will be dissected from a unique angle to intensify your viewing pleasure.
So, what exactly warrants your attention in Week 30?
Read on to find out.
Note: Unless otherwise mentioned, credit all statistics to the official MLS Press Box Stats and Standings.
Begin Slideshow

»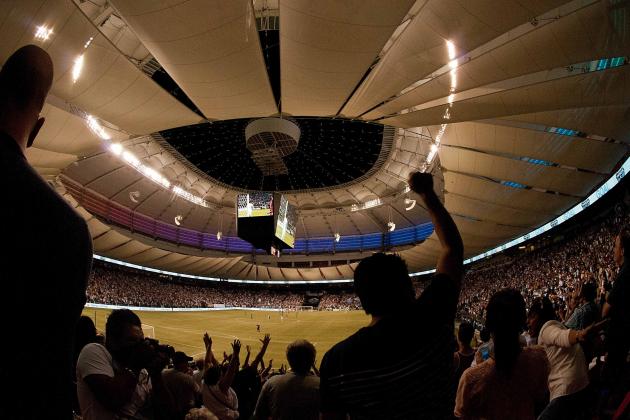 Anne-Marie Sorvin-USA TODAY Spor
Which match will you—the fan—be watching this weekend?
Before we delve into the featured storylines for this weekend's action, here is the complete schedule and guide for Week 30.
The Philadelphia Union are idle.
Friday
Portland Timbers vs. Colorado Rapids, 10 p.m ET, NBC Sports Network
Saturday
Montreal Impact vs. Vancouver Whitecaps, 2 p.m. ET, Univision Deportes
Toronto FC vs. Sporting Kansas City, 4 p.m. ET, MLS Live
New England Revolution vs. D.C. United, 7:30 p.m. ET, MLS Live
Columbus Crew vs. Chicago Fire, 7:30 p.m. ET, MLS Live
Houston Dynamo vs. Chivas USA, 8:30 p.m. ET, MLS Live
Real Salt Lake vs. San Jose Earthquakes, 10:30 p.m. ET, MLS Live
Los Angeles Galaxy vs. Seattle Sounders, 10:30 p.m. ET, NBC Sports Network
Sunday
New York Red Bulls vs. FC Dallas, 5 p.m. ET, UniMas
The trick here is: Will Kenny Cooper even feature in this Sunday's clash against his former club?
While the American striker boasts 17 starts for FC Dallas this season, zero have come in the last seven matches. Even worse, Cooper has served as a second-half substitute in only six of those contests. His total time on the pitch during that stretch is slightly less than a full 90 minutes (82).
But if Cooper does feature in some capacity this weekend, there'll be some demons to overcome.
One spot. One kick. One painful memory.
Cooper's missed penalty in last year's playoffs—one he was forced to retake thanks to the encroachment of Thierry Henry and Tim Cahill—still echoes in the stands of Red Bull Arena. Despite an 18-goal performance, the saved penalty is the lasting image of Cooper's brief stint with New York.
The Red Bulls would be eliminated by D.C. United 27 minutes later.
It was a moment that brought a 6'3" frame to inconsolable tears. It was his final moment as a member of the New York Red Bulls. Cooper...and his 18 goals...would be jettisoned in an offseason trade with Dallas. New York received allocation money in exchange.
One year later, Cooper has the opportunity to create a new lasting image in Harrison, New Jersey.
Assuming, of course, head coach Schellas Hyndman provides him with it.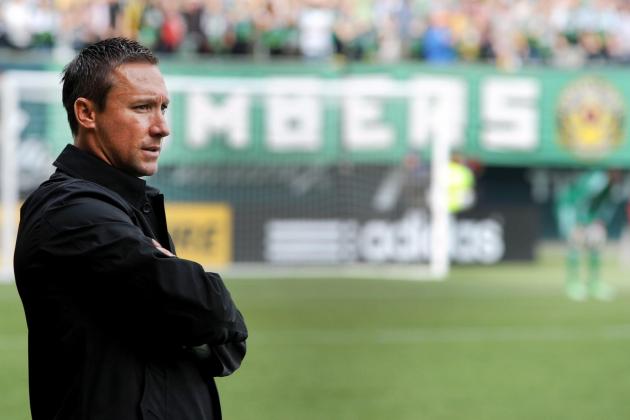 Steve Dykes-USA TODAY Sports
Head coach Caleb Porter will look to capture an all-important three points at home this Friday.
Two clubs. Thirty matches. One loss.
Portland and Colorado are a combined 18-1-11 this season when scoring the first goal. Of the two, the Timbers remain unblemished after striking first. The club carries an 8-0-5 record in that regard. Not to be outdone, the Rapids carry and impressive 10-1-6 mark of their own.
But the tide turns when both clubs are on the opposite end of a fortuitous start.
Portland enters Week 30 with just two victories (2-5-5) when conceding the first goal. Colorado is no better. The Rapids have posted a record of 2-7-2 under the same circumstance.
With a battle scheduled at JELD-WEN Field this Friday, the onus is on both sides to land the first blow.
Only two points separate these Western Conference contenders in the standings. Colorado currently has the upper hand with 45 points. With a victory, the Timbers can leapfrog their opposition and potentially clear themselves from a play-in situation out West.
For both of these clubs, the mission in Week 30 is: Strike early. Strike often.
The numbers say a victory is in your favor if you do.
He's No 14. in the MLS 24 Under 24 for a reason.
At 21 years of age, Oriol Rosell has managed to excel in only his second season with Sporting Kansas City. The Spaniard has started in 27 of Kansas City's 28 matches this year, collecting one goal and two assists in the process.
The numbers aren't staggering. But as the unnamed technical directors and coaches point out, Rosell's game extends way beyond the stat sheet.
Their comments were posted on MLS' official website:
He's a pretty good technical player. Positionally, he's always in the right spots in terms of helping the team build out. ... He doesn't deliver assists, but he keeps possession well and makes good decisions. ... His defensive positioning and anticipation are great and it helps his defense take a breather. … He's well beyond his years. ... He's one of the tops in the league in terms of ball recovery. He does have bite in him.
The statisticians at WhoScored provide the data to corroborate such high praise.
Rosell is currently ranked fifth in the entire league with 4.2 interceptions per match. His average of 54 passes and 84.7 percent accuracy ranks him within the top 20 of MLS.
A trip to Toronto this weekend provides the young Spaniard with another opportunity to build on an already established performance this season.
There's nothing like a club playing the spoiler.
Chivas USA have nothing to reap for the remainder of the 2013 season. The club dwells at the bottom of the Western Conference with 26 points. With five matches remaining and a 17-point deficit to overcome, the Goats have already been mathematically eliminated from postseason play.
But that hasn't stopped Chivas from serving as the stumbling block for playoff hopefuls in recent weeks.
In four of the last five matches, the Goats have faced a playoff-contending club. They have managed to steal points in three of those contests. In Week 26, Chivas captured a 3-2 victory over the Eastern Conference-leading Red Bulls. In Week 27, it was a 1-1 draw against Vancouver that saw the Canadian side drop points at home. The Timbers completed the trifecta with a 1-1 draw in Week 29.
Will the Dynamo fall victim in Week 30?
Houston currently holds the fourth playoff spot in the Eastern Conference by the slimmest of margins. Only one point is keeping the club above the dreaded red line. A stumble at home must be avoided if the Dynamo are to stay afloat in the East.
Chivas has nothing to gain. Houston has everything to lose.
Beware of the spoiler.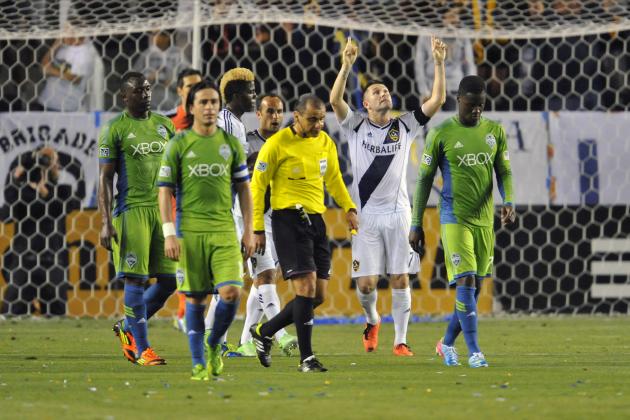 Gary A. Vasquez-USA TODAY Sports
Don't expect another 4-0 drumming in Week 30.
This is more than a rematch of last year's Western Conference finals.
This could potentially be a preview of the 2013 version.
Seattle returns to the StubHub Center in Week 30. The last time the club visited, the stadium didn't even bare that name. The previously dubbed Home Depot Center served as the backdrop for a 4-0 Sounders loss.
Fast forward a few months.
The Galaxy have a new sponsor, but Seattle has a new club. For the first time all season, head coach Sigi Schmid was able to feature his four premier talents simultaneously. Clint Dempsey, Eddie Johnson, Obafemi Martins and Lamar Neagle each shared a ball for 14 minutes in Seattle's 2-0 victory over Real Salt Lake last Friday. The quartet was able to create a few chances—in addition to a few highlight reels—but failed to capitalize in the end.
That narrative cannot be repeated if the Sounders hope to capture a victory in Week 30.
Especially on the road.
Seattle sits atop the Supporters' Shield standings, but is still a pedestrian 5-7-1 away from CenturyLink Field this season. It doesn't help that Los Angeles has done a commendable job of protecting its home soil. The defending champions are 9-2-2 at the StubHub Center this season.
Clearly, the numbers are not in the Sounders' favor. But in order to be the best, you have to beat the best.
That's your task this week, Seattle.
Follow Eduardo on Twitter for more insight on a variety of sports topics. Follow @Mendez_FC