Judging what makes a great transfer is a tricky business. There is something instinctive about knowing when a fine football deal has been achieved. It is that head nod of approval of a job well done by a team's Sporting Director. The opposite is the spitting out of the morning cup of coffee when reading that a €200 million deal for Javier Arizmendi has been signed off by Monaco. Or even more outlandish, a €120 million bid by Real Madrid for Gareth Bale.
A good transfer is a combination of value vs. cost to the particular buying club. €1 million shelled out by a side for a striker whose goals keep the team in the top flight is just as worthy as considerably more zeros invested by a big team for a pricey bench-sitter. For this reason, the list below is not a tally of the best players who have made moves in La Liga, but the best value to their respective new teams.
All transfer fees come from the very brilliant transfermarkt website.
15. Alberto Bueno: Rayo Vallecano—free transfer
The Madrid side are hoping that the forward who has been cast off by so many clubs in the past can achieve his potential in the Kingdom of Vallecas. It is currently looking that way with Bueno bagging a brace in Rayo's first round win over Elche.
14. Cedrick: Real Betis—free transfer
After the midfielder's burst of pace to leave Sergio Ramos stunned in the season opener at the Santiago Bernabeu, the story of Cedrick's buying himself out of his deal with former club, Numancia, for €1.21 pinged around the Twitter-verse. The former Atletico Madrid youth product is going to have to repeat the form displayed in Real Madrid's home a few more times this season to make up for the loss of some key players for Betis, over the summer.
13. Charles: Celta Vigo—€1 million
Celta needed to find a goalscoring replacement for Iago Aspas who left for Liverpool and looked to the second division for inspiration. If the Brazilian can bag even half the number of the 32 goals scored in La Segunda to boost Almeria's promotion campaign last season, then the Galicians will have quite the bargain on their hands.
12. Giovani Dos Santos: Villarreal—€6 million
The Mexican has undoubted talent but seems to be on an eternal hunt to find the right spot to show it off. Villarreal have paid out quite a lot of cash for Dos Santos, who is now running out for his fourth side in La Primera. The former Barcelona and Spurs man has already paid a little bit of that fee back with a goal and an assist in Villarreal's opening day win over Almeria.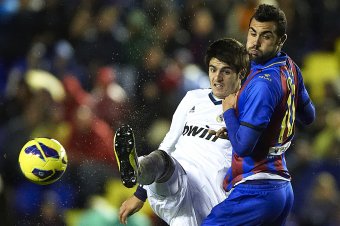 Manuel Queimadelos Alonso/Getty Images
11. Vicente Iborra: Sevilla—€6 million
Quite a few clubs have been monitoring the progress of this impressive defensive midfielder. Iborra was at the heart of a reborn Levante side that went from the second division and near bankruptcy to genuine Champions League challengers. Sevilla are banking that the tall, powerful 25-year-old can work the same magic and lift the Andalusian side out of its current football funk.
10. Martin Demichelis: Atletico Madrid—free transfer
The Argentinean defender played a huge role in boosting Malaga into the Champions League and then helping the side to come within seconds of last season's semifinal stages. The 32-year-old moved to Atletico Madrid over the summer on a free transfer and offers the Rojiblanco defence enormous experience, physical presence and some mighty fine South American soap opera-style hair.
9. Piti: Granada—free transfer
A sneaky but excellent bit of business for Granada with the signing of the 32-year-old striker who scored a remarkable 18 goals for Rayo last season. If Player of the Year awards were handed out to footballers working with more modest means, then Piti would have been on the podium.
8. Benat Etxebarria: Athletic Bilbao—€8 million
If there were not already 87 gifted midfield, playmaker-type things in the Spanish international ranks, then the Basque Benat would play a regular part in Vicente Del Bosque's plans. Athletic's new signing is rejoining a club where the midfielder began his footballing career and will add some showbiz to the side's attacking play, as well as set-piece speciality.
7. Javi Fuego: Valencia—free transfer
This may well bring out a cry of "who?" from those who merely dip into La Liga, but Valencia's move for the former Rayo man was an inspirational steal. Fuego has spent the past couple of top-flight seasons doing the Madrid side's dirty work in front of the back four. The Mestalla club recognised the value of this unglamorous task by bringing him to Spain's east coast to try to fill the gap left by the departing David Albelda.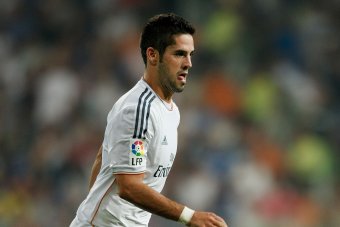 Gonzalo Arroyo Moreno/Getty Images
6. Isco: Real Madrid—€30 million
This particular column was parked firmly in the Dana Scully skeptical camp when Isco's move to Real Madrid was announced. This was a footballer that was neither needed especially by Real Madrid nor did the Malaga-born player have enough experience under his belt to warrant such a fee. However, Isco has slotted into the madcap life at the Santiago Bernabeu extremely well. The playmaker even dug his new team out of a hole last Sunday, when scoring a late winner in what appeared to be a stalemate against Betis.
5. Neymar: Barcelona—€57 million
It is only through watching Breaking Bad and seeing what millions and millions of dollars physically looks like, that it is possible to get an idea of how much blooming money footballers are going for these days. Neymar moved to the Camp Nou for €57 million which sees an extraordinary amount now, but it might be good value in five years time, should the Brazilian reach a level of performance even 70% as good as Leo Messi. Then again, it might be another Zlatan Ibrahimovic fiasco.
The arguments in favour of the stand-out deal of the summer are that Neymar is clearly a gifted footballer and it cannot do the side any harm to have the former Santos striker about. Then again, what Barcelona really needed to pick up was a big, strapping centre-back. Half of the money splashed on Neymar might have bought one.
4. Joan Verdu: Real Betis—free transfer
The loss of Benat Etxebarria to the midfielder's home club of Athletic Bilbao was a huge blow for Betis. The Basque player was at the heart of all things good for Betis in a rise that has taken the side from the second division to Europa League qualification in just three seasons. Bringing in Verdu from Espanyol has partly made up for that loss. The Catalan is the type of footballer that makes an entire team move up a level in a role just behind the main striker. Verdu's arrival could boost Betis into the top six.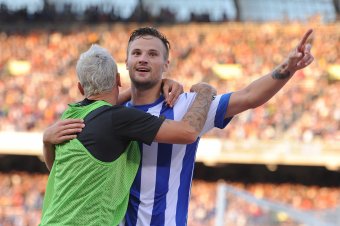 Denis Doyle/Getty Images
3. Haris Seferovic: Real Sociedad—€3 million
Despite bringing in €30 million from the sale of Asier Illarramendi, La Real have been very frugal indeed this summer. The only player the club spent money on was Swiss forward Haris Seferovic and it already looks like a brilliant find from the club's scouting department. The 21-year-old has already scored a wonderful goal in Real Sociedad's opening league victory in La Liga and popped up with another in France, to beat the French side in the first leg of the team's Champions League qualifier against Lyon.
2. David Villa: Barcelona—€2.1 million
This was the transfer that saw jaws thud around Spain in amazement. Atletico Madrid had picked up one of the most prolific strikers in Spanish history for next to nothing. An early summer mood of pessimism in the Rojiblanco world over the departure of Falcao had been blown away in an instant at the thought of Villa plying his trade at the Vicente Calderon.
It is true that there are some doubts over the forward's fitness. However, the sheer cheapness of the deal means that Atletico Madrid have almost nothing to lose on the transfer and nearly everything to win if Villa can shake off a difficult spell at the Camp Nou and have a grand career finale with Atleti.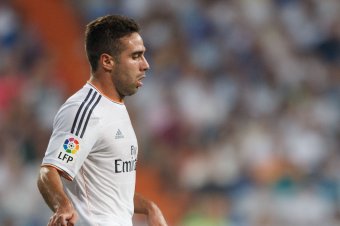 Gonzalo Arroyo Moreno/Getty Images
1. Dani Carvajal: Real Madrid—€6.5 million
The young fullback still has a lot to learn about the very tricky art of both being a defender and attacker in the modern game. Heck, even Dani Alves still does. However, the 21-year old former youth-teamer, who is returning after a season in the Bundesliga, could be up there in the true bargain bin category for signings at the Santiago Bernabeu.
There is no reason why Carvajal could not be bombing up and down Real Madrid's right hand flank for the next decade to come. Considering the Spaniard was bought for close to the same money as the defender was sold, a year ago, this makes Carvajal by far the best deal one can buy any club this summer.