Ranking Every New Premier League Kit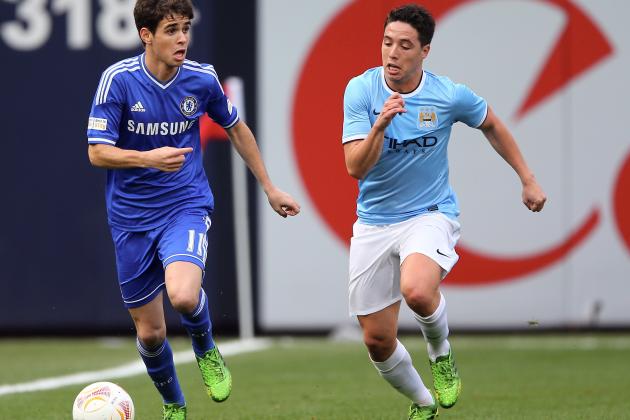 Elsa/Getty Images

As with most new Premier League seasons, the 2013-14 campaign will kick off with many of the 20 sides sporting at least one new jersey, and in some cases, new both home and away kits.
With the kit makers battling it out to produce the best-looking and best-selling kit to justify huge sponsorship deals, every new look is closely scrutinised by the fans before parting with their hard-earned cash, perhaps getting their favourite player's name and number on the back.
But which are the best and the worst of this summer's releases? Here's every new kit for the Premier League season ranked from the bottom to the top.
All images taken from each club's respective official website.
Begin Slideshow

»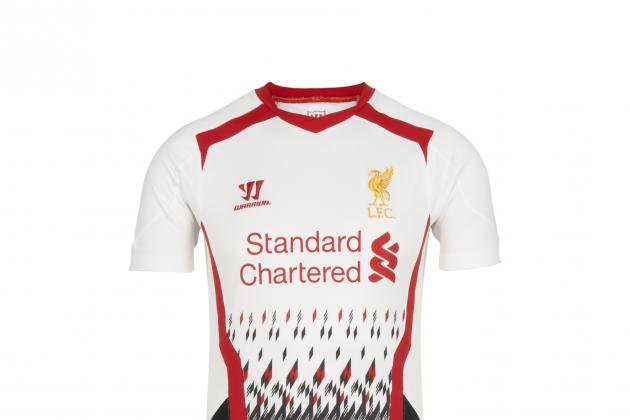 Start from the top of this jersey and by the time your eyes reach the sponsor's logo, everything's going swimmingly well.
By the time you reach the bottom of the jersey though, you've descended through a nightmarish ode to a Christmas jumper.
It's not good.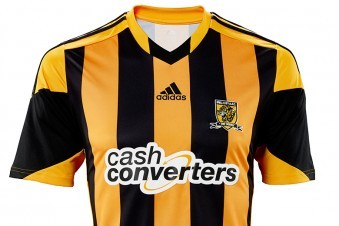 Hull are back in the Premier League, and so too are their garish tiger stripes.
Yellow and black is a tradition, so there's no getting away from them, but the kit is gaudy, and the sponsor plastered across the middle like an iron-on tattoo doesn't help.
At least it's not a redesign of either of these monstrosities.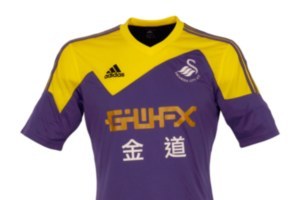 We're not sure what happened to Swansea's kit designer this year, but following on from last season's excellent home kit, there seems to have been a bit of miscommunication over how to top it.
The electric purple and yellow away kit was not the way to go.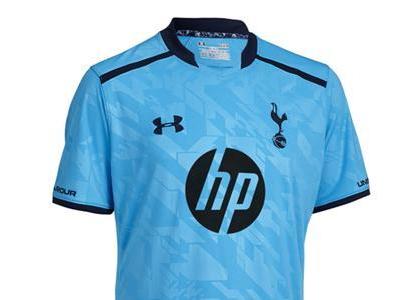 With a modern manager, a handful of some of the top modern-day players in Europe and a forward-thinking board, you'd expect Spurs to come up with a couple of kits to match the entire club's ethos.
Unfortunately, they've gone all mid-80s on us with this light blue effort. At least the collar is nice.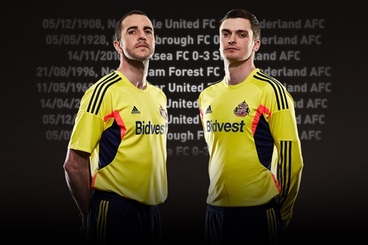 Sunderland have obviously taken inspiration from Watford's almost-successful promotion charge for their away kit this year, a solid yellow effort with random patches of black and red.
Stunning.
The promo pic appears to list some famous away victories in the background, but there are some huge gaps between the years. Wait a minute, it's not listing all Sunderland's away victories, is it...?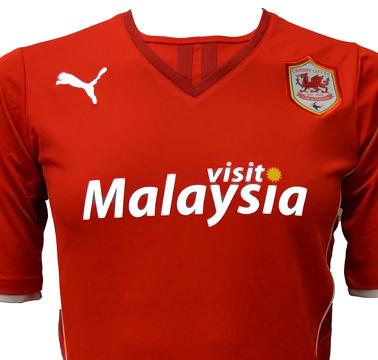 In a stunning display of upsetting the masses, Cardiff City went and changed their logo and kit from blue to red last year. Their debut Premier League home kit is nice enough, but it's still incredibly un-Cardiff.
They're not shown here either, but the shorts are also plain red—but of a different tone of red to the jersey.
Interesting call from the makers.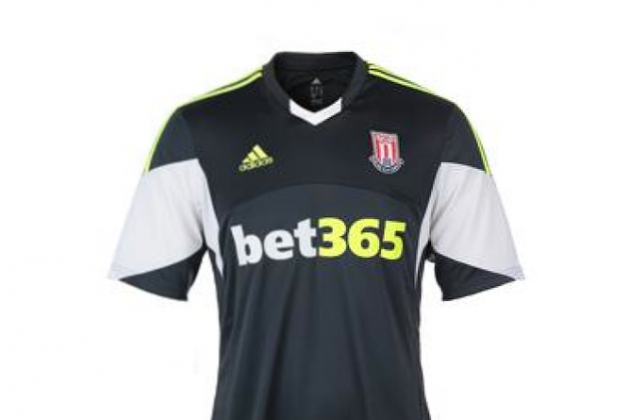 Stoke City are set for a season of change, but hopefully they won't be in their change kit too often.
An entirely nondescript grey-ish effort with sudden luminous splashes, it really looks a little more like a training kit than match day wear.
Far from the worst on the list, but still nothing special.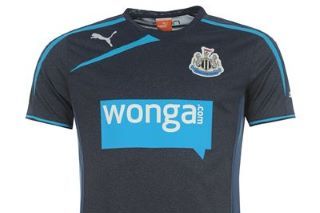 The last of the not-great kits before we move on to the merely "ok" group, Newcastle's much-debated Wonga sponsor is the biggest impact this jersey makes.
The colour scheme is not bad, though why the need for dodgy diagonal stripes?
Newcastle's home kit doesn't clash with too many other sides', so mercifully this away version will probably be kept under lock and key more often than not.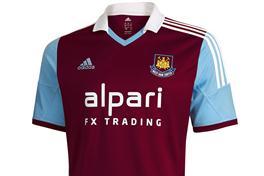 Into the next group of kits we go, which is mainly made up of those that you really can't do too much with.
Heading the list is the claret-and-blue efforts, a standard jersey from West Ham, first of all. A two-tone top with sleeves differing from the rest of the shirt is difficult to make look great, but a neat enough collar and a noninvasive sponsor just about make it work.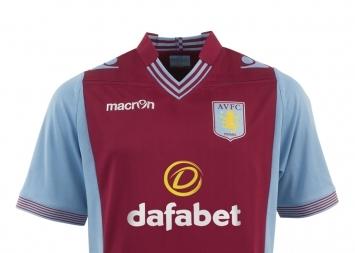 Aston Villa have gone for a bit of the old Ajax look, with obviously different colours. Side and sleeves of one colour and a thick, broad front of claret make the jersey smart and stand out.
The collar could do with a bit of work, mind.
Par for the course for Villa kits.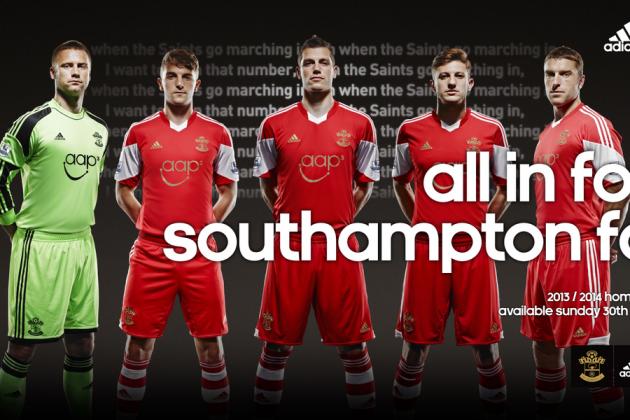 Where have Southampton's stripes gone?
An all-red kit this year for Saints, with mere white sleeve panels to only hint at what was once a thoroughly split-coloured top.
It's not bad looking by any means, but it isn't overly "Southampton-ish".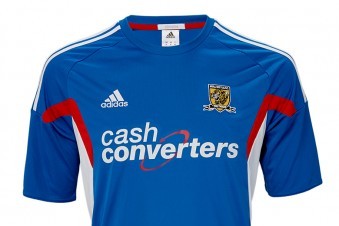 Is this the highest in the table Hull City will get all year?
Actually, hopefully not for them, as this kit ranks 20th.
The away top has a nice France-national-rugby-kit charm to it, bearing no resemblance whatsoever to the tigerish home version.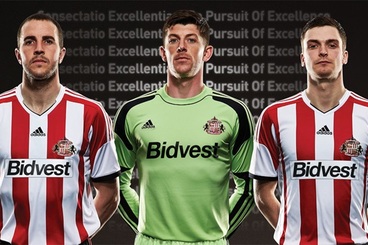 What can you do with stripes?
Other than get rid of them, obviously, a la Southampton.
Sunderland—complete with ridiculous-sounding Bidvest sponsor—have a neat and tidy home kit here, with V-neck collar and general clean lines. Nothing to get upset over. Other than the sponsor name. Bidvest?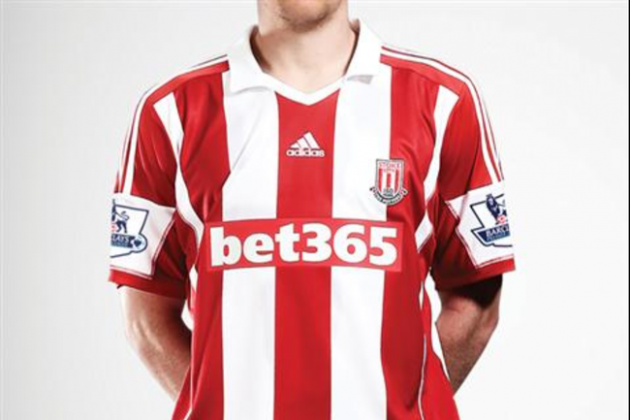 We'll rank Stoke higher on account of a better-integrated sponsor logo and a stylish flappy collar.
All in all though, there's nothing dramatically different between Stoke's and Sunderland's home kits.
Hands up: Who would love to see Juan Mata and others running out onto the pitch with paint dripping off their arms?
Whatever that ad campaign was about, the new away kit for the Stamford Bridge side is clean-looking and effective, showing off the Chelsea badge nicely.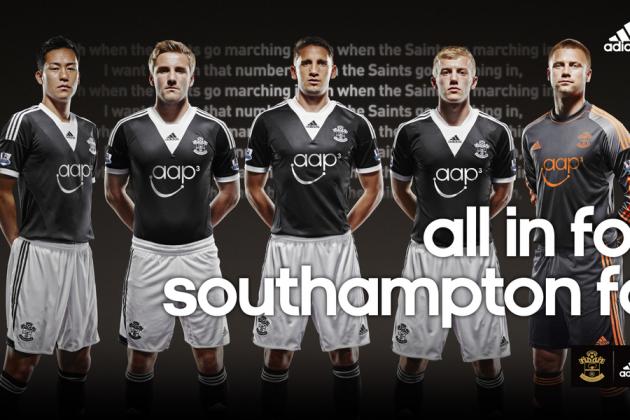 Initially, this away kit for Southampton was ranked far lower. But after a few admiring, reluctant glances, it seems to grow quickly on the viewer.
A bold effort of contrasting colours and a deep V-neck line, it could look extremely daring and chic on the pitch.
Might not look quite so suave on your average Premier League fan, though.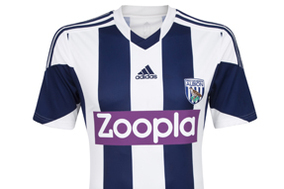 West Brom's stripes are by now a feature of Premier League football, and this season's effort is a clean-cut, effective home jersey with their customary dark blue and white.
It's not vastly different from last year's shirt though, with slightly thicker stripes this time around and inverted colours on the sponsor.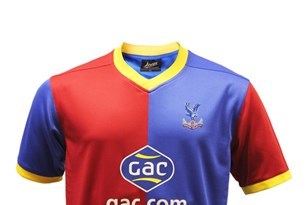 Crystal Palace are back in the top flight, and with them comes their latest variation of Barcelona's kits, though this one looks more like Basel, actually.
Half-and-half blue and red, with a yellow trim on collar and sleeves, it's distinctive and smart but doesn't show Palace's own crest particularly well.
As long as they survive this season, they probably won't care about that.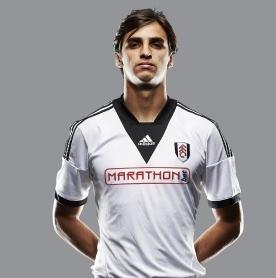 Fulham have gone back to basics with their latest jersey, an almost all-white effort with a huge black V-neck line.
It's a bit love-it-or-hate-it, but the effect seems to work with the contrasting white and black.
A new sponsor and getting rid of last year's pinstripes are both upgrades on the "look" factor.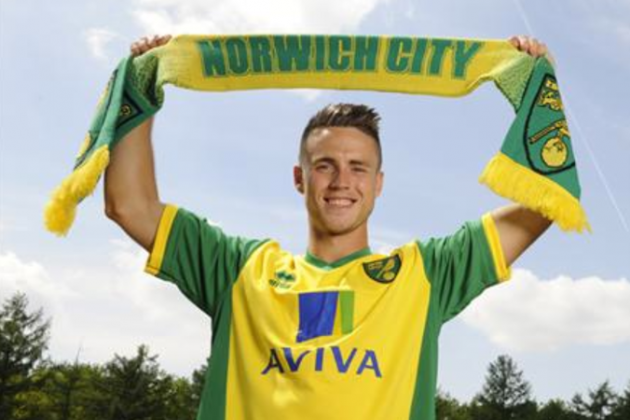 Norwich City are forever an eye-blasting combination of yellow and green, but introducing a little more of the latter this year makes the new kit work.
Maybe the most distinctive kit in the top flight on account of no other sides playing in such bright yellow, Norwich's badge remains a focal point of the jersey.
They'll be hoping Ricky van Wolfswinkel smashes home a fair few goals while wearing it.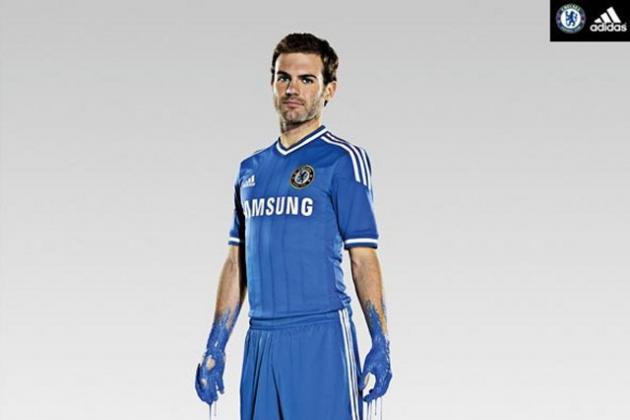 Dripping paint once more, Chelsea's Juan Mata shows off the home jersey, which is smart and elegant, though not quite as tasteful as last season's.
The sleeves' half-stripes remain in place, but the collar is changed for an inlaid stripe and a V-shape.
Nice and neat, but not a stellar effort from Chelsea.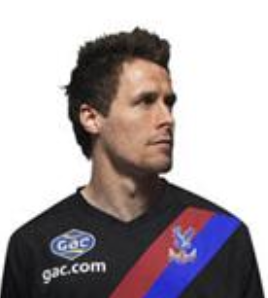 Crystal Palace's away top is a bit of a looker, with their traditional two-tone showing up in a bold diagonal stripe across the jersey front.
The rest is all black; simple and effective.
The moving of the sponsor to the shoulder area is a nice touch, too, to keep the kit clean-looking and vivid.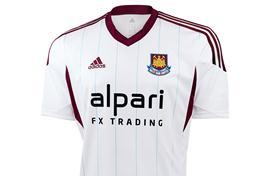 While West Ham's home kit is a tad dull and predictable, their away kit is smart, well-designed and appealing.
The Hammers' claret stands out well against the white top, and again, the plain sponsor logo is a plus-point.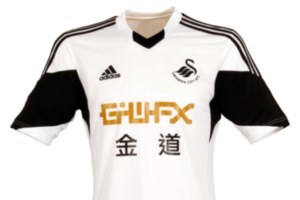 Swansea were always going to find it hard to top their white-and-gold home kit from last season, and a clunky-looking sponsor logo doesn't help matters.
The white shirt and black sleeves work though, giving a good image on first view and, thankfully, containing none of the jagged, mountainous, eye-searing effect of the away version.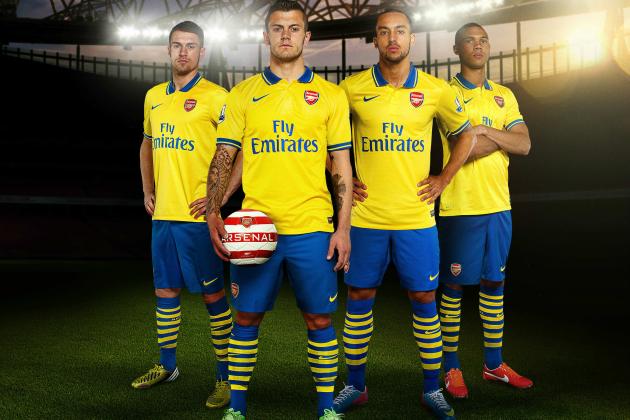 Into the top eight now and arguably the best bunch of the new kits on display for the 2013-14 season.
Arsenal's away kit is certainly bright, but the contrasting yellow and deep blue have always looked great, and the Gunners' badge stands out remarkably well against the backdrop.
The socks are nice or awful, depending on your taste, but since we're just judging tops here—This one's a winner.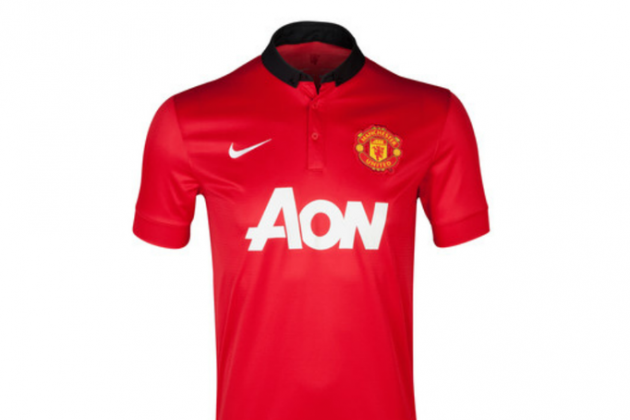 After a year wearing something which looked like anything except a Manchester United football kit, the league champions are back with a much better effort.
Classic red with black collar; it's simple and effective and very standout.
A very Manchester United-ish jersey.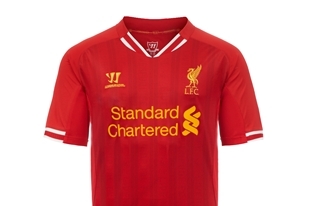 Liverpool's home kits are far more pleasing on the eye than their change strips of late.
This year the club have opted to keep the gold lettering and logos on the red shirt, a very classy combination, while the collar and sleeves have just the merest hint of white trim.
Another good effort which will prove popular, with perhaps the rounded neck a step up from last season.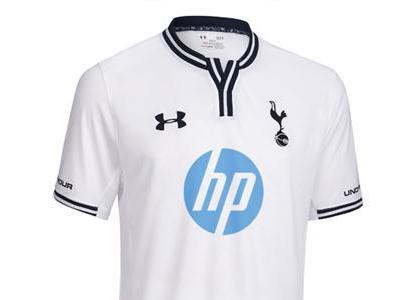 The away kit isn't up to much, but Spurs' home jersey this year is a splendidly clean-cut effort.
Plain white with minimalistic navy trim and logos, and a sponsor which fits in well without dominating the shirt, it's a trendy and impressive home kit, which fans will no doubt enjoy wearing.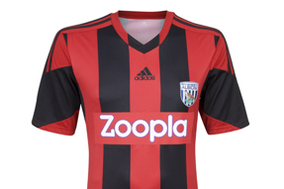 Stripes aren't always made for extremely pleasant viewing, but who can argue against a neat effort mimicking the legendary AC Milan?
West Brom's away kit is a superb-looking jersey, bold black and red stripes and an alternating V-neck line.
The club crest also shows up well on this top.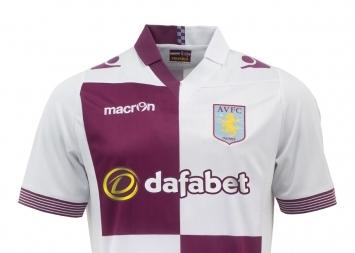 This might be a bit of a controversial choice in at third; quarter panels on a football kit don't always work tremendously well.
However, this white and claret kit from Aston Villa is extremely appealing and very neat to look at.
With the Villa badge on the white panel and the sponsor logo merging well into both halves, it gives the kit a great all-round look.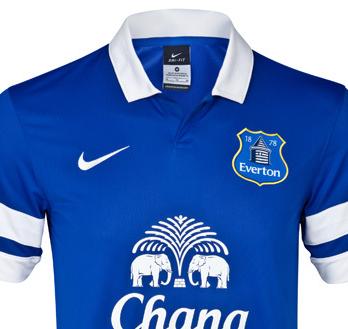 Questions of Everton's new-look logo aside, this is an excellent home kit with the traditional blue and white coming together to great effect.
With the sponsor and kit-maker logos largely the same as last year, Everton have improved by making the sleeves double-lined and making the collar more standout in 2013-14.
It's basic, bold, blue and quite brilliant.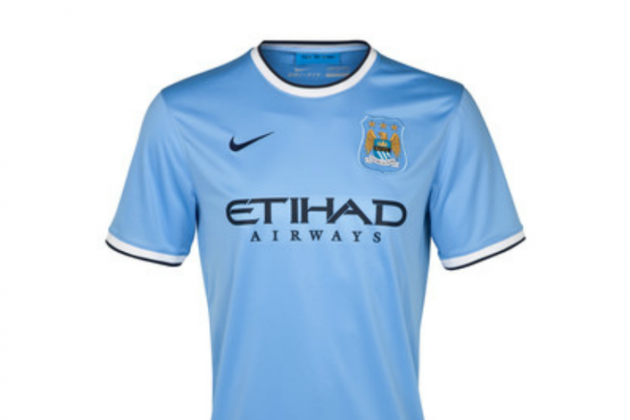 Top of the pile of the new season's Premier League kits is Manchester City's home jersey.
A nicer and neater kit than last year, City's badge blends in well with the minimalistic kit, and the white and navy trim give the jersey a cool and impressive look.
It's top of the table for this year's jerseys, but will City end up there in the actual league table once again?