Croatia vs. Portugal: 5 Things We Learned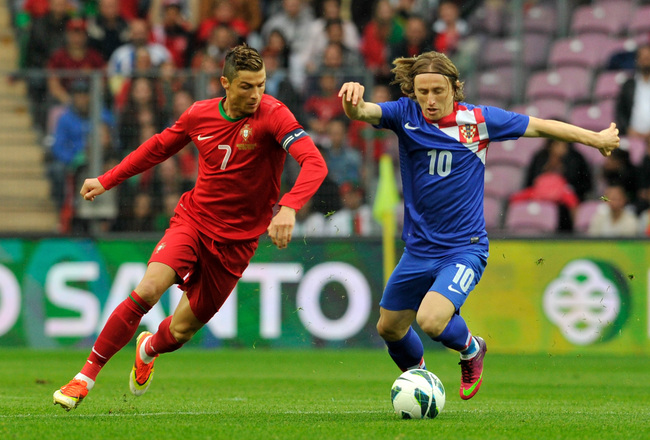 Ronaldo teased the Croatian defence for his time on the pitch, while Modric couldn't get a hold on the game until the second half.
Harold Cunningham/Getty Images
The importance of international friendlies is debated, mainly due to the unnecessary pressure it puts on the players both physically and mentally.
But still, when a team plays as well as Portugal did in the first half on Monday against Croatia, it helps you forget all those other limp games that get set up to make money for FIFA, with the coaches being able to see their team's strengths and weaknesses seeming more of an afterthought.
Although, this one came under the guise of marking a Portuguese national holiday, so we'll give them the benefit of the doubt.
Here are five things we can take from the Portuguese 1-0 victory in Geneva—some new, and some that we already knew but have just been reaffirmed.
All stats relating to the teams' World Cup campaigns are courtesy of fifa.com.
Portuguese Play Ever-Improving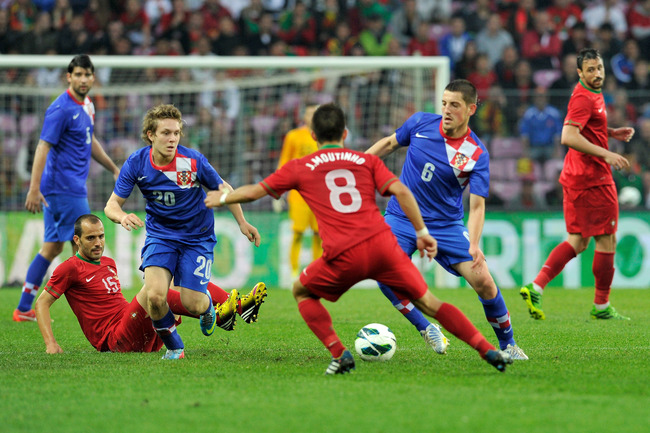 Joao Moutino dictated the midfield for much of the game, while his teammates also did themselves proud.
Harold Cunningham/Getty Images
Since being desperately unlucky to go out at the hands of the eventual winners in a semi-final of Euro 2012, Portugal have been playing their football on a higher level and are steadily improving.
The fluency of the passing; the movement off the ball; the individual and team performances; all have been worked on since the Euro campaign that was, while not disappointing as such, not quite to the standard that we should expect from a group of such talented players.
But the biggest difference is in the way the team has learned to move up and down the pitch as a unit—Monday night it was so flawless that it looked almost organic.
Portugal put pressure on Croatia from the start, keeping them penned in for large portions of the first 45 minutes and breaking up any moves before they could begin by stifling Luka Modric.
As a result, when the ball broke to them, they found themselves on the front foot with Croatia being squeezed, which is bread and butter for players like Cristiano Ronaldo and Joao Moutinho.
High pressure can be a dangerous game, but Paulo Bento's men have been well-drilled, and every time Croatia managed to break, they fell back into their own half as one fluid formation.
Naturally some of that assuredness evaporated with the introduction of substitutes, but that is to be expected, particularly in a friendly.
Croatia Defensive Positioning Needs Improvement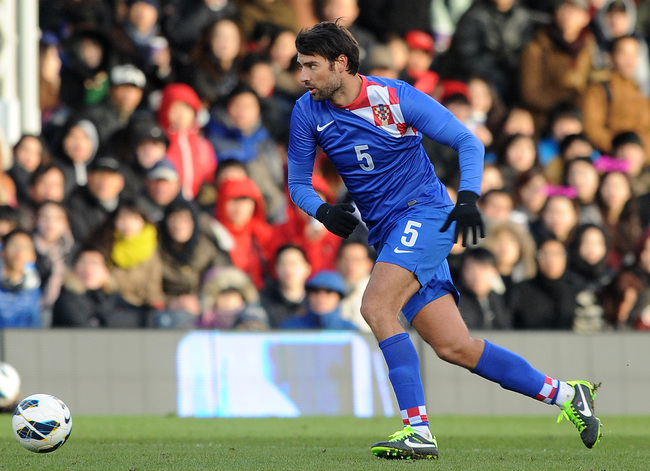 Corluka and Vida were far from settled at the heart of Croatia's defence.
Charlie Crowhurst/Getty Images
It's a bit of harsh criticism to level at a defence that has just had Cristiano Ronaldo running it ragged all evening, and yes, it was a friendly game, but there are still some points to make.
The World Cup group table tells a rather comforting story: In seven games, Croatia have only conceded four, just two more than group leaders Belgium and five less than Serbia back on the horizon in third.
The reality is that in qualifying, yes they have held three clean sheets, but these were all at home, and while playing Wales, Macedonia and Serbia—not exactly opponents who a team of Croatia's quality would expect to ship many goals against. The less said about the 1-0 defeat by Scotland at home the other night, the better.
Against Portugal, who were using a 4-3-3 with Ronaldo, Hugo Almeida and Silvestre Varela in attack, Ivan Strinic was getting pulled over far too easily by Varela, which meant that Domagoj Vida and Vedran Corluka had to compensate and move over to cover. That or they would hold their position, which left huge gaps for Custodio and Joao Moutinho to breeze into and exploit as they pleased.
Another worrying aspect was the tendency to break the line, with the back four often ending up squared as the Portuguese wingers exercised what was almost a freakish control over their markers in the first half. Were it not for a few spurned chances, Portugal could and probably should have been up 3-0 by half-time.
Thankfully things improved in the second half, not at least with the substitution of Ronaldo, but there is plenty for Igor Stimac to discuss with his players before the next match.
Portugal Need to Blood Young Centre-Backs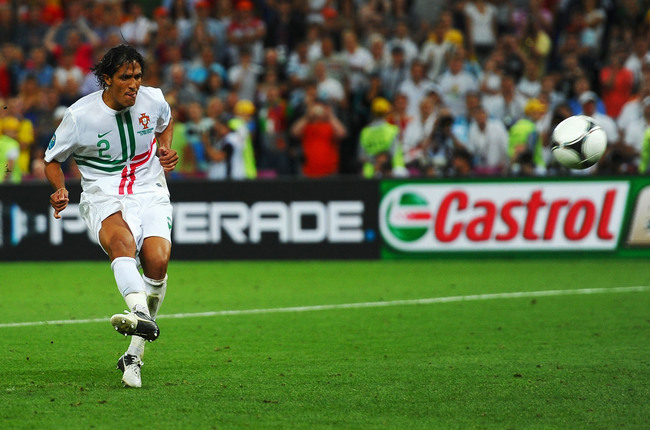 Alves: Still a rock, but nearly as old as one too.
Laurence Griffiths/Getty Images
It is more of a general point than something to deduce from Monday night's game, but it still stands.
On Monday, the combined age of the Portuguese central pairing, Bruno Alves and Ricardo Costa, was 63. The other first-choice centre-back, Real Madrid's Pepe, is aged 30. By the time Brazil 2014 rolls around, they will be 31, 33 and 31, respectively.
While these three are still without a doubt very capable in their positions, ranking up there with Europe's best, it doesn't disguise the fact that the lack of variety in age across the Portuguese squad will quickly become an issue several years down the line.
This friendly would have been a great opportunity to start blooding some younger players, perhaps playing Rolando, who is far from inexperienced, alongside Luis Neto in what was an inconsequential fixture.
There is no question that Alves and Co. will still be top defenders for a few more years at least; it's just that at that age injuries can be more frequent, and if Bento loses one of them before travelling to Brazil, he will want to have an able deputy with plenty of matches under his belt.
4-4-2 Does Not Work at International Level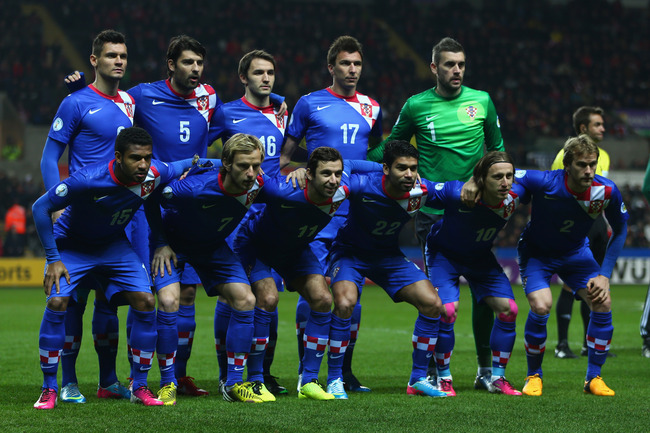 Croatia found themselves victims of their manager's outdated tactics.
Michael Steele/Getty Images
As the BBC's Mark Lawrenson once mused while commentating during Fabio Capello's tenure as England manager, you just cannot use the 4-4-2 system at the international level anymore. So it proved, as England endured a miserable World Cup 2010 and were sent home with a harsh lesson from Germany ringing in their ears.
Since then, even the most stubborn of national football teams has tweaked the system a little to catch up with the new tactical era—though Roy Hodgson's recent disagreement with Gary Lineker shows that there is still work to do.
So, if someone as nonsensical as Mark Lawrenson can see it, why did a progressive team like Croatia use a 4-4-2 system against a roaming front three like Portugal's?
Granted it was a form of the 4-4-2, with Modric sitting slightly higher up the field than Hrvoje Milic, but the same basic deficiencies were still evident in the way that the opposition regularly tore them to shreds, with some improvement later in the game.
It wasn't easy to watch; every time Croatia tried to attack, they were limited to passing the ball along the lines, waiting for an opening rather than creating one. Because of this they were unable to fashion many better chances than hopeful crosses, which were usually dealt with easily by the towering Bruno Alves.
Stimac seemed to have his men playing on the possibility of a header chance, instead of using the probability of threading balls through the Portuguese defence.
And in defence, despite the score only being 1-0, it wasn't much better.
For long periods they were under the cosh, with the lack of midfield solidity in front of them rather unfairly leaving Corluka and Vida to deal with the pace of Portuguese wingers, who were taking every opportunity to cut inside.
It's been said before, and we'll say it again: The 4-4-2 might be OK if you're Stoke or West Ham, but it simply doesn't wash at the international level.
FIFA World Rankings Are (Once Again) Proved Obsolete
The logic of FIFA is apparent only to themselves (and in some cases not even that).
Laurence Griffiths/Getty Images
This is one for those of you who find a group of antiquated businessmen running the biggest sport in the world anywhere from slightly offensive to purely sinful.
It probably takes a master's degree in illegitimate business dealings to understand the inner workings of the Federation International Football Association, so it's most likely for the best that they release few of their skewed interpretations to the general public.
However, one statistics list that we are unfortunate enough to have thrown at us once a month is the diabolical "FIFA World Rankings" list.
Just going on this match, it defies logic how Croatia can be ranked fourth, two places above Portugal, when in their most recent meeting the latter clearly boasted the better individuals and team play. The Croatians weren't exactly beaten into submission, but they were heavily outplayed in the first half and only got into the game once Portugal had taken off their best players.
When you look at the other possible reasons for why the ranking is so high, again, it makes no sense.
In September 2012, according to FIFA, Croatia were the ninth best team in the world. (For some perspective, at the same time Brazil were ranked 12th.) Since then they have jumped five teams to fourth place, as listed for June 2013.
Who have they beaten during that period? Wales, Macedonia and Serbia, while they drew with Belgium and lost at home to Scotland.
No disrespect to Croatia, who are making leaps and bounds, but it's hard to see how they can be ranked above teams such as the Netherlands and Italy based on results against relative minnows.
Keep Reading