FIFA 13 Ultimate Team: Premier League Team of the Season Cards Revealed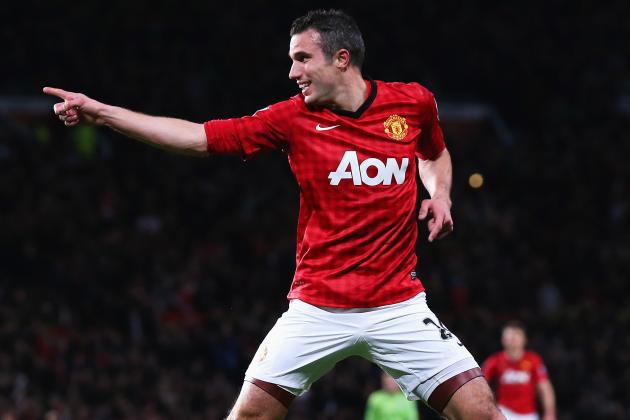 Alex Livesey/Getty Images

FIFA 13 Ultimate Team is finally ready to unleash the Premier League Team of the Season cards.
Following last week's announcement of both Most Consistent Team of the Season selections, Electronic Arts is now rolling out the big guns.
This is the third Team of the Season reveal from a total of eight, with the remainder being announced across the coming weeks. These cards represent the best overall variations of each player included in Ultimate Team, meaning you won't find a sharper version of any individual included elsewhere in the game mode. All will enter packs at 1 p.m. ET on May 15.
Has your personal pick for the 2012-13 Premier League season been included? Read on to find out exactly who made EA Sports' cut.

Begin Slideshow

»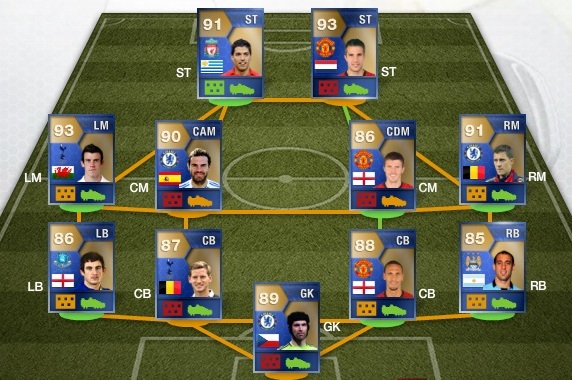 Image courtesy of the FIFA 13 web app.
Before revealing the statistics of each player included, it's worth noting that any numbers presented in brackets represent the overall quality of the individual's in-form variation. If that makes little sense to you, check out a full guide right here.
Starting XI
GK: Petr Cech, Chelsea - 84>89
RB: Pablo Zabaleta, Manchester City - 79>85
CB: Jan Vertonghen, Tottenham Hotspur - 81 (83)>87
CB: Rio Ferdinand, Manchester United - 83 (84)>88
LB: Leighton Baines, Everton - 80 (81)>86
CDM: Michael Carrick, Manchester United - 81 (82)>86
RM: Eden Hazard, Chelsea - 87 (88)>91
LM: Gareth Bale, Tottenham Hotspur - 85 (88)>93
CAM: Juan Mata, Chelsea - 86 (87)>90
ST: Luis Suarez, Liverpool - 86 (88 )>91
ST: Robin van Persie, Manchester United - 88 (89)>93
Subs


GK: Asmir Begovic, Stoke City - 76 (78)>82
CB: Ashley Williams, Swansea City - 76>82
CDM: Steven Gerrard, Liverpool - 84 (85)>89
CAM: Marouane Fellaini, Everton - 81 (83)>86
CAM: Santi Cazorla, Arsenal - 84 (86)>89
CF: Michu, Swansea City - 77 (80)>84
ST: Christian Benteke, Aston Villa - 72 (76)>81
You can view the full team's individual stats with the FIFA 13 web app.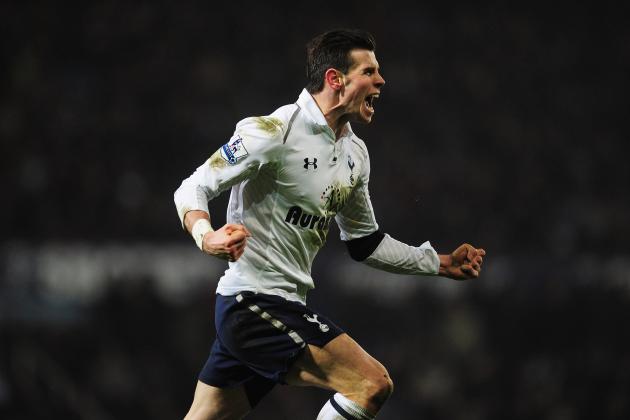 Jamie McDonald/Getty Images

Although EA Sports' selection pretty much coincides with the PFA Premier League Team of the Year, one major surprise is the inclusion of Petr Cech over David De Gea (via The Daily Mail).
The Manchester United stopper has played a huge role in securing the Premier League trophy for Sir Alex Ferguson's men. Perhaps his absence is due to the fact that he already received an in-form card earlier this year, whereas Cech is yet to be awarded for a decent season between the sticks.
Either way, it's certainly a surprise to see the Chelsea man picked ahead of De Gea, especially as Joe Hart's clean sheet record is arguably the second most impressive goalkeeping performance of the season (via MCFC.com). Personal errors may have stopped the Englishman from being recognised.
Elsewhere, there's very little to argue about. If you're looking to pick up the normal version or in-form variation of these cards, be sure to wait until a decent amount of TOTS selections are on the market. This will drive the price of the older versions down, giving you better value for money.
Are you looking to purchase any of these cards for your Ultimate Team? Is someone obvious missing from the selection? Let me know in the comments section below and be sure to follow me on Twitter:
You can also follow EASPORTSFIFA on Twitter here and join in with the FIFA Community on the official forums right here. All statistics and images are provided by EA.