Picking a La Liga Veterans XI for the 2012-2013 Season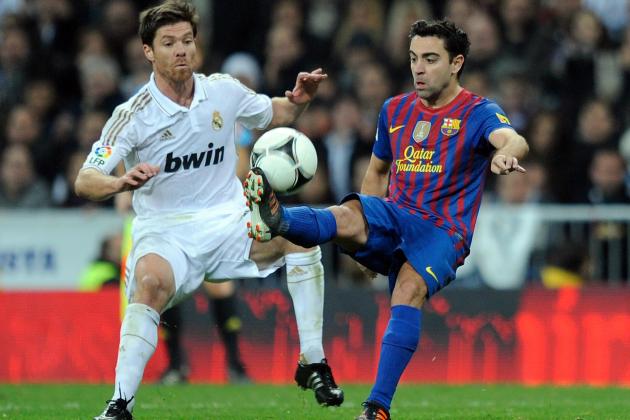 Denis Doyle/Getty Images

La Liga may boast an exciting crop of young stars on the rise which makes it easy to overlook the veterans of the Spanish league. But La Liga does have a great crop of established players among the ranks.
When putting together the best starting lineup for Spain's veteran class it is quite surprising to see just how strong the squad would be.
In this article we will select a starting XI out of La Liga's veteran players.
Players must be 30 years of age or older to make the cut and selection is based solely on their form this season. Some names may surprise you. Continue reading to have your say.
Note that all statistics are courtesy of WhoScored.com
Begin Slideshow

»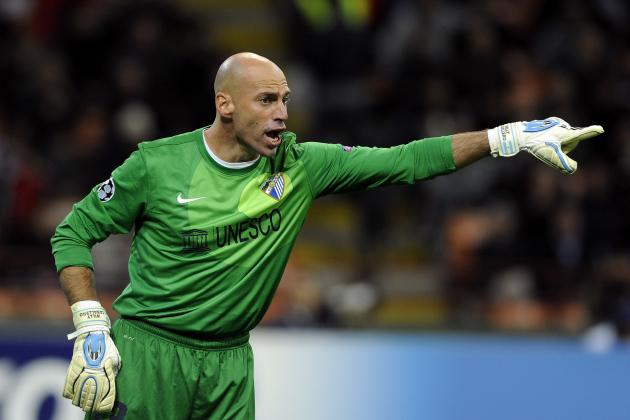 Claudio Villa/Getty Images

Willy Caballero tops our veteran lists of keepers for many reasons. The 31-year-old Malaga man has been a rock over the last few seasons and has arguably carried the club in some important games.
The Argentina international leads one of the best defenses in world, and it is easy to see why.
His ability to be a vocal leader in the back line is just as important as his insane knack for making huge saves. Willy is not only the best veteran keeper in La Liga, he is arguably one of the best overall in Spain.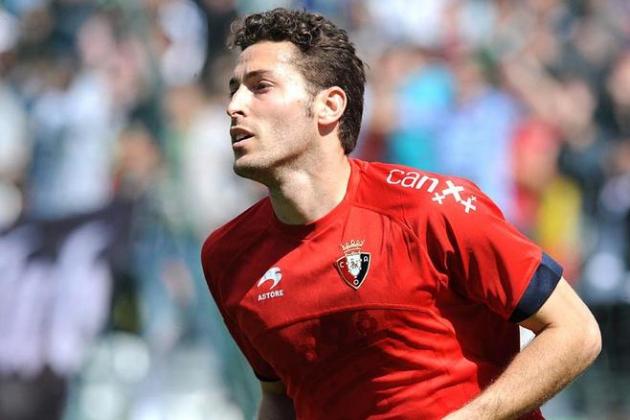 Osasuna fullback Damia may come as a surprise to some. Normally he features on the left side of defense, but he also has the ability to play on the right without missing a step.
The 31-year-old Spaniard has been in unbelievable form this season despite his club struggling for most of the year.
Damia is averaging nearly three tackles and three interceptions per game. He also boasts over six clearances per game. It is clear that Damia is a solid defender, though he is on the downturn of his career.
Also with two completed long balls per game, Damia has the ability to make an impact on the offensive end of things as well.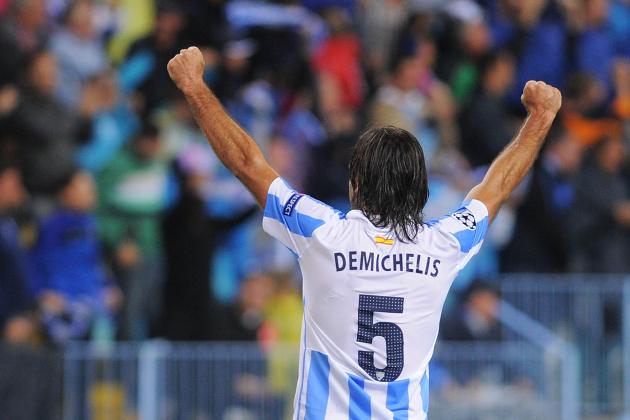 Gonzalo Arroyo Moreno/Getty Images

Martin Demichelis is one of the easiest inclusions to make for our veteran XI. The Argentine defender is part of Malaga's world-class defense, and it is easy to see why.
The 32-year-old star is averaging over three tackles per game and over two interceptions as well. He boasts nearly seven clearances per game as well.
But one of the most important things to note is that the statistics looks even better in the Champions League.
The defender is giving over three accurate long balls per game. He has the ability to go forward and has even scored four goals this season.
Demichelis is a veteran in every sense of the word. His connection with Willy Caballero is greatly influential on Malaga and is a big reason for their European success this season.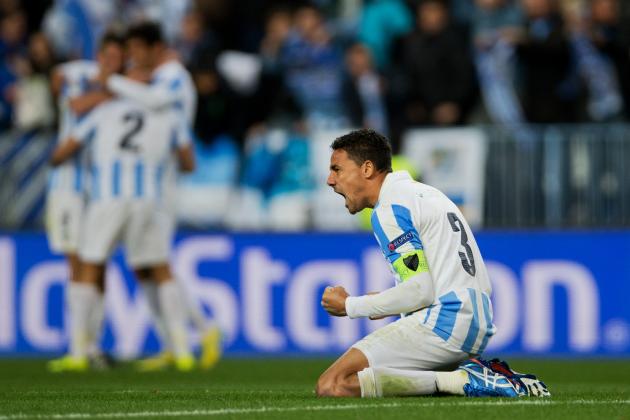 Jasper Juinen/Getty Images

At first glance, having yet another Malaga star in our lineup looks a bit drab. But it is important to remember that Weligton partners with Demichelis and Willy in one of the best defenses worldwide.
The 33-year-old Brazil has earned his spot in the veterans team due to many factors.
Weligton is averaging over two tackles per game and an impressive eight clearances. He is also intercepting at least three balls per game as his ability to read the game his greatest attribute.
If anyone is able to contribute to an attack, it would be Weligton. His four and a half long balls per game have given Malaga's attacker a lot of assistance.
A defense of Weligton and Demichelis has already proved to be rock solid. With both players over 30, there is no one who deserves the spot more.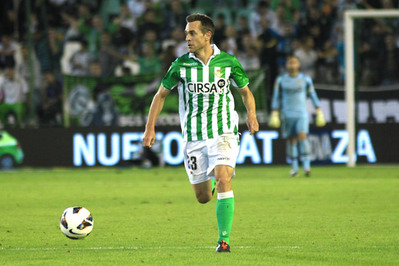 Ignacio Perez Santamaria, better known as Nacho, has been one of La Liga's best left backs throughout this season. But when it comes to veterans, no one matches up with the 32-year-old.
Nacho is a very traditional fullback. His defending is top notch and he can also get into the attack, which has helped Betis on several occasions this season.
The Spaniard has already given six assists this season and averages at least one successful cross per game.
But when it comes to pure defending, not many can argue against Nacho's ability.
Four tackles per game. Three interceptions per game. Four clearances per game. Nacho has some insane stats for a fullback. Despite his age, Nacho is not slowing down.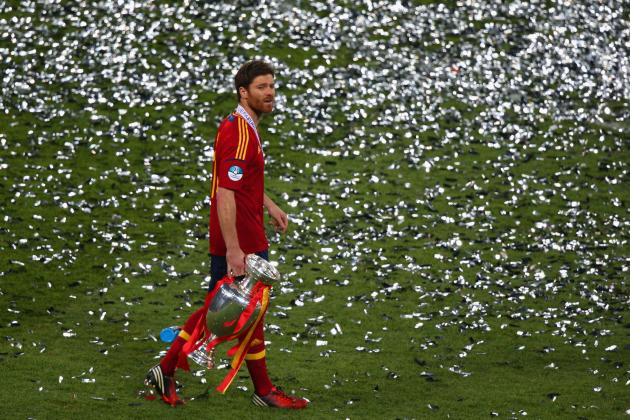 Michael Steele/Getty Images

Not much of an argument needs to be made here. Xabi Alonso is the most important player for Los Blancos and his ability leads many to think there is no way he is already over 30.
Alonso always has a difficult task playing as a holding midfielder. He has to keep possession, win balls back and make sure he is controlling the build-up play in attack.
His three tackles and two interceptions per game have Alonso as one of the best midfielder in the world, but his game-reading ability is where the real praise is deserved for the Spaniard.
The former Liverpool man gives two key passes a game, which has led to his five assists over all competitions. He has also averaged over seven long balls per match—a statistic that is truly remarkable.
At his level, Xabi Alonso is the epitome of a solid veteran performer.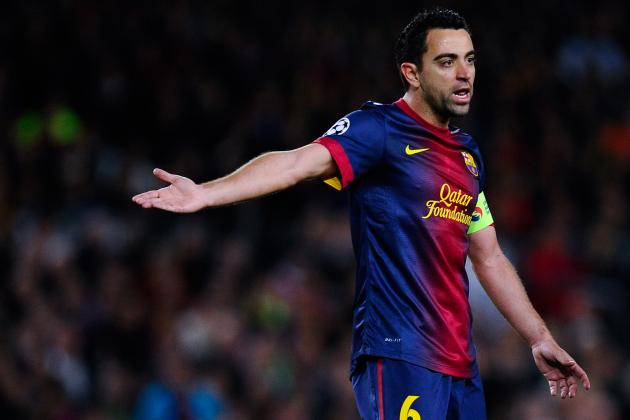 David Ramos/Getty Images

Xavi is another player that needs no introduction. The 33-year-old Barcelona midfielder has been one of the best players in the world over the last few seasons.
The Catalan star is able to make at least one tackle and interception per game, but he is not being paid to defend. Xavi's greatest strength is in possession and making important passes to run the offense.
Xavi boasts a 95 percent passing rating. You heard that right. The Barcelona man also averages at least nine long balls per game and two key passes.
This veteran is able to do it all. Xavi has already scored six goals this season and given nine assists. Like Xabi Alonso, there really is no one who contends with the star.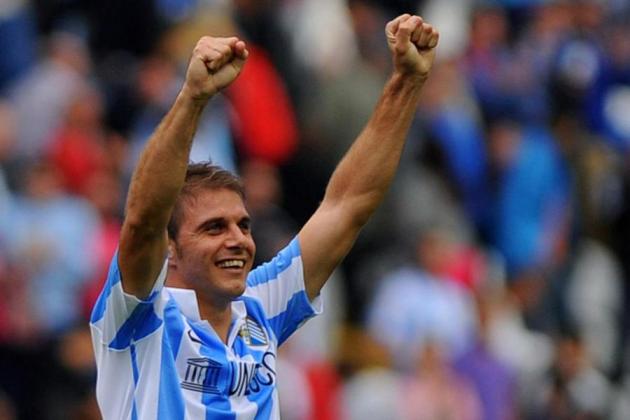 Joaquin seems like he has been around forever, but he is only 31. The Malaga man always puts in a strong game and can play in many different positions on the pitch.
In our lineup, Joaquin would play behind the forwards due to his ability to run in behind and clean up balls outside of the box. Joaquin does the dirty work in attack, but he is not a weak attacker by any means.
The Spaniard has already scored seven goals this season, and his five assists show that he is able to play in his teammates.
Joaquin makes three key passes per game and usually gets off around two shots each match. His 80 percent passing rating means Joaquin can play well with his midfield teammates as well.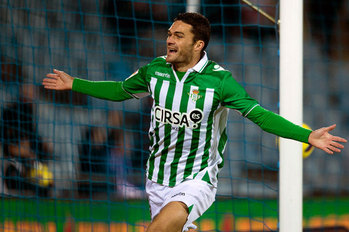 When it comes to veteran strikers in La Liga, there aren't many better than Ruben Castro. The Real Betis man is a leader of men and has carried his club in some trying times this season.
The striker has scored 16 goals this year and given five assists. Castro is just what you want in a forward with his ability to play the position the way it used to be played.
Though Castro is a main option in attack evidenced by his three shots per game, he is very much a team player. He makes two key passes per game and always makes his teammates better.
Gonzalo Arroyo Moreno/Getty Images

It would be an outrage to leave out Spain's all-time leading goal scorer. The Barcelona forward has struggled for most of the season to break into the starting lineup, but when he has played he has been incredible.
David Villa has scored nine goals this season and given seven assists. Not many defenders can hold down the forward, and in a veteran squad that will prove invaluable.
Villa also averages better than 80 percent passing rating, showing he has ability to set up his teammates and run an offense. But it is Villa's versatility that will prove very important.
When it comes to veterans in La Liga, no attack is quite as prolific as David Villa. The striker shows up in every match and would be the offensive leader in a veteran squad.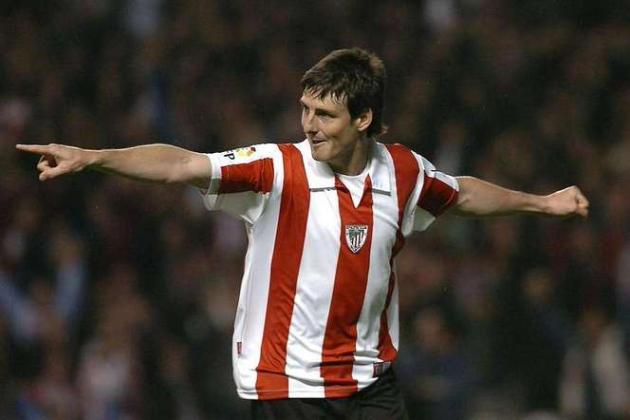 Basque striker Aritz Aduriz had a tough task this year in tacking over for Fernando Llorente. The 32-year-old veteran stepped up and gave everyone no doubt about his ability.
Having already scored 14 goals Aduriz is one of the best strikers in Spain. He has been an invaluable leader in a young Bilbao squad and his ability to make his teammates better cannot be stressed enough.
The striker has given four assists as well, but plays best as a target man. There aren't many veterans at his age that feature as the relied-on striker, but Aduriz never disappoints.
Matching up with Castro and Villa, Aduriz gives the veteran attack a dose of deadly finishing ability and experience needed in the final third.
There you have it. Who would you add or remove from this list. How good could a veteran La Liga XI actually be? Leave your thoughts and comments below.
Tre' Atkinson. Follow me on Twitter for more discussions on La Liga.