Real Madrid Transfer Rumors: Players Whom Los Blancos Are Considering
The latest rumors from Real Madrid.
Valerio Pennicino/Getty Images
Real Madrid is always linked to one player or another. Almost everyday some random player will be "on his way" to Los Blancos.
So many rumors, but most of them will not come true.
Whether it's the ongoing talk about Gareth Bale or the relatively fresh news about Paul Pogba, there is always something to talk about when it comes to Madrid.
Here are the latest rumors surrounding Real Madrid.
Edinson Cavani Close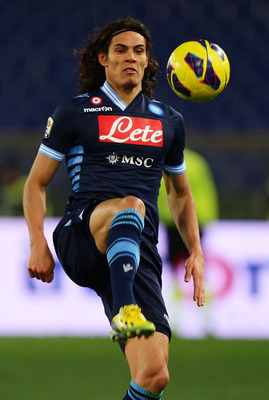 Edinson Cavani is thought to be favoring a move to Real Madrid.
Paolo Bruno/Getty Images
Edinson Cavani has been on Real Madrid's radar for a while and could be heading to Jose Mourinho's squad.
According to Spanish television station Marca TV via ESPN.com, Madrid has a 50 percent chance of signing the striker.
Cavani's father Luis told Marca that Real has been in contact with Napoli over acquiring the Uruguayan. He stated that the fee will be around €60 million.
Cavani is believed to be favoring a move to La Liga, although he is being pursued by English giants Chelsea and Manchester City.
If he does indeed sign for Real Madrid this summer, either Karim Benzema or Gonzalo Higuain should be sold.
Both have many suitors throughout Europe and will leave if Cavani is signed.
Whom do you keep? Benzema or Higuain?
Get Bale and Villas-Boas?
Is Andres Villas-Boas the next Real Madrid head coach?
Julian Finney/Getty Images
Gareth Bale being linked to Real is old news. We've been hearing about it for months. But could Madrid be looking to grab Tottenham manager Andres Villas-Boas as well?
According to Tom Hopkinson of The Mirror, Los Blancos are not only going after Bale, but his coach as well.
Hopkinson states that Madrid is planning to pay around £40 million for Bale and £10 million in compensation to the Spurs for Villas-Boas.
Jose Mourinho is not expected to return to Madrid next season.
Along with Villas-Boas, Paris Saint-Germain's Carlo Ancelotti is also reportedly being considered.
In my opinion, Ancelotti is a more likely candidate to take over the Madridistas. However, I can see the lure of Villas-Boas.
He's young and has managed Tottenham very well since taking over. He could be seduced by Real, though I'm sure Spurs fans do not want to hear it.
Both Bale and Villas-Boas gone? Depressing for the Tottenham faithful.
Pogba Possibility
Paul Pogba to Real Madrid was never really a possibility.
Valerio Pennicino/Getty Images
Paul Pogba to Real Madrid? These rumors were fluttering around Spain yesterday.
According to Sky Sport Italia via Football Italia, however, they are simply untrue.
Florentino Perez did not send a private jet to Pogba's father after all. Since this was the basis of the rumor, we can assume it's all but dead.
No Pogba for Madrid right now.
The same goes for M'Baye Niang, the young AC Milan striker.
There has been no contact to get either of these Frenchmen on Real, Mino Raiola, the agent of both players, told Italian newspaper Tuttosport via Football Italia.
However, Raiola states that both are in high demand and will be linked to numerous clubs in the upcoming months because of their talent. He also said that no club can be 100 percent certain that they can keep a player when they are "admired around the globe".
Keep Reading

Real Madrid: Like this team?