Reflections on Chelsea's 2-1 Defeat at Southampton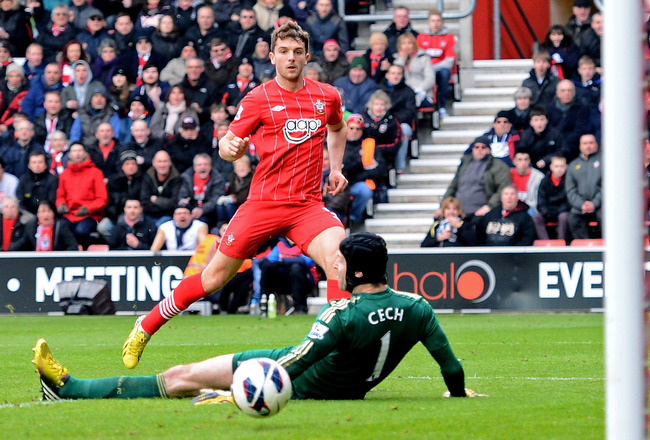 Jay Rodriguez opens the scoring for Southampton on Saturday
Mike Hewitt/Getty Images
If we learned one thing from Chelsea's defeat at Southampton on Saturday, it's this: the Blues squad is not currently strong enough to challenge effectively on three fronts at this late stage of the season, when games come thick and fast.
It's a fair guess that Rafa Benitez spent the international break playing around with his tactics board, trying to work out the best Chelsea XI to field in each of the four games the Blues had coming up in the nine days after the players returned to Stamford Bridge.
Like a gambler in a Las Vegas casino backing a weak poker hand with big money, Benitez tried to pull off an odds-against victory at St Mary's by putting out a side lacking a number of first-team regulars.
As we all know, the gamble didn't come off, with the Blues going down to a dismal defeat against a side they had hammered 5-1 at the same venue in the FA Cup back in January.
The result knocked Chelsea down to fourth in the Premier League, and they are now only two points clear of fifth-placed Arsenal in the race for a Champions League slot.
For more thoughts on how that race is likely to unfold, and further observations about the game against the Saints, please flick through the slideshow.
1. The Missing Mata Factor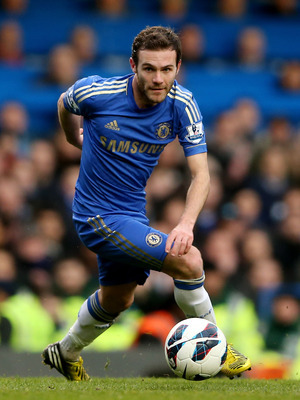 Chelsea missed Juan Mata at Southampton.
Scott Heavey/Getty Images
As soon as it was announced that Juan Mata was missing from Chelsea's starting lineup at Southampton, Blues fans must have feared the worst.
The stats show that the little Spaniard has failed to start 11 games for the Londoners this season, and the Blues have only won two of them. Chelsea without Mata are simply nowhere near as effective a team as they are with him.
It's not just that he scores goals—18 this season, making him Chelsea's top scorer ahead of Fernando Torres and Frank Lampard—he also has numerous assists to his name and, even more importantly perhaps, sets the team's tempo with his fast, accurate and incisive passing.
Given the money that has been lavished on the Blues, it is rather puzzling that the team appears to be so dependent on one player. No one can deny Mata's importance, however, and Benitez must be praying that he recovers quickly from the illness that kept him out of Saturday's match.
2. Poor Record Against Promoted Teams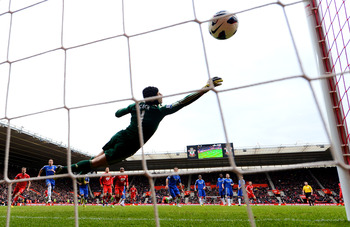 Chelsea's record against promoted teams this term has been poor.
Mike Hewitt/Getty Images
Saturday's match was Chelsea's last of the season against the three teams who came up from the Championship last season.
The Blues' record against the promoted trio this term has been thoroughly mediocre: two wins, two draws and two defeats. It's a far cry from the recent past, when the Blues regularly used to make mincemeat of the Premier League new boys.
For example, the stats show that in the six seasons between 2002-03 and 2007-08 Chelsea won an incredible 35 of 36 matches against promoted teams—the only blip coming with a 2-2 draw against Reading at Stamford Bridge in December 2006.
For the Blues to claim just eight points from a possible 18 against Reading, Southampton and West Ham this season is, by comparison, a desperately poor return and shows just how much Chelsea have struggled against the so-called lesser teams.
This is clearly an issue that the new manager, once he is installed at Stamford Bridge, needs to address with some urgency.
3. Champions League Race Heats Up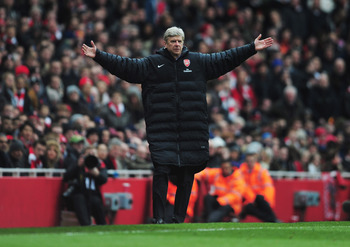 Will Arsene Wenger fall victim to Groundhog Day?
Jamie McDonald/Getty Images
Although it will be no consolation to Chelsea fans, the Blues' defeat at St Mary's has made the race for a top-four Premier League slot even more compelling than it was before. This is a battle that promises to go to the wire.
Everton have done well in recent weeks to close the gap, but have a nightmare run-in which includes trips to Arsenal, Chelsea, Liverpool and Tottenham. It is tempting, therefore, to rule the Toffees out of the equation, and suggest that third and fourth place will be contested by the three London clubs.
A number of pundits have argued that Arsenal have the easiest run-in of the trio, but a different picture emerges if we look at last season's results in the corresponding fixtures for the three clubs. Indeed, Arsenal actually perform the poorest on this measure, as they only took eight points from the eight fixtures they have remaining this season.
Chelsea, on the other hand, amassed 14 points from their eight games, while Tottenham's haul was 13 from seven.
So, in the admittedly unlikely case that we have a Groundhog Day situation this season and last term's results are replicated in full over the coming weeks, Tottenham and Chelsea would take the Champions League places by some distance ahead of Arsenal.
However, if that does happen, I look forward sometime soon to watching Groundhog Day II at my local cinema, with Bill Murray starring as a confused and perplexed elderly French football manager from North London locked in a bizarre and frustrating time loop.
4. United Up Next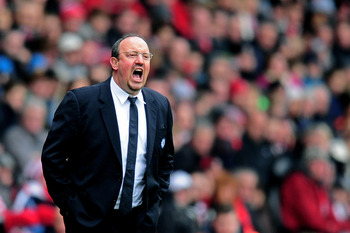 Rafa Benitez will be ringing the changes on Monday.
Mike Hewitt/Getty Images
Rafa Benitez has been criticised for his team selection on Saturday, but most Blues fans would surely admit that Chelsea's hectic fixture schedule made life very difficult for him.
Yes, he could have played the likes of Eden Hazard and Ashley Cole ahead of Ryan Bertrand and Marko Marin, but there would still have been no guarantee of a Chelsea victory. As we have seen, the Blues' record against the promoted clubs has been awful this season, and they might well have lost at St Mary's even with a full-strength team.
As it is, Benitez can now call on some fresh legs for Monday's mouth-watering FA Cup quarterfinal against Manchester United at the Bridge. United, too, rested some players—including Wayne Rooney and Rio Ferdinand—for their visit to Sunderland on Saturday, and they demonstrated the superior depth of their squad by coming away with a 1-0 victory.
Chelsea's squad, by contrast, looks thin in places, but that's a problem which can easily be remedied next season by recalling on-loan players like Romelu Lukaku, Michael Essien and Josh McEachran.
Again, that's an issue which will, presumably, be in the new manager's "in tray" this summer.
Keep Reading

Chelsea: Like this team?