English Premier League Stock Watch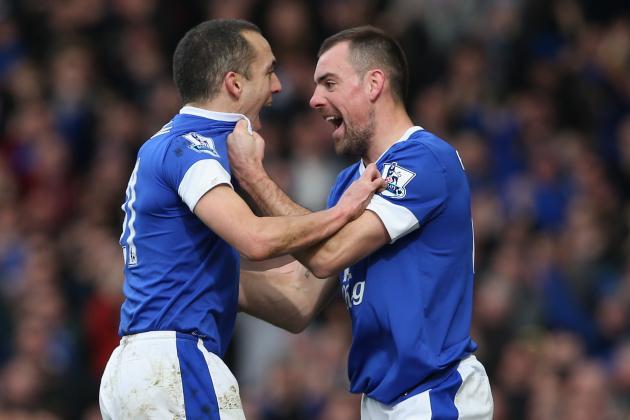 Clive Brunskill/Getty Images

The title race is finished, but the fight for the top four is just heating up. At the other end of the table, the relegation scrap is starting to take on a new shape.
Another weekend of action in the English Premier League brought new developments throughout the table. What did that mean for your team?
Keep reading this week's edition of the B/R English Premier League Stock Watch to find out.
Begin Slideshow

»
Take a bow, Leon Osman.
That was a goal worthy of ending the title race once and for all.
More please.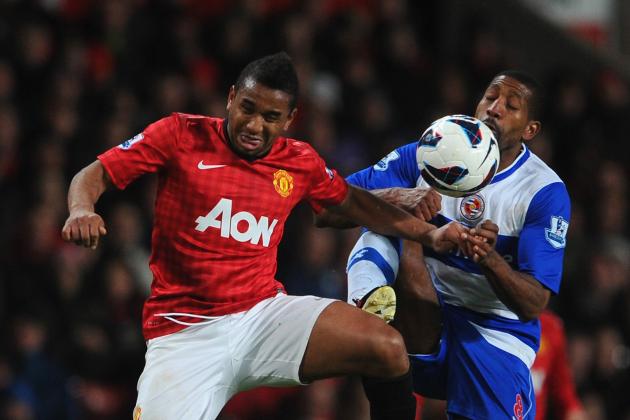 Michael Regan/Getty Images

Last season, the English Premier League lived up to its reputation as the world's most exciting division with a photo finish of a title race on the final day of the season.
This season—not so much.
Manchester United won again Saturday, and coupled with Manchester City's defeat at Everton, the Red Devils now command a 15-point lead atop the table with nine matches remaining. So while the title race is not mathematically wrapped up, it's absolutely finished in practice.
Depending on one's allegiances, that fact is either exciting or depressing—and it's either down to a dominant United or a confoundingly inept chasing pack.
United, to their credit, have won six consecutive matches in the league and have not tasted defeat since Nov. 17 at Norwich. That run has left their rivals in the pack, but it's not as if those rivals have pushed United along the way.
City have won just two of their last six matches. Chelsea, league leaders as late as November, have won four of eight. Arsenal didn't bother—or didn't have the resources—to turn up. Spurs, for all their progress, remain some distance from true title challengers.
That has left United, who have built an imposing lead and shut down the title race merely by showing the consistency no other team could this season.
"It wasn't a great performance but where we are now is not down to today, but the last six months," United manager Sir Alex Ferguson said after the Reading match (via PremierLeague.com). "The team has shown great consistency and played a lot of great football. Our goal difference is big over City now—13 goals. It's a great position to be in, but the only thing we can do is win our next game."
Up next is a trip to Sunderland.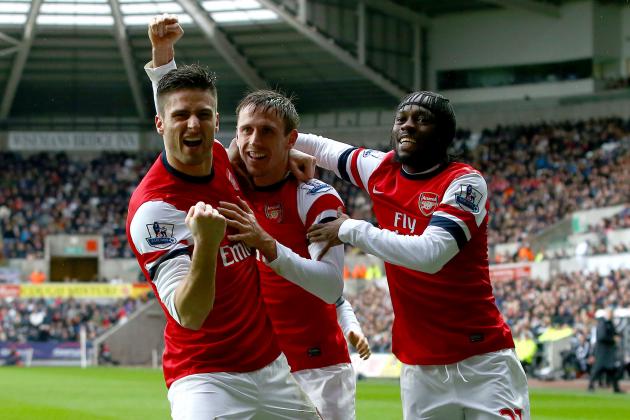 Jan Kruger/Getty Images

The tale of Arsenal's long, slow, undeniable decline is a topic for another day. For now, though, don't write the Gunners out of the race for a top-four finish just yet.
Arsenal defeated Swansea City 2-0 on Saturday in Wales, avenging a league loss to Michael Laudrup's team by the same scoreline at the Emirates Stadium in December—and, more importantly, pulling Arsenal briefly within two points of Chelsea for fourth place.
On Sunday, Chelsea won and Tottenham lost, putting Chelsea up into third a point ahead of Spurs with a game in hand. Four points behind Tottenham sit Arsenal, also with a game in hand.
In the absence of a title race, this could be the most interesting viewing left in the top half of the table.
Since the loss to Spurs in the North London Derby two weeks ago, Arsenal's top-four birthright had seemed in imminent peril. Arsene Wenger's men remain outside the Champions League places after Saturday's win, but to hear him tell it, the victory might have meant more than just points in the table.
"I have come out many times and said I'm a big admirer of the attitude of this team," Wenger said (via The Independent). "Wednesday's big win has transformed the belief of the team, and we have struggled to find that this season."
It wasn't just beating Swansea. Arsenal also defeated Bayern Munich in the UEFA Champions League midweek, and even though the Gunners still went out of the competition, the effects of such a prestigious conquest were evident Saturday.
Locked in a scoreless draw in the second half, Arsenal produced two late goals—including one from the beleaguered forward Gervinho in stoppage time—at precisely the right time. It was exactly what Swansea did at the Emirates earlier this season, and it suggested a new resolve in Wenger's players.
Added Wenger: "We have shown we are up for the fight and we'll do that until the end of the season. One advantage for us is we know what is expected of us, we have already been in this situation before. We have the right spirit and attitude."
Of course, those who have watched Arsenal for any amount of time this season will know that a positive result won't necessarily translate from week to week. If they are to finish fourth this season, though, Arsenal must reverse that trend.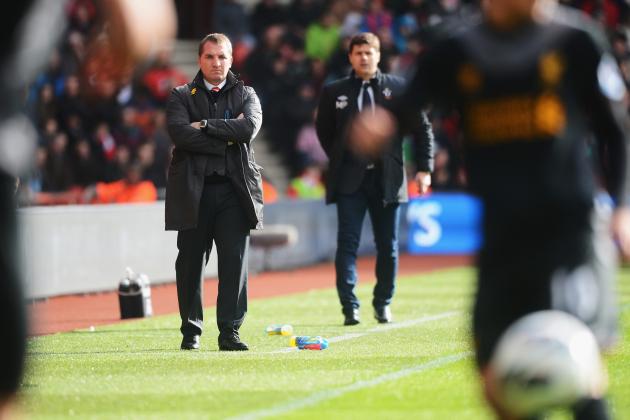 Mike Hewitt/Getty Images

Liverpool last week gave first-year manager Brendan Rodgers his best win to date, a signature victory over white-hot Tottenham Hotspur at Anfield.
This week, the Reds lost 3-1 at relegation strugglers Southampton on Saturday. Such a result can only be seen as a significant step back from the progress Liverpool had only recently made.
The result leaves Liverpool seventh, three points behind Everton, who hold a match in hand. It also illustrated some defensive frailties Rodgers will have to address in the summer.
That said, Liverpool have made progress this season. To continue that progress, though, this was exactly the kind of result Rodgers will want to avoid.
"It certainly wasn't how we have been playing in the past few weeks," he said (via BBC Sport). "We didn't get going until it was 2-0 down. We conceded poor goals which has been unlike us and we are disappointed at that."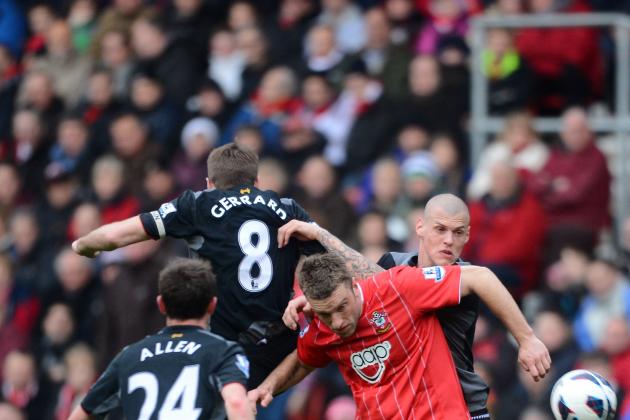 Mike Hewitt/Getty Images

Rickie Lambert, Southampton's 31-year-old uncapped English striker, scored again Saturday, bringing his total to 13 in his first season in the top flight.
That remains the most of any English player in the English Premier League this season—one more than Wayne Rooney and two more than Frank Lampard and Theo Walcott.
To commemorate that fact, Lambert from now on will receive a mention here every time he scores until he receives a call-up to the national team.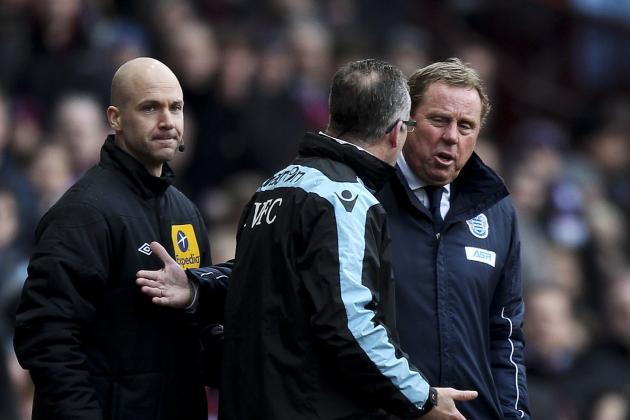 Ben Hoskins/Getty Images

Before Saturday, Queens Park Rangers were the form team in the relegation race. Manager Harry Redknapp had led Rangers to back-to-back wins, re-earning himself the nickname "Houdini" ahead of another potential escape job.
Hold that thought.
For all that momentum, and for all their good play in the first half, QPR remain seven points adrift of safety after Saturday's loss. There's still time—eight matches are left—but hope is fading.
"If we had come in 4-0 up at half-time it would have been about right," Redknapp said (via The Guardian). "That's the best I've seen us play first half. It was so one-sided, it was unbelievable for an away team to dominate like that."
Unfortunately, though, points aren't earned for dominance. Results speak anywhere in the table, especially in the relegation race.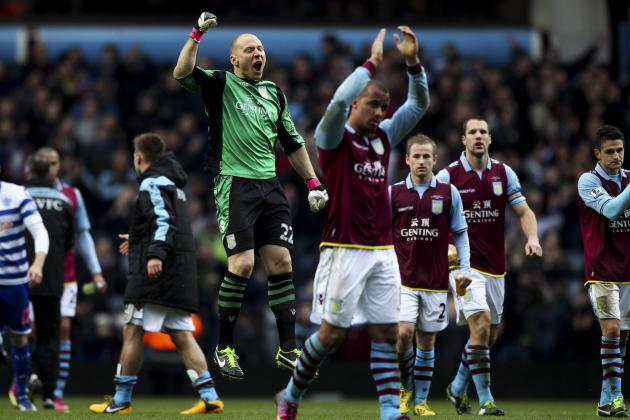 Ben Hoskins/Getty Images

Aston Villa defeated Queens Park Rangers 3-2 on Saturday in a thrilling relegation six-pointer at Villa Park. It was Villa's second consecutive victory in the league and third in five tries.
With all those newfound points, Paul Lambert's team was suddenly six points clear of the relegation scrap. Wigan closed it to three on Sunday and still hold a game in hand, but Villa have more momentum than any of their drop-zone rivals.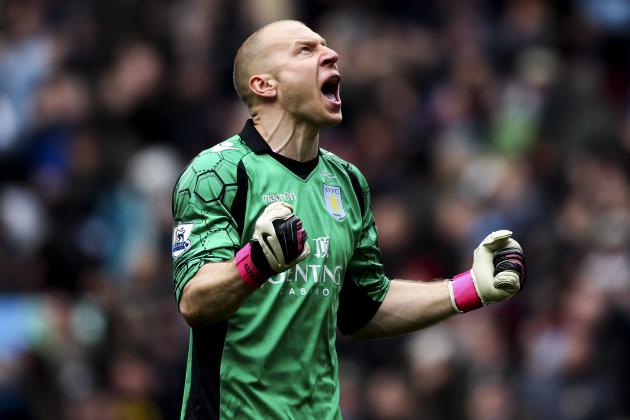 Ben Hoskins/Getty Images

American goalkeeper Brad Guzan made five saves against QPR on Saturday, including a pair of stops that kept Villa in the match early.
First, Guzan showed excellent mobility to stop Christopher Samba's looping header. Then he swatted aside Samba's rasping shot from inside the box.
It was another standout display for the 28-year-old, and with international week coming up (and American No. 1 Tim Howard injured), Guzan is set for international duty with his reputation soaring.
Afterward, Lambert showed both high praise and a nonchalant respect for Guzan.
"Some of his saves were outstanding. He's really playing on top of his game at the moment," said Lambert (via Birmingham Mail), who called three of Guzan's saves "world class." "He made some fantastic saves but that's what he's there to do."
Michael Regan/Getty Images

At the bottom of the form table, Sunderland actually added one point to their total Sunday with a 1-1 draw at home to Norwich. That wasn't necessarily good news, however.
Norwich had goalkeeper Mark Bunn sent off in the first half when the referee ruled Bunn had handled the ball outside the box. Replays were inconclusive, but the advantage should have been conclusive for Sunderland.
In fairness, the Black Cats trailed by a goal at the time of the red card, but they also benefited from another controversial call—a questionable handball in the box—for the equalizer.
Most teams would welcome playing for an hour with a one-man advantage. But in this case, two fortunate breaks equaled only one point.
And this was a vital fixture. In their next two matches, Sunderland face Manchester United (home) and Chelsea (away).
Good luck staying out of the relegation mix.