MLS Preseason Power Rankings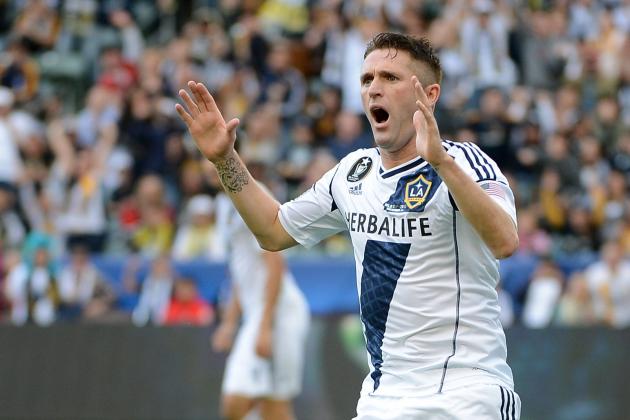 Harry How/Getty Images

While the domestic leagues in Europe are reaching the home stretch, the Major League Soccer season is just about to begin.
Last season saw David Beckham go out on top as the Los Angeles Galaxy defeated the Houston Dynamo in the MLS Cup Final.
This season, Beckham is gone, but the Galaxy are expected to once again challenge for the MLS Cup.
The Galaxy are not the only team vying for the MLS Cup crown with Houston, Sporting Kansas City, San Jose and D.C. United all in the mix as favorites in the preseason to go all the way.
Here is the first edition of the MLS Power Rankings for 2013.
Begin Slideshow

»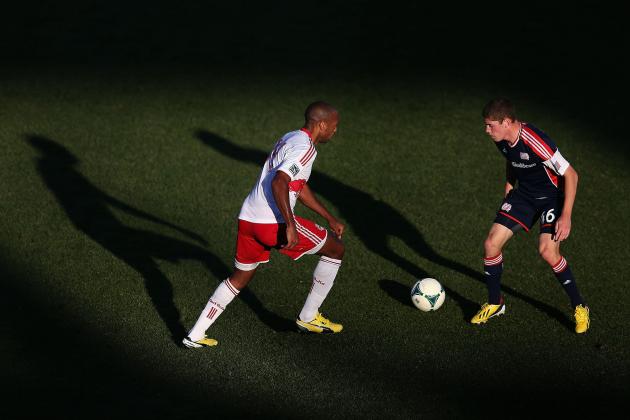 Christian Petersen/Getty Images

Every week, our MLS experts will rank each team from 1 to 19.
Each team will be given a point total for the specific ranking they are given.
For example, the team that is ranked No. 1 is given 19 points while the last place team receives just one point.
The votes will be compiled each week, and the team with the highest point total will be placed on top of the power rankings.
Meet Our Voters
Eduardo Mendez—MLS Featured Columnist
John D. Halloran—MLS and U.S. National Team Featured Columnist
Joe Tansey—World Football Featured Columnist
Al Messerschmidt/Getty Images

Points: 3
2012 Finish: 10th in Eastern Conference, 26 points
Key Additions: Justin Braun, Gale Agbossoumonde, Danny Califf
Key Departures: Eric Hassli, Joao Plata, Milos Kocic, Ryan Johnson
Toronto FC has nowhere to go but up this season.
TFC will be in focus for most of the season because of their managerial experiment; the club brought in former DC United and QPR defender Ryan Nelsen to lead the club forward after their horrible 2012 season.
Nelsen will have plenty of work to do in his first managerial job, and he will have to do it without the Reds' leading scorer from last season after Ryan Johnson was traded to Portland.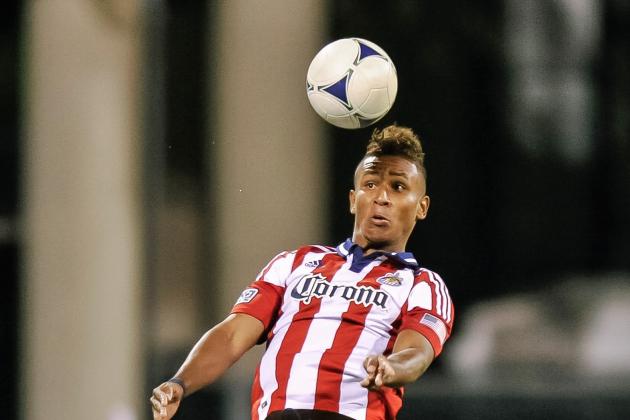 Jamie Sabau/Getty Images

Points: 7
2012 Finish: Ninth in Western Conference, 30 points
Key Additions: Carlos Alvarez, Eric Avila, Giovani Casillas
Key Departures: Juan Pablo Angel, Peter Vagenas, Danny Califf, Alejandro Moreno, Shalrie Joseph
Chivas USA brought in three loan signings from their parent club, Chivas de Guadalajara, and drafted Carlos Alvarez in the SuperDraft to try and improve their finish from last season.
Plenty of the stars that featured on last season's team are gone, and the Goats are fielding quite a young team under the management of Jose Luis Sanchez Sola, who is simply known as "Chelis."
Two players who did survive the high turnover at Chivas USA this offseason were keeper Dan Kennedy and forward Juan Agudelo, who will be key players if the Goats want to escape the Western Conference basement.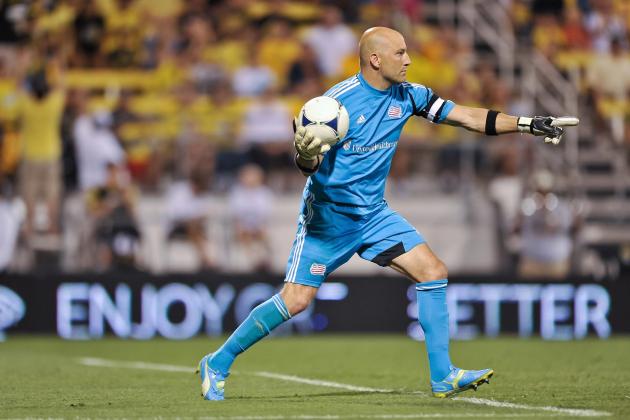 Jamie Sabau/Getty Images

Points: 10
2012 Finish: Ninth in Eastern Conference, 35 points.
Key Additions: Chad Barrett, Andrew Farrell, Kalifa Cisse, Andy Dorman
Key Departures: Benny Feilhaber, Blair Gavin, Blake Brettschneider
In Jay Heaps' second season as Revolution manager, he is hoping to lead his team back to prosperity.
The Revs are led by a veteran in goal in Matt Reis, and they have a solid pair of forwards in Saer Sene and Jerry Bengtson.
After that, there are plenty of questions surrounding the 2013 edition of the Revolution.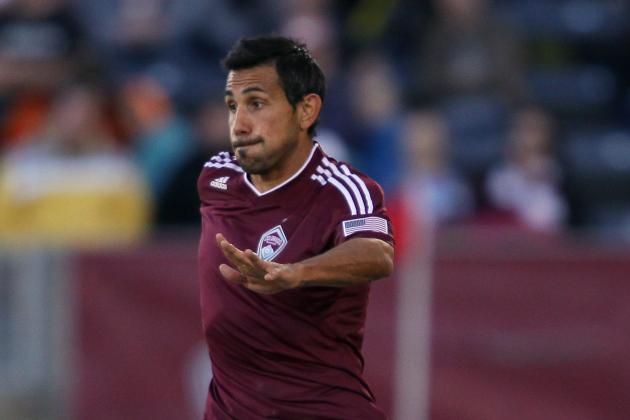 Doug Pensinger/Getty Images

Points: 14
2012 Finish: Seventh in Western Conference, 37 points.
Key Additions: Edson Buddle, Nathan Sturgis, Atiba Harris, Nick LaBrocca
Key Departures: Conor Casey, Omar Cummings, Jeff Larentowicz
This offseason, the Rapids got rid of their leading scorers from the last four seasons in Casey, Cummings and Larentowicz.
Replacing the three players in the squad are MLS veterans Buddle, Sturgis and Harris.
Buddle is expected to lead the attack that is trying to replace the absence of Casey, who is the club's all-time leading scorer.
Sturgis will join a back four that already includes veterans like Drew Moor and Marvell Wynne.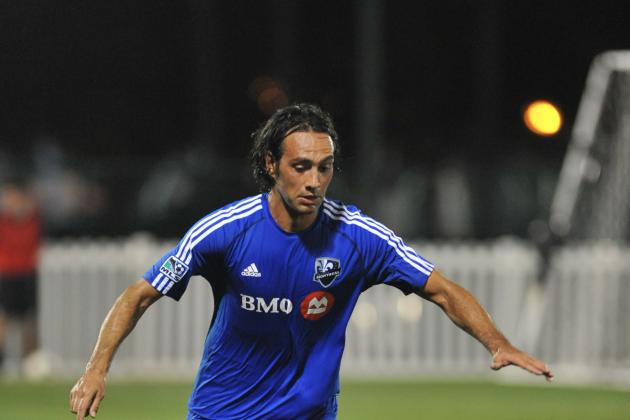 Al Messerschmidt/Getty Images

Points: 16
2012 Finish: Seventh in Eastern Conference, 42 points.
Key Additions: Andrea Pisanu, Andres Romero
Key Departures: Josh Gardner, Lamar Neagle, Shavar Thomas
The Montreal Impact did not make many moves over the offseason as they look to make the playoffs in their second MLS season.
While making the playoffs will take plenty of work for Marco Schallibaum's team, they do have experienced players that can lead them to the promised land.
Alessandro Nesta is the anchor of back four, while Marco Di Vaio will be relied on to lead the team in scoring.
One player to keep an eye on this season is forward Andrew Wenger, who was the top pick in the 2012 SuperDraft.
Jeff Vinnick/Getty Images

Points: 17
2012 Finish: Fifth in Western Conference, 43 points.
Key Additions: Nigel Reo-Coker, Paulo Jr., Kekuta Manneh
Key Departures: John Thorrington, Barry Robson, Atiba Harris, Martin Bonjour
After finishing fifth in the West and clinching a playoff berth last season, the Whitecaps should make their way into the playoffs this season, but much depends on the success of their attack.
There is plenty of potential in the Whitecaps attack, with Darren Mattocks, Omar Salgado and Kekuta Manneh all on the roster to accompany designated player Kenny Miller.
One thing that is a guarantee for Martin Rennie's team is the performance of their defense, which is led by captain Jay DeMerit, who could find his way on to the United States national team roster if he continues his strong performances.
Eduardo: The Whitecaps drafted a real talent in Kekuta Manneh.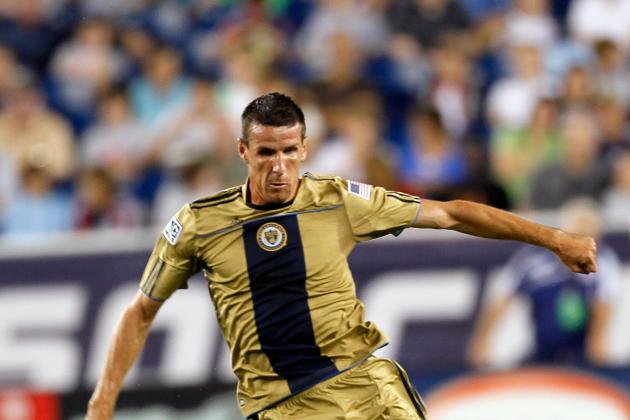 Jim Rogash/Getty Images

Points: 21
2012 Finish: Eighth in Eastern Conference, 36 points.
Key Additions: Sebastian Le Toux, Conor Casey, Jeff Parke
Key Departures: Zach Pfeffer, Josue Martinez, Gabriel Gomez, Carlos Valdes
Sebastian Le Toux returns to the team that he never should have left as the Union look to erase the 2012 season from the minds of the Sons of Ben.
Le Toux leads a dangerous attack that also features Casey and Jack McInerney.
Parke brings veteran leadership to a back four that he will lead with fellow veteran Sheanon Williams.
John Hackworth's team also possesses plenty of young talent in Amobi Okugo, Gabriel, Michael Farfan and Zac MacMath.
One player who will not be on the field for the Union this season is Freddy Adu, whose departure from the club is imminent.
John: The additions of Le Toux and Casey seemed custom made for a playmaker like Adu, but Freddy is headed out the door.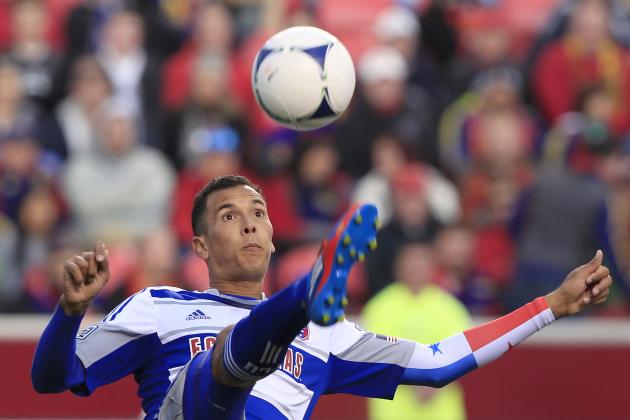 George Frey/Getty Images

Points: 24
2012 Finish: Sixth in Western Conference, 39 points.
Key Additions: Kenny Cooper, Eric Hassli, Je-Vaughn Watson
Key Departures: Brek Shea, Julian De Guzman, Kevin Hartman
FC Dallas lost one of their best players in January as Shea left for EPL side Stoke City.
Shea's departure had an instant impact on the finances of the team, and they were able to bring in both Cooper and Hassli to bolster their attack.
Those two forwards combined with Blas Perez should form one of the league's best attacking groups.
The big question surrounding FC Dallas is who will replace Hartman in goal. That responsibility falls on the shoulders of Chris Seitz, who will finally get a chance to prove himself as a first-choice keeper in MLS.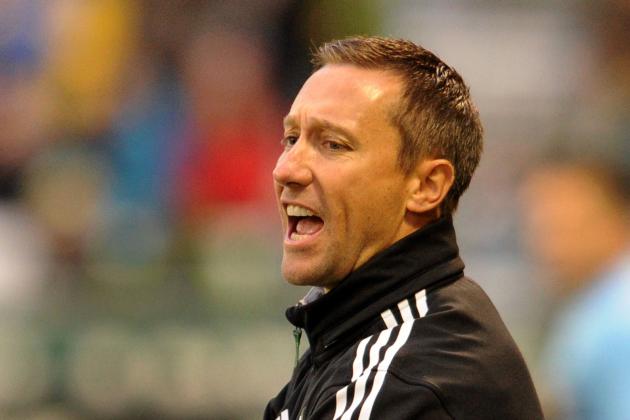 Steve Dykes/Getty Images

Points: 28
2012 Finish: Eighth in Western Conference, 36 points.
Key Additions: Mikael Silvestre, Will Johnson
Key Departures: Kris Boyd, Lovel Palmer, Steve Purdy
After finishing near the bottom of the West last season, the Timbers fired John Spencer and brought in Caleb Porter to manage the team.
Porter's meteoric rise through the U.S. coaching ranks has been well documented, and there will be plenty of eyes looking down at what he accomplishes in Portland this season.
With plenty of questions surrounding the team and some high expectations for Porter, the Timbers will be a team that gets a good amount of attention, whether it be good or bad, for most of the season.
John: The big question is Porter and his attacking possession-oriented style in a league that tends to be more direct.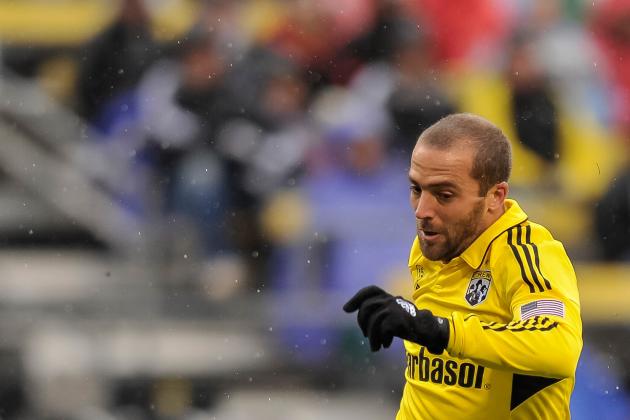 Jamie Sabau/Getty Images

Points: 29
2012 Finish: Sixth in Eastern Conference, 52 points.
Key Additions: Dominic Oduro, Ryan Finley
Key Departures: Will Hesmer, Dilly Duka, Chris Birchall
The one team getting plenty of hype in the preseason is the Columbus Crew.
The Crew are looking to get back to the postseason after missing out last season, and they have plenty of weapons on their roster that can help them reach that goal.
Federico Higuain is looking to follow in the footsteps of fellow Argentinian Guillermo Barros Schelotto and lead the Crew back to the promised land.
Eduardo: If there is any team that can make the playoffs after missing out last year, it is the Crew. Higuain is ready to take over MLS in 2013.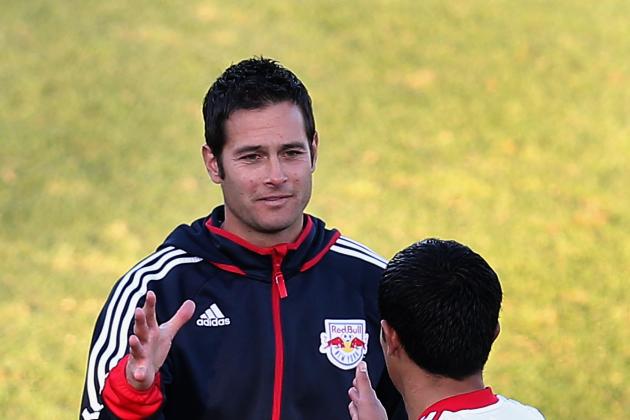 Christian Petersen/Getty Images

Points: 32
2012 Finish: Third in Eastern Conference, 57 points.
Key Additions: Fabian Espindola, Jamison Olave, Juninho Pernambucano
Key Departures: Rafael Marquez, Joel Lindpere, Kenny Cooper, Wilman Conde, Teemu Tainio
The clubhouse cancer, otherwise known as Marquez, has finally left Red Bull Arena, and the Red Bulls seem set for a peaceful season without the turbulent Mexican defender in the squad.
The key figures from last season's playoff run, Thierry Henry, Tim Cahill and Dax McCarty, are still at the club, and they have been joined by a plethora of new players.
Set piece wizard Juninho has been added to the squad, as well as two former Real Salt Lake players in Olave and Espindola.
Another change that took place at the club over the offseason was the introduction of Mike Petke as manager.
Eduardo: No Rafa, an American head coach, a stable of savvy MLS veterans. The Red Bulls finally got it right this offseason.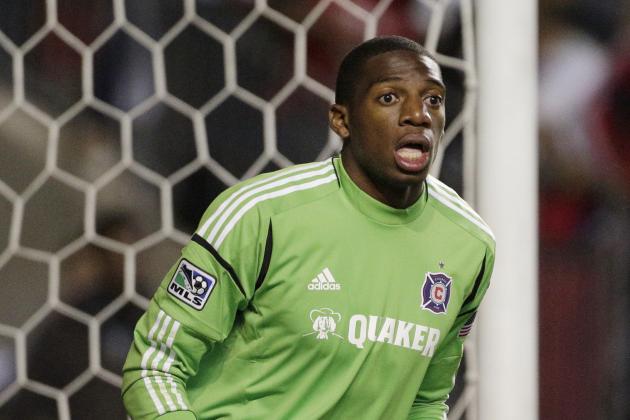 John Gress/Getty Images

Points: 36
2012 Finish: Fourth in Eastern Conference, 57 points.
Key Additions: Jeff Larentowicz, Dilly Duka, Joel Lindpere, Maicon Santos
Key Departures: Pavel Pardo, Alvaro Fernandez, Dominic Oduro
The Chicago Fire solidified their midfield over the offseason with the additions of Larentowicz, Duka and Lindpere.
With the addition of those three strong midfielders, Frank Klopas' team became one of the most well-rounded teams in MLS.
Sean Johnson has been nothing but amazing in goal, while the defense led by Austin Berry, Jalil Anibaba and Arne Friedrich is expected to have another strong season.
Up front, Chris Rolfe, Patrick Nyarko and Sherjill MacDonald have the potential to form one of the league's deadliest attacking combinations.
John: The addition of the attacking/defending combination of Lindpere and Larentowicz in Chicago's midfield could be huge.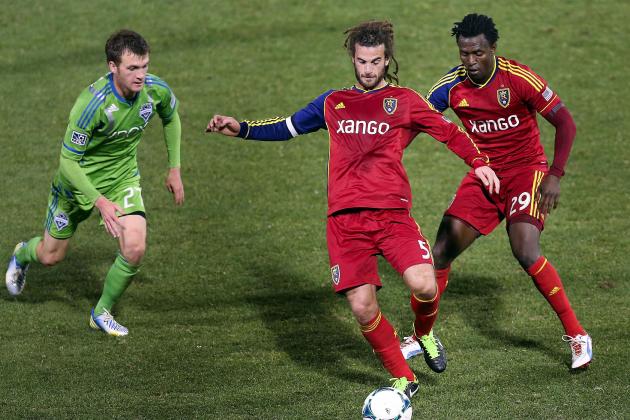 Christian Petersen/Getty Images

Points: 37
2012 Finish: Second in Western Conference, 57 points.
Key Additions: Robbie Findley, Lovel Palmer, Joao Plata, Josh Saunders
Key Departures: Fabian Espindola, Jamison Olave, Will Johnson, Justin Braun
Real Salt Lake let two key players in Espindola and Olave depart for New York during the offseason.
With their departures, the next man up on the depth chart will step up to fill the voids in Jason Kreis' starting 11.
RSL had the third-best defense in MLS last season, and that should not change with Nick Rimando in goal and the likes of Tony Beltran in the back four.
Findley comes back to the club after an unsuccessful two-season spell for Nottingham Forest to try and provide another goal-scoring threat.
John: Rimando keeps RSL in a lot of games, and their defense is great, but their attack is plain dreadful. Findley is not likely to help that much.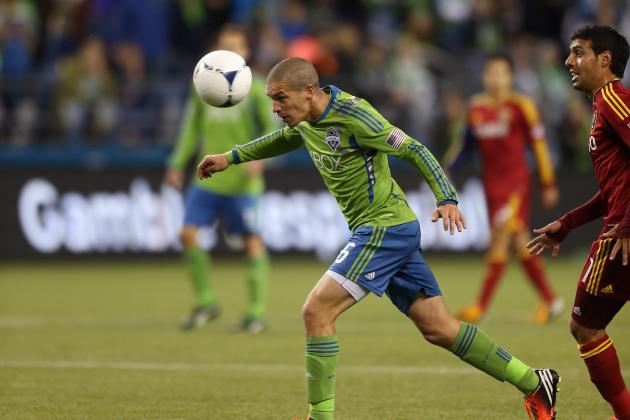 Otto Greule Jr/Getty Images

Points: 44
2012 Finish: Third in Western Conference, 56 points.
Key Additions: Shalrie Joseph, Lamar Neagle, Eriq Zavaleta
Key Departures: O'Brian White, Jeff Parke, Fredy Montero
The Sounders have a huge void to fill in attack as Montero is on loan at Millonarios in his homeland of Colombia this season.
Luckily for manager Sigi Schmid, he has the trio of Eddie Johnson, David Estrada and Sammy Ochoa willing to step up and become the team's primary goal-scoring threat.
In midfield, Joseph will add to the already strong group that is led by Osvaldo Alonso and Brad Evans.
In goal, Michael Gspurning is expected to have another strong season for the team that only allowed 33 goals last season.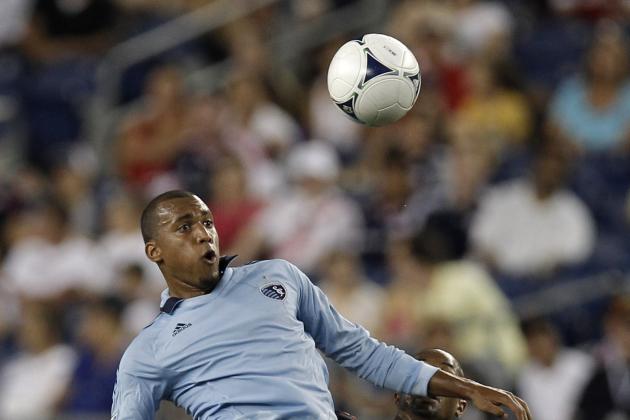 Winslow Townson/Getty Images

Points: 44
2012 Finish: First in Eastern Conference, 63 points.
Key Additions: Benny Feilhaber, Ike Opara, Claudio Bieler
Key Departures: Kei Kamara, Roger Espinoza
No team was hit harder in the offseason than Sporting Kansas City as they lost two key contributors from last season to the EPL.
With Espinoza off to Wigan and Kamara on loan at Norwich, Peter Vermes needs to find a solid replacement for both of those players.
The addition of Feilhaber to the midfield will help deal with the loss of Espinoza, but Sporting still need someone to step up and score goals.
Bieler brings some South American flair to the attack but will he, Teal Bunbury and C.J. Sapong provide enough goals in Kamara's absence?
Al Messerschmidt/Getty Images

Points: 49
2012 Finish: Second in Eastern Conference, 58 points.
Key Additions: John Thorrington, James Riley, Carlos Ruiz
Key Departures: Branko Boskovic, Maicon Santos, Andy Najar
D.C. United also lost a key player to Europe in the January transfer window as Najar joined American international Sacha Kljestan at Anderlecht.
With Najar gone, United had to make a splash this offseason and did just that last week by bringing in Ruiz, who has returned to MLS from Veracruz.
Ruiz adds to the already strong attack that features Dwayne De Rosario and Rafael, who was signed as a designated player on loan from Bahia in Brazil.
United also have a strong goalkeeper in Bill Hamid, who will be fighting for a spot on the U.S. Gold Cup roster this summer.
John: Olsen had this team on the cusp of appearing in MLS Cup last season; Chris Pontius and Nick DeLeon make their midfield one of the most exciting in the league.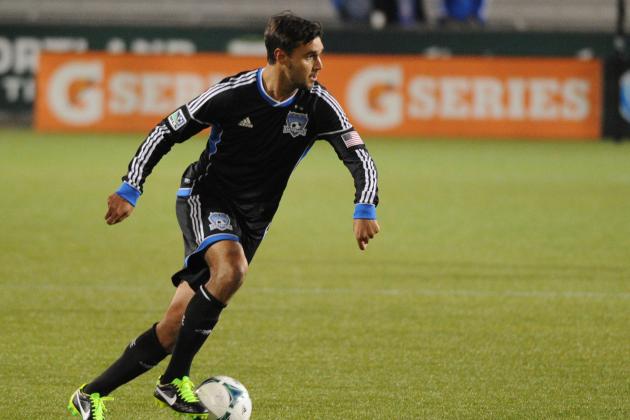 Steve Dykes/Getty Images

Points: 49
2012 Finish: First in Western Conference, 66 points.
Key Additions: Mike Fucito, Nana Attakora
Key Departures: Ike Opara, Khari Stephenson
After winning the Supporters Shield last season, the Earthquakes were unable to get past the quarterfinals in the playoffs.
Mostly all of the same pieces are in place this season for the Earthquakes to win their second straight Supporters Shield and advance further into the playoffs.
Chris Wondolowski and Steven Lenhart formed a deadly attacking combination last season, and the same should be expected of them this season.
As Steven Beitashour continues to develop into one of the best defenders in MLS, do not be surprised if he gets a call from the United States national team this year.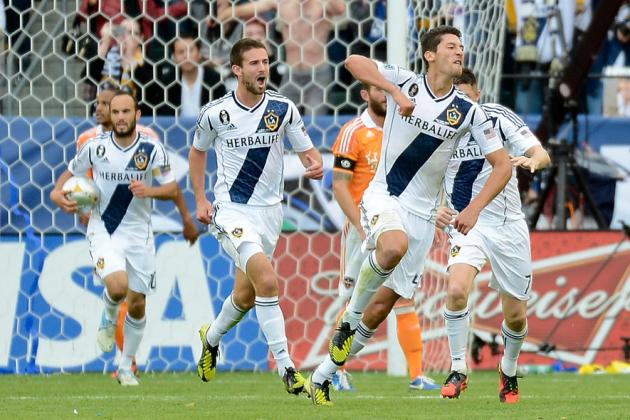 Kevork Djansezian/Getty Images

Points: 54
2012 Finish: Fourth in Western Conference, 54 points.
Key Additions: Carlo Cudicini, Juninho
Key Departures: David Beckham, Edson Buddle, Josh Saunders
Year one without Beckham begins for the defending MLS Cup champions.
While Beckham will be missed, it is another big-name player whose presence will be missed, at least for the first month of the season.
Landon Donovan is in the middle of his self-imposed sabbatical that will not see him return until the end of March.
Without Donovan for the first month, Robbie Keane will be relied on to provide plenty of veteran leadership up front.
In the back four, Omar Gonzalez will be in the spotlight for plenty of reasons, and Galaxy fans are hoping his failure with the United States national team will not spill over into the MLS regular season.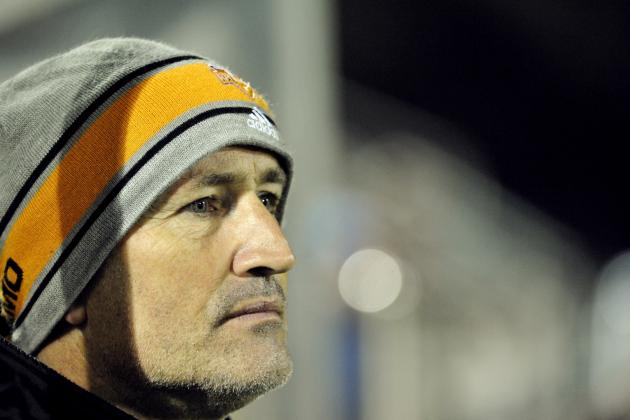 Rainier Ehrhardt/Getty Images

Points: 56
2012 Finish: Fifth in Eastern Conference, 53 points.
Key Additions: Omar Cummings, Eric Brunner, Andrew Driver
Key Departures: Andre Hainault, Je-Vaughn Watson
After barely making the playoffs last season, Dynamo manager Dominic Kinnear led his club to MLS Cup, where they lost to the Galaxy.
The Dynamo are hungry to get back to MLS Cup for the fifth time and bring home their third title.
Kinnear's complete team added Cummings to an attack that already contains Brian Ching and Will Bruin.
The continuation of Boniek Garcia's development will also be a key for the Dynamo this season as Garcia looks to secure a spot on the Honduras roster for the Hex.
John: At this point, only a crazy person would doubt Kinnear, especially with all the talent at his disposal.