Every English Premier League Team's Biggest Surprise So Far This Season
Richard Heathcote/Getty Images
The 2012-2013 English Premier League season has been a surprising one.
There's Manchester United's 12-point lead at the top with 12 games to go.
There's talk of an Arsenal crisis. Again.
There's big-spending Queens Park Rangers still mired at the bottom.
The league-wide surprises have unfolded over the course of the season and are reflected in the current Premier League table.
Now let's look a little deeper into each team and what their own surprises have been this year.
Here is the single biggest surprise—be it a bargain signing or a shock result—for every EPL team so far this season. Enjoy and have your say in the comments below.
Arsenal: Bradford City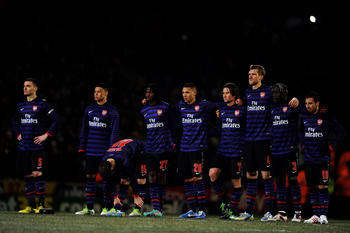 Laurence Griffiths/Getty Images
Amongst the current talk of yet another Arsenal crisis with Arsene Wenger at the helm, we start this list with a match that perhaps best summed up the Gunners fans' frustrations this year.
On December 11, 2012, League Two side Bradford City pulled off one of the greatest League Cup shocks in history when they beat Arsenal on penalties after the match ended 1-1 in normal time.
Wenger started the game at the Coral Windows Stadium with a near full-strength team, with the likes of big-money summer signings Lukas Podolski and Santi Cazorla featuring alongside Jack Wilshere and Thomas Vermaelen, but were undone by eventual finalists Bradford.
Presented with what was on paper one of the easiest routes to the semifinal, Arsenal threw away one of their best chances for some long-awaited silverware.
The wait continues.
Aston Villa: Darren Bent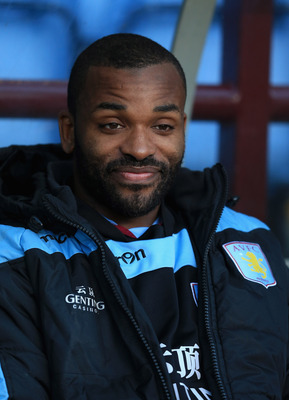 Richard Heathcote/Getty Images
When Christian Benteke signed for Aston Villa from Genk this summer for a hefty £7 million (Guardian), no one envisioned that he would become one of the Premier League's leading targetman forwards.
Certainly no one envisioned that he would consign Darren Bent to a place so far from the first team that the erstwhile prolific frontman has scored only two league goals this season.
So it's perhaps debatable if Villa's surprise should be Benteke or Bent, but we have gone with Bent purely because of his goal-scoring record in the English top flight and his seeming importance in the Villa squad until Paul Lambert's arrival.
As Villa struggle at the wrong end of the table and are in real danger of relegation, Bent continues to kick his heels on the Villa Park bench.
Chelsea: Rafael Benitez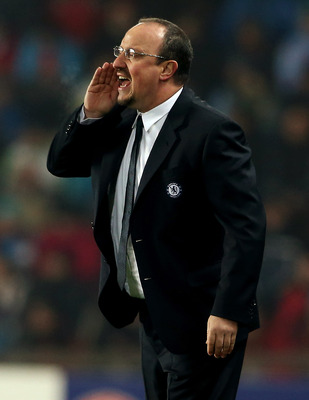 Scott Heavey/Getty Images
In late November last year, Stamford Bridge saw two of the biggest surprises in the Premier League season, courtesy of Roman Abramovich's ruthless decision-making.
First was the sacking of club legend Roberto Di Matteo, who had guided Chelsea to a Champions League and FA Cup double just six months before. But this was nothing compared to Abramovich's choice for a replacement.
The arrival of ex-Liverpool manager Rafael Benitez, the scourge of Chelsea fans, as interim coach, presumably until Pep Guardiola would sign at the end of the season, was long rumored but suddenly became a reality at the Bridge.
Not only has he failed to get Fernando Torres firing again, but he has presided over a period of poor results, leaving Chelsea in danger of losing a Champions League place for next season.
Everton: Marouane Fellaini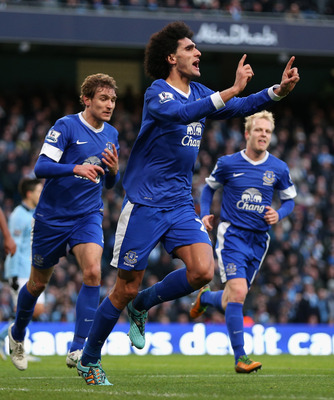 Clive Brunskill/Getty Images
Nikica Jelavic's stunning form after signing for Everton during last season's January transfer window left many voting him as one of the best signings of the season and touting him as a real Premier League force.
Who would've thought that it would be Marouane Fellaini, he of big-hair fame, leading the Everton scoring charts with 10 goals in just 21 league games?
Deployed in an advanced midfield position by David Moyes, Fellaini has made use of his fearsome physical abilities, a mean header and surprisingly strong finishing to fire his team to sixth place in the Premier League, just six points away from a Champions League spot.
Fulham: Sheffield Wednesday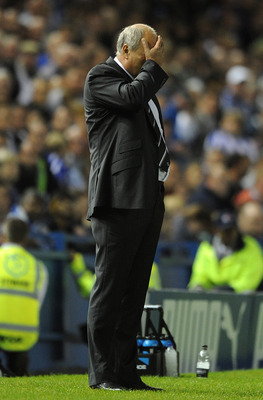 Chris Brunskill/Getty Images
In a decent and mostly average Fulham season, a shock League Cup defeat to Sheffield Wednesday reigns supreme as the Cottagers' surprise of the year.
Only a few games into their 2012-2013 season, Fulham traveled to Hillsborough for a Round Two match, only to return without a place in the next round courtesy of Gary Madine's 50th-minute penalty winner.
Currently in a comfortable 12th place in the Premier League table, Fulham exited a chance for domestic cup glory at the first time of asking, surely one of Martin Jol's lowest points so far this year.
Liverpool: Nuri Sahin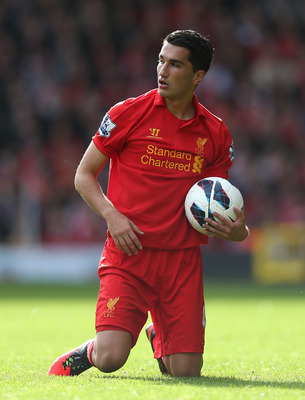 Clive Brunskill/Getty Images
Since Brendan Rodgers took over the reins at Anfield, there have been many surprises, including his over-the-top soundbites, a 1-3 capitulation at home against Aston Villa, and the resurrections of Jordan Henderson and Stewart Downing.
But they all pale in comparison to Nuri Sahin's loan deal, which started amidst much fanfare in the summer but was terminated with a whimper in January when he returned to Borussia Dortmund.
Sahin was supposed to herald the new Liverpool: A classy midfield playmaker brought on loan from Real Madrid to strengthen the midfield in a young, new-look team, but despite scoring three goals in half a season, he was never played in his preferred deep-lying position, never showed signs that he fully settled in the English Premier League, and soon he found himself out of the team.
Manchester City: Scott Sinclair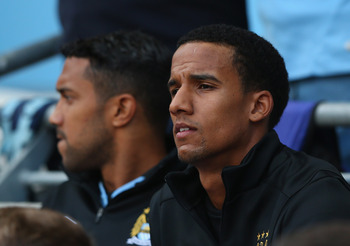 Alex Livesey/Getty Images
Matching the Sahin deal for sheer head-scratching value was Manchester City's signing of Scott Sinclair from Swansea City.
That Roberto Mancini signed him at all was a surprise. City had just finished the season as champions after the most thrilling title race in recent memory, and were supposed to be looking for signings to take them to the next level.
Sinclair was never the answer. Mancini found out soon, as after seven appearances for the Citizens, Sinclair has never been farther away from the pitch.
And to add insult to injury, Swansea City have not missed him at all.
Manchester United: CFR Cluj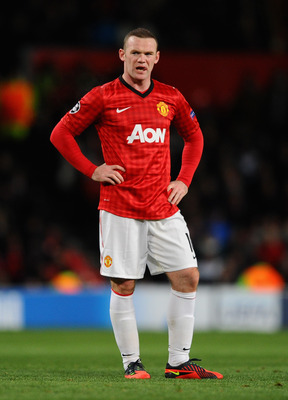 Laurence Griffiths/Getty Images
In a season full of impressive comeback wins, where Robin van Persie signed from archrivals Arsenal and where Sir Alex Ferguson has led his team to a 12-point gap at the top end of the table, Manchester United have experienced few negative shocks.
A 0-1 home loss against that mighty European powerhouse CFR Cluj was one.
In his 200th European Cup match as United boss, Ferguson presided over a lackluster home performance as a young but strong team conceded the game via a Luis Alberto strike ahead of an important derby date against Manchester City.
True to their season, however, United went through to the Champions League knockout stages all the same, and they won all three points at the City of Manchester Stadium four days later.
Newcastle United: French Revolution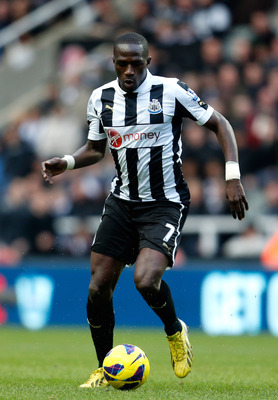 Paul Thomas/Getty Images
Newcastle United's surprise of the season isn't any one player or one moment, but one whole transfer window.
The January transfer window saw Newcastle bring in five French players from Ligue 1, bringing the French contingent at St. James' Park to 11 and French speakers to 14 (Guardian).
A far cry from Alan Pardew's erstwhile trumpeting of English players (via BBC Sport):
I saw a headline saying Arsenal are flying the flag for Britain. I kind of wondered where that British involvement actually was when I looked at their team. It's important that top clubs don't lose sight of the fact that it's the English Premier League and English players should be involved. Foreign players have been fantastic. We have learned from them and from foreign coaches. But, to some extent, we could lose the soul of British football—the English player.
Norwich City: Luton Town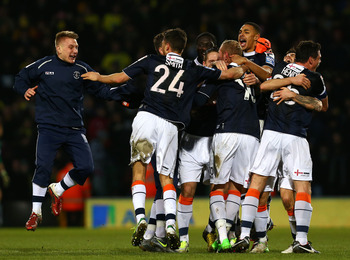 Jan Kruger/Getty Images
This English football season has seen many a fine shock in the domestic cups, but Luton Town's 1-0 win over Norwich City has to rank among the finest of them all.
After all, they became the first non-league side to knock a top-flight team out of the FA Cup since 1989, and it was a deserved win after a similarly impressive win over Wolverhampton Wanderers in the third round.
Chris Hughton might have settled in well at Carrow Road, with Norwich not currently in danger of relegation, but he well and truly experienced an embarrassment this January 26.
Queens Park Rangers: Julio Cesar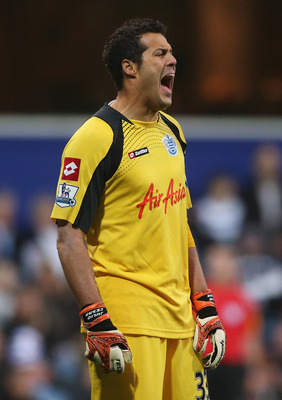 Scott Heavey/Getty Images
Oh, Queens Park Rangers. Where to start?
Mark Hughes' dismal performance? Owner Tony Fernandes' continued splashing of the cash? Christopher Samba's January arrival for a ridiculous transfer fee and on a ridiculous playing salary (Guardian)?
What about something more positive?
What about the surprise capture of Julio Cesar from Internazionale? His surprise dropping out of the first team for a brief period before regaining the gloves from Robert Green? His singlehanded keeping at bay of many a top side since Harry Redknapp took over?
It's been a strange season at QPR. Julio Cesar will be a key player in lifting his team out of trouble. Or is it too late?
Reading: Adam Le Fondre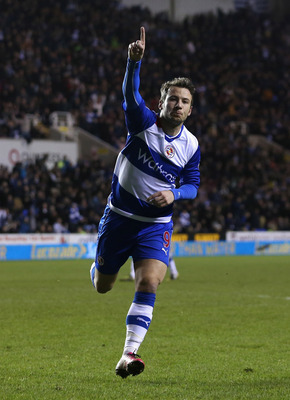 Scott Heavey/Getty Images
The term "surprise" went to a whole new level when Reading's Adam Le Fondre was announced as the English Premier League's January Player of the Month despite playing just 85 minutes of league football.
His amazing win was achieved courtesy of his five goals from the bench, which also contributed massively to his manager Brian McDermott's Manager of the Month accolade, and was a nice reminder of the fairytales that still exist in English football.
Having previously played for the likes of Stockport County, Rochdale and Rotherham United, Le Fondre has risen through the ranks and scored 10 goals in a quite extraordinary maiden Premier League season.
Southampton: Gaston Ramirez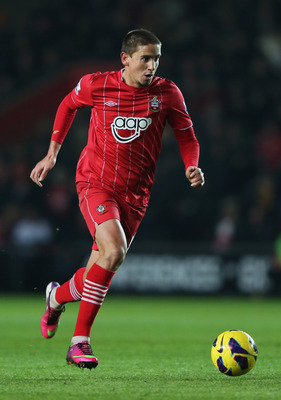 Ian Walton/Getty Images
While the sacking of the popular Nigel Adkins and the appointment of the relatively unknown Mauricio Pochettino surprised the Southampton faithful and English Premier League fans in equal measure, we have to go back to the summer transfer window for the Saints' true surprise of the season.
Gaston Ramirez had been linked with Liverpool after impressing in Italy's Serie A with Bologna for the previous two seasons (Metro), but ended up at Saint Mary's Stadium in August, resulting in one of the biggest transfer coups in Southampton's long history.
Sure, the financial rewards on offer might have been too good to turn down, but his performances in England since have suggested that it wasn't all just for nothing.
Stoke City: Jack Butland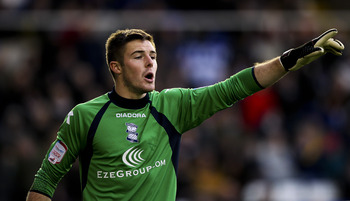 Ben Hoskins/Getty Images
Stoke City's biggest surprise of this season is a signing they have made for next season, and the only from this January transfer window that has made our list.
Jack Butland's deal to join Stoke at the end of the season has a few surprises wrapped in one single move.
First is the low transfer fee (£3.5 million) for one of the most existing goalkeeping prospects in England (BBC Sport). Then come the rumors that Butland rejected the likes of Chelsea (Daily Mail), Liverpool and Everton (Daily Mail).
The most surprising factor is that in securing a deal for Butland, Tony Pulis effectively announced that his current number one, Asmir Begovic, would be made available for transfer in the summer.
Who does that anymore?
Sunderland: Manchester City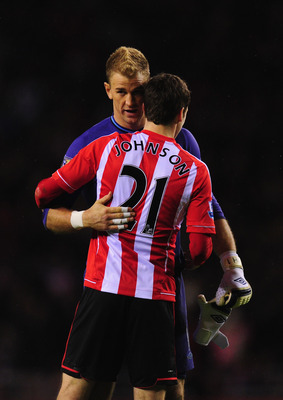 Stu Forster/Getty Images
Manchester City's season of underachievement was encapsulated by their shock defeat against Sunderland at the Stadium of Light on Boxing Day 2012.
A strikeforce that was so potent last season was nowhere to be found on the day (and indeed for most of the season), and it was Adam Johnson, who frustrated Roberto Mancini to no end during his days in a City shirt, who supplied the killer goal for Martin O'Neill's side.
Adam Johnson's goal provided the spark that Sunderland needed in their own underwhelming season. It's been an otherwise indifferent season for the Wearsiders, who sit 13th in the Premier League table.
Swansea City: Michu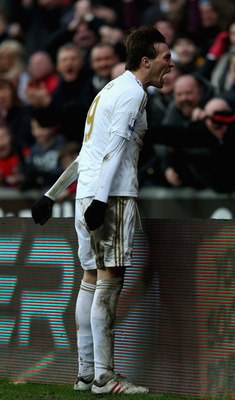 Warren Little/Getty Images
Come the end of the season, it will have to be a toss-up between Manchester United's Robin van Persie or Swansea City's Michu as the signing of the 2012-2013 Premier League season.
While the surprise element in van Persie's transfer was that Arsenal let him go to their archrivals, it will be the bargain basement £2 million price (Guardian) that captures all the headlines again.
Fans of English football have been surprised by Swansea's steady progress since their promotion to the Premier League, and will have been more impressed still by their astute appointment of Michael Laudrup as their new manager following Brendan Rodgers' departure to Liverpool.
But even La Liga fans who were accustomed to Michu's exploits with Rayo Vallecano last season will be pleasantly surprised by the goal-scoring feats that he has accomplished during his short time in south Wales. A midfielder by trade, he currently has 15 league goals and sits third place in the Premier League goal-scoring charts.
Tottenham Hotspur: Andre Villas-Boas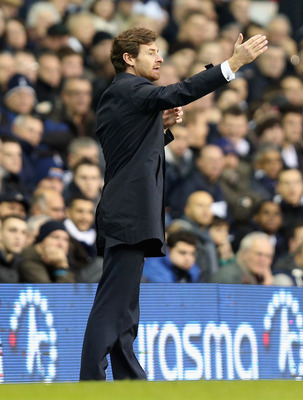 Bryn Lennon/Getty Images
Gareth Bale's stunning recent form has quite rightly grabbed all the Tottenham Hotspur-related headlines in recent weeks.
But slipped slightly under the radar is the impressive job that Andre Villas-Boas has been doing since assuming the Spurs hotseat in the summer, taking over from Harry Redknapp in acrimonious circumstances.
Since the initial grumbles and then outcry at every dropped point at the beginning of the season, Villas-Boas has quietly molded a Spurs team once again challenging for a Champions League place, and they currently sit in fourth place, four points above their nearest challengers Arsenal.
West Bromwich Albion: Steve Clarke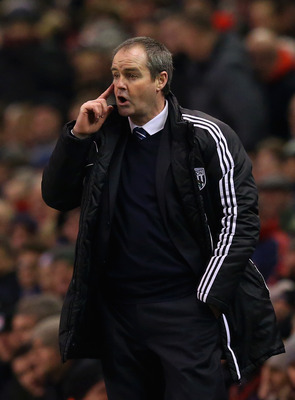 Alex Livesey/Getty Images
One of Kenny Dalglish's most widely lauded moves during his second stint as Liverpool manager was to bring in former Chelsea assistant Steve Clarke to work on Liverpool's defensive game. And when Dalglish left Anfield in the summer, it was only natural that Clarke departed and finally sought out a managerial position to try out.
While his ability as a coach had been recognized and praised, the start he enjoyed at West Bromwich Albion was nothing short of phenomenal, earning 14 points from their opening seven games and placing them sixth in the table.
They have since dropped in form and currently find themselves in ninth place with 37 points, but it has been an impressive first season for a man finally taking a shot at the Premier League management game.
West Ham United: Chelsea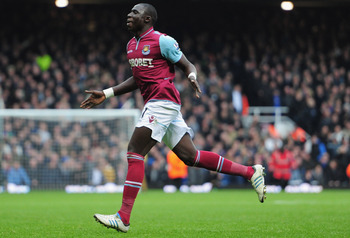 Jamie McDonald/Getty Images
In the early days of the Rafa Benitez era at Chelsea, his trusty old rival Big Sam Allardyce delivered a thumping blow to his hopes of winning over the Blues faithful with a convincing 3-1 win at West Ham United's Upton Park.
Given Allardyce's track record in the Premier League, West Ham were never in real danger of relegation in their first season back in England's top flight, but their current solid mid-table position (11th with 30 points on the board) reflect the effective formula that he has drilled in his Hammers team.
Mohamed Diame, another of his bargain buys, proved his credentials and his ability in the December period with dominant performances against Chelsea and Liverpool, and it was he who scored the deciding second goal for West Ham in this Chelsea upset.
Wigan Athletic: Franco Di Santo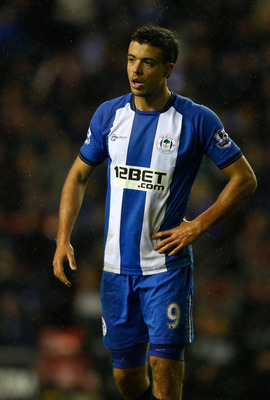 Paul Thomas/Getty Images
There's nothing surprising about Wigan Athletic's current league position: Second to last in the table, three points from safety, with 12 games to go.
And if Roberto Martinez secures yet another "Great Escape," that perhaps will be no surprise either, just as if he were to be linked with another top club this summer (only to stay put again, of course).
The surprise element of Wigan's season has been Franco Di Santo, whose five league goals belie his profligate reputation.
And if that weren't surprising enough, how about his call-up to the Argentina national team for a friendly in November? Truly, truly jaw-dropping, awe-inspiring, and perhaps just a bit bemusing.
For extensive coverage on the Premier League, please check out my Bleacher Report writer's profile and my weekly roundup of English football on SoccerWithoutLimits.com.
Follow me @theredarmchair.
Keep Reading