Ranking the 13 Best Premier League Tacklers on Stats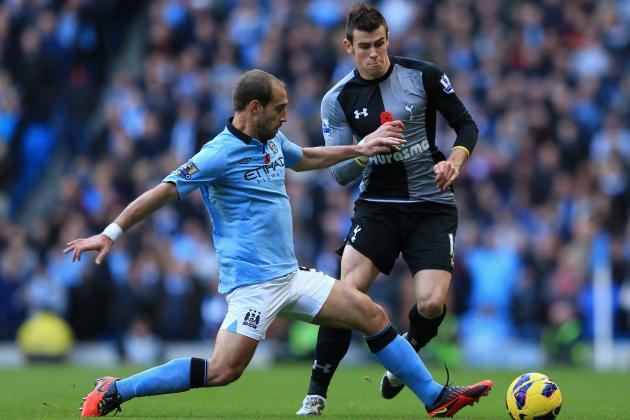 Richard Heathcote/Getty Images

The Premier League is crammed with tough tacklers.
Statistically speaking, only a handful of players manage to combine force with accuracy. There are plenty of Lee C(l)attermole's around, but which individuals are the most consistent ball winners in the division?
I've consulted a number of statistics to work out exactly that. Who makes it into the top 13? Who falls short? Read on to find out.
Begin Slideshow

»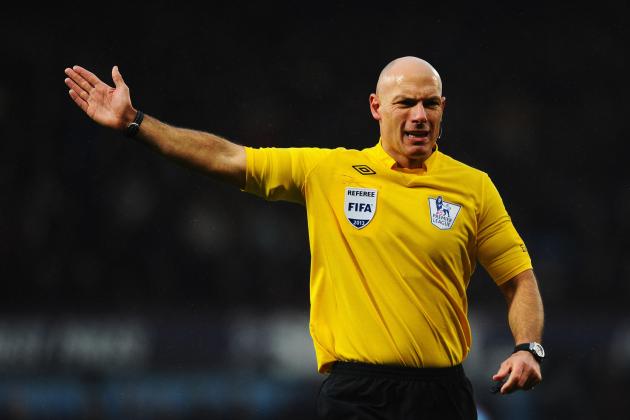 Mike Hewitt/Getty Images

How do you process the Premier League's best tacklers without being unfair? Using a combination of statistics available from Whoscored and EPL Index, my criteria is simple:
Criteria:
1) Total amount of tackles will be divided by total appearances to produce an average. For example, if Jimmy Tackle completed 20 tackles across 20 appearances, his average is one.
2) Players must have accumulated a minimum of 20 appearances during the 2012-13 Premier League season. Substitute appearances do count. This stops less-regular starters producing amazing statistics because they contributed a huge amount of tackles in a handful of games. Consistency is key.
3) Only successful tackles will be counted. Sorry, Paul Scholes.
4) Interceptions and aerial duels are not added.
5) If you've read down to this number, it's time to change slides.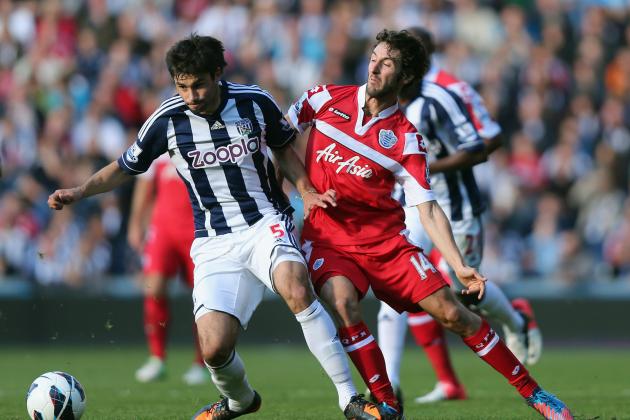 Bryn Lennon/Getty Images

This group miss out on the top 13 but should be considered if a top 20 is being put together. They may have missed out through a lack of games or slightly lower tackle rate. Even so, these are the best of the rest.
Claudio Yacob, West Bromwich Albion: average of 3.53 tackles across 16 (1 substitute) appearances.
Gael Clichy, Manchester City: average of 3.39 tackles across 17 (1) appearances.
Chico Flores, Swansea City: average of 3.31 tackles across 18 appearances.
Carlos Cuellar, Sunderland: average of 3.21 tackles across 19 appearances.
Yohan Cabaye, Newcastle United: average of 3.07 tackles across 13 (1) appearances.
Kieran Gibbs, Arsenal: average of 3.05 tackles across 18 (1) appearances.
Nathaniel Clyne, Southampton: average of 2.95 tackles across 22 appearances.
Surprising stat: Sebastian Bassong of Norwich City is the lowest tackling defender to rack up over 20 appearances. Across 22 starts, the former Spurs man averaged 0.5 tackles per game.
Funny stat: In 21 starts,Yaya Toure averaged 1.1 tackles per match for Manchester City. This is less than forwards, including Papiss Cisse, Lukas Podolski and Michu.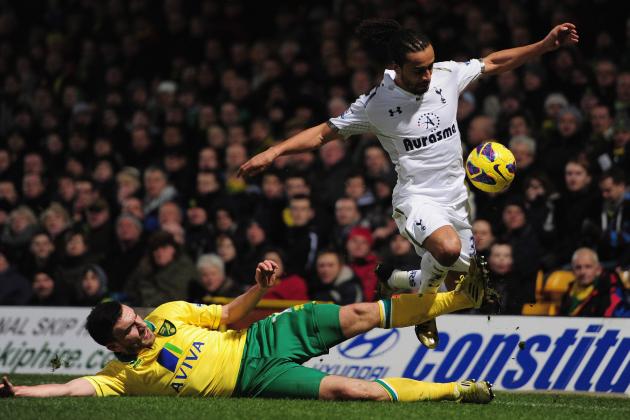 Jamie McDonald/Getty Images

Total Appearances: 22 (2)

Total Tackles: 72

Average tackles per match: 3.00
Robert Snodgrass was made for the Premier League. The Norwich midfielder only has half a season of top flight football under his belt, but his transition from the Championship has been natural.
Chris Hughton's side have shown their doggedness on multiple occasions this campaign. With players like Snodgrass—who can shut down an attack and turn provider in a matter of seconds—the Canaries continue to test England's elite.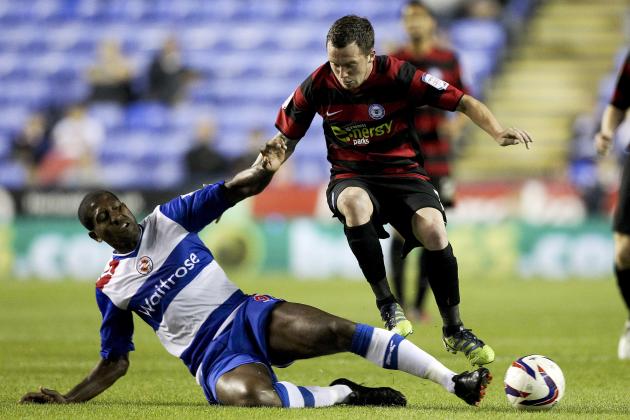 Ben Hoskins/Getty Images

Total Appearances: 23

Total Tackles: 70

Average tackles per match: 3.04
Mikele Leigertwood is one of the Premier League's least-glamorous names. You won't see him scoring many goals or supporting the Reading attack often—he is employed purely to mop up.
The 30-year-old should be considered the perfect antidote to the Madejski Stadium's madness in recent weeks. Adam Le Fondre may grab the headlines for scoring last minute goals, but, rest assured, players such as Leigertwood keep Reading competitive in the first place.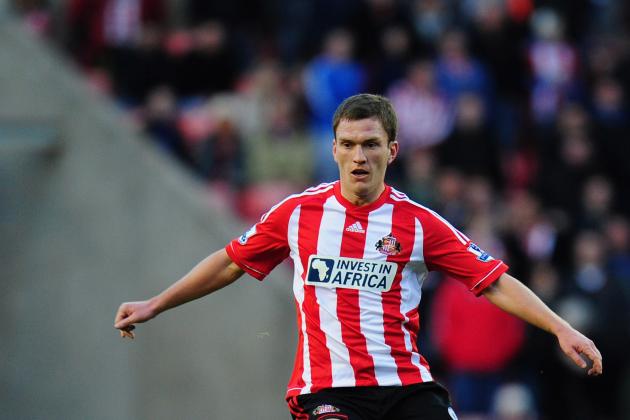 Stu Forster/Getty Images

Total Appearances: 23 (1)

Total Tackles: 74

Average tackles per match: 3.08

Similar to Snodgrass, Craig Gardner is the kind of midfielder who dabbles in a little bit of everything. He is never afraid to wholeheartedly commit or unleash a strike from distance.
Eight yellow cards this season underlines an Englishman who play with the Premier League spirit encrusted in his heart. If the possibility of a tackle arises, you can bet Gardner will take it. The 26-year-old has also produced four goals and two assists this season, marking a fantastic run of form.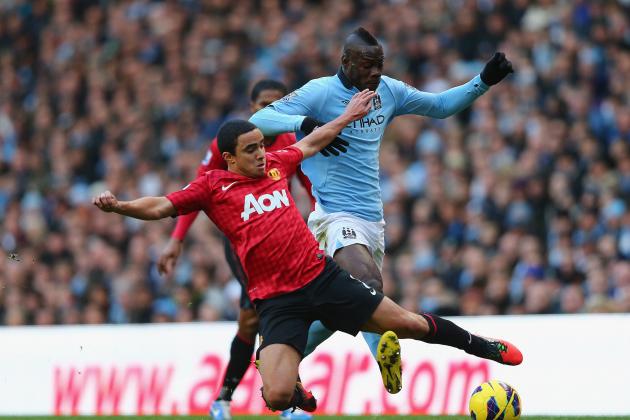 Clive Mason/Getty Images

Total Appearances: 19 (1)
Total Tackles: 65

Average tackles per match: 3.25
Rafael sneaks into the top 10 by scraping 20 appearances for Manchester United. The Brazilian has improved massively across the last six months, nailing down a starting right-back role in the process.
United seem to play better when Rafael is linked with Antonio Valencia on the right. Despite the Ecuadorean's poor run of form, the 22-year-old behind him has contributed two goals and two assists when bombing forward.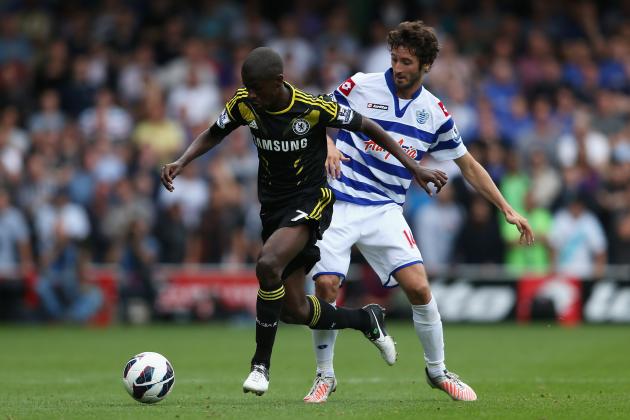 Julian Finney/Getty Images

Total Appearances: 17 (6)
Total Tackles: 75
Average tackles per match: 3.26
Ramires may have been a marathon runner in another life. His energy and desire to get across the pitch often sparks Chelsea into life.
Alongside the aging legs of Frank Lampard and feeble defensive contribution of Oscar, Rafa Benitez has been wise to stick with the player who crunches harder than any of European Champions' other midfielders.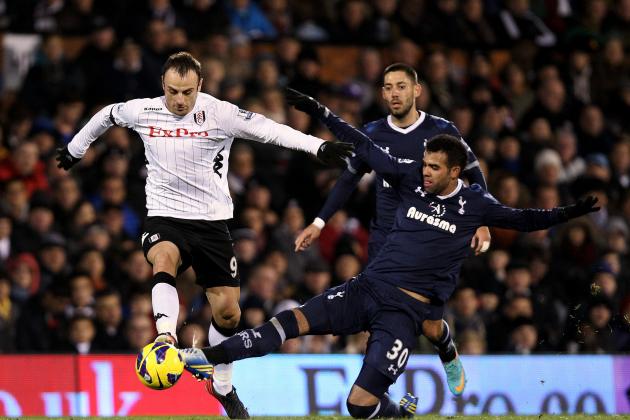 Jan Kruger/Getty Images

Total Appearances: 22
Total Tackles: 72
Average tackles per match: 3.27
Sandro is one of Tottenham's most important players. He is a defensive stalwart who specialises in winning the ball.
Unlike his Brazilian compatriots previously featured on this list, the 23-year-old is less inclined to support attacking moves. When he does, the result is often spectacular.
Unfortunately for Spurs, they will have to do without the influential player until next season. His recent injury means Lewis Holtby has to step up quickly in the centre of midfield (via BBC Sport). Make no mistake about it, Sandro would have been near the top of this list if he played a full season.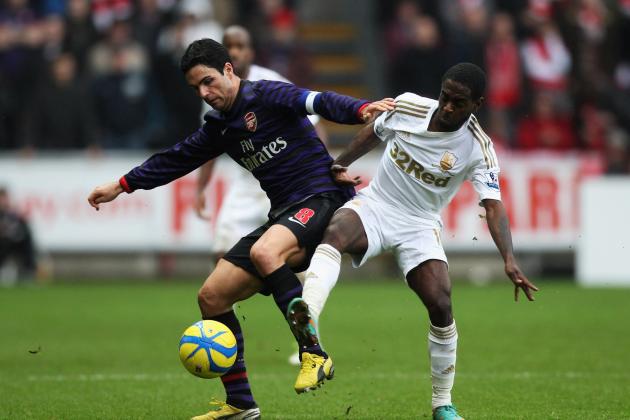 Ben Hoskins/Getty Images

Total Appearances: 21
Total Tackles: 74
Average tackles per match: 3.52
Another player riddled with injury, Mikel Arteta is a key component in Arsene Wenger's plans (via BBC Sport). The Spaniard has adapted his game since joining the Gunners in 2011, placing an emphasis on a combination of smart defensive play and counter attacking passes.
Arteta is another example of a player who keeps things ticking over. While the likes of Abou Diaby, Jack Wilshere and Aaron Ramsey are prone to bombing around the pitch, the former Everton man is more conservative in his offensive efforts.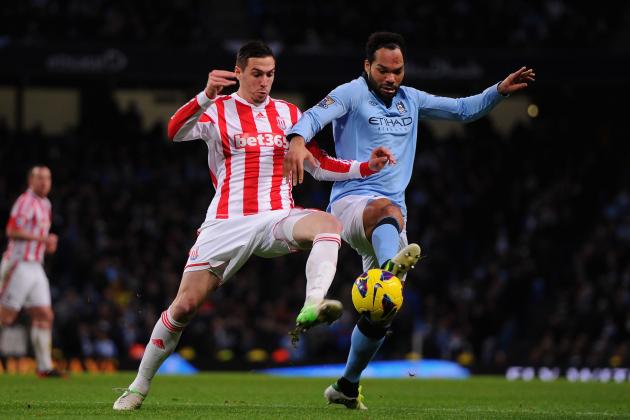 Michael Regan/Getty Images

Total Appearances: 22 (1)
Total Tackles: 86
Average tackles per match: 3.74
Geoff Cameron doesn't stand out at Stoke. He is physical, pacey and loves to halt the opposition's progress with well-timed tackles.
The versatile American is the kind of player who makes Tony Pulis jiggle with excitement. Alongside the behemoth pairing of Ryan Shawcross and Robert Huth, it's no wonder the Potters only conceded five goals in 12 games earlier this season.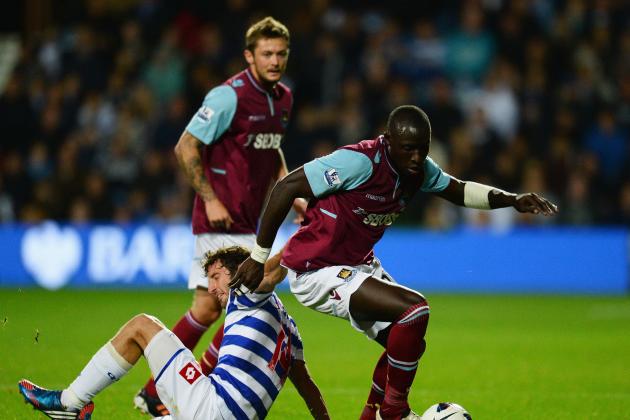 Mike Hewitt/Getty Images

Total Appearances: 18 (2)
Total Tackles: 76
Average tackles per match: 3.8
Intense transfer speculation followed Mohamed Diame throughout the January transfer window (via The Daily Mirror). Sam Allardyce kept hold of his player in what could be one of the season's most significant non-moves.
Diame is a powerhouse. His combination of speed, power and athleticism is rarely matched in the Premier League and, indeed, throughout the world. The 25-year-old is just coming into his prime and should have a huge decade ahead of him.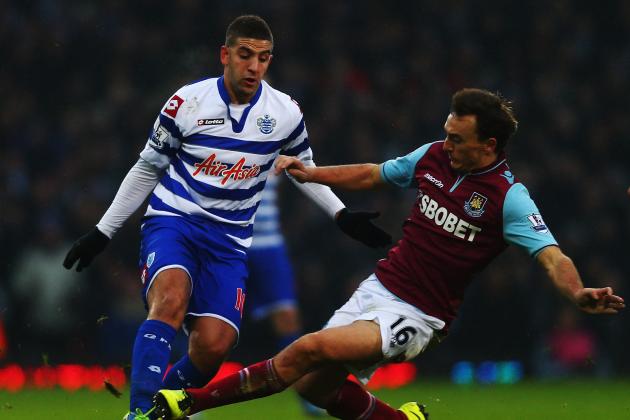 Clive Rose/Getty Images

Total Appearances: 23
Total Tackles: 88
Average tackles per match: 3.83
Another West Ham player makes the list. This time, a Noble Englishman jumps into the top four with his studs in the air. Mark Noble isn't blessed with great speed, height or power, but his natural aggressiveness makes up for all of that.
He is the Boleyn Ground's resident pit bull. Anyone who comes up against Noble and Diame understand they have a physical 90 minutes ahead.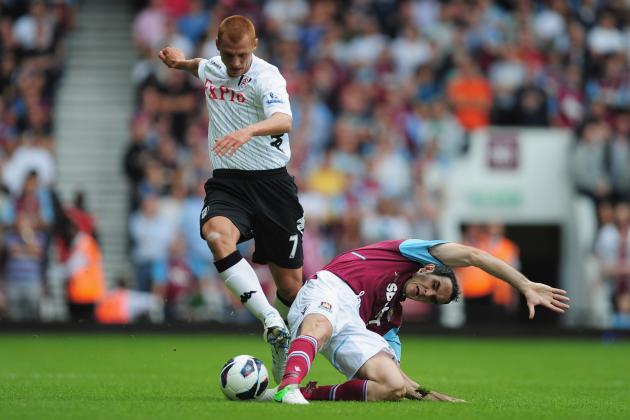 Jamie McDonald/Getty Images

Total Appearances: 18 (4)
Total Tackles: 85
Average tackles per match: 3.86
Perhaps the most surprising entry on this list is Steve Sidwell. The Fulham midfielder is an under-the-radar type of guy—both on and off the pitch. He has made 22 appearances in a side that remains competitive at home and hopeless away.
Martin Jol would do well to program the rest of his players with Sidwell's tenacity. Both the midfield and attack is too flimsy for a sustained stint in the Premier League. Right now, Sidwell is making up for the tentative work of individuals such as Dimitar Berbatov and Bryan Ruiz.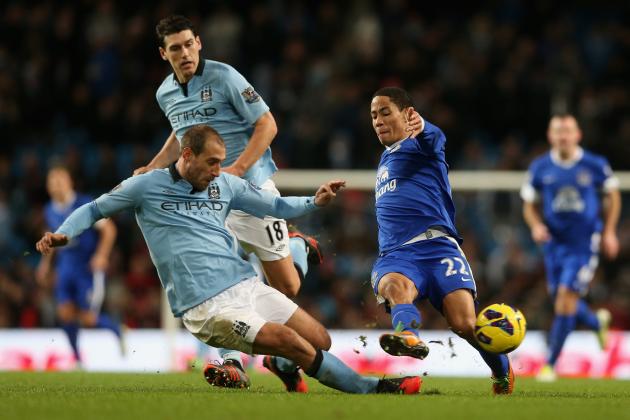 Scott Heavey/Getty Images

Total Appearances: 19 (1)
Total Tackles: 80
Average tackles per match: 4.00
No surprises here. Pablo Zabaleta is one of the Premier League's classiest acts. The Argentine full-back has received many plaudits this season—and rightfully so.
Manchester City have conceded two goals in 2013. Last season, Roberto Mancini's team fell apart if Vincent Kompany wasn't on the pitch. While the Belgian's presence is still integral to any City success, the same can now be said about Zabaleta.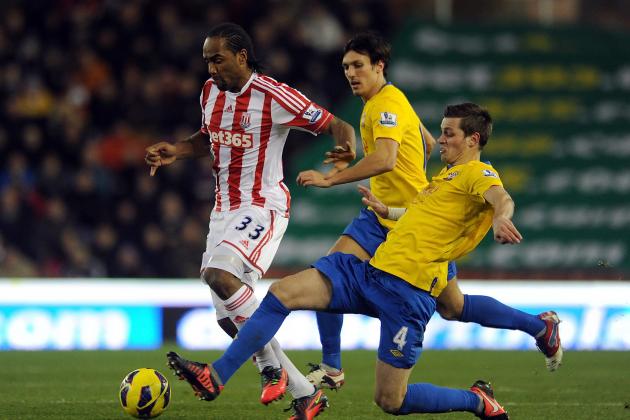 Chris Brunskill/Getty Images

Total Appearances: 24
Total Tackles: 99
Average tackles per match: 4.13
Morgan Schneiderlin is likely to become the first Premier League centurion tackler of the season in his next match against Manchester City. The 23-year-old has appeared in all but one of Southampton's games and has helped steer Mauricio Pochettino's team away from the relegation zone.
Potential suitors must be eyeing the possibility of a summer move. The 23-year-old is tall, powerful in the air and has the knack of scoring important goals. If Southampton remain in the Premier League you can bet this rapidly-improving Frenchman has a huge part to play.
What are your thoughts on these rankings? Is anybody missing from the top 13 that you'd expect to see? Let me know in the comments section below and be sure to follow me on Twitter: