Ranking the Top 10 Premier League Goalkeepers This Season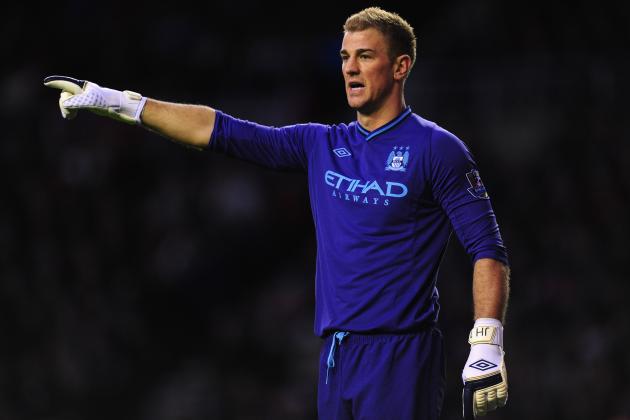 Stu Forster/Getty Images

Sometimes, goalkeepers do not get the deserved attention that their teammates do.
After all, they spend most of the match off camera, in the obscurity of their penalty box. Life can often be lonely between the posts. They don't even get to celebrate goals with the rest of the team.
But a world-class goalkeeper can save points, win matches and earn silverware. Let's commemorate some of the Premier League's best shot-stoppers by ranking them based on clean sheets kept, the quality of the defense in front of them and good old holistic observation.
Begin Slideshow

»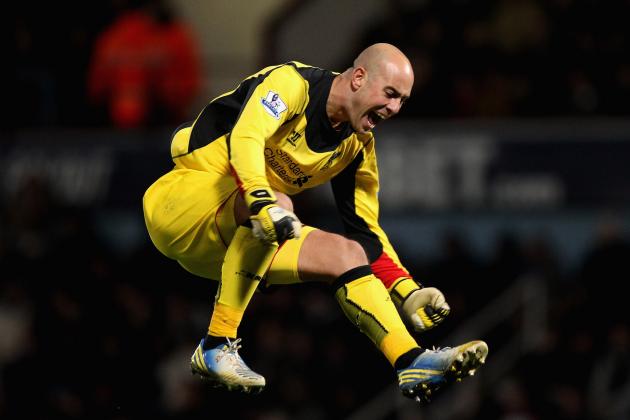 Ben Hoskins/Getty Images

Brad Guzan
The American shot-stopper has had his best run of form during this campaign, displacing the experienced Shay Given and keeping five clean sheets in 21 games.
However, he's also conceded 40 goals in those 21 games, which rules him out of the top 10, and keeps him the second-best American goalkeeper in England.
Júlio César
At times, César has singehandedly saved precious points for QPR with his still-world-class reflexes and instincts. But it's impossible to rank a goalkeeper in the top 10 in England when he's only recorded three clean sheets in 13 games.
Pepe Reina
A fixture between the sticks for Liverpool during the past several seasons, Reina has certainly been above-average this year, but his inconsistent form prevents him from being mentioned among the true elite anymore.
Recent criticism has fanned speculation linking him with a return to Spain to fill Victor Valdes' impending void at Barcelona.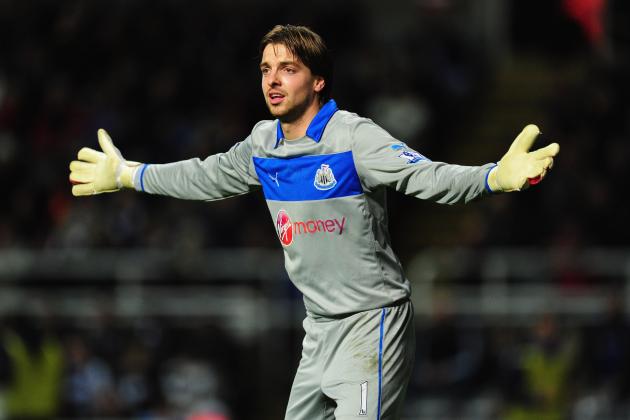 Stu Forster/Getty Images
Why has my defense forsaken me?
After a stellar run of form last season, Tim Krul was promoted to Newcastle's first-choice goalkeeper, and he has not looked close to conceding that title since.
The problem for the Dutchman this season has been the back four he's had to put up with. The group that wrapped up 2012 by conceding seven goals to Arsenal has been porous at best, conceding the fourth-most goals in the Premier League.
However, that does not detract from Krul's quality. The Toon would surely be closer to the relegation zone if their lanky goalkeeper with the '90s haircut was not pulling off fine stops and saving his defense's blunders.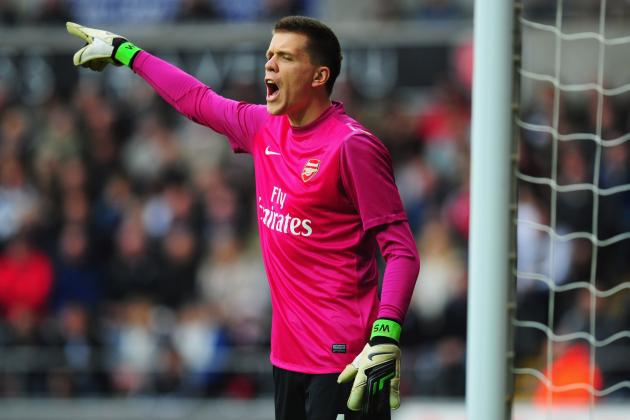 Stu Forster/Getty Images

Wojciech Szczesny is far from the finished product, but his already impressive displays for Arsenal this season provide great hope for the future to Gunners fans.
What the Pole in goal can do (that other Arsenal 'keepers haven't) is take firm command of his penalty area.
Though only 20 years old when he made his first-team breakthrough in 2010, Szczesny has always seemed to be able to command respect from his defenders and deal with the sorts of crosses and high balls into the box that define Premier League football.
He certainly has his faults. Poor distribution and failure to deal with some savable shots have not reflected well upon Szczesny, but his positive attributes are outweighing those negatives more and more every game.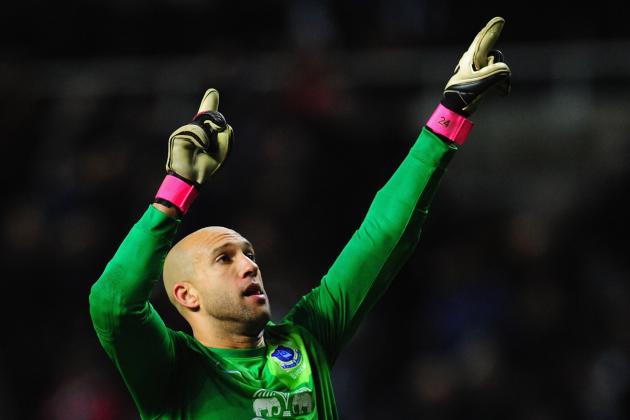 Stu Forster/Getty Images

As he has been for several seasons now, American Tim Howard is the rock at the back that stabilizes Everton's defense. His exceptional play in goal has allowed the Toffees the freedom to open up their opponents, and Everton is now within a mere three points of the Champions League places.
Few have the utter control over their penalty area that Howard does for both club and country. One will surely see him yelling and gesticulating at his defenders during an Everton or USA match, taking charge of any situation in his area.
He's played all 2,070 minutes of Everton's 23 League games this season, and that's not an accident. Howard's as big a reason as any why the Toffees have the third-best defense in the Premier League.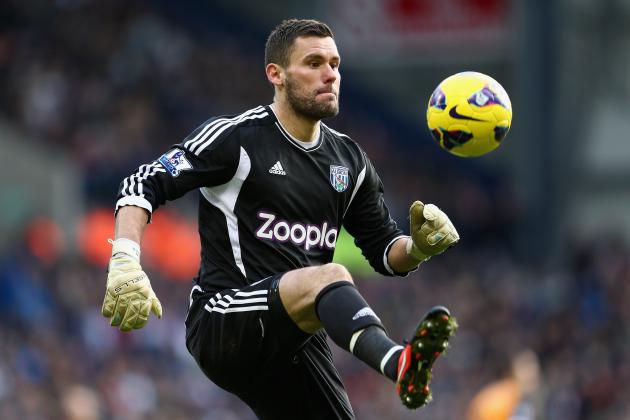 Clive Mason/Getty Images

How good is Ben Foster? I'll just defer to his manager at West Brom, Steve Clarke:
WBA's Steve Clarke on Ben Foster v #mufc: "That is why we spent our whole summer transfer budget on Ben. That is what we expect him to do."
— BBC Sport (@BBCSport) December 29, 2012
Goalkeepers of Foster's quality can certainly be the difference between relegation and promotion, or a mid-table finish and a scrap to stay up. That's why Clarke knew he had to spend big to get the man who is now arguably West Brom's most important player.
With the reflexes and penalty box presence of an England international, Foster can, and has, saved points for the Baggies this season.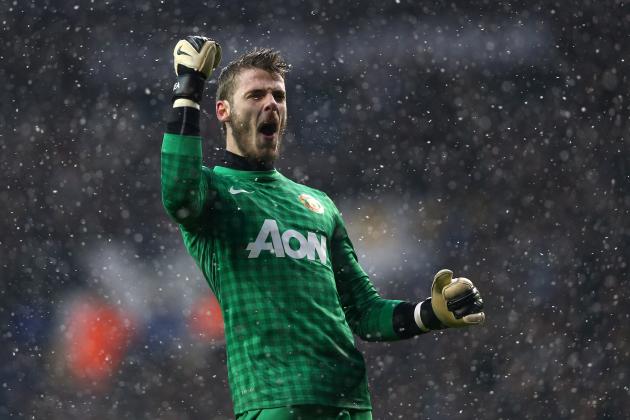 Clive Mason/Getty Images

Manchester United's goalkeeper has been harshly criticized since his arrival at Old Trafford in 2011 for some high-profile mistakes unbecoming of the No. 1 for arguably the best team in the world.
Yet when unencumbered by thought and anxiety, De Gea shows time and time again why he might have the most raw talent of any goalkeeper in the Premier League.
His reflexes are superb, and though he does not command his area with the effectiveness of others on this list, De Gea can pull off saves that few others in the world can.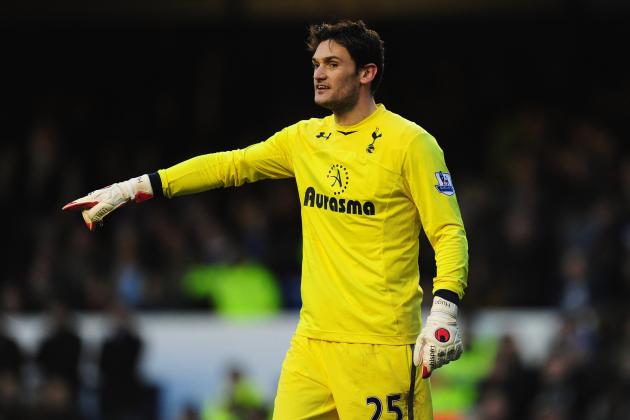 Stu Forster/Getty Images

Brad Friedel may be 41, but it still takes a lot to displace a man who is on a little run of 310 consecutive Premier League games.
Hugo Lloris did that, and is now firmly established as Tottenham Hotspur's first-choice goalkeeper.
The captain of the French national team has the best clean-sheets-to-games-played ratio of any goalie in the Premier League, with six in 13 matches.
With the kind of penalty-box presence, superb reflexes and excellent positioning one would expect from a shot-stopper of Lloris' stature, the summer signing has made the position his own this season and in the future.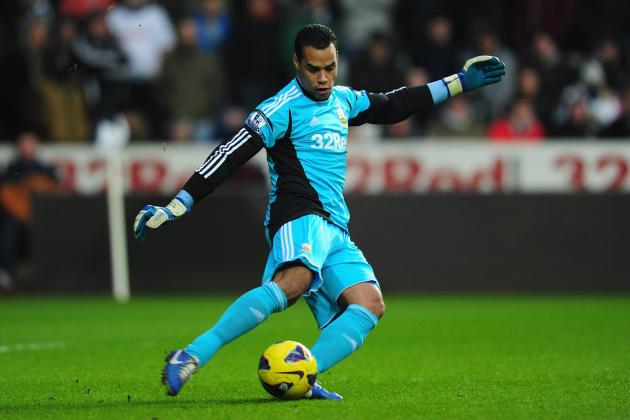 Stu Forster/Getty Images

When one watches Michel Vorm carry Swansea on his shoulders in many games, it's incredible to think that he was purchased for a mere £1.5 million.
The great bargain of 2011 has established himself as one of the Premier League's best since he arrived in Wales. After overcoming an injury at the beginning of this season, Vorm picked up right where he left off.
In fact, Swansea, known for being a swashbuckling attacking side, are have the tied-fourth-best defense in the Premier League this season.
To take an example: Before his goal was finally and inevitably breached late in the game by Lukas Podolski, Vorm repelled Arsenal during their first FA Cup tie time and time again, pulling off numerous instinctive, reflex saves that are the mark of a top goalkeeper.
Any team in England would love to have him, and he'd surely go for more than £1.5 million.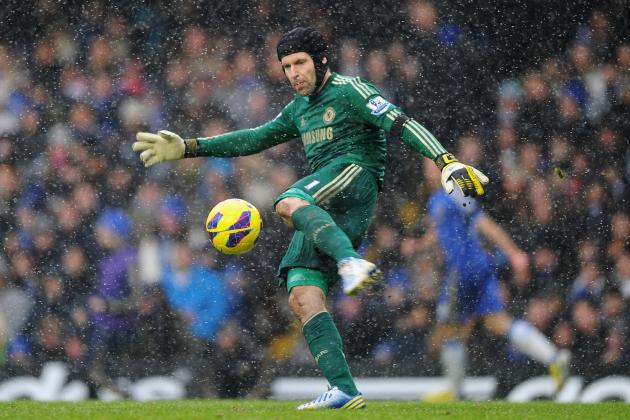 Laurence Griffiths/Getty Images

Through all the managers, all the new players and all of Roman Abromavich's hijinks, there has always been Petr Cech between the sticks at Stamford Bridge.
With nine clean sheets in 22 games this season, Cech the Czech has been his usual reliable self. An unflappable presence in goal, he is Chelsea's Rock of Gibraltar amidst the various selection controversies that occur with his outfield players.
With an imposing 6'5" frame, a fearlessness probably borne out of the soft helmet he wears on his head and the quick-twitch reflexes to make a stunning stop on a moment's notice, Cech is preventing wunderkind Thibaut Courtois from getting a look at the starting job when he returns from loan in the summer.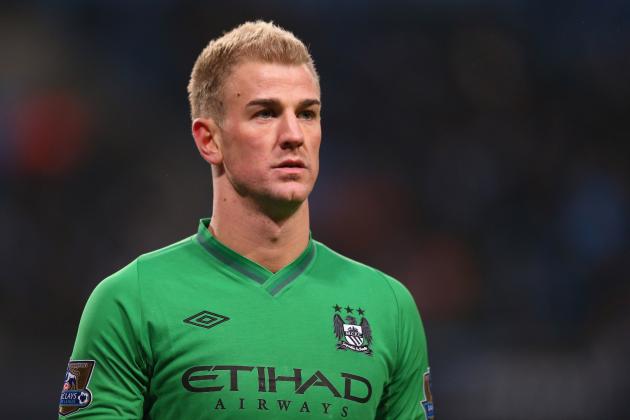 Alex Livesey/Getty Images

England No. 1 Joe Hart holds down the back of the Premier League's best defense and has shown himself to be among the best in the world during the past few seasons.
As physically imposing as he needs to be in the most physical league in the world, Hart evokes fear and apprehension in his opponents as they breach Manchester City's defense—a rare occurrence.
That is one of the marks of a truly great goalkeeper. Another? Superb range: No matter where a ball is struck, one is never entirely sure if it will hit the back of the net, simply because Hart is in goal.
He has let in the fewest goals in the Premier League (19) and kept the most clean sheets (10). So why isn't he the best in England?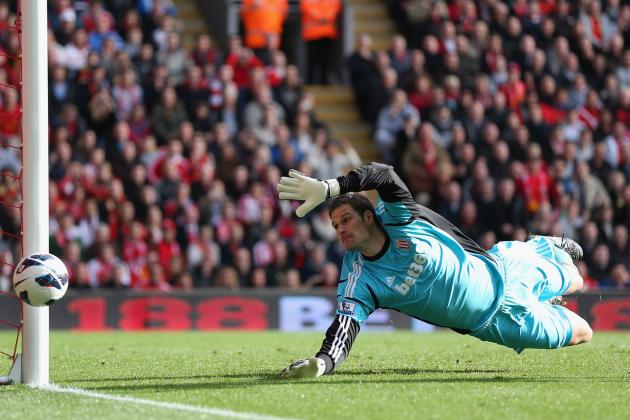 Clive Brunskill/Getty Images

Asmir Begovic, like Joe Hart, has played every minute of every one of his club's Premier League matches this season.
But Begovic is working with different parts.
Hart can sleep easily, knowing that he has the towering Vincent Kompany, Pablo Zabaleta, Gael Clichy, either of Matija Nastasic or Joleon Lescott and one of the best teams in the world to protect him.
Stoke are, admittedly, a very defensive team. But Ryan Shawcross and Robert Huth are nobody's equivalent to Kompany and Lescott.
For a club that lives and dies by its defense, a top goalkeeper is an absolute necessity. And Begovic has done exceptionally well to keep Stoke in the top half of the League, putting in a shift with every game he plays.
He's kept nine clean sheets this season—one less than Hart. But with 88 more shots faced and a much less star-studded defense, Begovic has earned his place as the Premier League's best goalkeeper.
Clean sheet and shot statistics via thescore.com. General defensive statistics via uk.eurosport.yahoo.com