Premier League's Best XI So Far for the 2012-13 Season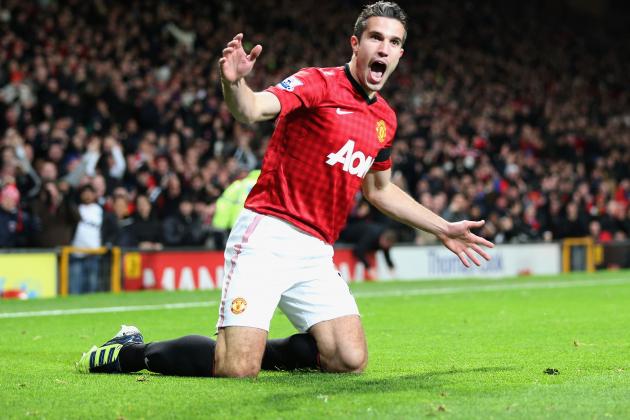 Clive Brunskill/Getty Images

The 2012-13 Premier League season is shaping up to be spectacular, but who are the players who have made it so?
Manchester United and Manchester City seem destined to battle it out for the title yet again. Chelsea, Arsenal, Tottenham Hotspur, Liverpool, Everton and West Brom are all vying for those coveted Champions League places. Then we have the likes of Swansea City and Norwich City who have entertained their way into everybody's hearts with their contrasting blends of football.
Behind it all are the players.
Who have been the very best Premier League players this term?
Who deserves their place in a Premier League XI?
Does Michu warrant a starting berth over Wayne Rooney? Has Luis Suarez been the best striker in the league? And where have all the Arsenal players gone?
Read on as Bleacher Report picks the Premier League's Best XI so far...
Begin Slideshow

»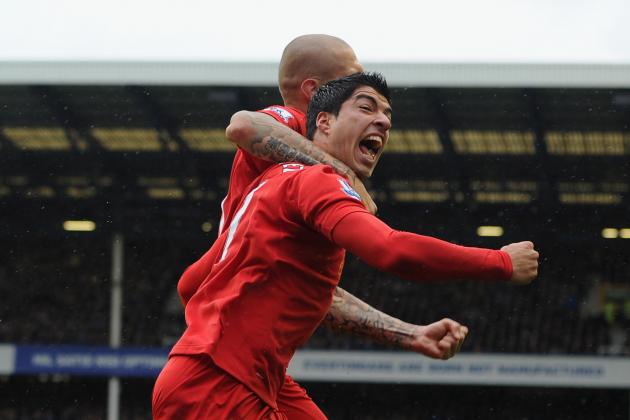 Chris Brunskill/Getty Images

As always there are more than a few players who failed to make the cut.
Some didn't make it because there have been better players this season, some didn't make it because they have been inconsistent, and some didn't make it because they just couldn't fit into the system and formation.
Here are a few honourable mentions that would grace any Premier League XI this season.
Goalkeeper
Jussi Jaaskelainen (West Ham): The Hammers' 'keeper has been in fine form this term, making an impressive 78 saves from 18 matches whilst keeping six clean sheets.
Petr Cech (Chelsea): This season has been something of a return to form for the giant Czech goalkeeper. Despite the Blues' defensive frailties he has kept seven clean sheets and has featured in every single Premier League game.
Defenders
Branislav Ivanovic (Chelsea): The Blues defender is enjoying his best-ever season and much of that is down to his move to right-back. From here the Serbian defender has contributed four goals and seven assists to join his seven clean sheets.
Glen Johnson (Liverpool): Like Ivanovic, Johnson's best contributions have been in the opposition half, where he has one Premier League goal and three assists. However, his overall good play means he merits an honourable mention at the very least.
Jan Vertonghen (Tottenham Hotspur): Vertonghen has slotted right into the Spurs defence like a veteran. Whether he is deployed at left-back or centre-half, the Belgian defender has been one of the Premier League's most outstanding players.
Patrice Evra (Manchester United): From a position where many were questioning his worth, Evra has enjoyed his most productive season in years. Scoring three goals, captaining the side and commanding the defence, the French star could very well be in the final XI come the season's end.
Ciaran Clark (Aston Villa): The 23-year-old Irish international has endured a trial by fire for Villa this season but has come out of it with a growing reputation. Comfortable playing numerous formations or styles, Clark has a big future ahead.
Midfielders
Gareth Bale (Tottenham Hotspur): There is no doubt about it: the one Premier League player capable of reaching the heights of Cristiano Ronaldo and Lionel Messi is none other than Bale. Once again he has been the epicentre of all that is good about Spurs and continues to shine.
Yaya Toure (Manchester City): It says much about Yaya Toure that this has been his worst season so far and he is still one of the league's best players, by far.
Anthony Pilkington (Norwich City): If Pilkington can keep his early-season form up, he has a great future in the game. Comfortable on either foot and on either wing, he is almost unique in the Premier League.
Steven Pienaar (Everton): Ever wondered why the Toffees are doing so well this season? Think no further than their playmaker supreme Steven Pienaar.
Mikel Arteta (Arsenal): The Spaniard has been one of the Gunners' best players by far this term. From his deep-lying position in midfield he protects the defence and initiates most of their forward forays.
Steven Gerrard (Liverpool): No doubt about it, Gerrard has lost a yard of pace and is no longer the huge threat he once was. However, he still controls midfield with a vice-like grip and has scored four goals while contributing seven assists. Even in his downward slide he is more effective than most midfielders in the league.
Forwards
Luis Suarez (Liverpool): The Uruguayan striker is in the form of his life and has scored 11 goals in 17 matches for the Reds. He is the centre of their universe, and despite a recent win without him, one shudders to think what would happen to them if he was lost to injury or sold.
Carlos Tevez (Manchester City): Tevez started the season on fire with three goals in his first three games. Fourteen games later and that total sits at seven, but his contribution outside the box has been nothing less than stellar.
Demba Ba (Newcastle United): It says much about how important Ba is to the Magpies' cause when you realise that he has scored 11 of their 20 goals this season.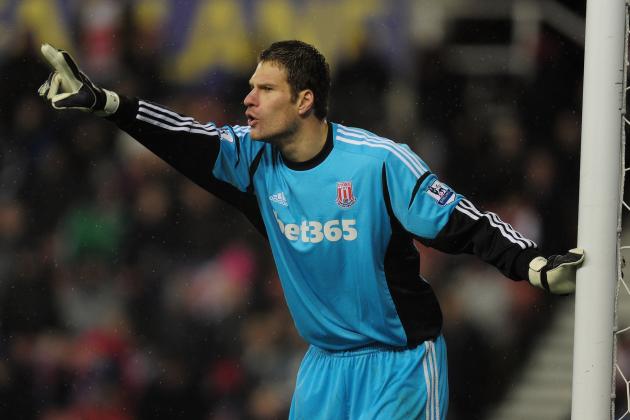 Jamie McDonald/Getty Images

At this very moment in time, Asmir Begovic is the best 'keeper in the Premier League by a country mile.
The Stoke City stopper has played every single minute of the Potters' league campaign and has been instrumental for their tight defensive unit. Begovic has kept nine clean sheets, has conceded just 13 goals and has lost just three games this term.
Standing at 6'5", the giant Bosnian international has always been one of the best 'keepers in the league. But his impressive form has now elevated him to elite status. If he can keep this going, Tony Pulis will be doing well to hold onto his most important player.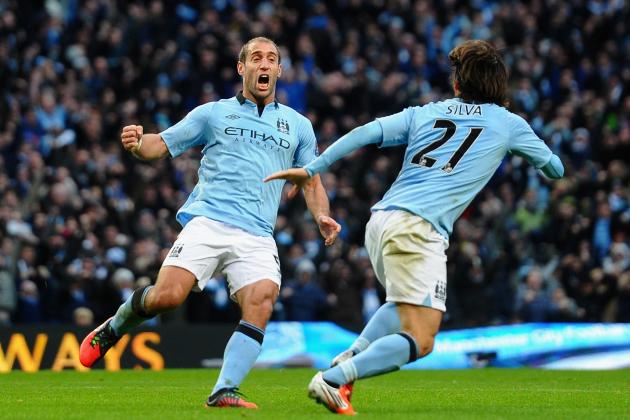 Laurence Griffiths/Getty Images

While Manchester City have misfired this season, Pablo Zabaleta has most certainly not.
The Argentinian defender, comfortable anywhere across the back line, has proved ultra important for Roberto Mancini this season as the manager shifts his formations from game to game.
Each and every time Zabaleta has been asked to perform, he has delivered. He thunders into every tackle and match like they were his last moments on Earth, and there can be little wonder why City fans love him so.
Weighing in at a Premier League high of 4.5 tackles per match alongside 47 clearances, we can see that Zabaleta is a player who likes nothing more than winning the ball back. We can also see that once he does, he does not punt it into Row Z, but prefers to play his way out of trouble.
Above all else he is a defender first and is exactly the kind of player any manager would want to have standing beside him in the trenches.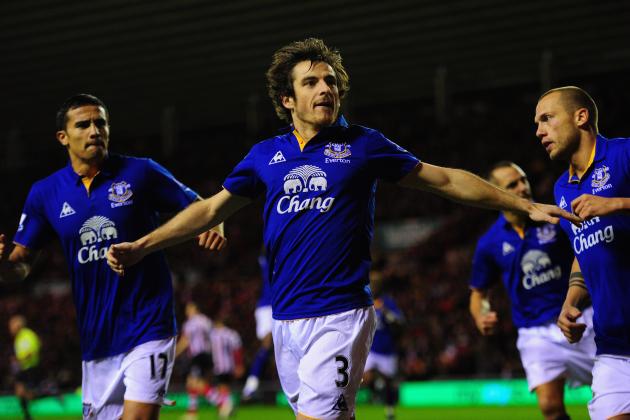 Stu Forster/Getty Images

When Everton's style is analysed a simple pattern can be discerned, the Toffees attack down the left.
This, of course, all comes from one man: Leighton Baines.
19 percent of all Everton's shots come from the left.
43 percent of their attacking play is initiated on the left.
Baines crosses the ball more often than any other Premier League player at 3.2 crosses per match.
Baines makes a Premier League high of 3.6 key passes per match.
To say that Baines is important to David Moyes' plans would be one of the footballing understatements of the season. The England international is so good he is the epicentre of all of Everton's play—from left-back.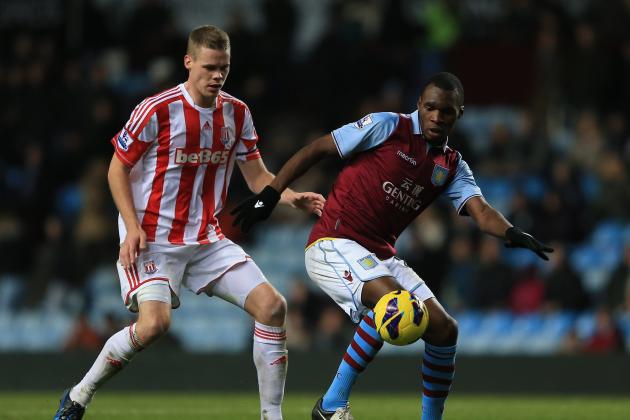 Richard Heathcote/Getty Images

Alongside Asmir Begovic, the other main reason for Stoke's defensive record, the best in the Premier League, is Ryan Shawcross.
The soon-to-be England regular has enjoyed his best season in English football and has been ultra important in the Potters keeping nine clean sheets and conceding just 57 shots from 18 games.
His defensive record reads as: 34 key tackles, 22 key interceptions, 134 clearances and 24 blocked shots—one of the most recent of which he blocked with his head as he dived to stop Christian Benteke from scoring for Aston Villa.
Shawcross is also one of the most underrated defenders in the game and can marry his physical style with a far more demure footballing style that would suit any top team.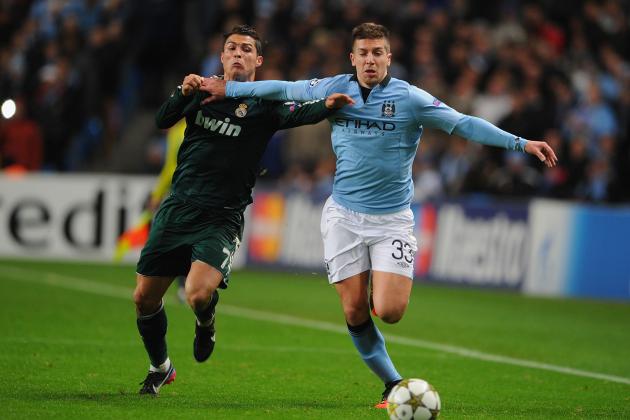 Michael Regan/Getty Images

When Matija Nastasic was signed for £15 million plus Stefan Savic from Fiorentina, many wondered if Roberto Mancini had just signed another dud.
However, less than 10 Premier League games later, there can be little doubt that Nastasic is one of the best defenders in the league.
As a contender for signing of the season, Nastasic has slotted right in beside Vincent Kompany and Pablo Zabaleta in Manchester City's defence. Comfortable on the ball or battling with the biggest of centre-forwards, Nastasic can do everything one would ask a centre-half.
Unlike Zabaleta who loves nothing more than tackling, Nastasic is careful and calculated like the very best defenders. His tackle rate of just 1.8 and interception rate of just 0.9 per game shows a player who intelligently moves his marker into less dangerous positions. Here he can either easily dispossess them or gain the ball through a mistake and play his way out from defence.
At just 19 years of age, we could be seeing the birth of one of the great defenders of our time.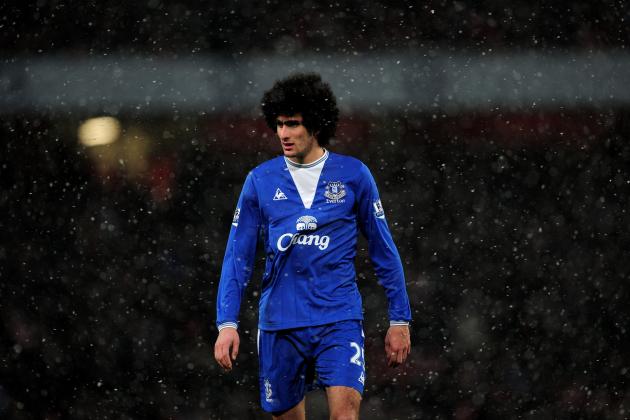 Shaun Botterill/Getty Images

The first in our all-Belgian central midfield pairing is none other than Everton's Marouane Fellaini.
The 6'5" midfielder—and 7'0" when you include his afro—is one of the most imposing figures in the Premier League. This term he has added goals to his great combative strengths and has contributed eight goals and four assists from 15 matches.
Whether he is asked to play as a deep midfielder, in a conventional central role or just behind the striker, Fellaini is an incredibly effective player. To see how important he is to Everton, all you have to look at is his goals, which have comprised 27 percent of the team's total.
Incredibly strong in the air and on the ground, Fellaini has helped the Toffees dominate more than one team this season. When he is combined with a player as creative and effective as Baines, he can be almost unstoppable.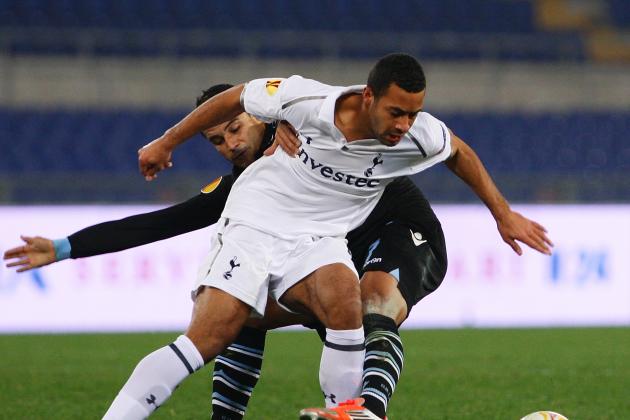 Paolo Bruno/Getty Images

Moussa Dembele is probably the most athletic centre midfielder in the Premier League today.
The Tottenham Hotspur man covers so much ground and is so strong, on and off the ball, that he gives his manager, Andre Villas-Boas, the option of playing a four-man midfield against five.
Also from Belgium and standing at 6'1", Dembele, like Fellaini, is also an incredibly imposing player.
In 11 games for Spurs he has scored just one goal and has contributed just three assists, but they only show a minor percentage of how important he is.
This term, Spurs have played 26 matches across all competitions. Dembele has played in 15 of those games.
Their record without Dembele in the team reads: PLD-11 W-3 D-2 L-6
Their record with Dembele in the team reads: PLD-15 W-9 D-5 L-1
The important thing to note about Tottenham's one loss with Dembele in the side was that it was against Everton. The Toffees scored two goals in the last minute to beat Spurs, but only after Dembele had been removed from play in the 83rd minute.
This simply means that Spurs have never lost a match when the Belgian international was on the pitch.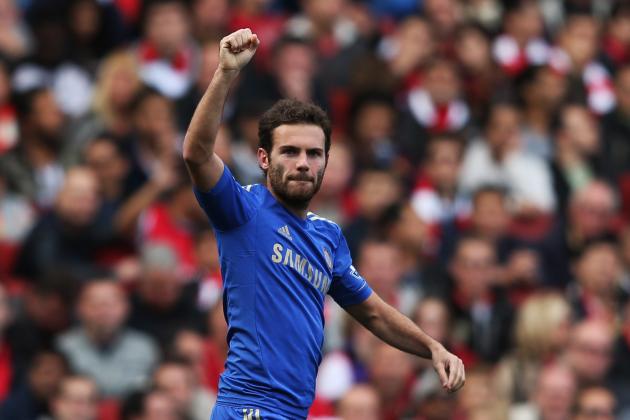 Richard Heathcote/Getty Images

Over the past two seasons Juan Mata has been without doubt one of the best players in the Premier League.
The minute Spanish playmaker is enjoying another superb term in Chelsea's midfield and has already clocked up an impressive six goals and seven assists from 15 games.
Those stats only tell half the story though.
As a creative player in the final third, there is perhaps only one player better than Mata in the Premier League, but we'll come to him later.
He has laser-like vision, is comfortable with both feet, has superb balance and can dance his way though or pass his way through any defence with either his rapier-like passes or runs.
He makes Chelsea tick, and if there is the one player who will shine under Rafael Benitez whilst getting the best from Fernando Torres, it is Mata.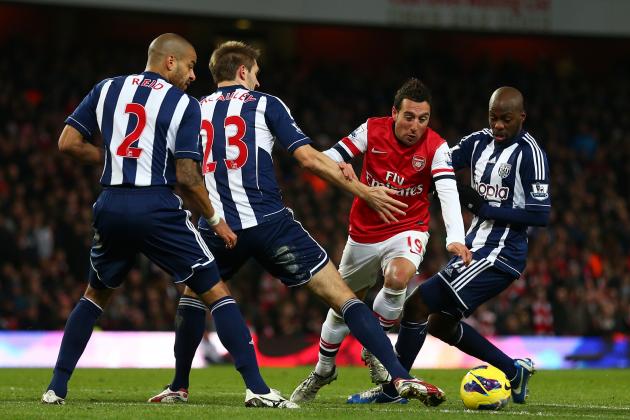 Clive Mason/Getty Images

Mentioned in part from the last slide, the most creative player in the Premier League is Arsenal's Santi Cazorla.
In a misfiring season for the Gunners where they have shown Spurs-like levels of inconsistency, Cazorla has been the one constant shining light for Arsene Wenger and Co.
After weighing in with seven goals, including a hat-trick against Reading, four assists and five man-of-the-match performances from 18 games, Santi is the present that keeps on giving.
Rarely drifting out wide, Cazorla merits the position as the left-sided attacking midfielder because he has been so incredibly good this term. If truth be told, he is just too good to leave out.
Anyway, he is so comfortable in the final third he could play in any of the three berths.
Using his left foot like a wand and his right foot like a light sabre, Cazorla is capable of cutting any defence to pieces with his incredible vision and eye for goal.
As we roll into 2013, Arsenal's fans will be hoping he can continue to amaze, astonish and destroy.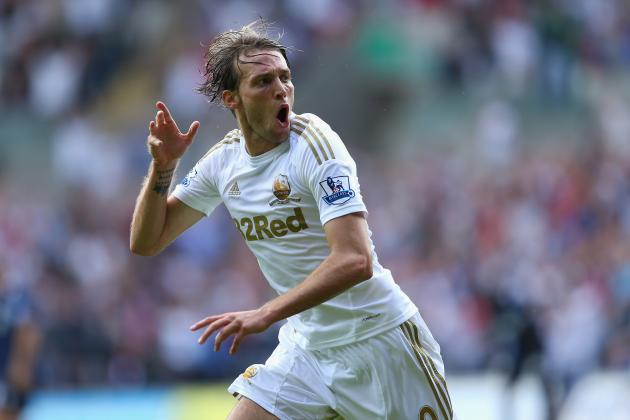 Richard Heathcote/Getty Images

Michu.
You couldn't have a team of the season without naming the Swansea star.
Coming from absolutely no where, the Spanish star has become a household name in every Premiership household after his stunning exploits for the Swans.
Signed for just £2 million, Michu is easily the signing of the season, and if Michael Laudrup was to part with him tomorrow, he would expect to earn five to six times the amount he initially paid out.
Comfortable anywhere on the attacking spine—central midfield, attacking midfield and centre-forward—Michu has adapted to life in the Premier League like a duck to water.
He has scored an incredible 13 goals from 18 games, and that accounts for 48 percent of Swansea's goals.
What makes Michu so special is that he starts off as a centre-forward and offers himself as a brilliant target. He then, somehow, manages to disappear into the deep while the play advances, before announcing his return with a late run toward goal. These well-timed runs always end in a goal chance but such is his finishing that it usually ends in a goal.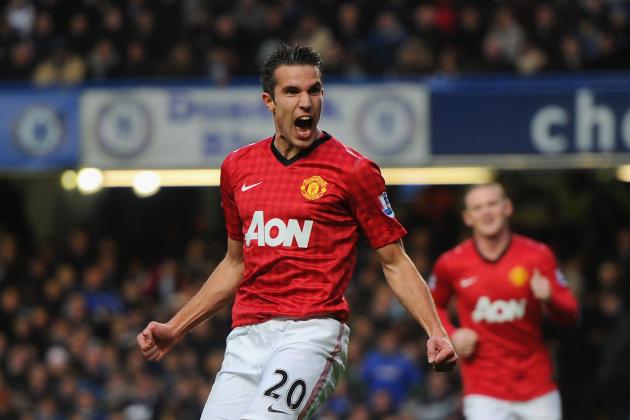 Michael Regan/Getty Images

If anyone ever doubted Robin van Persie's move to Manchester United, they should look away in embarrassment now.
Since moving to Old Trafford, the Dutchman has fired in 17 goals from 25 matches and has been in imperious form. However, it is the Premier League we are most concerned with. Here, Van Persie has bagged an impressive 12 goals in 18 matches whilst also contributing six assists.
He has been so impressive and so comfortable in the Red Devils team that Sir Alex Ferguson has used him in numerous ways. Be it as the lone striker, in a front two or in a rare threesome, Van Persie has been nothing less than outstanding on each and every occasion.
As 2012 turns into 2013, the most frightening prospect for all clubs in the Premier League is that Wayne Rooney is now threatening to reach the high standards Van Persie is setting for him.
Rooney has now notched up seven goals and seven assists from 14 games as he starts to build momentum for the second half of the season.
If the two should ever reach the heights they are capable of—at the same time—teams should be afraid, very afraid.
To read my analysis of what Robin van Persie brings to Manchester United, click here.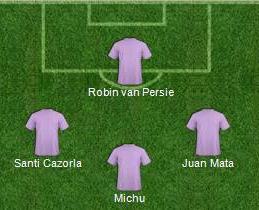 Formation Created Using www.footballuser.com
So there you have it—my choices for Premier League team of the Season.
It features an all-Belgian midfield and an all-Spanish attacking midfield line. Is that a sign of the shifting powers in European football? I guess only time will tell.
Only two English players made the cut, and only three players from the top two teams.
Whichever way you look at it, the first half of the 2012-13 season has been almost as breathtaking as the final moments of the 2011-12 season.
Before we sign off, who were your choices for the team of the season so far?
Leave you comments, teams and thoughts in the section below.
Statistics provided by www.premierleague.com and www.whoscored.com.
You can find me on Twitter @WillieGannon