10 Stars Who Can Lead MLS into the Future Without David Beckham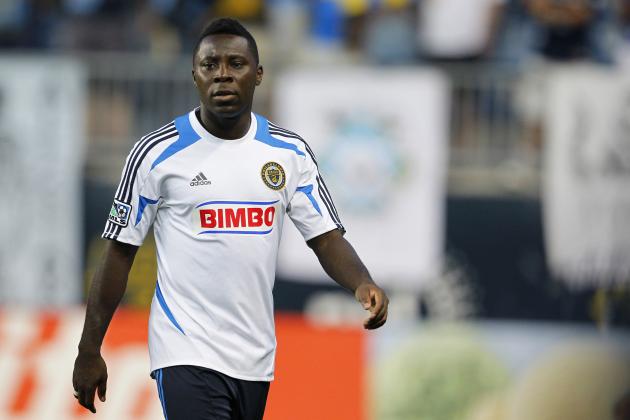 Rich Schultz/Getty Images

With David Beckham's exit from Major League Soccer, the rumor mill has once again begun to whirl with speculation as to which international star the league will bring in next.
And while Kaka is the leading rumor, MLS may be unlikely to take another flyer at an aging international after the mixed results it has received from Thierry Henry and the outrageous disaster that was the Rafa Marquez era in New York.
So, here are 10 potential MLS stars who could be ready to step into the spotlight for the league.
Begin Slideshow

»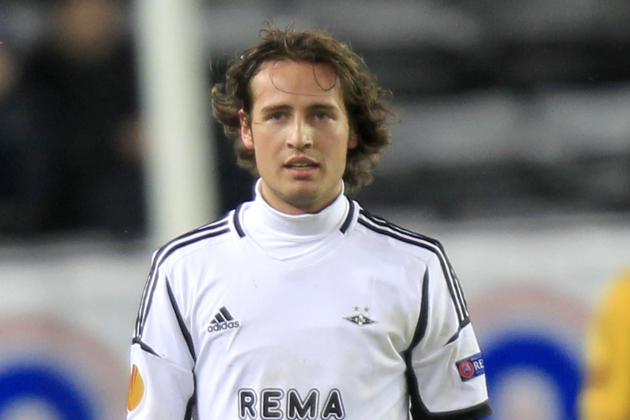 EuroFootball/Getty Images

In what could be a watershed moment for Major League Soccer, it was reported today that the Portland Timbers and new head coach Caleb Porter could be on the verge of signing young USMNT prospect Mix Diskerud.
Diskerud, a dual international, has played his entire career abroad and is widely considered one of the top American youngsters in the entire U.S. men's national team pool.
In a stunning reversal from the normal pattern of American internationals, who usually move abroad after cutting their teeth in MLS for a year or two, this would mark the first time an American player with a still rising European career came to MLS.
If Portland can secure the move, and if Porter can turn the Timbers into the attacking dynamo he turned Akron into in the college ranks, Diskerud could awaken a new era of soccer fandom and appreciation in America.
For a 23-year-old, Freddy Adu has already had a career full of transfers, loans and controversy.
But, nonetheless, he is still a very young and very talented player.
Since returning to MLS last August, Adu has featured in 35 games, scoring seven goals and notching two assists—not exactly a great total for a player dubbed a "playmaker."
However, Adu's struggles may have had more to do with his teammates and former manager Peter Nowak than anything Adu was doing.
Nowak struggled as manager with the Union and is still embroiled in a bitter legal controversy over his dismissal.
And, Adu's teammates didn't give him a lot to help their poor finishing. Check out the attached video for some great examples.
Questions about Adu's work ethic and ability to be a positive force in the locker room still remain, but if he can manage to finally deliver on his promising talent, Adu can still be a very marketable player for Major League Soccer.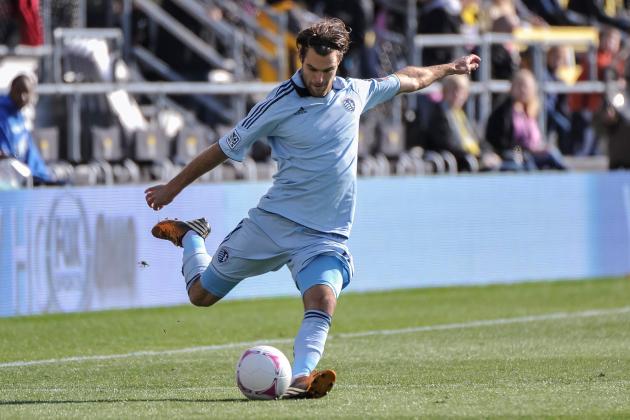 Jamie Sabau/Getty Images

Graham Zusi's career over the last year has exploded. After a decent campaign with Sporting KC in 2011, Zusi was called up into Jurgen Klinsmann's January USMNT camp.
In the two January friendlies, Zusi looked to be one of the few players who could handle the jump to the international level and followed that up with a very strong 2012 campaign with SKC.
Late in 2012, with the USA's World Cup qualification hopes in serious doubt, Zusi was given a somewhat surprising start in the USA's fateful September 11 clash in Columbus, Ohio against Jamaica.
Zusi looked strong in the USA victory and then earned starts in the USA's final two World Cup qualifiers against Antigua and Barbuda, and Guatemala.
His rising success may translate into a move overseas in January, but if he stays in MLS, he will be one of the league's best players and rising names in 2012.
Brek Shea's career is full of promise, but after a breakout season in 2011 in which he scored 11 goals, Shea hit a series of road bumps in 2012.
His club form suffered in 2012 as he finished with only three goals, and FC Dallas missed the playoffs.
Shea got into a public tiff with his manager Schellas Hyndman and got suspended by the league for kicking a ball at a referee.
And, the U.S. U-23 team that Shea was a part of got dumped out of Olympic qualifying (in part due to Shea's play), and he was dropped from the full USMNT for a six month period.
But, much like Freddy Adu, if Shea can bring back the form that got fans excited in the first place, he could become a very marketable player for MLS.
Juan Agudelo, like Shea and Adu, is another American who has been a victim of the hype machine.
Agudelo made his international debut at the age of 17 and scored the game-winning goal in that debut against South Africa.
Four months later, Agudelo scored the game-tying goal in a friendly against Argentina.
A month after that, Agudelo scored this wonder goal for the New York Red Bulls against DC United.
Eighteen months and a bad transfer to Chivas USA later, Agudelo is now at a crossroads in his career.
He is currently training with Celtic and there have been repeated reports that Celtic want to sign him on a permanent basis, but if Agudelo stays in MLS and Chivas get their act together, Agudelo could still be a big star for MLS.
Robbie Keane may just be the best player in MLS.
In addition, he's a prolific goalscorer, has a great personality and has the type of blue-collar work ethic that Americans love from their athletes.
This past season, Keane finished fourth in MLS with 16 goals despite missing several weeks of the season while at the Euros with the Republic of Ireland. And, his performance in the playoffs this year with LA was simply outstanding as he notched six goals in six games.
With Beckham leaving the Galaxy, Omar Gonzalez likely leaving and Landon Donovan on the fence, Keane could end up being the biggest star left in the league's second biggest market.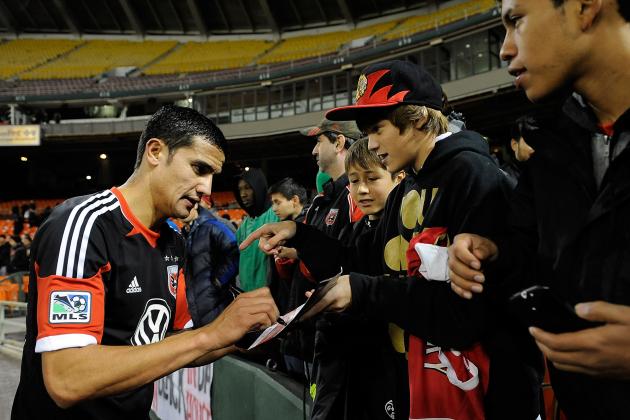 Patrick McDermott/Getty Images

After his summer transfer to the New York Red Bulls from English Premier League side Everton, Tim Cahill had a pretty quiet season.
He's only featured in 12 games and had one goal, but the Australian attacking midfielder has goals in him, particularly from his amazing ability to consistently get his 5'10" frame on the end of set pieces.
In addition, Cahill's ferocious competitiveness is contagious and loved by fans.
If New York can get its act together (it went a long way with today's release of Rafa Marquez), Cahill could be the man to finally lead the franchise to some success after numerous frustrating seasons.
Oscar Boniek Garcia has flown under the radar of most MLS fans since his signing with the league as a designated player this summer.
In only half a season, Garcia scored four goals, picked up six assists and had a nice playoff run as well.
With a full season, and surrounded by a strong Houston Dynamo squad, Garcia could easily hit 10 goals and 15 assists which is a banner year statistics-wise in MLS.
Nick DeLeon had a tremendous rookie season for DC United, picking up six goals and four assists in 2012.
He continued his good run of form in the playoffs, scoring twice in four games, including knocking off the New York Red Bulls with his 88th minute effort in the second leg of their Eastern Conference semifinal series.
With a solid DC United roster and a manager in Ben Olsen, who seems to be able to consistently get the best out of his players, DeLeon could be set up to become a big star in MLS for the future.
In his rookie season with the Vancouver Whitecaps, University of Akron product Darren Mattocks gave fans just a taste of what they might come to expect from the forward in years to come.
The Jamaican only started 15 games this season, but finished with seven goals and gave LA Galaxy fans a scare in their first-round playoff matchup in which Mattocks gave the Whitecaps an early lead.
With a full season, Mattocks could easily score 20 goals which would make him an instant MLS star.
Follow me on Twitter @AmerTouchline
Follow me on Facebook www.facebook.com/AmericanTouchline