January Transfer Window: Top 11 Transfer Targets from Minor Clubs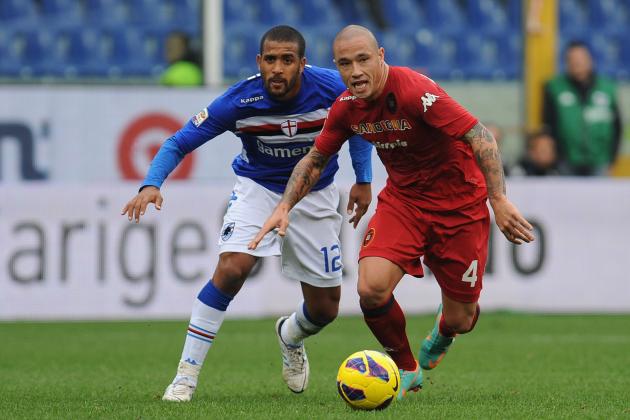 Valerio Pennicino/Getty Images

Bleacher Report presents the top 11 January transfer targets from minor clubs. What is a minor club? A team that makes up the numbers.
They generally don't have sizable financial muscle nor are they in the running to win anything meaningful. They embody mediocrity, so this means their best players become transfer targets.
Crystal Palace sensation Wilfried Zaha will not be included in the article because I haven't seen him enough to evaluate his ability.
Eintracht Frankfurt players will be excluded because they are doing superbly in the Bundesliga.
Begin Slideshow

»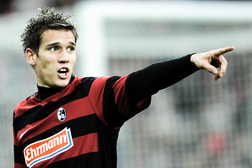 Photo via www.tumblr.com/tagged/oliver-sorg
Over the past decade, Freiburg have a respectable track record when it comes to having elite footballers: Richard Golz, Sebastian Kehl, Papiss Cissé and Adel Sellimi spring to mind.
The club also developed Dennis Aogo and Ömer Toprak, who both went on to become internationals.
On paper, the current Freiburg side seem like an average team. But when you watch them, you think "hang on, some of these players are quite good."
Matthias Ginter, the 18-year-old centre-back, will only get better. It helps that he is learning from a consummate pro in Fallou Diagne.
Oliver Baumann is lost in the shuffle because the Bundesliga is filled with great goalkeepers.
Max Kruse is so technically gifted.
Cedric Makiadi is an all-round midfielder.
Not only is Daniel Caligiuri a world-class dribbler but he is an underrated tackler.
So, what about Oliver Sorg? His 2.5 tackles and 4.2 interceptions per league game shows you that he's a prolific ball-winner. He is accomplishing this whilst only conceding 0.9 fouls per league game.
Sometimes he does over-commit in pursuit of winning the ball, which puts Diagne and Ginter under duress, but generally speaking, Sorg is a reliable left-back.
Yes, I have portrayed Freiburg in a very good light, but why have they been mediocre whilst Eintracht Frankfurt have been surprisingly excellent?
Simple. Freiburg doesn't have Alexander Meier.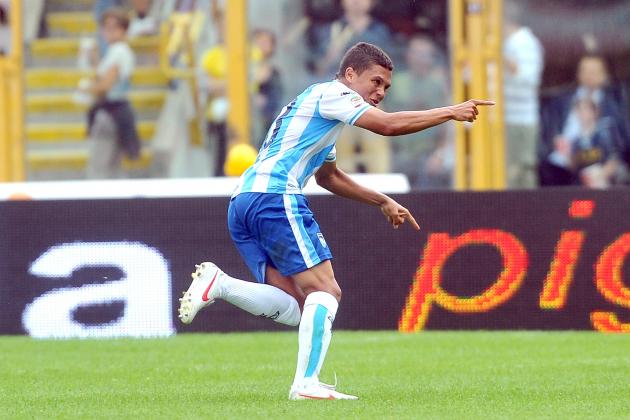 Mario Carlini / Iguana Press/Getty Images

Emmanuel Cascione is 10 years older than Juan Quintero, yet the teenager completes his passes at a higher percentage whilst taking more risks.
Quintero has a David Blaine-esque escapability; the Pescara youngster drifts past so many tackles.
Lionel Messi's combined dispossessed/turnovers per league game is 4.3 compared to Quintero's 1.6.
Quintero can orchestrate the tempo of the game and he can go past opposing players with ease.
Maurizio Lagana/Getty Images

Some people have the misconception that being short is a disadvantage.
Certainly not as an attacking player that can dribble, like Alejandro Gómez, whose main advantage is keeping such a low centre of gravity.
This ensures he can accelerate, decelerate, cut in and change direction without losing his balance.
Defenders who are 6'2" or taller have extreme difficulty dealing with Gómez, who almost always gets past them.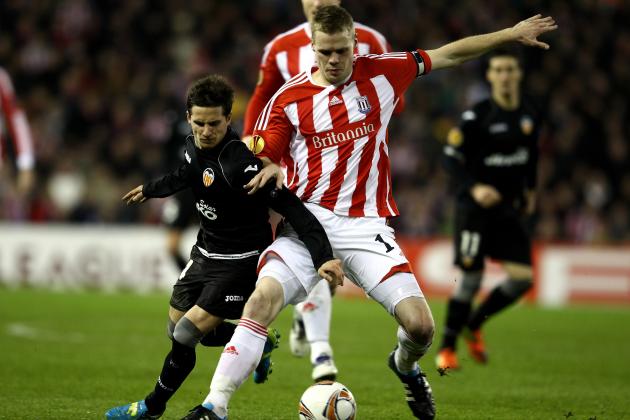 Clive Mason/Getty Images

It's no coincidence that whilst Ryan Shawcross is playing the best football of his life, Stoke City are tied with Manchester City for least goals conceded in the Premier League.
Of course, that could change should West Ham United score against Stoke today.
You can hate Stoke for their brutish way of playing the game, but their defence is resolute. Can you imagine how much mental and physical exertion it takes to play that kind of game week in and week out?
Shawcross has led by example by being a big presence at the back.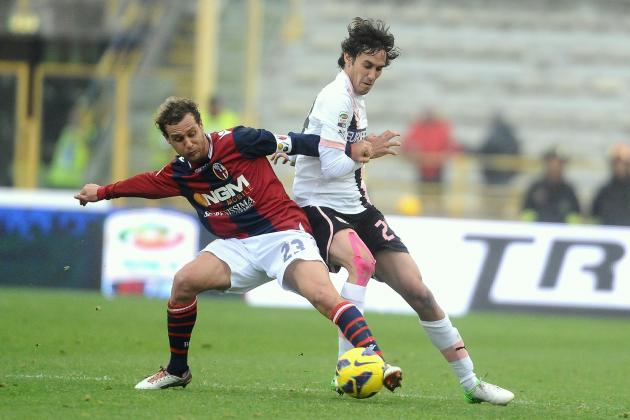 Mario Carlini / Iguana Press/Getty Images

Manolo Gabbiadini has potential, but whenever he starts for Bologna, he isn't playing up to the standard that Alessandro Diamanti and Alberto Gilardino are setting.
Gilardino relies heavily on Diamanti's creativity whereas Gabbiadini needs both players to divert attention away from him if he is to succeed.
Diamanti has had to work even harder after Gastón Ramírez's departure to Southampton.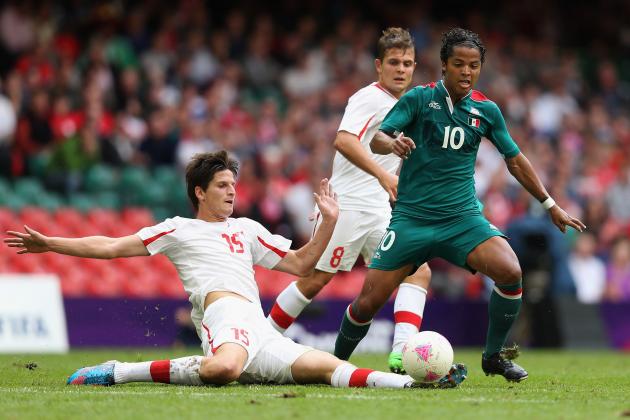 Julian Finney/Getty Images

One week, Nürnberg concede two against Mainz. The next week, the Nuremberg club hold the explosive Bayern Munich to a 1-1 draw.
Granted it was the Bavarian derby and Bayern didn't have Franck Ribéry. Nonetheless, Timm Klose was once again a rock at the back.
His performances are rivaling those seen in former Nürnberg defender Philipp Wollscheid's 2010-11 season and Breno's short but spectacular loan spell for FCN.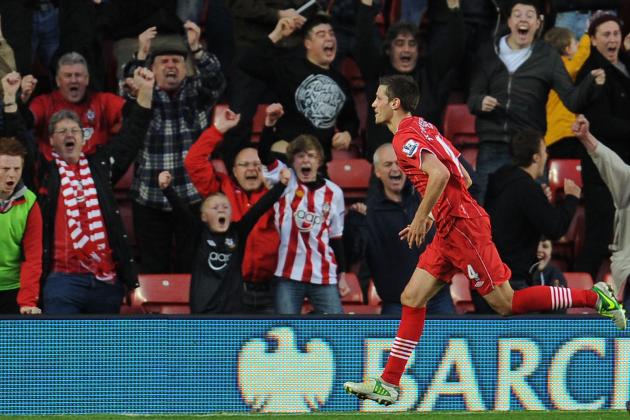 Tom Dulat/Getty Images

| | | | |
| --- | --- | --- | --- |
| League Only | Tackles Per Game | Tackles Per Foul | Interceptions Per Game |
| Morgan Schneiderlin | 4.1 | 1.8 | 3.6 |
| Gareth Barry | 1 | 0.9 | 1.5 |
| John Obi Mikel | 2.8 | 1.3 | 1.9 |
| Michael Carrick | 1.6 | 1.4 | 1.7 |
| Mikel Arteta | 3.5 | 1.5 | 2.4 |
The casual football fan recognises Barry, Mikel, Carrick and Arteta. They probably wouldn't know who Schneiderlin is.
Well, Southampton's French midfielder is quietly building a case as the Premier League's best defensive midfielder. You could also add in Mark Noble and Claudio Yacob into that conversation.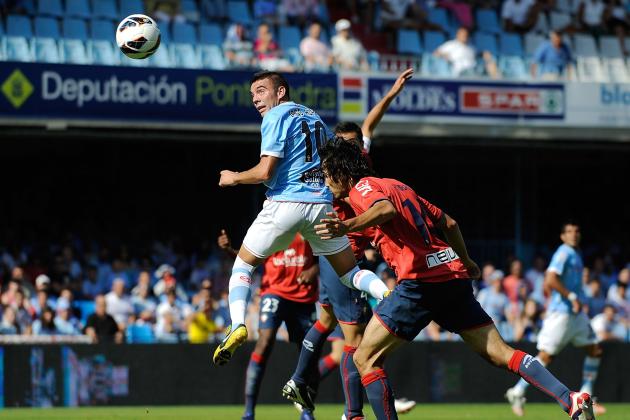 Denis Doyle/Getty Images

To quote Bleacher Report La Liga featured columnist Michael Cerna about Iago Aspas: "Has moved beyond being a candidate for Breakout Player of the Year and is simply one of the league's top players. His brace took him to five goals this season."
Aspas has scored and created a combined seven league goals compared to Fernando Torres' four. Aspas has to carry Celta Vigo whereas Chelsea are carrying Torres.
El Niño is getting paid €10.8 million per year. Aspas isn't.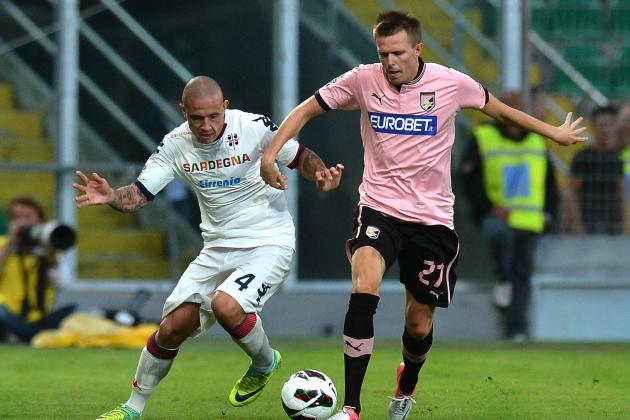 Tullio M. Puglia/Getty Images

With 45 tackles in 11 games, Radja Nainggolan loves to get physical.
He also possesses a subtle touch that allows him to find his teammates with well-placed passes.
He's not even a regular in the Belgian national team, which gives you an idea of how special this golden generation of players is for Belgium.
Wilfried Zaha has plenty of brilliantly produced compilation videos on YouTube. It is shocking that Alain Traoré, an entertainer, doesn't have the same popularity.
Kevin-Prince Boateng was electric to watch last season, not so much this season, and Traoré has filled that void in terms of outrageous goals.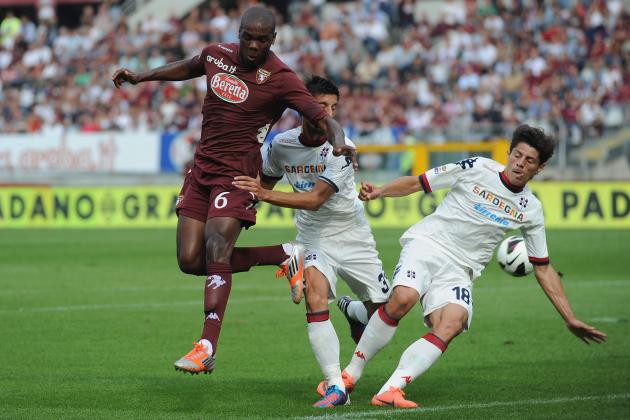 Valerio Pennicino/Getty Images

Roberto Di Matteo should give David Luiz tapes of Angelo Ogbonna and say: "David, this is how you defend."
Luiz should have his wages cut in half since he's essentially a part-time centre-back.
Ogbonna is the anti-Luiz.
The Italian is a leader of men. A colossal at the back. Actually stays in his defensive zone like a centre-back.
Even on Luiz's best attribute, passing, he is vastly inferior to Ogbonna.
The Brazilian completes 81.8 percent of his passes and 59 percent of his long passes.
Whereas Ogbonna has a 94.3 passing completion percentage and is successful 89.8 percent of the time when attempting long passes.
Adam Szalai the Latest Castilla Product Real Passed Up
Statistics courtesy of WhoScored.com
Follow @allanjiangLIVE

Connect with +allanjiang