Predicting the FIFA World Cup If Every Nation Qualified: Group A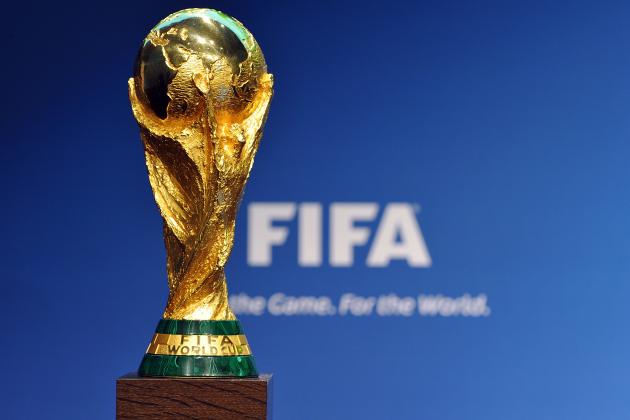 Harold Cunningham/Getty Images

This is the first installment of a prediction of a 208-team FIFA World Cup.
The FIFA World Cup is possibly the most exciting sporting event on the planet. Billions of people around the world tune in every four years to watch the greatest footballers on earth vie for the monumental title of World Champions.
What would happen if FIFA launched a World Cup in which every team participated? All 208 FIFA-registered national football squads all competing in the same tournament for the same prize?
Logistical impossibilities aside, it would be quite the spectacle to see Afghanistan take on Italy on the world stage, or watch North Korea battle Iceland for a chance in the knockout rounds.
After months of research and a lot of imagination, I've compiled an all-inclusive FIFA World Cup, from the 208-team, 52-group group stages down to one final winner—a true World Champion.
Will Spain take the title, cementing their place in history as true world conquerors? Or will a dark horse emerge and steal the show on the world stage?
Begin Slideshow

»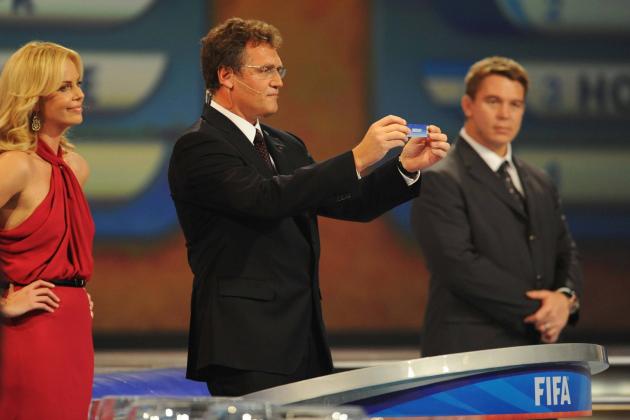 Handout/Getty Images

The draw for this FIFA World Cup was a little unorthodox. Every country was written down on a piece of paper, put in a bowl and picked at random. This created the most parity for the groups and, quite frankly, has led to quite a few surprising upsets.
The groups are as follows:
Group A: Senegal, Haiti, Venezuela, Germany
Group B: Israel, British Virgin Islands, Spain, Lebanon
Group C: Gambia, Mali, Cameroon, Mozambique
Group D: Ecuador, Tahiti, Faeroe Islands, Guam
Group E: Tanzania, Equatorial Guinea, Tunisia, Turkmenistan
Group F: Russia, Wales, Afghanistan, Angola
Group G: Ivory Coast, Latvia, Comoros, Netherlands
Group H: United Arab Emirates, Cook Islands, Kenya, Switzerland
Group I: India, Serbia, Chad, Cyprus
Group J: Solomon Islands, Dominica, Oman, Anguilla
Group K: North Korea, France, Guinea, Northern Ireland
Group L: Suriname, Nicaragua, Costa Rica, Bolivia
Group M: Ethiopia, Kuwait, Puerto Rico, Somalia
Group N: Chile, Rwanda, Burkina Faso, Montenegro
Group O: Luxembourg, Czech Republic, New Caledonia, United States
Group P: Malta, Lesotho, Pakistan, Kazakhstan
Group Q: Iraq, Greece, Singapore, Barbados
Group R: Bermuda, Togo, Uzbekistan, Belgium
Group S: Croatia, Slovenia, Malaysia, Guatemala
Group T: St. Vincent & the Grenadines, San Marino, Grenada, Djibouti
Group U: Austria, Moldova, Central African Republic, Burundi
Group V: Liberia, Iceland, Mongolia, St. Kitts & Nevis
Group W: Belarus, Estonia, Cayman Islands, Jordan
Group X: Benin, Bahrain, Peru, Yemen
Group Y: Hungary, Ukraine, Turkey, Morocco
Group Z: Argentina, Palestine, US Virgin Islands, Zimbabwe
Group AA: Indonesia, Armenia, Algeria, South Korea
Group BB: Nigeria, Bulgaria, Uruguay, Namibia
Group CC: Portugal, Trinidad & Tobago, Panama, Poland
Group DD: Guinea-Bissau, Slovakia, Vanuatu, Albania
Group EE: Denmark, Libya, Sri Lanka, Azerbaijan
Group FF: Paraguay, Vietnam, Georgia, Australia
Group GG: Congo, Colombia, Lithuania, Swaziland
Group HH: Samoa, Madagascar, Timor-Leste, Egypt
Group II: Botswana, Fiji, El Salvador, Ireland
Group JJ: Qatar, Curacao, Mexico, Turks & Caicos Islands
Group KK: Scotland, Liechtenstein, New Zealand, Jamaica
Group LL: Saudi Arabia, Norway, England, Cape Verde Islands
Group MM: Honduras, Sao Tome e Principe, Mauritius, American Samoa
Group NN: Nepal, Zambia, Tajikistan, Eritrea
Group OO: Finland, Bangladesh, Gabon, Taiwan (Chinese Taipei)
Group PP: St. Lucia, Bahamas, Brazil, Myanmar
Group QQ: Guyana, Mauritania, Montserrat, Maldives
Group RR: Laos, Papua New Guinea, Niger, Thailand
Group SS: Macedonia, Malawi, Belize, Romania
Group TT: Sierra Leone, Cuba, Tonga, Cambodia
Group UU: China, Andorra, Iran, Kyrgyzstan
Group VV: Syria, Macau, Antigua & Barbuda, Bosnia-Herzegovina
Group WW: Japan, Italy, Uganda, Aruba
Group XX: Bhutan, Canada, Dominican Republic, Hong Kong
Group YY: Ghana, South Africa, Sweden, Brunei
Group ZZ: Philippines, DR Congo, Seychelles, Sudan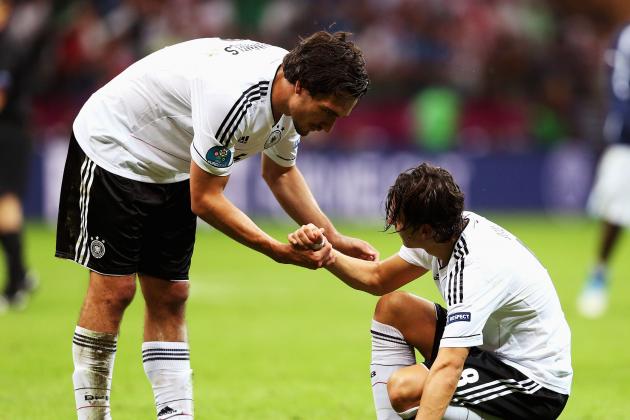 Joern Pollex/Getty Images

Group A of this massive tournament pits Senegal, Haiti, Venezuela and international powerhouse Germany against one another.
Haiti simply looks wildly outmatched against every opponent they will come up against in this group, but they will play proudly as they showcase their skills on the world stage for the second time.
Senegal and Venezuela might be able to challenge the Germans for top spot, but it will most likely be Germany who wins the group, with Senegal and Venezuela battling it out for second place.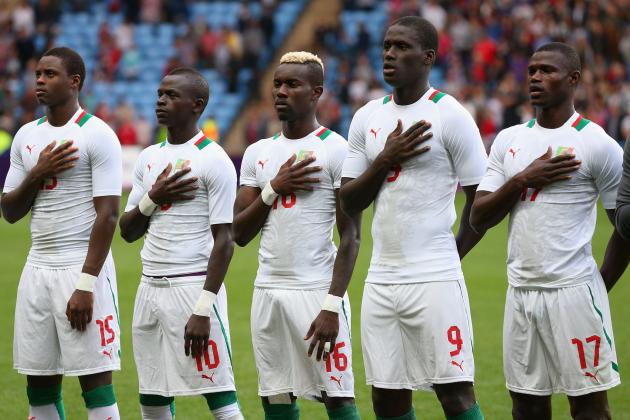 Cameron Spencer/Getty Images

Senegal had to come from behind to win this one, as Haiti put forth a feisty performance to make things really uncomfortable the African side.
Incredibly, it was Haiti who got on the board first. In the 26th minute, Jean-Eudes Maurice latched onto an inch-perfect cross from Reginal Goreux. The Le Mans striker took the ball off his chest and volleyed it low past Bouna Coundoul for the shock Haitian lead. Haiti held the lead going into halftime.
It was Haiti who got on the scoresheet again, but for the wrong reasons. In the 51st minute, Mohamed Diame chipped the ball toward Demba Ba at the far post; defender Judelin Aveska managed to get his head on the ball, but he deflected it past goalkeeper Johnny Placide by mistake.
Papiss Demba Cisse drove the dagger through Haitian hearts in the 75th minute with a beautiful chip over an onrushing Placide, as Cisse drove into the box after slipping past the Haiti defense.
Both sides had opportunities in the final 15 minutes. Maurice had a great chance to equalize for Haiti in stoppage time, but his low shot was deftly parried by Coundoul.
It ended Senegal 2, Haiti 1, but the Caribbean nation should definitely feel proud of their performance.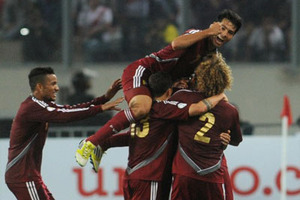 Photo courtesy of observadorglobal.com
Shock opening win for Venezuela as they take down powerhouse Germany in their opening fixture.
Venezuela meant business from the moment the whistle blew. Their attacking was purposeful, and they did not allow the star-studded German midfield to get any ground in the middle of the park.
La Vinotinto made the breakthrough in the 15th minute, when Salomon Rondon showed great control on the top of the box. He received the ball right at the edge of the box, with Jerome Boateng right on his back. The Rubin Kazan man deftly turned his man and fired a rocket into the upper right corner, just brushing the fingertips of Manuel Neuer.
Venezuela went into the break with the lead, while Germany were left scratching their heads.
The Germans came out swinging in the second half. Thomas Mueller and Mesut Ozil both came close to scoring within minutes of each other were it not for the heroic goalkeeping of Dani Hernandez.
In the 66th minute, Mario Gomez nailed the top of the crossbar with a beautiful header from Bastian Schweinsteiger's cross.
Venezuela, however, absorbed the pressure and counter-attacked when they could. Their determination paid off again in the 80th minute. A quick throw from Hernandez after a routine save found Luis Manuel Seijas. The midfielder turned and slotted the ball to Nicolas "Miku" Fedor, who timed his run perfectly through the German defense. The Celtic man rushed Neuer, side-stepped the German keeper and slotted the ball into the empty net.
Delirium for Venzuela, dejection for Germany as the South Americans take the three points.
Photo courtesy of metro.co.uk
Whatever high Venezuela was experiencing after their win over Germany was extinguished in a comprehensive loss to Senegal.
Surprisingly enough, it was Venezuela who broke the deadlock with a 19th minute strike from Salomon Rondon for his second goal of the tournament. The Venezuelan found a yard of space about 20 yards out and beat Bouna Coundoul on his right side with a curling effort.
Senegal answered quickly enough through Demba Ba. In the 36th minute, Sadio Mane sent in a cross toward Papiss Demba Cisse, who headed the ball back to Ba, who hit the first-time volley past Dani Hernandez.
Ba got his second in incredible fashion in first-half stoppage time. The Newcastle man received the ball from Mohamad Diame on the left corner of the box, turned, and curled the ball off the far post and in. Hernandez didn't stand a chance.
The game settled down in the second half. Senegal continued to pressure the Venezuelan net; Cisse had a low shot that Hernandez parried away, while Guiranne N'Daw hit the bar off a header from Ba's cross.
Venezuela's attack was nowhere near as potent as it was against Germany. Senegal didn't allow the counter to develop, and Rondon and Miku weren't able to link up as effectively.
Senegal made it 3-1 with 10 minutes left to go through substitute Cheikhou Kouyate. The Anderlecht defender outmuscled several defenders with the ball, and chipped the onrushing Hernandez to ensure Senegal took the three points.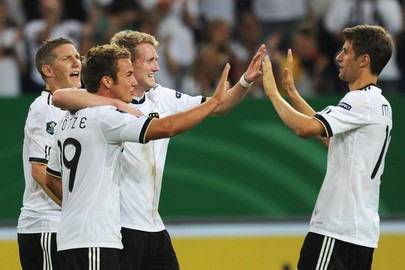 Photo courtesy of fanpop.com
Germany was always going to win this one, but no one expected such a thrashing, especially after Haiti's performance against Senegal.
First half goals from Bastian Schweinsteiger, Mario Gomez, Thomas Mueller and a beautiful free kick from Mesut Ozil put Haiti in a 4-0 hole by halftime, and it looked like there would be no way back.
A brief glimmer of hope for Haiti arose when Constant Monuma tapped in a failed clearance from Germany from a corner in the 51st minute, but it was dashed when Lukas Podolski added a fifth in the 56th minute after a brilliant solo run up the left flank.
Podolski got his second and Germany's sixth in the 76th after a deft backheel from substitute Andre Schurrle set the Arsenal forward up perfectly for a one-timer that rose into the top of the net.
Schurrle himself capped off the night with Germany's seventh after some neat interplay between him and Mario Gotze saw the Bayer Leverkusen man latch onto the ball inside the box for an easy tap-in.
It was an embarrassing night for Haiti, but they can still say they scored against Germany. For the Germans, it was a welcome return to winning form.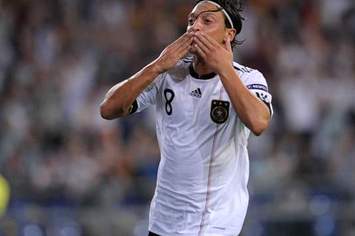 Senegal needed this win to top the group, but ultimately fell well short, losing 3-1 to Germany.
Senegal opened the scoring early in the 8th minute through Dame N'Doye as Senegal shifted to a three-man offense and employed N'Doye on the left side. The Rubin Kazan man cut inside Jerome Boateng and curled the ball around Manuel Neuer's outstretched hand and into the side netting.
90 seconds later, Lukas Podolski made a lung-bursting run down the left side, played a textbook one-two with Mario Gomez and wrapped the ball around Bouna Coundoul to equalize in typical German fashion.
Gomez took the lead for Germany in the 33rd minute with a towering header off of Bastian Schweinsteiger's inch-perfect corner. Gomez outjumped Cheikh M'Bengue on the left post and thumped the ball past Coundoul.
The game settled into a rhythm with both teams attacking and counter-attacking. Senegal desperately searched for an equalizer in order to get momentum going, but the German defense put the kibosh on every Senegalese attack that ventured forward.
Germany finally settled the matter in the 80th minute, when Thomas Mueller latched onto Toni Kroos' cutting pass through the Senegalese defense and tucked the ball between Coundoul's legs.
Another dominating performance from Germany, while Senegal's hopes now rely on Haiti's performance against Venezuela.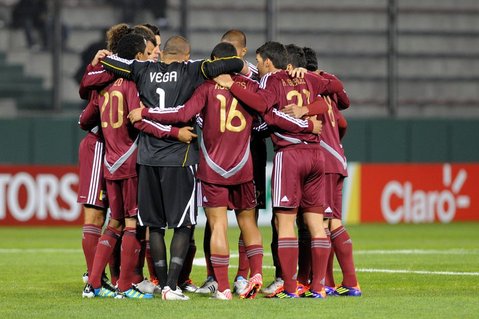 Venezuela destroyed Senegalese hopes en route to destroying the hapless Haitians 4-1 in Group A's final match.
The South American outfit had a completely dominating first half. They got on the board in the 13th minute after Salomon Rondon, who had been so dominant on Venezuela's front line, went one-on-one with Johnny Placide and slipped the ball around the goalkeeper's left side.
Miku doubled the lead in the 33rd minute with a low, hard shot that fizzed into the net, and nearly 60 seconds later, Raul Gonzalez Guzman made it 3-0 with a blistering run down the right flank and an outside-of-the-foot shot that curled around Placide.
Juan Arango completed the 4-0 hole with a free kick that probably should have been saved. Arango sent a ball under the wall from 30 yards out that cut the grass to the near post. Placide got fingers to it, but he really should have gotten down quicker.
Haiti added a late consolation goal in the 79th minute. Jean-Philippe Pequero managed to split two defenders and drive the ball past deputy keeper Renny Vega to grab a memory to bring back home.
Haiti definitely should not be discouraged by their performances. They managed to score against each team they played against, and had a great opening game against Senegal.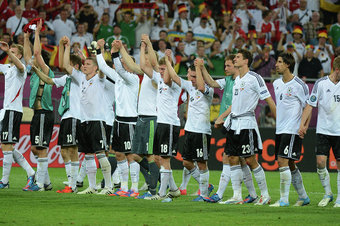 | | | | | | | | | |
| --- | --- | --- | --- | --- | --- | --- | --- | --- |
| | P | W | D | L | GF | GA | GD | PTS |
| Germany | 3 | 2 | 0 | 1 | 10 | 4 | +6 | 6 |
| Venezuela | 3 | 2 | 0 | 1 | 7 | 4 | +3 | 6 |
| Senegal | 3 | 2 | 0 | 1 | 6 | 5 | +1 | 6 |
| Haiti | 3 | 0 | 0 | 3 | 3 | 13 | -10 | 0 |
Germany, after that disappointing opening loss to Venezuela, ends up winning the group after all. Venezuela takes runners-up on superior goal differential.
Senegal walks away disappointed with their efforts. A bigger result over upstart Haiti might have made the difference.
Haiti managed to score in every game, a feat within itself, and gave Senegal a run for its money in the opening game.
Germany and Venezuela are the first two teams to make it to the knockout stages in this mega World Cup. Next time, we'll take a look at Group B and Israel, the British Virgin Islands, reigning champs Spain and Lebanon.