Arsenal FC: 5 Things the Gunners Must Do Before 12/13 Season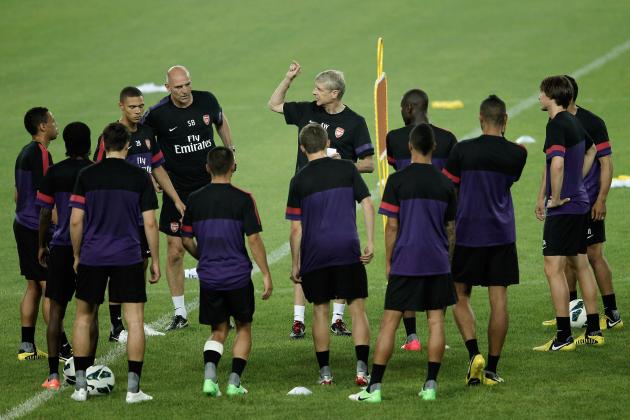 Lintao Zhang/Getty Images

With the beginning of the season a matter of days away, most Gooners are viewing this transfer window as a huge success.
Not only were three significant buys made, but Arsene Wenger may be gradually loosening his purse strings. The Arsenal boss has developed a reputation for spending too cautiously, and only on youngsters, but now Wenger has bought two 27-year-olds and a 25-year-old, spending a total of £40 million on just three men.
Despite Arsenal's 4-0 win over FC Cologne, which many fans think is a great sign, the new players and the team have yet to be proven in the Premier League.
As Arsenal kicks off against Sunderland at the Emirates on Sunday, there are still a few things to be done prior to the EPL campaign.
Here they are.
Begin Slideshow

»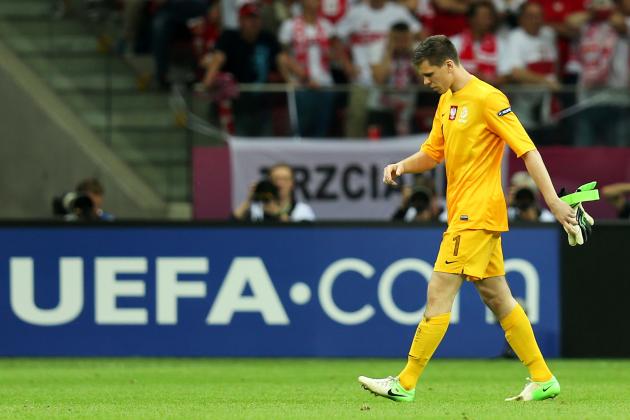 Alex Grimm/Getty Images

Wojciech Szczesny's Euro 2012 lasted only 68 minutes, as the Polish goalkeeper was sent off against Greece in the opening match for sending Dimitris Salpingidis to the ground.
Szczesny was ineligible for the next match, and in the last match of the group stage, substitute Przemyslaw Tyton—who played very well—was chosen over the Arsenal youngster, a blow to Szczesny who was considered to be one of Poland's key players.
But now it's time to forget all about that.
It's a whole new season and one bad tournament shouldn't be anywhere close to the Pole's thoughts as he gets ready for another season as No. 1 keeper.
If this were to happen to someone who was more experienced, this wouldn't be as big of an issue, but Szczesny is very young (22 years old).
Arsenal can't afford a loss of concentration from the man who saved them countless times last season.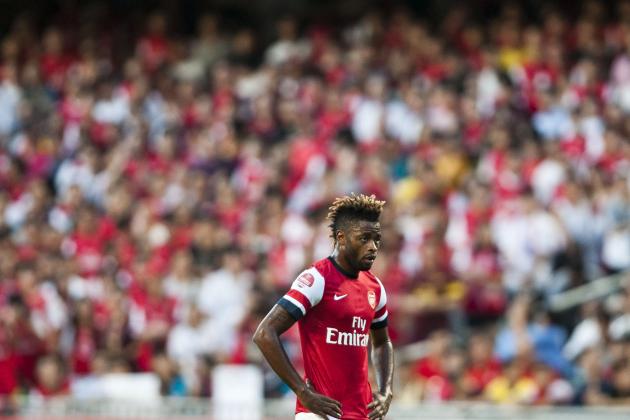 Victor Fraile/Getty Images

Arsenal fans love annoyingly long transfer sagas that stretch out for months at a time, leaving them with crossed fingers. Just ask Cesc Fabregas and Samir Nasri.
That is why Alex Song and Theo Walcott thrilled all Gooners—though not as long and hair-pullingly annoying as the van Persie one—both linked away from the Emirates.
David Hytner of the Guardian on the Song saga:
"Alex Song has caused irritation at Arsenal with his desire to explore his transfer market options in the face of interest from a clutch of leading clubs, including Barcelona...The friction has built to the point where Wenger has questioned Song's worth to the team and even wondered whether he may sell him if a large offer were to come in."
Simon Burnton of the Guardian in the Rumour Mill:
"Massimo Moratti, was in London over the weekend to watch some Olympic action, and his presence in the capital has started strong rumours that he intends to leave with Theo Walcott."
Plus John Ashdown also in the Mill wrote "Brendan Rodgers is 'desperate' to sign the Gunners' winger, reckons the Sun, but he'll face competition from Chelsea and Paris St-Germain."
The Gunners need to either calm all of this talk down or sell prior to Saturday's kick-off.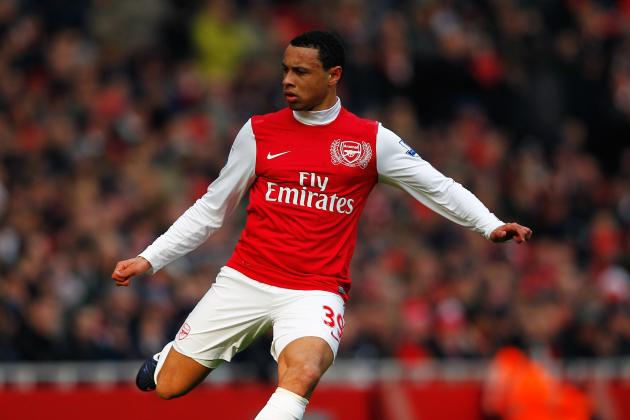 Paul Gilham/Getty Images

Bacary Sagna broke his leg twice during the 2011/2012 season. The second break, which happened against Norwich, kept him out of the European Championships, which was obviously a huge disappointment for the French international.
The Arsenal website informs us that on July 21, Wenger said: "He is doing very well. There are no problems there. But it will be the end of August for him."
Despite this, it is unreasonable to expect two things from Sagna immediately: His best football and lots of minutes. As a result, it looks like someone will have to play the beginning of the season, and transfer talks of signing Lille right back Mathieu Debuchy have been on standby.
This is why youngster Francis Coquelin has to step up. As the most versatile player on Arsenal, Coquelin can play defensive and attacking midfield, as well as either outside back. The 21-year-old Frenchman has shown tremendous potential thus far, and in his few games, has had his moments of brilliance.
Le Coq was loaned out to Lorient in 2010/11, and made 24 appearances there, scoring a goal. However, he has only made 10 appearances for the Arsenal first team, so he may be rushed into the spotlight at the start of the season.
Skills-wise, he should be able to do it, but is he ready mentally?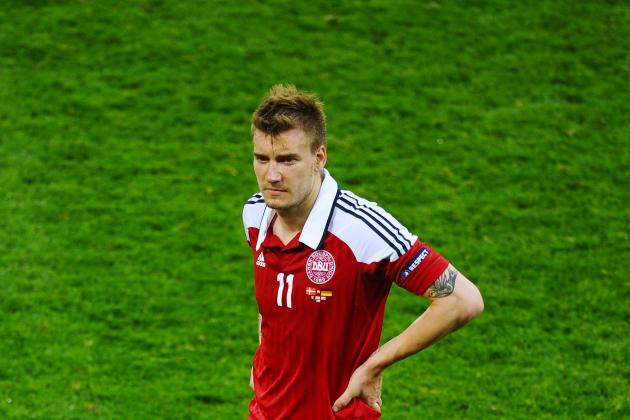 Laurence Griffiths/Getty Images

According to VitalFootball, Nicklas Bendtner wants out. The Danish striker, who was loaned to Sunderland this past year, was quoted as saying:
"'Arsenal is not an option and that is something both the club and I agree on...I expect to have found a solution to my situation before the window closes. There are concrete negotiations in the works.'"
And there's another man who seems to be leaving for Olympiakos. ArseBlog reports:
"Having just sold Olof Mellberg to Villarreal the Greek side are looking for a replacement and Squillaci has been earmarked as such. Last week Arsene Wenger confirmed his countryman was set to leave Arsenal after a disappointing two year spell at the club."
Even Andrei Arshavin, Aaron Ramsey, and Marouane Chamakh have been linked away from the club recently.
More transfer things that need to be sorted out before the season. Time and money are being spent on these things, instead of concentrating on the season.
If Wenger wants to sell these players, it had better be now than later.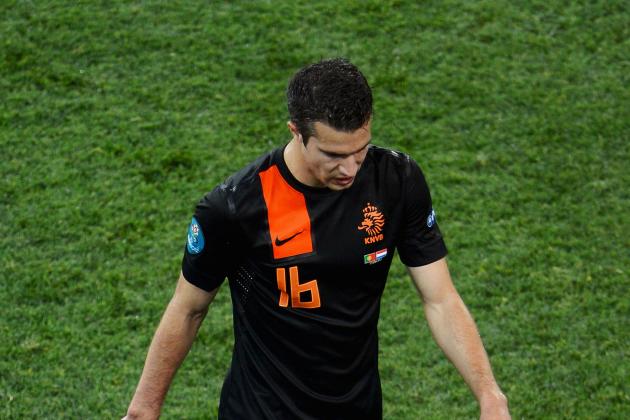 Lars Baron/Getty Images

I mentioned annoying transfer sagas before. But Song and Walcott's rumours combined cannot even compare to the Robin van Persie saga.
It's the biggest saga in football right now, the only one coming even close to this being the Luka Modric will-he-won't-he regarding Real Madrid.
This is how the whole thing seems right now: Van Persie's comments about wanting to leave Arsenal and the club not being headed in the right direction have been heard by everyone. However, Wenger's unwillingness to sell the Flying Dutchman makes it seem like the Golden Boot winner is staying at the Emirates against his will.
Yes, Wenger has come out and said that he expects van Persie to stay, but it doesn't seem convincing enough.
If he is going to go, fine. Let van Persie leave; Cesc Fabregas taught Gooners that it is pointless to stay at a club if your heart isn't in it.
But if he is going to stay, both Wenger and van Persie have to announce a clear-cut, convincing decision without any gray areas.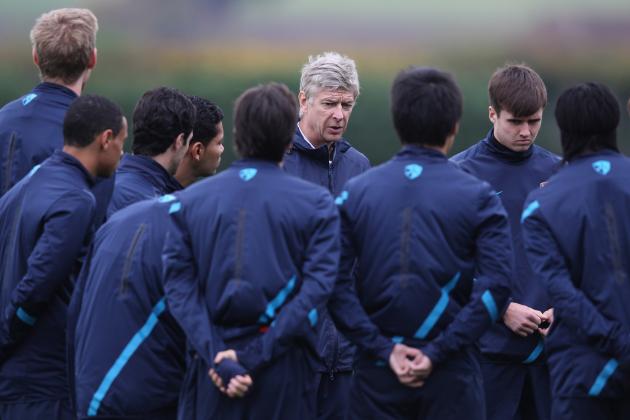 Clive Rose/Getty Images

That's about it. If the Gunners can do these five things before Saturday, you can expect a good start to the season, hopefully the opposite of last season's start.
I predict a fourth-place finish, good enough for Champions League next season.
Please leave your comments and feedback.
Also be sure to check out the five best Arsenal moments of last season.