Team GB Football: Winners and Losers so Far at the Olympics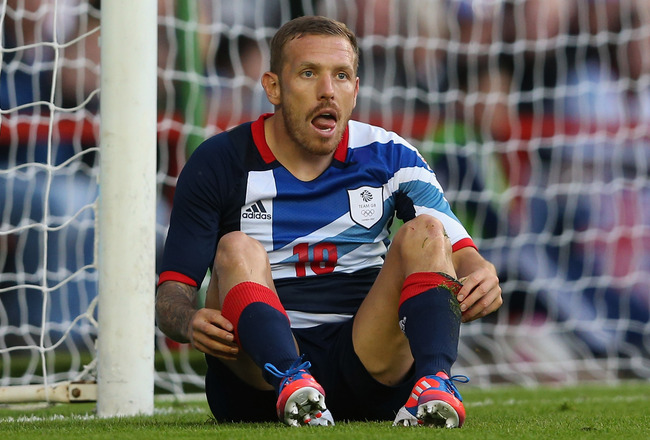 Julian Finney/Getty Images
Initially excitement surrounding Team GB was limited.
Three of the home nation's four football associations were reluctant to allow their players to participate, questions were raised about the competition's importance and the star attraction, David Beckham, was omitted from Stuart Pearce's squad.
Poor performances against Brazil and Senegal dampened any expectations UK football fans may have had of their muddled football team, but victories against the UAE and Uruguay have built up an air of enthusiasm surrounding the team, albeit a quite one.
Although Stuart Pearce's team's performance thus far is unlikely to strike fear into a Brazil team oozing with talent, there has been a consistent improvement in the way Team GB go about their game.
Several players have stood out in the Olympic Group Stages, for both the right and wrong reasons. This slideshow will analyse those that have caused the most talking points.
Winner: Craig Bellamy
Michael Regan/Getty Images
In an uninspiring Team GB performance against Senegal, Craig Bellamy's performance stood out.
In a difficult match against the UAE, Craig Bellamy set up the opening goal.
In a tentative game against Uruguay, Craig Bellamy was GB's creative spark.
In short, the 33-year-old Welshman has been Team GB's best player in the group stages.
The Liverpool winger scored the nation's opening goal of the competition, and the first in over 50 years. He has marshalled the wing with a menacing physical presence and dogged determination to get behind the opposing wing back.
Question marks were placed on his fitness and an atrocious tackle by Senegal's Saliou Ciss raised legitimate concerns that Bellamy's tournament could be other.
The Welshman has proved such fears wrong. Despite playing in a competition where most of his opponents are at least 10 years younger, Bellamy has so far played all three games with more energy and enthusiasm than anyone else on the pitch.
Loser: Stephen Caulker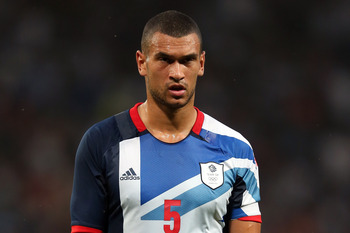 Julian Finney/Getty Images
There is potential in Stephen Caulker's game, that much is clear.
The Tottenham centre-back, who spent last season on loan at Swansea, looks strong on the ball and has the ability to read the game well.
The problem is, every now and then he switches off.
No more was that evident than in the UAE's equaliser in GB's second group match, but it was far from a secluded incident.
An error in judgement from the 20-year-old from the Spurs academy gifted Luis Suarez with the opportunity to glide into Jack Butland's six yard box. Were it not for the Birmingham shot stopper making himself as big as possible, the final 30 minutes of Britain's group campaign would have been much more awkward.
Winner: Stuart Pearce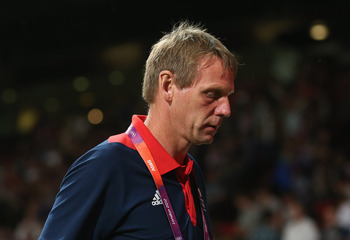 Julian Finney/Getty Images
Until the 73rd minute of his third match in charge, Stuart Pearce's tenure as Team GB coach had been poor.
Team selection and tactics had been inept based during the first two games and three quarters, but superb substitute performances from Scott Sinclair and Daniel Sturridge spared his blushes.
It is these 20 minutes that have turned Stuart Pearce from a loser into a winner; the face of failure has been turned into a potential success.
Pearce has acknowledged the weaknesses in his team selection, and adjusted them superbly. He made the tough call of dropping Ryan Bertrand in order to play Micah Richards wide against the UAE, and the change was noticeable.
Pearce was the stand out candidate to be Team GB manager and, so far, he is just about doing himself justice.
Loser: James Tomkins
Stu Forster/Getty Images
The Olympics were a great opportunity for James Tomkins to prove his defensive worth.
The West Ham centre-back played a full season in the Londoner's promotion winning campaign and made a total of 111 career appearances in the league, despite only being 23.
He was even selected in last season's team of the year for the Npower Championship.
Unfortunately, it seems such experience has abandoned him in GB's Olympic campaign.
Poor defending from Tomkins and his partner, Caulker, allowed Elisa to level the score between the UAE and GB. Were it not for a fine save from Butland a few minutes later, Tomkins poor defensive performance could have knocked out his own team.
Winner: Joe Allen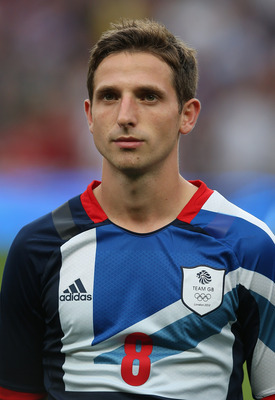 Julian Finney/Getty Images
Joe Allen had a fantastic debut season in the Premier League and has looked promising in the centre of midfield for Team GB.
If he was not already, he should be the first choice central midfielder against the UAE; a big statement given Aaron Ramsey, Tom Cleverley and Jack Cork all occupy similar positions and have impressed while wearing the British colours.
Allen is a good ball winner, a trait of particular importance when playing alongside Ramsey or Cleverley. Further to this he is composed in possession and capable of opening up space with his composed passes.
The Swansea midfielder's personal high in the thus far was his a super touch that dragged the ball away from two Uruguay defenders before setting up Daniel Sturridge for a routine tap in.
Loser: Gareth Bale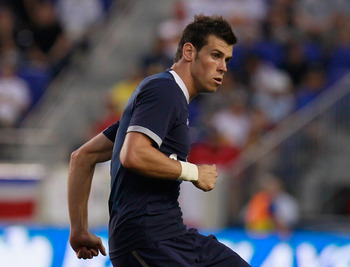 Mike Stobe/Getty Images
Stuart Pearce decided that Gareth Bale was not fit enough to be selected in his Team GB squad, but since the start of the tournament the Welshman has represented Tottenham in a preseason friendly versus Liverpool.
The 23-year-old has been criticised by several media outlets in the UK, with the Daily Mail reporting
Bale will no doubt consider it darkly ironic that he got aggravated his injury playing in a friendly, and not in a competitive competition that he declared himself unfit to play in.
In the last two days, more controversy has surrounded Bale. The Independent reports that the Welshman is embroiled in a war of words with Liverpool midfielder Charlie Adam. The row started following allegations made by Bale that Adam is a 'coward' for making aggressive tackles.
As if that was not enough, the Independent reports Sepp Blatter saying Gareth Bale could be banned from representing Tottenham whilst BG remain in the Olympic competition.
Perhaps playing for Team GB would have been better preparation for the left winger after all.
Winner: Jack Butland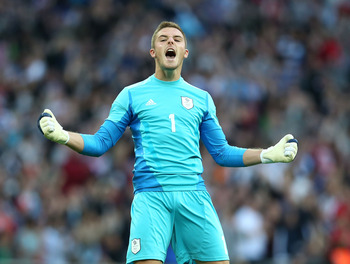 Julian Finney/Getty Images
The Birmingham shot stopper has made fantastic saves in all three of Team GB's Olympic matches.
Despite starting behind Jason Steele in the friendly against Brazil, Butland's reputation has soared thanks to Team GB's Olympic campaign.
A superb reflex save against the UAE prevented Team GB from going behind in a game that they eventually won 3-1. Had the UAE taken the lead, Team GB may not be in the tournament still.
Butland made an equally important save against Uruguay in the 54th minute of Team GB's final group game. Suarez had ran circles around Steven Caulker and effortlessly glided into GB's six yard box; thankfully the 'keeper had the presence to make himself as big as possible and block a shot that you would expect a player of Suarez's quality to burry.
Loser: Marvin Sordell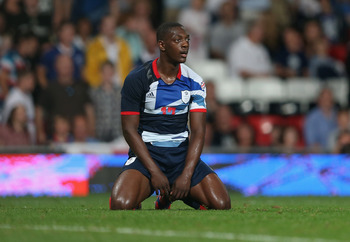 Julian Finney/Getty Images
When Stuart Pearce announced his 18 man squad to represent Great Britain, Marvin Sordell was one of the most surprising names to be included.
Indeed his inclusion was so surprising that it even surprised himself.
"I didn't really expect it to be honest," he said. "When I got the call from Stuart Pearce I was quite shocked," he told the Telegraph.
"At first I didn't think it was him on the phone, as you do. I look forward to what will be a massive, massive occasion," he added.
The £3 million striker has been given plenty of opportunities to impress, starting against the UAE and playing 45 minutes against Senegal.
Despite showing a healthy enthusiasm to get involved in the game, the 21-year-old has shown precious little of the form that convinced Bolton to snap him up from Watford in January.
Sordell had two opportunities to secure a winner for Team GB in the closing stages against Senegal, but squandered both chances.
Winner: Daniel Sturridge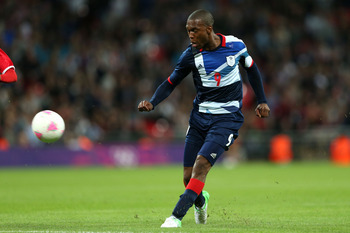 Julian Finney/Getty Images
After poor performances against Brazil and Senegal, you could forgive Team GB fans for having concerns about their team's goal-scoring ability.
Chelsea's Daniel Sturridge was visibly a shade or two beneath optimum fitness. Sordell, his replacement, clearly lacked the quality to deputise.
A 20 minute run around against the UAE has worked wonders for the former Manchester City striker.
For the first time since before Christmas he is getting forward with a real sense of purpose. His runs are causing problems for his opposition and the quality of his finish against the UAE demonstrates the new found confidence the Chelsea man has in his game.
If there were any question marks about whether he should be GB's out and out striker, they were answered by a fine performance against Uruguay.
Winner: Ryan Giggs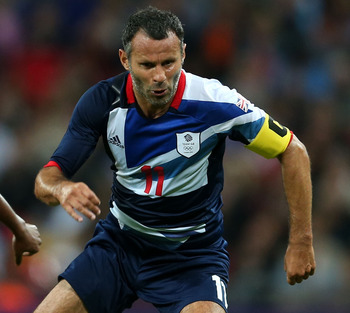 Julian Finney/Getty Images
In his illustrious career there has been one thing missing on Ryan Giggs' CV.
An appearance in a major international tournament.
The Olympic Games may not trigger a great deal of enthusiasm from most football fans, but the reality is it is still recognised as a major tournament that is sanctioned by FIFA.
Ryan Giggs was named captain of Team GB prior to the start of the tournament, and so far his tenancy has been more impressive than not.
Great Britain have progressed to the Quarter Finals of a major international tournament, despite being assembled with little time to prepare. As each game has progressed, there is a hint of more and more fluidity in Giggs' team and there is a real possibility that he could lead them to medal success.
The 38-year-old's best moment so far was a header from a Craig Bellamy cross that opened the scoring against the UAE.
Fitness may be an issue as the tournament presses on, but, a rest against Uruguay suggests he should be ready for the Quarter Final clash this weekend.
Keep Reading