Arsenal Transfer Rumors: Olivier Giroud Would Be Perfect Fit for Gunners
June 24, 2012

Julian Finney/Getty Images
The Olivier Giroud signing to Arsenal seems to be in place, despite people denying this and that. Fans know what the road ahead will be like at the Emirates, and it likely includes Giroud. 
Arsenal and Giroud are drawing close to sealing the deal that would bring the Frenchman to the Gunners, according to Brendon Netto of Goal.com. 
If the deal gets done—and I most certainly think it will—Giroud would be the perfect fit for the Gunners.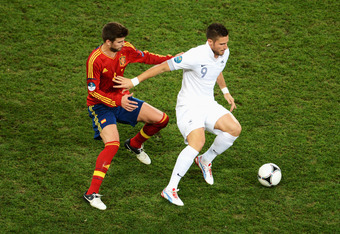 Jasper Juinen/Getty Images
What's the main objective in signing Lukas Podolski and possibly Olivier Giroud?
To keep Dutch superstar Robin van Persie. 
Signing legitimate scoring threats to a team that saw van Persie score 30 goals and Theo Walcott (second on the team) score eight was the primary objective this summer. It was possibly the only thing that could persuade him into signing another deal.
The fit makes perfect sense, from that perspective.
Now for an on-field, what-if perspective. If van Persie decides to leave, which is highly possible, at least Arsenal would have more options up front to score.
Not planning for the worst will leave teams in holes that will make it impossible to dig out of in one year.
Arsenal signing Podolski and maybe Giroud will allow the Gunners to compete if van Persie gets out of town earlier than expected.
Giroud, Podolski and the rest of Arsenal's roster would still be capable of making a top four spot in the English Premier League. Giroud scored 33 goals in 71 appearances for Montpellier. He's another legitimate scoring option who would help Arsenal with or without van Persie.
It's been an active summer for Arsene Wenger and Arsenal, but they are going about it the right way. With the ultimate goal in mind to keep van Persie, they are also doing what they need to do in order to compete in the English Premier League.
Giroud's possible signing to Arsenal will be one of the best of the summer, and maybe in more ways than one if it's enough to keep van Persie at the Emirates.