Euro 2012 Predictions: Arjen Robben and Stars Who Will Continue to Struggle
June 13, 2012

Ian Walton/Getty Images
There will be new stars to emerge at the Euro Cup, players who will become unexpected heroes in their countries for clinical passes and clutch shots.
There will also be huge stars who will finish the tournament as huge duds, players expected to lead their countries to glory, but instead will fall short.
And no, you won't see Cristiano Ronaldo on this list—given his incredible form this season, I expect him to bounce back after a quiet game for Portugal against Germany.
Arjen Robben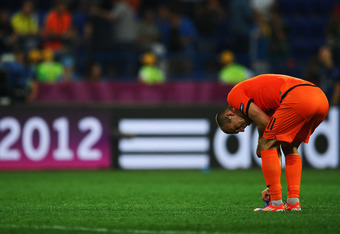 Lars Baron/Getty Images
How many opportunities can one man fail to capitalize on? 
Few players in the world have the skill coming off the wing that Robben possesses. But few men are also afforded the touches or time on the ball that Robben gets, warranted given his talent, but a luxury he often abuses.  
When he finds open teammates in the box or scores goals himself, all is forgiven. But that wasn't the case against Denmark, when Robben failed to finish on multiple chances. And frankly, it's a carryover from the Champions League final, when Robben was stymied time and time again against Chelsea.
Between Bayern Munich this year and now the Netherlands, Robben hasn't been very good on the biggest stages. If he doesn't reverse his fortunes, the Dutch are in big trouble.
Robin van Persie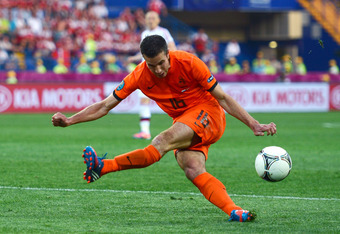 Lars Baron/Getty Images
As an Arsenal enthusiast and huge van Persie fan, I really hate including him on this list. But something is telling me that the Netherlands are in for a very disappointing tournament and RVP is in for a letdown himself after a huge season for the Gunners.
The Gunners are the reason I think he may disappoint moving forward. The contract negotiations that loom large after the Euros are no secret, and surely they must be on the mind of RVP. They've been on the mind of everyone remotely interested in Arsenal football, after all.
And he didn't look to be in fine form against Denmark, failing to capitalize on several opportunities. The chances were there, but a poor touch here or off-the-mark shot there kept van Persie off the board.
I really hope he finds his form moving forward. If he does, the Netherlands will be difficult to stop. But something is telling me this won't be RVP's tournament.
Mario Balotelli and Fernando Torres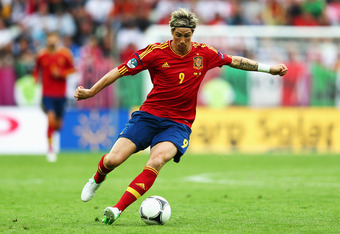 Michael Steele/Getty Images
Perhaps it isn't fair to label either of these players as "stars." Balotelli certainly has star potential but is still young, immature and inconsistent.
And Torres was once a star, but hasn't looked like one for some time.
Each striker could play a pivotal role for their respective teams. Italy could use the athleticism that Balotelli brings to the table, while the Spanish could really use a pure striker to fill the void left by the injured David Villa.
But neither looked very good in their first games at the Euros, and I wouldn't expect them to reverse their forms. Balotelli is simply too mercurial to be trusted, and Torres is perfectly capable of creating chances but suddenly seems so inept at finishing them.
Expect each to leave fans in Italy and Spain very disappointed throughout the tournament.
Hit me up on Twitter—my tweets really wanted to have another.