English Premier League: An Open Letter to QPR's Joey Barton
May 21, 2012

Shaun Botterill/Getty Images
Dear Joseph,
Congratulations!
As I write to you this morning, you are not the most hated man in world football.
That makes today a day of celebration and, more importantly, a day to ponder the (hopefully) brighter future ahead of you.
Rest assured, though, the haters will be back. Eden Hazard can only drag out his LeBron James impersonation for so long.
By the time that's over, the mob's anger will be back upon you. That's why you have to lay out some plans, right now, to make things right.
Hire a PR guy. Start wearing demure clothing and speaking timidly.
Quit Twitter.
OK, don't quit Twitter. I couldn't handle a loss like that. But even you must see that something must be done, and soon.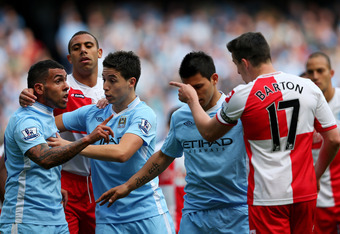 Alex Livesey/Getty Images
Look, I'll admit, I've never liked you. I'm an Arsenal fan, and the way you got Gervinho (though I don't really care for his work, either) sent off last August was despicable.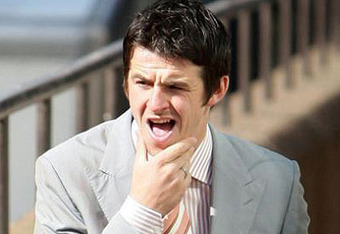 And then there's the assault conviction, and the jail time, and, most recently, the Manchester City mayhem. Trust me, you're just not a likeable guy.
Seriously, in this most recent case, "violent conduct" doesn't really cover it. "Stupid, brain-dead, selfish, foolish, moronic—and, oh  yeah, violent—conduct" gets the ball rolling.
What were you thinking, man? Didn't you know that your team could have been relegated that day?
It didn't happen, of course, no thanks to you. QPR survived, and they'll play in the Premier League next season, but there's a good chance you won't.
That's because there's a decent chance your QPR career is done. They needed you that day and you let them down.
Can you blame them if they decide you're not worth the trouble?
And would you really be surprised if no one gives you a chance after that?
None of us would be. We're the fans, and we're sick of you. We've had enough of the tough-guy act and the thuggery.
It's easy to point the finger at others and call yourself a pacifist, but after you've been involved in several ugly incidents with several players from several different teams over a course of several years, it might be time to point the finger at yourself.
The worst part about all of this is that you're actually a pretty good player. And, yes, I actually kinda, sorta enjoy your work—when you're not trying to convince everyone how hard you are.
Stop doing that. It's ridiculous.
Again, hire a PR guy. Become a perfect little angel. Do something, anything, to change your image, and, more importantly, change yourself.
Just don't give up Twitter. Please.
Sincerely,
Mike