Top 19 Teenage Footballers in Europe Right Now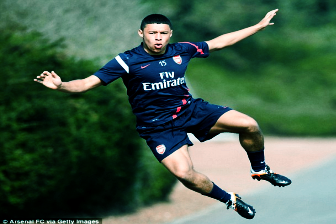 (Image via www.arsenal.com)
You're reading the right article if you want to know who the top European-based teenagers are right now.
Romelu Lukaku may be the next Didier Drogba, but he hasn't proven anything this season.
Juan Iturbe came to Porto with so much hype, but he can't even get a game.
This article ranks the best performing European teenagers on form—not hype.
I've decided not to include any of the best performing teenagers from the NextGen Series because youth football is totally different from senior football.
Here are five players who caught my eye:
1. Jean Marie Dongou (Barcelona): Amazing physical attributes. Huge upside.
2. Gary Gardner (Aston Villa): Played like Steven Gerrard.
3. Davy Klaassen (Ajax): Classy operator.
4. Viktor Fischer (Ajax): Tore Liverpool to shreds.
5. Betinho (Sporting Lisbon): Profited from playing on the most entertaining team in the tournament. Should have scored more goals.

Begin Slideshow

»
Just imagine how quick Ryo Miyaichi would be if he didn't break his leg.
He is still pacey, but he'd probably be Theo Walcott-quick if he didn't suffer such a mishap.
Miyaichi blitzed past Armand Traoré so many times, but the Japanese's end product was lacking.
That being said, the winger—on loan from Arsenal—still provided the winning assist.
Talking about his efficiency, Miyaichi has only completed 68.8 percent of his passes, which is a slight concern.
Recently, the likes of Darko Lazović, Slobodan Medojević and Stefan Savić have excelled as youngsters in the Serbian SuperLiga.
Lazar Marković has been playing as a forward under former Chelsea manager Avram Grant.
Like Romelu Lukaku, Marković has expressed his love for Chelsea:
I want to go to the Premier League. It is the best league in the world. But Chelsea is the place I want to play. I had all the pictures of the team on my wall at home back to when they had Gianfranco Zola.
Sky Sports Scout believes Marković's potential transfer value could rise to £60 million.
Sammir's presence in the team will ensure Mateo Kovačić won't be playing as the central attacking midfielder anytime soon.
When I watched Kovačić in the UEFA Champions League, he played out wide and didn't impress me.
Surprisingly the statistics reveal another side—he completed 89.8 percent of his passes, 92 percent of his long passes and 12 successful dribbles in 410 minutes.
Right now, it seems David Alaba is being pigeonholed as a utility player because I've seen him start at left-back, left-attacking midfielder and quite a few times as a defensive midfielder.
Francis Coquelin is in a similar situation at Arsenal.
However he has shown world class potential as a defensive midfielder, whereas Alaba is a jack of all trades, master-of-none type player.
This means Alaba could end up being a utility player like Aleksandar Ignjovski at Werder Bremen.
Alaba looked solid against Marseille, but unless Philipp Lahm permanently moves to right-back, Alaba's extended run at left-back will end.
Adam Maher has had a breakout season for AZ.
A gifted teenager who has played 51 times this season and he's only 18.
Surely someone like Damien Comolli at Liverpool is doing his job and listing Maher as a transfer target.
When Stephan El Shaarawy has played, he has shown glimpses of quality, but hasn't produced enough goals or assists.
It still remains to be seen if he'll be a starter or just a bit-part player.
Coutinho has been superb for Espanyol, having been loaned from Inter Milan.
He scored a goal against Rayo Vallecano, where he dribbled in between the space left by Alejandro Arribas and Tito.
Coutinho is quite fond of using La Croqueta.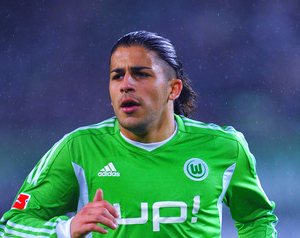 (Photo by Stuart Franklin/Bongarts/Getty Images)
Ricardo Rodríguez was one of eight players Felix Magath signed during the January transfer window.
There wasn't much hype surrounding Rodríguez, but in the games I've watched, he has been strong in the tackle.
In a 0-0 draw against Borussia Mönchengladbach, Rodríguez kept Patrick Herrmann at bay.
However, Rodríguez has given away possession 151 times in 12 league games, which must piss Magath off.
Hopefully "Saddam" hasn't fined Rodríguez for every misplaced pass because the poor kid would be bankrupt.
Dries Mertens, Kevin Strootman, Ola Toivonen and Georginio Wijnaldum are better players than Zakaria Labyad.
I believe Labyad profits from playing with such good teammates.
Labyad didn't produce the goods when Twente had Douglas sent off, in a game that PSV Eindhoven were down four goals after 40 minutes.
Sporting Lisbon supposedly have signed Labyad, but the Moroccan has rubbished those claims.
Raúl has been playing as a deep-lying forward for Schalke, tracking back into midfield and stringing many passes.
I suspect Julian Draxler wants a central role because he is one of the wide attacking midfielders in the 3 of the 4-2-3-1.
Nonetheless, Draxler has built up a great partnership with Christian Fuchs, who is one of the most underrated players in world football.
Iker Muniain's balance is excellent, his vision is exemplary and his technique is flawless.
Muniain needs to play more incisive passes because he'll get more assists since Fernando Llorente is playing the best football of his life.
Isco has grown on me because I didn't think he'd be this good.
He can dribble past several opposing players in tight spaces a la Luka Modrić.
Isco's passing range is far-reaching and he has the ability to execute accurate long passes.
As I documented last October, Thibaut Courtois had a meteoric rise, but his form has tapered off in recent months.
Barcelona seems to bring the worst out of Courtois because he has been below par in both fixtures.
Alex Oxlade-Chamberlain would be ranked No. 1 on my list if Arsène Wenger decided to play the 18-year-old more.
Oxlade-Chamberlain has an explosive first step and his dribbling is reminiscent of Ronaldo (watch).
Oxlade-Chamberlain is more skillful, has higher football IQ and is more efficient than Theo Walcott.
Walcott wants to play as a forward, but because Oxlade-Chamberlain is more complete, it might be the 18-year-old who ends up as a forward.
Regarding if Oxlade-Chamberlain should play at Euro 2012—unleash the Ox!
Luciano Narsingh is the most dynamic wide player in the Eredivisie, but Ola John is also up there.
John's incisive passing has enabled him to accumulate 22 assists this season.
Assuming Twente play it smart, they could potentially earn €70 million from the sales of John, Luuk de Jong and Leroy Fer—could be more if they sell to Liverpool.
John Guidetti's goals scored/created average per game is 1.29 compared to Mario Balotelli's 0.58.
Contrary to Guidetti's manager branding him selfish, the on loan Manchester City forward has provided eight assists, whereas Balotelli has only accumulated one assist.
I say sell Carlos Tévez and Balotelli in the summer and give Guidetti a chance.
Maybe it's a coincidence, but Manchester City seem to buy forwards who love to pout since moaning is Guidetti's specialty.
Raphaël Varane is only a teenager, but plays like a seasoned professional.
He knows where to move, which minimises the likelihood of being caught out of position.
Something Sergio Ramos needs to learn when playing at centre-back because he makes so many mistakes.
Varane has completed 93.3 percent of his passes in the UEFA Champions League and 86.3 percent when playing in La Liga.
The fact that Varane has won 13 of 16 aerial duals indicates how strong he is in the air.
Marc-André ter Stegen isn't just the best young goalkeeper, but the best goalkeeper in the world right now.
The reason why he has received comparisons to Oliver Kahn is because of the way the 19-year-old dominates his box.
How does ter Stegen statistically compare to Manuel Neuer, Joe Hart, Iker Casillas and Víctor Valdés?
| | | | | | |
| --- | --- | --- | --- | --- | --- |
| | ter Stegen | Neuer | Hart | Casillas | Valdés |
| Goals Conceded | 22 | 19 | 26 | 27 | 23 |
| Clean Sheets | 12 | 16 | 13 | 12 | 17 |
| Saves | 94 | 48 | 88 | 68 | 55 |
| Goals Against Average | 0.73 | 0.66 | 0.81 | 0.87 | 0.72 |
| Saves to Goal Conceded Average | 4.27 | 2.53 | 3.38 | 2.52 | 2.39 |
| Save Percentage | 80% | 73% | 76% | 66% | 65% |
Mario Götze's dribbling ability is reminiscent of Pierre Littbarski.
Götze is already a world class player at 19 years of age.
His finishing is excellent—five Bundesliga goals from just 24 shots.
If he decides to shoot more, he could score 15-20 goals, whilst providing 20+ assists a season.
Borussia Dortmund underachieved in the UEFA Champions League this season, but mark them down as an outsider for the title next season.

Statistics courtesy of WhoScored.com, Transfer Markt, FOX Soccer.
Please read Eden Hazard: Picking a Spurs XI to Include His Potential Transfer.