Egypt Soccer Riots: Tragedy Must Become Catalyst for Change in Egyptian Soccer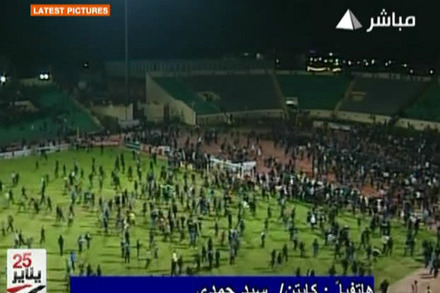 With Egypt struggling to establish stability and peace in the post-Mubarak era, the last thing the country needs is violence and chaos to erupt from the country's national pastime, soccer, which in times of hardship has often brought the Egyptian people closer together.
Today, however, that same sport has pushed Egyptians farther apart.
In the aftermath of Al Ahly's 3-1 defeat to Al Masry in the Egyptian Premier League, mayhem ensued as thousands of fans stormed the pitch and began to fight one another.
Although the players of both teams were able to escape the pandemonium, more than 70 were killed in the fighting while over 1,000 people were injured.
Sadly, there were many signs that a disaster was on the horizon.
In 2011, there were numerous incidents in which Egyptian security showed its frailty and inability to control the violence of soccer fans.
In April 2011, the ineffectiveness of the police force was on display when thousands of fans ran onto the field before the end of an African Champions game between local club Zamalek and Tunisia's Club Africain. The hundreds of police on duty at Cairo International Stadium could not stop the violence then.
Later in November, the EFA's competition committee ordered Al Ahly and Zamalek to play a home game behind closed doors for the persistent use of fireworks and flares during matches.
In the same month, Ismaily were punished for fan violence in their match against Al Ittihad, while Al Masry were punished when their supporters threw plastic water bottles and stones onto the pitch in a match against Smouha. Both teams were ordered to play a game behind closed doors as well.
And there were many other incidents of fan violence that took place in 2011 as well.
The most worrying signs of disaster, however, were not persistent incidents of fan violence (although those were plenty worrying on their own), but rather the attitude of the fans in response to punishments from the EFA.
After Al Ahly's league opener was relocated to Alexandria as punishment for fan violence and firework use in an Egyptian Cup match two months earlier, Al Ahly Ultras proudly unfurled a banner which read, "You will not teach us how to support our team."
Going one step further, the Ultras posted this message on their Facebook page, explaining their banner:
"This message is primarily directed at the Egyptian Football Association. It is also directed at anyone who believes he can turn football stadiums into prisons under his control. We own the stadiums, we own the stands."
And Ultras of other Egyptian Premier League teams have followed suit, openly acting in violation of the EFA's punishments so as to prove that they do indeed "own the stadiums" and "own the stands."
The state of Egyptian football has been in shambles for many months now, going back to the start of the Egyptian revolution.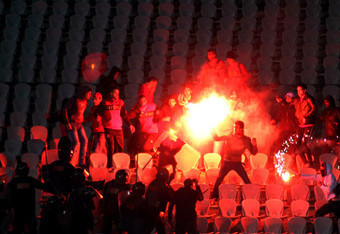 Ultras have had a hold on Egyptian football for almost a year now.
Ultras, normally apolitical, have been galvanized by the political atmosphere in Egypt into believing that they have unlimited power, and that the EFA is nothing more than tyrannical organization attempting to limit their freedoms, as Mubarak did with the Egyptian people.
The Egyptian FA has tried to go about business as usual despite the clear disrespect and rule violations of the EPL fans (and EPL clubs), and this is the result.
Today, military personnel simply stood and watched as the mayhem unfolded before their very eyes. Apparently, they had received directives not to engage the fans, as the military wanted to avoid continuing a pattern of fan-police that had begun to occur regularly back in November.
What does that mean? It means that almost none of the security personnel on hand for the match between two bitter EPL rivals in an unstable environment were actually prepared to do anything other than stand and watch, no matter what happened.
For now, the Egyptian league has been postponed indefinitely, and there are rumors that it may be cancelled altogether for the 2012-13 season.
Time must be taken to allow the families of the deceased and injured to grieve, and soccer ought to be pushed aside for a while to allow the situation to calm down and settle.
Afterwards, however, the leaders in the EFA and the heads of the EPL clubs must meet to reform Egyptian football. The state that Egyptian football was in prior to these riots was unacceptable and always bound to spill into an inhumane disaster, such as the one that unfolded earlier today.
Whatever it takes, Egyptian football can never again be the EFA vs. the clubs vs. the fans. All three groups must be on the same page and working together for progress.
There's a long road ahead to repairing Egyptian football and getting over this disaster, but it's a road that Egyptian football must take. Until then, Egyptian football cannot be allowed to resume.
Sports and politics often get mixed up with one another, but until Egyptian football can assure the safety of its fans and stability in its stadiums, resumption of the league and of footballing activities altogether should be out of the question.
This article is
What is the duplicate article?
Why is this article offensive?
Where is this article plagiarized from?
Why is this article poorly edited?