Eden Hazard: Where Does the Belgian Winger Fit In at England's Top Clubs?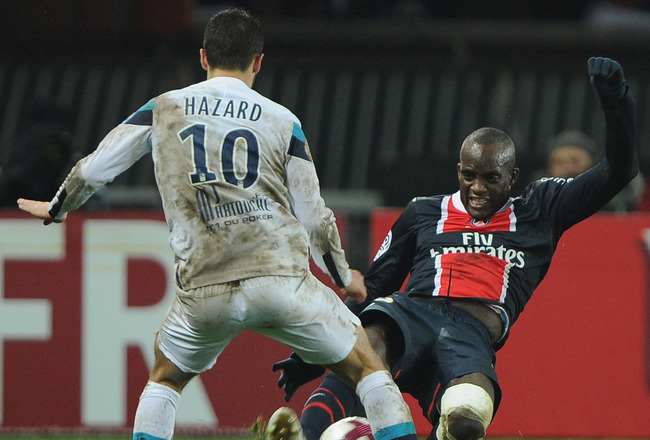 Pascal Le Segretain/Getty Images
Eden Hazard recently narrowed his list of possible summer destinations. In an interview with Canal+, Hazard shared a little information about where he sees himself in the future:
I have [played in] over 100 Ligue 1 matches, I'm young but I want to know anything else. Paris is tempting with the players there now but I prefer to go abroad.

I think I'm heading to England, the style of play suits me there and I think it's in this league that I can learn as much. We know the great English clubs. It will be a club where I'm sure to play with a play style that suits me.
While it's good to be able to put speculation about a possible move to Real Madrid, Barcelona, AC Milan or Inter Milan for Hazard to rest, Hazard's narrowing of his options down to England still leaves six clubs fighting for his signature in the summer.
Tottenham Hotspur, Liverpool, Arsenal, Chelsea, Manchester City and Manchester United have all been linked in various reports with Ligue 1's 2010-11 Player of the Season, and will all be buoyed by the news that Hazard has included them on his shortlist of clubs to transfer to from Lille.
We'll save the rankings on where he'll actually move for later. Who knows? In a month or two, he could turn around and decide that Barcelona, Inter Milan or Paris Saint-Germain is the team for him.
But for now, let's see where Eden Hazard would fit in in the primary formations of the top six clubs of the English Premier League for the 2012-13 season.
Liverpool: Right Winger
For most of the season, Liverpool have played in a 4-2-3-1 formation (some people will tell you Liverpool have been playing in a 4-3-3; they've not).
For the most part, the defense has remained constant and effective. Jose Enrique and Glen Johnson have been undisputed starters when fit, and for the most part, so have Daniel Agger and Martin Skrtel.
Despite his sometimes-erratic form, Charlie Adam has started 22-of-22 league matches this season under Kenny Dalglish, underlining just how highly Dalglish values the Scotsman.
Alongside him, Lucas Leiva was ever-present in Liverpool's starting lineup before rupturing his cruciate ligament and finding himself ruled out for the season through injury.
Where Liverpool have struggled this season has been in the selection of their front four.
Neither Stewart Downing nor Jordan Henderson have completely convinced as wingers this season for Liverpool, while Luis Suarez has alternated between the role of striker and attacking midfielder in the absence of Steven Gerrard.
And of course, Andy Carroll still remains unable to find the back of the net with any kind of consistency.
Though there are many unanswered questions that still remain, one thing is for sure: Jordan Henderson is not cut out to be a winger, and it is that position of right winger that Eden Hazard will be asked to fill if he transfer to Liverpool.
The attacking midfielder position can be filled by Jordan Henderson, Steven Gerrard or Luis Suarez. When everyone is fit, Dalglish has an abundance of quality options in that position.
As for the other position Hazard can fill, left wing, Dalglish has been sufficiently impressed by Stewart Downing's performances and effort this season that it is unlikely he'll bench Downing in favor of Hazard.
So, if Hazard were to transfer to Liverpool, he'd play opposite to Stewart Downing with two of Luis Suarez, Steven Gerrard, Craig Bellamy, Dirk Kuyt and Andy Carroll playing down the middle.
Sounds like a potent offense to me, and just the transfer to get Liverpool back into the Champions League to me. But will Liverpool sign a non-British player for big money? That I don't know.
Arsenal: Right Winger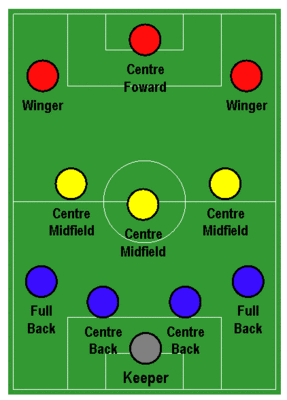 Arsenal play in a 4-3-3 formation, although its a tad more unorthodox than the one pictured here.
Again, there is little debate when it comes to the defense. When fit, Thomas Vermaelen, Bacary Sagna, Laurent Koscielny and Per Mertesacker are all starters.
Depending on the availability of Andre Santos and the development of Kieran Gibbs, Per Mertesacker may drop to the bench, but that's about the only variability that ever occurs with Arsene Wenger's defense at Arsenal.
Similarly, in midfield, when fit, Alexander Song and Jack Wilshere are automatic starters.
It remains to be seen if Arsene Wenger will drop Mikel Arteta or Aaron Ramsey to the bench upon Wilshere's return, but again, it's a safe bet that three of these four players will start for Arsenal in any given EPL or Champions League match.
In any case, in Arsenal's 4-3-3, Eden Hazard will likely only be able to operate as a winger.
Arsenal play with an attacking midfielder, but this midfielder is expected to track back and be heavily involved in the team's build up play, which are duties that Hazard is unaccustomed to and may not play to his strengths.
Though neither Gervinho nor Theo Walcott have exactly wowed us this season, and it's in fact Alex Oxlade-Chamberlain who's been Arsenal's most inspiring winger this season, I'd expect Hazard to displace Walcott in the starting lineup if he was brought in.
There are multiple reasons for this. For one, Gervinho and Hazard have already proven to be very compatible and successful wing-partners with Lille, and I'm sure Arsene Wenger will be eager to replicate their success in France if given the opportunity.
Additionally, Theo Walcott has continued his erratic performances this season, and though Gervinho has not been exactly Mr. Consistent this season either, he has accumulated more league goals in much less league playing time.
However, with the impressive performances of AOC this season and Theo Walcott expected to soon sign a new contract with Arsenal, I can't see Eden Hazard being brought, especially considering that promising Japanese winger Ryo Miyaichi can't even get a game right now.
File this one under "Dream Transfer That Won't Happen," Arsenal fans.
Chelsea: Right or Left Winger
Despite not having the players for it, Andre Villas-Boas has insisted on adopting a 4-3-3 formation at Chelsea after having so much success with it at Porto.
Chelsea's defense is very much in flux at present.
John Terry and Ashley Cole will surely be starters next season, as they have been this season, and Branislav Ivanovic will most likely be the team's starting right back, but it's not known whether Gary Cahill or David Luiz will become Terry's regular center back partner in the heart of Chelsea's defense.
Similarly, the Chelsea's midfield is not stable either. Ramires and Oriol Romeu have been used as holding midfielders by AVB, and Michael Essien's return gives AVB another player to consider for the position.
Meanwhile, Frank Lampard's position in the starting XI becomes less and less secure as he becomes older, and Raul Meireles' position too is regularly rotated.
To be honest, I don't believe Eden Hazard could fit into a 4-3-3 with Chelsea. Daniel Sturridge has become to important to simply move to the bench, and Juan Mata is arguably Chelsea's most creative player.
One possibility would be to move Daniel Sturridge centrally and move Fernando Torres (or Didier Drogba) to the bench, but the better option would be to move both Sturridge and Mata centrally and play with Hazard and Ramires going down the flanks while Essien (or Romeu) functions as the holding midfielder.
However, this would require AVB to change his tactics, and as we've already discovered, AVB is very resistant to change in this regard.
Tottenham Hotspur: Right Winger
Tottenham Hotspur play a 4-2-3-1 when possible, though it is a tad more offensive than the one Liverpool employ.
Kyle Walker and Benoit Assou-Ekotto have started every game they've been available for, while Younes Kaboul has become a favorite under Harry Redknapp as well.
Ledley King is automatic starter when fit it seems, and though I still secretly hope Christopher Samba will be signed by Tottenham to play alongside Kaboul on deadline day this January, I expect that Redknapp will stick with King as his first-choice center back with Michael Dawson and Steven Caulker playing as his backups for the 2012-13 season.
Luka Modric and Scott Parker are automatic starters in the middle, as are Gareth Bale, Rafael van der Vaart and Emmanuel Adebayor when fit (though of course, it is unknown if Tottenham will be able to hold onto to him for the 2012-13 season).
The one "question mark" position for Spurs is at right wing. Presently, Aaron Lennon is the starter, but the right winger has already proven that his flashes of brilliance are far too few and in between.
Adding Eden Hazard to Tottenham's starting lineup in place of Aaron Lennon would provide Spurs with a boost of quality that would take the team's starting lineup from great to world class.
However, knowing Harry Redknapp, Hazard is probably not too high on his wish-list, and it's possible that he rates Loic Remy as the better player, seeing as Remy outshone Hazard when the two faced off when Harry Redknapp was watching.
I would be very surprised if Tottenham decided to splurge their cash on Hazard this summer.
Manchester United: Left Winger
Sir Alex Ferguson loves his 4-4-2; he's been using the formation for most of his time at Old Trafford. His current variation, though, is more of a 4-4-1-1, as Wayne Rooney is given the freedom to drop deep and conduct play behind Danny Welbeck (or Javier Hernandez or Dimitar Berbatov).
Though SAF has been forced to heavily shuffle his defense due to injuries, he has a pretty stable defense when his players are fit. Patrice Evra, Chris Smalling, Phil Jones and Nemanja Vidic are all SAF's first choices when available.
In the center of midfield, SAF has yet to find the pair to replicate the success that Paul Scholes and Roy Keane had many years ago. Tom Cleverley and Anderson showed promise at the start of the season before injuries slowed their progress.
Since then, SAF has looked to Darren Fletcher, but he too has been sidelined. The accumulation of injuries has forced SAF to rely on Michael Carrick, Paul Scholes and Ryan Giggs, with Park Ji-Sung getting in the action from time to time.
Given SAF's contentment with playing Wayne Rooney in the whole, I expect that Eden Hazard would be utilized on the wings if brought in at Manchester United.
One thing to note is that Manchester United are by no means weak in the wingers department; Antonio Valencia, Ashley Young and Nani are all very talented wingers, and Ji-Sung and Giggs are no push-overs either.
But unless SAF wants Wayne Rooney to move away from his natural game and become a straightforward center forward, the wings are the only place Hazard could fit in at Manchester United.
Considering Valencia and Nani already battle it out for starts on the right wing, Hazard would likely have to battle it out with Ashley Young, and in due time, could become a regular starter for United.
Manchester City: Winger (Either Flank)
There's a saying that consistency breeds success, and Manchester City are a good model for this.
Though Roberto Mancini practices rotation with his 4-2-3-1, it's easy to see who his best and most favored players are.
Generally speaking, when fit, Micah Richards, Gael Clichy, Joleon Lescott and Vincent Kompany are usually called upon to start for City in defense.
In midfield, Gareth Barry, Yaya Toure and David Silva are usually automatic starters, while Samir Nasri and James Milner are often selected as well.
At Manchester City, Eden Hazard would be another star among stars and would have to adjust to whatever role Mancini gave him. Most likely that would mean that Hazard would play on the wings, but he could also play as an attacking midfielder.
What's known for sure is that Hazard would not displace David Silva if he transferred to Manchester City from Lille, and he might not even displace James Milner or Samir Nasri.
Andrew Johnson has been trying to break through into the starting lineup for years, but has failed to do so and has had to accept a bench role with the team
While I expect that Hazard's quality would allow him to eventually surpass the likes of Samir Nasri or James Milner, it could take more than a few impressive substitute appearances to convince Mancini that Hazard has the quality to be a Manchester City starter.
Opinion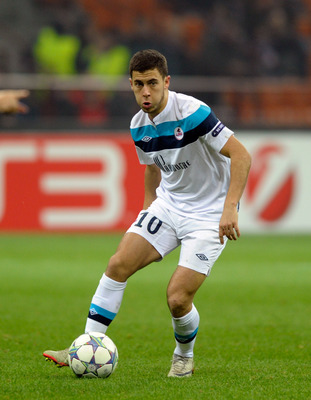 Claudio Villa/Getty Images
Eden Hazard seems like he'd be able to add an extra element of quality to any team he joins.
But having gone through all the teams and their formations, I think Liverpool are easily the team that would benefit most from the addition of Hazard.
As I already said on the Liverpool slide, the jump in quality from Henderson to Hazard would be tremendous and would empower Liverpool to get back into the Champions League after a long hiatus.
Next, I think Tottenham, Manchester United, Arsenal, Chelsea and finally Manchester City would benefit from adding Hazard to their squad.
What do you think? Which EPL team would most benefit from having Hazard in their squad, and why? What element do you think Hazard would bring to your team that has been lacking until now?
Please leave your thoughts in the comments section below, and thank you for reading.
Keep Reading