Part 1: Ranking the Top 50 World Footballers Under 25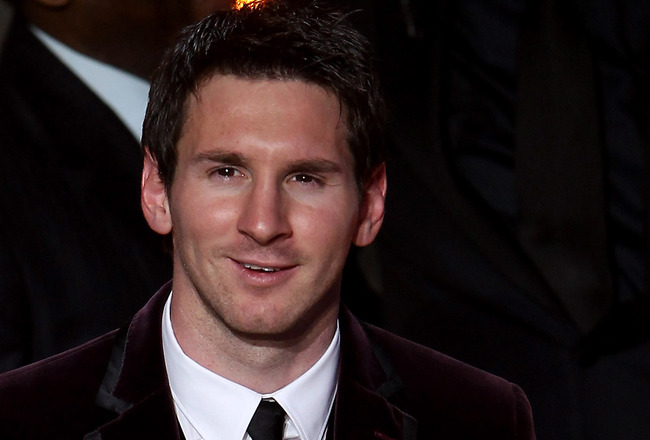 2011 Ballon d'Or winner Leo Messi
Scott Heavey/Getty Images
A beautiful attribute about world football is that no matter the age, a player can absolutely express himself to the fullest and shine on the biggest stage.
Within that same notion, the age of players making their proverbial marks on both the international and club levels has continued to get younger and younger.
Notables just missing the cut for this slide show: André Ayew, Nuri Şahin, Thiago Alcântara, Ángel di María, Alexandre Pato, Ganso, Phil Jones, Marouane Fellaini, Mario Balotelli, Sebastian Giovinco, Toni Kroos, David Luiz, Ramires, Pedro Rodriguez and Marcelo.
Without further ado, let's take a look at Part 1 the top 50 footballers under 25 years of age.
Jack Wilshere: Midfielder for Arsenal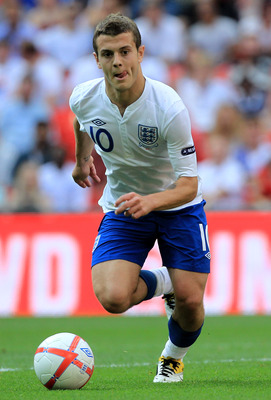 English International Jack Wilshere
David Cannon/Getty Images
The 20-year-old Arsenal product represents the future of the English national team.
The English "Golden Generation" consisting of Lampard, Gerrard, Terry, Cole and Ferdinand is slowly coming to a close. A transitional period has already begun, and youth has been injected into an aging and often underwhelming English side.
Jack Wilshere is one of those younger players looking to make his mark.
He has already gotten five caps for the senior team and looks as if he'll be a starter sooner than later in the center of the park.
Wilshere is a very versatile player who has great attacking skills in the final third of pitch. In addition, he also utilizes his above-average defensive skills and willingness to do the dirty work.
He's a true box-to-box midfielder, who will be an important cog for the English national team for years to come.
Javier Hernández: Striker for Manchester United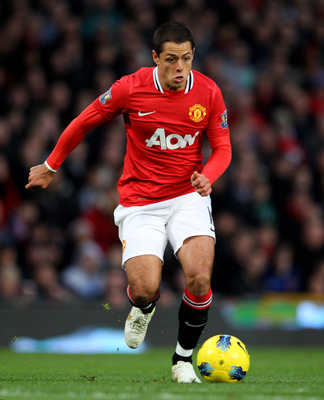 Mexican International Chicharito
Alex Livesey/Getty Images
"Chicharito," meaning little pea in Spanish has been a revelation in his short time for the English giant Manchester Untied.
The 23-year-old Mexican international took the EPL by storm when he first was introduced in England. After making the move from Mexican club Chivas in 2010, the younger player blossomed across the pond.
Javier Hernandez scored 20 goals in his inaugural season, which made him the first Man U player since the Dutch great Ruud Van Nistelrooy to score 20 goals in a debut season for The Red Devils.
Chicharito impressed immensely with his cerebral and intelligent play. He's extremely opportunistic as a striker and employs great precision when striking on goal.
He's also been an extremely important and potent player for his national team, Mexico. He's tallied 23 goals in only 33 contests.
Unfortunately, his 2011-12 season has been plagued by injury. He looks to get back to the form that made him such an important player for the Manchester side the previous season.
Javier Pastore: Midfielder for Paris Saint-Germain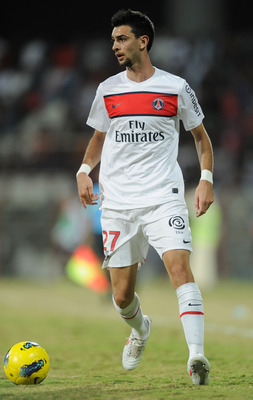 Argentine International Javier Pastore
Claudio Villa/Getty Images
The 22-year-old PSG man has been a spectacular player with much promise throughout his short career professionally.
Javier Pastore enjoyed a wonderful stint at Italian side Palermo, where he often was the initiator of creative play and goal-scoring chances through his technical ability and passing prowess.
His play at Palermo made him a hot commodity, and many big clubs desired his services. In an attempt to regain their status as a power atop the hierarchy of French Football, surprisingly PSG broke the bank and paid a cool €43 million for Pastore.
During his time at France, however, he's been in a bit of a lull after a bright start. He's looked sluggish out on the pitch, and he attributes it to the large amount of games being played each week.
The young starlet is also a member of the Argentina national team and has been capped 13 times.
Sami Khedira: Midfielder for Real Madrid C.F.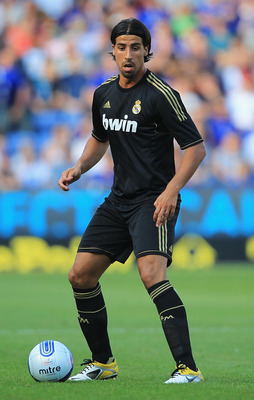 German International Sami Khedira
Matthew Lewis/Getty Images
The German of Tunisian descent is part of the "new-age" youth movement of German national team football, which has adopted and ushered in an attack-minded style of play.
He is part of the trio that rejuvenated the German national team with youth and exuberance (with Mesut Özil and Thomas Müller being the other two).
Sami Khedira, at 24 years of age, currently plays in a defensive midfielder role for Real Madrid, splitting time with teammate Lassana Diarra.
His play at Real Madrid hasn't quite translated from his stellar performance at the 2010 World Cup.
During the World Cup, he was an absolute beast. He patrolled the center of the pitch and broke up any semblance of an attack the opposing team had.
He consistently applied pressure to midfielders and used his awesome aerial prowess to sniff out multiple chances on set pieces.
Khedira's disruptive nature has taken a hit since joining La Liga however. He just recently suffered a leg injury and will be out a month.
Neymar: Forward for Santos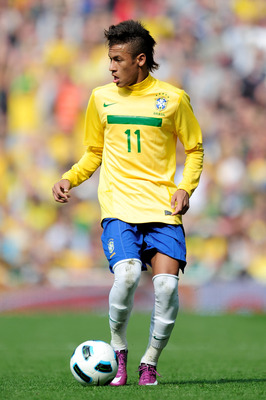 Brazilian International Neymar
Jamie McDonald/Getty Images
Everything about Neymar just evokes Brazil to a tee. A unique appearance with his patented faux hawk, his wonderful flair and creativity out on the pitch and his quirky, arrogant and sometimes problematic behavior.
The 19-year-old is truly blessed with amazing ball skills and superlative pace, and with these abilities, he is truly a world-class player in the making.
Brazil figures that he'll become the next big Brazilian star, following in the footsteps of such predecessors as Ronaldo, Ronaldinho and Kaká.
He's that good.
Currently, Neymar still applies his trade in his native Brazil, but that should be changing soon. Every massive club under the sun has been sniffing around the youngster, and he is sure to be sold for a ton of money—and I mean a ton.
It will be fascinating to see how he progresses outside of his native land, where the expectations by both his country and the media will be intensified.
Former Brazilian great Ronaldo isn't helping with these comments.
Samir Nasri: Midfielder for Manchester City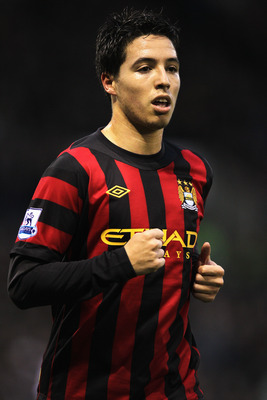 French International Samir Nasri
Dean Mouhtaropoulos/Getty Images
The diminutive French wizard, Samir Nasri, has incredible skill and can often control the pace of the game from a central midfield spot.
He absolutely was a true maestro during his time at Arsenal. Weekly, he thrilled Gunner fans with his extraordinary dribbling ability and his deft, clever touches on the ball.
Curiously, he was not selected for the French national team in their abysmal and embarrassing showing in the 2010 World Cup.
After his time at Arsenal, the 23-year-old made the move to English juggernaut Manchester City this season. Thus far, he has underperformed and has not shown the same level of excellence that he had previously displayed at Arsenal.
Both his current manager Roberto Mancini and former French national team manager Raymond Domenech say that the French international might be a bit egotistical and too individual. Domenech is especially outspoken on the topic.
Thomas Müller: Striker/Midfielder for Bayern Munich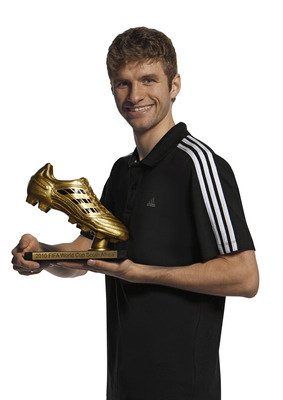 German International Thomas Müller
Getty Images/Getty Images
As evidenced by the picture above, the young Bayern Munich prodigy is no stranger to hardware.
As a 20-year-old, Thomas Müller participated in the 2010 World Cup with little expectations. As a young, somewhat unknown, he wasn't supposed to instantly become one of Germany's most impressive players.
Well, he did just that and more.
The now 22-year-old not only won the award for Best Young Player of the tournament, he also won the Golden Boot (shown above), which signifies the tournament's top goal scorer.
Müller just has a knack for finding the back of the net. He has the innate ability to find open spaces and put himself in advantageous positions, which more often than not results in goals.
He's also extremely versatile, having the ability to play as a striker, in the midfield, on the flanks or even centrally behind the target forward.
Alexis Sánchez: Winger for FC Barcelona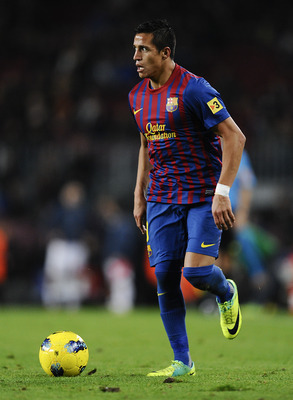 Chilean International Alexis Sánchez
David Ramos/Getty Images
The Chilean international, Alexis Sánchez, has been a very productive player for the Catalan side.
After making the move from Italian side Udinese, the 23-year-old has been providing instant offense, with five goals in only nine games.
Blessed with great agility and surprising strength, Sánchez has been an absolute handful for La Liga defenders.
Barcelona does like to play with short, quick one-touch passes in close quarters (as opposed to with wide play and crosses), so in essence, the style of Sánchez contradicts the defining trait of Barcelona football (playing the ball on the ground as opposed to in the air).
But it hasn't been a problem thus far, and his play attests to that.
Marek Hamšík: Midfielder for Napoli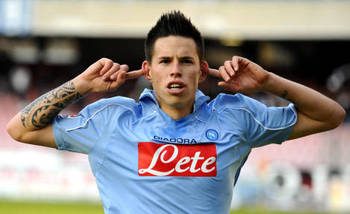 Slovakian International Marek Hamšík
Marek Hamšík might be the most underrated player in all of football. The 24-year-old Slovakian captains the Serie A side Napoli and is their most important player.
He is a maestro in the middle, pulling all the strings with his ability to spray the ball around the pitch and making his darting runs into the attack.
He also has sublime vision on the ball with the knack of picking out a teammate and making a pin-point delivery.
The dynamic Hamšík also captains his Slovakia national team and led them to their first participation in a World Cup, when they qualified for the 2010 tournament in South Africa.
This underappreciated player is in high demand and should make a move to a bigger club within a year.
Luis Suárez: Striker for Liverpool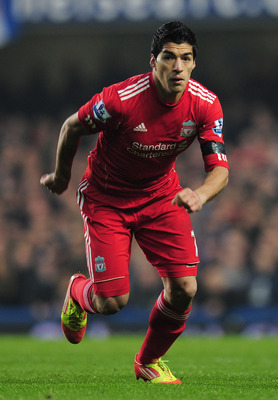 Uruguayan Forward Luis Suárez
Shaun Botterill/Getty Images
A true poacher, Luis Suárez had an unbelievable early part of his career in Holland before breaking out at the 2010 World Cup. He used that strong performance as a springboard to England, joining the famed club Liverpool.
The 24-year-old has everything one looks for in the prototypical striker: great technical ability, an awareness to nestle into the small pockets behind the defense for goal chances, a knack of finding open space to make runs and an intelligence on the ball.
He also scored a ridiculous 81 goals in 110 matches for Dutch side Ajax. That's all you need to know about his ability to put the ball in the back of "the old onion bag" (in the words of Tommy Smyth).
Recently, he's been been suspended for eight matches due to racial abuse in a match against Manchester United player Patrice Evra.
Karim Benzema: Striker for Real Madrid C.F.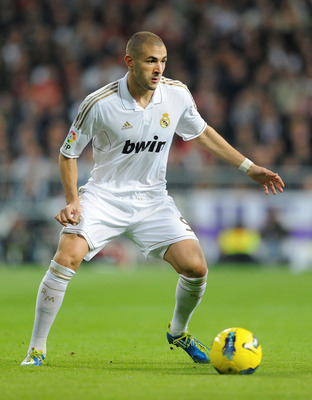 French International Karim Benzema
Denis Doyle/Getty Images
The enigmatic French striker looks like a world-beater one minute and then reverts to a lazy footballer in the next.
Karim Benzema is a very technically gifted player with great physicality and potency around the goal. He forms a very solid partnership with Gonzalo Higuaín at Real Madrid and has had great success.
At this point, the 24 year-old is also the top striker on the French national team, so the pressure both abroad and domestically is very apparent.
But currently, Benzema is in very good form, and when he's on, he's very impressive. In European competitions with Real Madrid, Benzema has scored 20 goals in 34 matches.
Gonzalo Higuaín: Striker for Real Madrid C.F.
Argentine International Gonzalo Higuaín
Jasper Juinen/Getty Images
Scoring a hat trick in a match is pretty impressive. Scoring three hat tricks in four games is taking it to another level.
Gonzalo Higuaín was able to accomplish that earlier this season, scoring two of those hat tricks for his club Real Madrid and one of them for his country, Argentina.
The 24-year-old talisman has been a goal scorer for Madrid dating back to 2006 when he first joined the club as an 18-year-old. He's tallied an impressive 84 goals in 143 matches for the iconic club.
The striker plays internationally with a very attack-minded squad in Argentina (which includes such talents as Lionel Messi, Sergio Agüero, Javier Pastore, Carlos Tevez and Ángel di María).
Although he has fierce competition up top for Argentina, he still has scored 13 goals in 23 international matches.
The striker is a deadly poacher, and when he's on form, few are better at putting the ball in the back of the net.
Eden Hazard: Winger for Lille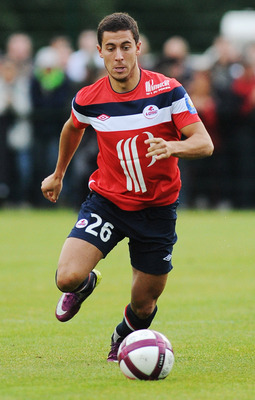 Belgian International Eden Hazard
Valerio Pennicino/Getty Images
The Belgian national team has a collection of quite a few young players with great potential and talent. The ringleader for this "Golden Generation" is Lille winger/attacking midfielder Eden Hazard.
The 21-year-old has been a staple on his national team since the mere age of 17. Ever since then, his confidence has grown, and his reputation as a football player has not gone unnoticed.
At 20, he won the French Footballer of the Year award for his play in Ligue 1 with Lille. He also was the youngest player to ever win the award.
In terms of his ability, he's got loads of it. Scintillating pace on the wings is combined with his impressive dribbling ability. He's very expressive and creative on the pitch and often times can make something out of nothing.
His stay in the French League probably will be up soon, and many of the major clubs have been clamoring for the starlet.
A report today on givemefootball.com indicates that Chelsea has big interest.
Mario Götze: Midfielder for Borussia Dortmund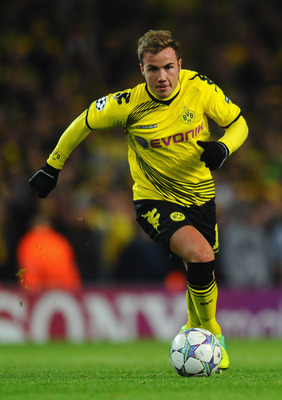 German International Mario Götze
Mike Hewitt/Getty Images
German Wunderkind Mario Götze has some serious world-class potential.
At 19, he already is the leading force on his club, Borussia Dortmund. He's considered to be one of, if not the best attacking option that the club has.
He's a main reason as to why his side won the Bundesliga last season.
The attacking midfielder has wonderful skill and ability. German coach Jogi Löw has recognized his brilliance, and as a result, has begun integrating him into the Senior side. He's accrued 12 caps and has totaled two goals to his name.
Götze has maintained his desire to stay in Germany and shoo off advances by Arsenal, but if a strong 2014 World Cup performance ensues, he'll more than likely make the move to Spain, his preferred destination.
Former German national team midfielder/sweeper and current German FA technical director Matthias Sammer considers Götze to be one of the best talents ever in the German national team pool.
Edinson Cavani: Striker for Napoli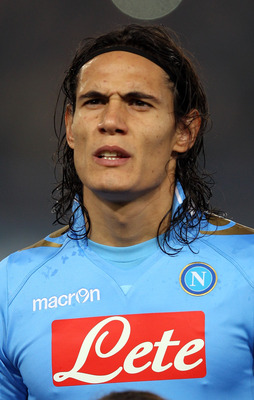 Uruguayan International Edinson Cavani
Clive Rose/Getty Images
There is no question that if one were to make a list of the top strikers in the Serie A, Edinson Cavani would be at the top of the list.
The 24-year-old Uruguayan talisman is an absolutely lethal finisher with his club side, Napoli. He also might be the most underrated striker in the world.
He, along with Luis Suárez and Diego Forlán, made up the trio that led Uruguay to the 2010 World Cup semifinals.
A big target at 6'2", he is physically strong and very dynamic. He has tremendous aerial ability and as a target forward, has the ability to hold the ball up extremely well.
Last season, he held a Napoli single-season record with 25 goals. This season, he's continued his wonderful form and has been a serious handful to defend against.
While his name isn't usually associated with the top strikers in the world, it definitely should be.
Gareth Bale: Winger for Tottenham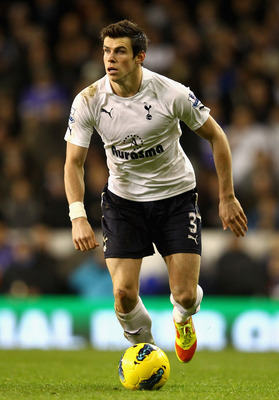 Welsh International Gareth Bale
Julian Finney/Getty Images
The 22-year-old Welsh winger is one of the most dynamic footballers in all of the world.
Blessed with an impressive physique and great pace, he's an absolute threat from the flank every time he touches the ball.
The versatile Gareth Bale can play both left-back and on the left flank equally well, but recently he's become more of an offensive-minded player.
Physically, there's not many like him. He's incredibly strong, fast and technically gifted. He's absolutely torched some of the best fullbacks in the world, including the renowned Brazilian, Maicon.
He's not a secret to any big club, and a number of them would love to have the man from White Hart Lane, but thus far, Tottenham have been resistant to selling him (understandably so, even with the prospect of a massive cash-in).
There's honestly not much not to like about Bale. He's squarely put himself in the discussion as being one of the best players in the EPL and definitely one of the rising stars in all of world football.
Here is a compilation of all major world newspapers and what they think of the Tottenham winger.
Sergio "Kun" Agüero: Striker for Manchester City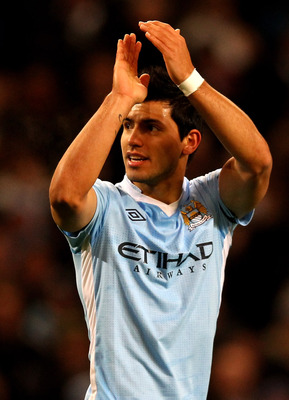 Argentine International Sergio "Kun" Agüero
Clive Brunskill/Getty Images
The City magician is an absolute joy to watch. He's tiny in size but a giant in creativity, inventiveness and overall skill.
Sergio "Kun" Agüero had a very successful stint at Atlético Madrid before making the switch over to the English side this season. In correspondence with the move, Agüero has truly become one of the most dangerous and menacing players in the EPL currently.
He picks his spots extremely well and makes clever runs that cause much chaos for opposing back lines. The quickness and athleticism he displays is quite amazing to watch, and he can just accelerate past defenders with ease.
Agüero started his career domestically with club Independiente. At 15 years old, he surpassed Argentine legend Diego Maradona and became the youngest player to ever play in Argentina's top domestic league.
This season, in 19 matches he's scored a marvelous 14 goals.
The Argentine international is also the son-in-law of this guy.
Mesut Özil: Midfielder for Real Madrid C.F.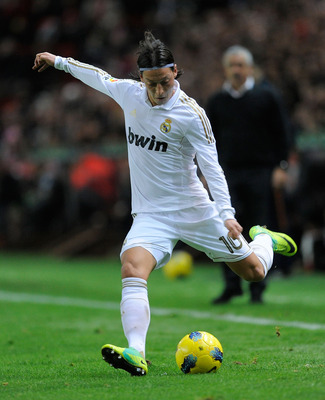 German International Mesut Özil
Denis Doyle/Getty Images
Think of a point guard who can lead the NBA in assists while bombing three-point shots with efficiency and regularity. That's essentially Mesut Özil's game in a nutshell on the football pitch.
He has been truly instrumental in the success that Real Madrid has enjoyed the past season from his midfield position.
The 23-year-old epitomizes the facilitator role, orchestrating the attack for teammates Cristano Ronaldo, Karim Benzema and Gonzalo Higuaín.
Özil also tracks back with regularity and isn't afraid to portray the deep-lying central midfield position. From there, he usually initiates the attack by spraying the ball all over the pitch.
Also, he has a devastating left-footed shot and with regularity will test opposing goalkeepers with absolute firecrackers from outside the box.
His vision and link-up play with his other teammates truly makes him special and a joy to watch.
Cesc Fàbregas: Midfielder for FC Barcelona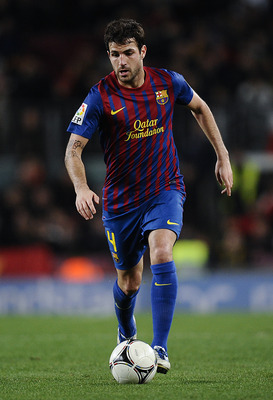 Spanish International Cesc Fabregas
David Ramos/Getty Images
The Spanish international Cesc Fàbregas is one of the most talented players on the entire planet. While his play might be construed as simple, it's also quite beautiful.
He started his professional career at Arsenal and was the proverbial "straw that stirred the drink" for the English side.
His patented use of small triangular passes is a staple, and his vision with the ball might be rivaled by no one currently playing the game.
A move to his native Spain for Barcelona in August ended a two-year, dramatic period in which Fàbregas wanted to move to the Catalan squad badly.
It was finally made into a reality, and Barcelona brought the 24-year-old to a midfield that included fellow Spanish internationals Xavi and Andrés Iniesta.
Lionel Messi: Striker/Attacking Midfielder for FC Barcelona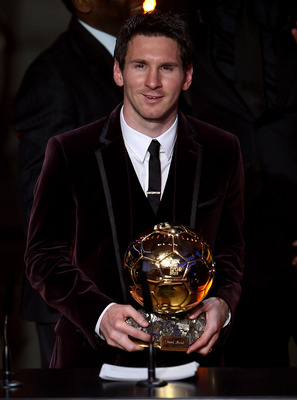 2011 Ballon d'Or winner Leo Messi
Scott Heavey/Getty Images
It's Lionel Messi. Nothing else really needs to be said, but I'll add a couple tidbits.
He's won the Ballon d'Or (European Footballer of the Year award) three straight years, and in 194 matches played for Barcelona in his club career, he's scored an astounding 136 goals.
Chew on that for a while.
Keep Reading