Ortiz Likely to Remain in Boston: More Good News for the Red Sox
December 6, 2011
Jed Jacobsohn/Getty Images
Sure there will be those that will be critical. 
Some have said he dogged it down the stretch in September, or that he became preoccupied with his individual stats and wasn't concerned enough with the results of the games. He couldn't get the insurance run across the plate in the eighth inning of the season's final game. 
Perhaps some of that is true, no denying that Ortiz had a role in what has been several of the darker months in recent Boston Red Sox history.
Even so David Ortiz is not a washed up player. He's still producing very good numbers and for his position his numbers are among the best in the league. There just aren't a lot of other options out there that would be better. Unless you're of the opinion that Ortiz will fall off next year there aren't too many reasons to not want him as a regular presence in the Red Sox lineup.
Ortiz is a player who has been in the trenches with Sox fans. Forget having been a key part of 2004, Ortiz was a key part of 2003. That season featured a devastating loss that resulted in a managerial change as well as some player turnover. It wasn't as all encompassing as 2011 and there weren't nearly as many people to blame but it's worth mentioning because David Ortiz knows how to win—but he also knows how to lose and bounce back.
By the numbers losing Ortiz appears even more risky. Ortiz hit .287 in September with one home run and only eight RBI. His .768 ops was his lowest for a full month for the season. With that in mind his full season stats placed him sixth in batting average in the American League at .309, he finished fourth in OPS at .953. He finished 14th in RBI but of the players that finished ahead of him only four had fewer at-bats than Ortiz showing that Ortiz produces at a very high level when healthy.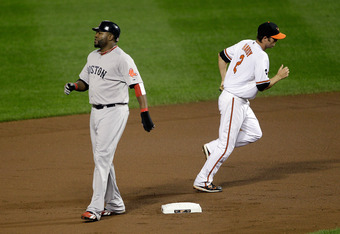 Rob Carr/Getty Images
Most importantly is that for years Ortiz had been plagued by a lack of production against left-handed pitching. Now as he has gotten older Ortiz has actually learned to hit lefties—and hit them well. Last season Ortiz hit .329 against left-handed pitching with an ops of .989. All too often players, especially successful players can grow complacent as they age and rest on their laurels. In Ortiz we have a player that appears to be dedicated to improvement even as his career reaches into its twilight.
Many Red Sox fans have harbored an intense hatred for Johnny Damon since his departure to the Yankees in the 2005 offseason. Casting aside Ortiz at this point would seem to be a move made in a similar vein. Ortiz has been a part of far more good memories and good seasons for Red Sox fans that bad ones. To hold a few months of subpar play or performance against him would be petty and shortsighted. He's not asking for a five or four year contract. He's looking for a very reasonable two year deal. 
There were a lot of problems with last year's Red Sox team but the lineup of Ellsbury, Pedroia, Gonzalez and Ortiz was not one of the problems. Keeping that in place for 2012 would seem to be a good decision by the new management team and it's beginning to look like they may in fact do just that.