Golden State Warriors: "We Believe" Charity Game Roster Announcement
October 22, 2011
Basketball is coming back to the Bay Area, even if the NBA season remains locked out.
Earlier this morning, rosters for the highly anticipated "We Believe" charity game were announced by CSN Bay Area's Matt Steinmetz. 
The charity game featuring current Warriors squad and 2007 "We Believe" team has been rumored since early October when former guard/forward Matt Barnes first proposed the idea via twitter. 
The rosters:
"Dubs" (Current Warriors)
Stephen Curry//Monta Ellis//Dorell Wright//David Lee//Jeremy Lin//Charlie Bell//Lou Amundson//Jeremy Tyler//Ekpe Udoh (TBD)
"We Believe" (2007 Warriors)
Gilbert Arenas//Jason Richardson//Matt Barnes//Antawn Jamison//Al Harrington//CJ Watson//Ike Diogu
A Few Thoughts:
-When I told my roommate about this game last week, his immediate reaction was "Are there enough players to play? Isn't there some overlap?" It's pretty remarkable how much the roster has changed since 2007, the Warriors' lost postseason trip...and that's not really a good thing. You shouldn't be able to assemble a roster of ex-Warriors, let alone its key players, just four seasons down the line.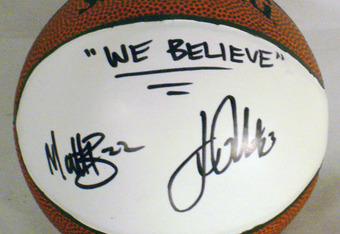 -Think about the Western Conference's top three teams: In 2007, Dallas (the team the Warriors upset in Round 1) was led by the tandem of Dirk Nowitzki & Jason Terry, Los Angeles had Kobe Bryant, Lamar Odom & Andrew Bynum and San Antonio ran out the league's first Big Three: Tim Duncan, Manu Ginobili & Tony Parker. 
-Baron Davis & Stephen Jackson were the focal points of that 2007 "We Believe" team. Jackson's run of seven three-pointers in Game 6 to win the series over Dallas and Davis' slam over Andrei Kirilenko in Round 2 are two of the most memorable basketball highlights for any Warriors fan. It's a huge bummer that neither are coming out for the game.
-I understand that Davis' left Oakland on really bad terms with the team, but that shouldn't keep him out of a charity game that really has nothing to do with the team at all. This was organized by the players, for the fans. I could argue that the high point of Davis' career was playing for this team... he should be there.
-Where's Klay Thompson? In an article last week by the San Jose Mercury, Thompson described himself as "so bored down [in Southern California]." This game would be a fantastic opportunity for him to have some fun, build some chemistry with the veterans and entertain the fans. Fellow rookie Jeremy Tyler is doing it.
-And last of all: Props to Matt Barnes & Jason Richardson for spear-heading the organization of the event. Both were huge fan favorites during their stints out here, and it'll be awesome to see them come back and interact with the fans.
The game is scheduled for November 5th, at the San Jose State University Event Center. All proceeds will benefit the Kaiser Permanente Breast Cancer Research foundation & Barnes' Athletes vs Cancer foundation.