San Francisco Giants Carlos Beltran Trade: Bad Luck, Bad Idea
August 18, 2011
Jed Jacobsohn/Getty Images
The San Francisco Giants departed Philadelphia for Cincinnati on July 28 carrying a series victory, four-game NL West lead and newly-acquired Carlos Beltran with them.
After being swept by the Reds, the Giants lost successive series at home to the D-Backs and Phillies, capping a 2-8 stretch during which their division lead dwindled to a half-game and Beltran landed on the shelf with a hand injury. 
Before being sidelined, Beltran—counted on to jump-start the Giants' moribund offense—batted .244 and drove in two runs. Two runs.
Meanwhile, the Giants have gone 7-13 since the trade. That four-game lead? Gone. They trail Arizona (12-6 over the same stretch) by 2.5 games.
The Giants' skid is a result of multiple factors; Beltran's disappointing performance and subsequent injury certainly is one. But plenty else has gone wrong.   
Was Beltran worth the price? Should GM Brian Sabean have made the deal? 
It's easy—but unfair—to criticize the trade based purely on hindsight.
But it's fair to question the wisdom of the deal based on principle. And I can think of three principles that make the Beltran trade wrong for the Giants. 
1. Beltran Was Too Big a Risk for San Francisco 
As I expressed before the trade, Beltran was like an aging luxury car: looking great, running well, but untold potential problems lurking under the hood.
He had, after all, missed 179 games for the Mets over the 2009-10 campaigns. You'd think Giants GM Brian Sabean would've been wary after squandering millions this season—$26.1 of them, to be exact—on under-performing and injury-prone Miguel Tejada, Aaron Rowand and Mark DeRosa.
Beltran was having a splendid 2011. His previous injuries involved knees, not hands. But aging athletes, like luxury cars, break down part by part. The warning signs were there.
Sabean has a track record of trusting veteran players—to a fault. He gambled that Beltran would stay healthy. Desperately needing an offensive boost, that was too dangerous a risk to take.
2) Focusing on Beltran Foreclosed Other Options and Left Other Needs Unmet
Can't blame Sabean for Beltran's production (0 HR, 2 RBI, .244 BA, .616 OPS) before the hand injury. He'd been raking in New York; there was no reason to believe he wouldn't continue as a Giant.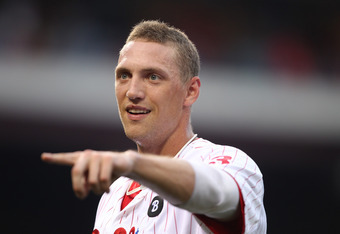 Hunter Martin/Getty Images
But there were other offensive options. For four (two premium) prospects, Philadelphia acquired Hunter Pence—six years Beltran's junior. The Phillies own Pence for the rest of 2011 and, if he accepts arbitration, 2012. (If he declines and signs elsewhere, the Phillies get two compensatory draft picks.)
Was Pence a better option for the Giants? Maybe. Would he have been worth the Astros' asking price? Tough call; hard to fault Sabean for not wanting to give up Eric Surkamp or Gary Brown.
But what about a catcher—a position bereft of offense since the Buster Posey injury? 
We know this: The Giants gave up Zack Wheeler for two months—now less—of Beltran. If the Giants make the playoffs, it was worth it. If not?  
3) Better Use of Other (Internal) Resources Might Have Made Beltran Less Critical 
I addressed this shortly after the trade.
Brandon Belt was shuttled repeatedly between San Francisco and Fresno, and got very limited playing time from Bochy. As a result, no one knew if he was ready for a regular role before the trade deadline forced Sabean's hand. 
Triple-A Fresno first baseman Brett Pill (who on Tuesday became the first professional baseball player at any level in 2011 to reach 100 RBI never got a test-run in San Francisco, either. He might have done for the Giants what Paul Goldschmidt is doing for Arizona.  
Bruce Bochy treats younger players like they're harboring a contagious virus. That's his prerogative. But over-reliance on unproductive vets added to the pressure to acquire a big bat at the deadline.  
Unfortunately for Sabean and the Giants, the bat they got may prove too small to matter.