New-Look Seahawks Offense May Be NFL's Best Heading into 2014 Season
June 2, 2014

Getty Images
The Super Bowl champion Seattle Seahawks clearly had the best defense in the NFL last year.
Not only did the Seahawks essentially shut out the Denver Broncos in the Super Bowl, but they also ranked first in points allowed, yards allowed, passing yards allowed and seventh in rushing yards allowed during the regular season.
Unsurprisingly, Football Outsiders' Defense-adjusted Value Over Average (DVOA) metric that measures efficiency ranked the Seahawks first overall last season. More significantly, according to Football Outsiders' Aaron Schatz, the Seahawks had the fifth-most efficient defense since 1989.
It's unlikely that the Seahawks repeat that dominance, but they should be one of the best, if not the best, defenses in the league again this year.
There should be more adversity to overcome, though, because the depth up front doesn't project to be as good as it was last year.
Veterans Chris Clemons and Red Bryant have been staple starters at defensive end over the past few seasons. Even though their respective careers appear to be on the decline, there is no guarantee that their heirs apparent will replace the quality they provided, and the overall experience in the rotation is guaranteed to take a hit. 
Seahawks fans shouldn't be too concerned by any potential decline on the defensive side of the ball.
That is because the offense appears set to take another step forward. Last year's unit dealt with a flurry of serious injuries to different starters, although that side of the ball is still very young. There are many developing players who should get better next season.
With the ascending Russell Wilson at quarterback and the potential decline of Marshawn Lynch as a runner, the offense should be a lot more balanced in 2014. 
Offensive Line
The offensive line wasn't a strength for the Seahawks last season and little has changed to suggest that it will be much better in 2014.
When fully healthy, the Seahawks offensive line was competent, but the problem for much of 2013 was that it wasn't healthy. Starting left tackle and former first-round pick Russell Okung missed eight regular-season games before he had to have offseason foot surgery.
It's unclear when Okung will be back, but he is expected to return for the start of the season.
Pro Bowl center Max Unger missed three regular-season games in 2013. Although he plays an important position and has a notable reputation, Unger wasn't exceptionally effective on the field last year when healthy, so his loss may have been overstated.
Along with Unger and Okung, former starting right tackle Breno Giacomini also missed seven games during the regular season. While Giacomini wasn't a star tackle, he and Okung, along with Unger, were the strengths of the line.
The guard position in Seattle isn't stacked with talent, so it made sense to think that the front office would invest in a starter there during the offseason.
James Carpenter and J.R. Sweezy are expected to begin next season as starters, but right tackle Giacomini, who joined the New York Jets in free agency, needs to be replaced. 22-year-old Michael Bowie, a second-year player who gained invaluable experience during his rookie season because of injuries, is the favorite to start.
Bowie isn't a top-line starter. He has some talent, but in an ideal world, Justin Britt would beat him out in training camp.
Britt was this year's second-round pick. Standing at 6'6" and over 300 pounds, Britt isn't likely to slide inside as a guard if he fails to win the starting-right-tackle spot. Bowie, on the other hand, did play left guard last season, even starting in the playoffs.
Even though the Seahawks offensive line was an area of concern in 2013, the selection of Britt suggested the team was focusing on the future rather than the present.
In 2013, Wilson's elusiveness and intelligence and Lynch's power, quickness and vision running the ball masked a lot of the deficiencies up front.
Wilson and Lynch will likely need to repeat their performances from last season, but there is little evidence to suggest that they won't.
Passing Game
It's easy to paint a very negative picture of last season's Seahawks passing attack.
Because the unit ranked 31st in attempts per game, 26th in yards per game and 20th in sacks allowed, it's easy to suggest that the passing attack in Seattle simply did enough to complement a strong running game. It may have ranked 10th in touchdowns and third best in interceptions thrown, but those stats can be misinterpreted to suggest there was less pressure on the quarterback than there actually was.
The main takeaway here is how little the Seahawks threw the ball.
However, much more important than the number of pass attempts is the reason behind the more conservative approach. The Seahawks averaged only 26.2 attempts per game partially because they run a balanced offense but primarily because they didn't need to rely on throwing the ball. Twelve times last year, they entered the fourth quarter with a lead and they extended that lead beyond seven points 11 times.
Russell Wilson wasn't asked to do less because he was a second-year starter. He did less because he didn't need to do more to win.
Doing less can be very subjective. Just because Wilson and his receivers had fewer opportunities to show off their ability doesn't mean they weren't tasked with tougher assignments. Wilson had to play behind an offensive line that needed him to compensate for questionable protection. And the NFC West is a very tough division to play offense in, even when you're the Seahawks quarterback.
More important numbers to look at for the Seahawks passing attack are yards per attempt (where Seattle ranked second in the NFL), touchdown-interception ratio (three-to-one), passing efficiency (where Pro Football Outsiders ranked them eighth overall) and running the football (ranked seventh).
Wilson is the focal point of the offense.
Despite struggling to a degree during the team's Super Bowl run, Wilson clearly established himself as the best young quarterback in the NFL last year. That's not to say he will always be better than Andrew Luck, but he has taken that mantle after Luck, during his rookie season, established himself as the best QB of the 2012 draft class.
As a rookie, Wilson showed off all of the physical ability to be an excellent quarterback and occasionally displayed the poise to play in the pocket. The Seahawks protected him with their strong running game, excellent defense and offensive design.
During his second season, he showed off a much greater capacity to execute the playbook; he was beginning to master the mental side of the game.
He still had a strong running game with which to work, but a shift had occurred in the balance of the offense. No longer was Wilson complementing Marshawn Lynch. Now, it was Wilson and his receivers who consistently made the routine and the sublime plays to make the offense more effective and efficient.
Midway through the regular season, Wilson had lost his starting left tackle, starting center, starting right tackle and two starting wide receivers. He would be forced to use both his athleticism and intelligence to cover the mistakes of the offensive line, while Doug Baldwin, Golden Tate and Jermaine Kearse highlighted his accuracy by seamlessly stepping in for Sidney Rice and Percy Harvin.
Wilson performed in a very stressful situation for extended periods.
The defense could give the offense good field position and sometimes pitch in with points, but the offense itself still had to produce. It finished seventh overall in Football Outsiders' DVOA rankings, which isolates the offense to look at how it functions independent of the defense.
With all of that in mind, it's hard to be pessimistic about the passing attack in 2014.

AP, Getty Images
Tate has moved on to the Detroit Lions, but Rice was re-signed in free agency. Baldwin was extended, Harvin is healthy in OTAs and the franchise drafted two wide receivers, Paul Richardson and Kevin Norwood.
The beauty of the Seahawks' top three receivers is that they are individual threats whose skill sets complement each other very well.
Kearse has primarily worked deeper routes to this point in his career. He averaged 15.7 yards per reception during last year's regular season and followed that up with a reception of at least 24 yards in each of the Seahawks' three playoff games.
In Week 1 against the Carolina Panthers, Kearse scored a touchdown on the kind of play that exemplifies his greatest strengths.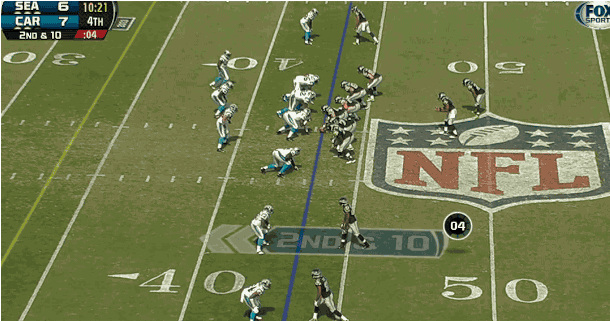 NFL.com
The 6'1" Kearse isn't a towering physical presence, but he does play huge because Kearse uses his length as well as any other receiver on the team. He recognizes the flight of the football early, attacks the pass and always uses his hands rather than his body to secure the catch.
Even though he is not a speedster, Kearse is fast enough to get behind defensive backs when he works downfield. Because he can maneuver like this, he is able to take advantage of the defender's positioning and use his impressive ball skills to make plays.
NFL.com
NFL.com
While Kearse does his best work down the sideline and on post routes, he has also shown the skill set to work underneath and be effective with the ball in his hands. He is still a developing player, a 24-year-old entering his third season, but he does more than enough to force the defense to respect his all-around ability.
NFL.com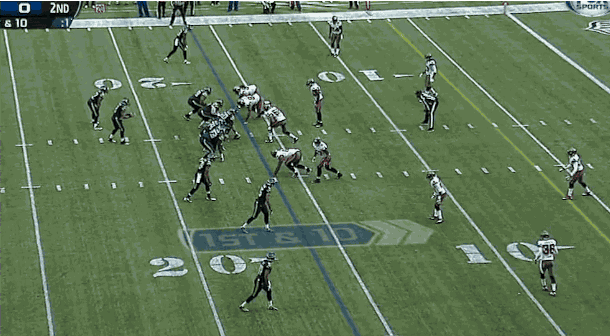 NFL.com
There aren't many undrafted wide receivers out of Stanford starting in the NFL right now. Baldwin may be the only one.
Baldwin is 25 years of age and has been a very reliable receiver during his first three years in the league. In 2011, he was one of only four rookie receivers to have at least 51 receptions. He also posted 788 yards and four touchdowns.
Although he wasn't expected to be featured much in the offense last season, he soon became a starter because of injuries.
NFL.com
NFL.com
NFL.com
Baldwin has all the characteristics and abilities of a possession receiver, but he also serves as a big-play threat. His most impressive trait is his ability to make contested catches, but the subtlety of his movement and his athleticism can't be overlooked.
With precise route-running, excellent ball skills and good athleticism, Baldwin is the kind of receiver who can do whatever is asked of him.
And consistently do it very well.
Of the Seahawks' top three receivers, none is as feared as Harvin.
The former Minnesota Vikings dynamic playmaker was acquired by the Seahawks before last season for multiple draft picks, including a first-rounder. He barely played during the regular season, but showed off his talent by making a big impact on the Super Bowl.
Harvin is one of the most well-rounded and dangerous players in the NFL. He can line up anywhere on the field and beat you in any possible way. His quickness is his most impressive trait, but his power, vision, route-running, ball skills and awareness are all significantly above average.
NFL.com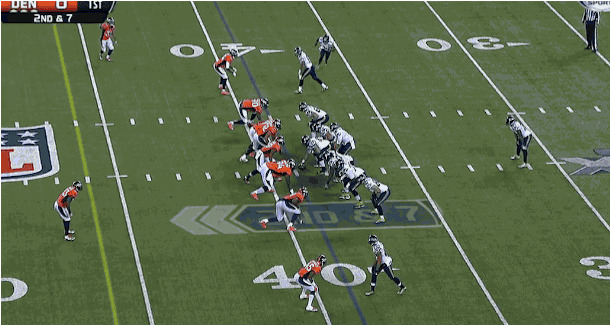 NFL.com
NFL.com
The 26-year-old is the kind of player who makes the defense completely alter its focus simply by being on the field.
NFL.com
After the top three wideouts on the Seattle roster, Rice is a proven starting-caliber receiver who only needs to stay healthy. Richardson is a very talented player who should fit well in the Seahawks offense, and Norwood is a big, natural receiver who provided value later in the draft because of his advanced age, experience that could make him a better player as a rookie than younger first-year prospects.
The tight-end position isn't massively important for the Seahawks offense. 
Zach Miller had less than 400 yards during last year's regular season, and Luke Willson had less than 300. Wilson is a talented youngster who will be fighting for playing time with the returning Anthony McCoy. McCoy was injured before last season and is more of a blocker than a receiver.
Even though the Seahawks don't prioritize the position and don't have a star player there, each of their tight ends should be considered quality role players. Miller is the best receiving option, McCoy is the best blocker and Willson has the potential to be the most versatile.
The only real concern for the Seahawks receiving options is the lack of a true receiving back. Lynch was very productive last season. He was consistent catching the ball and created a number of big plays. However, as Lynch gets older, using him in that role seems like a less preferable option.
It's easy to forget that Russell Wilson is only entering his third season in the league.
It's impossible for the 25-year-old to develop this offseason as much as he did from year one to year two, since he was already one of the very best quarterbacks in the NFL last year. If Peyton Manning hadn't had such an incredibly productive season, he would have been in the league MVP race.

FootballOutsiders.com
Wilson will likely never get the credit for his play during the regular season that he deserves, because he was less impressive during the team's playoff run. Even though more people watch the playoffs, the sample size makes it less indicative of a player's performance than the regular season.
Wilson, like Joe Flacco of the Baltimore Ravens, shouldn't be judged solely on what he did during the postseason. His regular-season play suggests that he is a top-tier quarterback.
Running Game
Marshawn Lynch is 28 years of age and he has been in the NFL for seven seasons.
During that time, he has accumulated 1,753 carries and 202 receptions for 1,955 official touches. A remarkable 51 percent of those touches have come over the past three seasons. Those numbers don't include postseason touches, of which Lynch has 106 over the past two seasons.
Lynch has two years left on his contract, but it's very likely that this is his final year in Seattle. His salary in 2015 could rise to $9 million, at which point he will be 29, and former second-round pick Christine Michael will be entering his third season in the NFL.
With any running back, the threat of sudden and swift decline is always lurking.
Because of his playing style, Lynch probably can't expect to be effective after his 30th birthday. Few running backs are. However, that doesn't mean he can't still be a star next season.
It's hard for Seattle fans to be pessimistic about anything right now. They did just win the Super Bowl with a very young team. Lynch is the obvious cause for concern, but even he is coming off what was arguably the best season of his career.
In 2013, Lynch averaged just 4.2 yards per carry, but he did that behind a depleted offensive line in the toughest division to run in the NFL. He also set a career high in receiving yards and scored 14 regular-season touchdowns. In the playoffs, he averaged 4.4 yards per carry and scored four touchdowns despite a brief performance in a Super Bowl blowout that didn't require him to produce much.
Lynch is known for his power and violent running style. According to Pro Football Focus (subscription required), 956 of his 1,550 total yards came after contact in 2013. Furthermore, he broke the most tackles on running plays among NFL ball-carriers by a substantial margin.
NFL.com
The veteran back broke 75 tackles on running plays, according to PFF, making him one of only four players with more than 50 and the only player with more than 58.
It's Lynch's power, speed and comfort with the football whether in traffic or in space that allow him to break tackles consistently, but it's something else that should allow him to extend his career.
Vision is vitally important for every running back, but even more so for those who play behind below-average offensive lines. More than physical talent, vision is what allows a running game to be consistent.
Three Key Aspects of Vision
Recognition
NFL.com
The running-back position is about being reactive rather than proactive. While every play is designed to work in a specific way, disruption from the defense or failed blocks from offensive linemen occur on a regular basis.
Being one of the best backs in the NFL generally requires the ability to adjust instantly. In order to do that, backs need to have an awareness that allows them to understand where defenders are and where holes are likely to open up before the quarterback gives them the ball.
If they can't consistently do that, then they will likely be brought down behind the line of scrimmage too often to be productive. Lynch's recognition is as good as anyone playing in the NFL.
Intelligence
NFL.com
Intellect at the running-back position is rarely celebrated. He literally and figuratively plays in the shadow of the quarterback more often than not. While playing running back isn't as complex as lining up under center, backs still need to understand blocking schemes and how to best execute each play.
Even though his build would suggest that Lynch could just be a power runner who attacks the line of scrimmage between the tackles all the time, that's not what the Seahawks ask him to do.
The Seahawks run a lot of zone plays that require Lynch to make good reads behind the line of scrimmage. He regular finds cutback lanes and understands how to attack them with patience. On the play above, he is running a designed cutback play that is executed to perfection.
Manipulation
The final aspect of vision is the ability to set up runs.
Every back who reaches the NFL level that is in any way effective understands how to find a running lane when the offensive line creates one for him. However, the number of players who can create running lanes by being patient behind the line of scrimmage and manipulating or setting up the defense is much smaller.

NFL.com
On this play, Lynch recognizes before the snap that he will attack the left side of the defense based on the number of defenders in the box.
Safety Malcolm Jenkins is in the picture, but he is more than 10 yards off the line of scrimmage and one of the worst tacklers in the NFL. So it's unlikely he will take Lynch down even if he attacks the line of scrimmage at the snap.

NFL.com
As Lynch receives the football from Wilson, a gaping hole opens where Lynch will have anticipated before the snap. However, Lynch doesn't immediately look to run toward it like so many other backs would in this situation.
Instead, he is focused on the linebacker at the second level. Lynch understands that the hole is created outside, but he also realizes that the linebacker, Curtis Lofton, is mirroring his movement on the other side of the line of scrimmage.
If Lynch went straight to daylight, the linebacker and left defensive tackle would slide with him to fill the hole and take away the running lane. 

NFL.com
Lynch continues in the direction of the center for his first few steps behind the line of scrimmage. This not only makes Lofton turn his outside shoulder and feet so that he can no longer slide to the open hole outside, but it also forces the double-teamed defensive tackle to stop his momentum toward the outside.
At the perfect moment to manipulate the defense and make his move to the perimeter, Lynch plants his foot and pushes backward with the acceleration that completely takes both immediate defenders out of the play.

NFL.com
His precise work behind the line of scrimmage gives Lynch a free running lane and puts him in space against Jenkins, who proceeds to fall down. Lynch sidesteps him before being taken down from behind.
Taken down after a big gain, that is.
Like Adrian Peterson, Arian Foster, Maurice Jones-Drew, Steven Jackson and other backs who have sustained success over a string of seasons, Lynch has exceptional vision.
If Lynch does struggle in 2014, the Seahawks have a viable replacement in Robert Turbin and a very talented prospect in Michael.
Michael had only 18 carries during his rookie season, but his role is expected to expand in 2014. He is a phenomenal runner, but lacks experience as a receiver and needs to develop as a pass-protector. Michael has an abrasive running style that could really overwhelm defenses that are already trying to endure the pain Lynch inflicts.
One of the more fascinating possible alterations to the Seahawks running game for the 2014 season is the insertion of Harvin.
Because he was injured for most of last season, we never really got to see what the Seahawks would do with Harvin and Lynch together on the field. In the Super Bowl, he took two end-arounds from Wilson and caught a screen pass for a good gain, but that doesn't even begin to foreshadow the potential they have.
While Wilson isn't the type of quarterback who needs to rely on his legs to be effective, his athleticism is an aspect of his ability that could be used to add another dimension to the offense.

Cian Fahey
The Seahawks have already shown a willingness to use Wilson in read-option situations, but they have generally been simple, one-read plays with Lynch. Presuming that Harvin is healthy, they can expand the package to feature more triple-option plays with the receiver lined up in the backfield.
Overall
The offensive line is again a weakness for the Seahawks, but they are one of the few teams in the league who have enough talent at quarterback and the skill positions to function without consistent play in the trenches.
As Peyton Manning and the Denver Broncos proved last season, it's possible to be the best offense in the league without a great offensive line.
Even before the injury that sidelined starting left tackle Ryan Clady, the Broncos offensive line was just an average unit. They relied heavily on the threat of the passing attack to capitalize on a numbers advantage in the box and run the ball, while Manning's intelligence and quick release played a major role in avoiding pressure in the passing game.
The Broncos were able to spread the defense horizontally and vertically, while Knowshon Moreno provided enough power in the backfield to force the defense to still respect the run.
The Seahawks clearly have enough talent to do the same thing in Seattle next season, but the disparity between Wilson and Manning is the key. Wilson proved that gap was minimal last year, as he also overcame a poor offensive line, but Manning has a career resume of consistency, while Wilson only has two full seasons to his name.
At the very least, the Seahawks are going to be one of the toughest offenses in the NFL to game-plan against next year, if healthy.