Joba Chamberlain's Return Would Be Emotional Spark the Yankees Need
July 3, 2012

Nick Laham/Getty Images
Here's an honest question: Has anybody even noticed Joba Chamberlain's absence this season?
It doesn't feel like anybody has. That's probably because Chamberlain hasn't thrown a pitch since last June, and the Yankees have fared pretty well without him this season. The fact that they've had to deal with more recent pitching injuries such as Michael Pineda's shoulder, Mariano Rivera's ACL and Andy Pettitte's ankle has definitely helped overshadow Chamberlain's own recovery.
Check that. It should read "recoveries." Chamberlain hasn't pitched in over a year, in part because of Tommy John surgery and in part because of the nasty ankle injury he suffered before the start of the 2012 season.
It's been a rough 12 months for him. He's been snake-bit, though, not literally...I think.
Things are apparently going well for Chamberlain now. The latest word from the New York Daily News is that he threw a 40-pitch, live batting practice session on Monday. The plan is for him to throw a simulated game on Friday, and the Yankees will go from there.
Chamberlain himself is optimistic about pitching again this season:
I can promise you I'm going to pitch. I can promise you that. You can write that down, too. Tell everybody. It's going to happen. I'm going to pitch again on Friday and we're going to go from there. I can tell you there will probably be games here soon and as far as how fast that goes, I honestly don't know.
If all goes well, Chamberlain thinks he could start a minor league rehab assignment at some point in the next couple weeks. There's a chance he could be back before the end of the month, which would make him sort of like a trade deadline pickup.
Regardless of when he'll be back, it sounds like he will be back. All that talk about his ankle injury being career-threatening is looking kinda silly right now.
One thing that's for sure is that the Yankees could use Chamberlain. Their bullpen numbers are solid, but life has gotten tougher and tougher for the guys in the pen as the season has gone along.
You can look up the splits on FanGraphs. In April, Yankees relievers had an ERA of 2.00. In May, they had an ERA of 3.48. In June, they had an ERA of 3.97.
We're not talking about a bad bullpen by any stretch of the imagination, but we're certainly talking about a bullpen that is far from perfect. That's what happens when best-laid plans get disrupted due to injuries.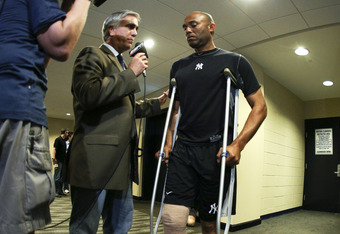 Ed Zurga/Getty Images
The Yankees figured they were going to have a core of relievers consisting of Rivera, Chamberlain, David Robertson and Rafael Soriano all season. They've been forced to tough it out with only half of that core intact for much of the season. When Robertson had to go on the DL, that core was down to just Soriano.
A healthy Chamberlain would at least give the Yankees three-quarters of that core, and none of us should forget that Chamberlain is a pretty good reliever when he's healthy.
Chamberlain was money in the second half of the 2010 season, posting a 2.88 ERA and a 4.63 strikeout-to-walk ratio in 34 appearances. He was on his way to having a pretty good season in 2011 before he landed on the disabled list for the foreseeable future. Through 27 appearances, he had a 2.83 ERA and a K/BB of 3.43. Opponents were hitting .225 against him.
For his career, Chamberlain has a 3.03 ERA as a reliever—compared to a 4.18 ERA as a starter. He has a K/9 of 10.1 as a reliever, making him one of just 25 relievers to maintain a K/9 over 10.0 between 2007 and 2011.
Nobody has any clue if Chamberlain is still capable of posting numbers such as those anymore. In fact, numbers like those are a lot to ask of a guy coming off both Tommy John surgery and a brutal ankle injury.
But he's throwing again, and Joe Girardi told the Daily News that Chamberlain looked "pretty good" on Monday. The Yankees can therefore allow themselves to hope for the best.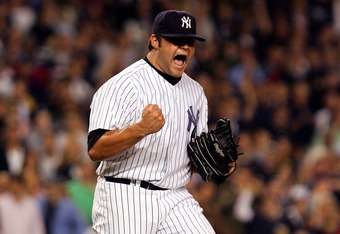 Jim McIsaac/Getty Images
Will he enter games and start blowing 100-mile-per-hour fastballs by hitters like he did back in 2007? Probably not, but he should still be able to throw hard. He threw his fastball at an average of better than 94 MPH when he was pitching last season, and Tyler Kepner of The New York Times recalled a few 96 MPH heaters just before Chamberlain hit the DL. 
If Chamberlain is able to get his fastball up around 95 consistently, nobody should feel disappointed. That's not as hard as he used to throw, but 95 is still plenty good enough to get the job done.
The bright side for the Yankees is that they don't necessarily need to anticipate good numbers in order to look forward to Chamberlain's return. And indeed, Chamberlain doesn't have to post gaudy numbers in order to be an useful presence on the Yankees' roster when/if he returns. 
He can help by just being himself.
The Yankees could use some of Chamberlain's trademark energy. He was a live wire when he first came up in 2007. And though he did calm down some as the years crept forward, let it never be said that he got boring. Say what you will about his career, but Chamberlain has always been an enthusiastic player.
The Bombers have a guy like that in their lineup (see Swisher, Nick), but not so much on their pitching staff. Chamberlain could be an energy source in the bullpen, and goodness knows the crowd would be revved up when he enters a game at Yankee Stadium. 
Chamberlain's return would be a spark plug even if he wasn't the energetic sort with a live fastball. After all he's been through over the last year, his return would be a big piece of good news for a team that has had to deal with more than its fair share of bad news this season. The Yankees could use a change of pace.
The Yankees don't need Chamberlain in order to make it to the postseason. They can do that on their own, even without Rivera, Pettitte and other key injured players. However, he could very much help the Yankees develop more and more swagger as the season winds down towards the playoffs.
He could provide the team with some momentum.
And they're going to need as much of that as they're going to get this season. As good as the Yankees are, they'll be just another underdog tasked with unseating the Texas Rangers once the postseason begins.
Whatever help they can get is more than welcome. And make no mistake, a healthy Chamberlain can help this team.
If you want to talk baseball, hit me up on Twitter.