Milwaukee Bucks: Can 2nd-Round Pick Doron Lamb Follow Michael Redd's Footsteps?
July 3, 2012

Jeff Gross/Getty Images
With their second-round pick in the draft, the Milwaukee Bucks selected University of Kentucky shooting guard Doron Lamb.
The Bucks have generally received favorable marks for their selection of the 6'4" Lamb. In reading some of the comments about the pick, statements like "terrific outside shooter" and "serious scoring threat" have been used to describe Lamb.
For the Bucks, the question is: Can Lamb become a solid contributor for the team in his rookie season? The team would most definitely like to see Lamb have the success that another second-round shooting guard had with the Bucks in recent history—Michael Redd.
Redd was the 43rd overall pick (14th pick in the second round) in the 2000 draft who went on to score 11,554 in a Bucks uniform (fourth on the all-time scoring list). Of all the players drafted by the Bucks in the second round since 1989 (when the NBA went to a two-round draft), Redd has played the most games for the Bucks.
In addition to Redd, the Bucks have also gotten solid contributions from another pair of second-round draft choices, Ersan Ilyasova and Luc Mbah a Moute.
Following are the Bucks' second-round draft picks since 1989 who played the most games in a Bucks uniform in their career.
Player, Draft Year, Games with Bucks (Career NBA games)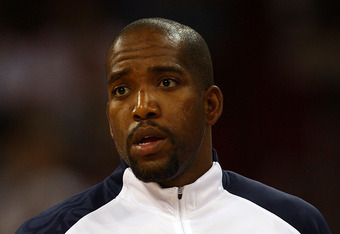 Jamie Squire/Getty Images
Michael Redd, 2000, 578 games (629)
Dan Gadzuric, 2002, 483 games (527)
Luc Mbah a Moute, 2008, 277 games (277)
Ersan Ilyasova, 2005, 267 games (267)
Steve Henson, 1990, 118 games (238)
Rafer Alston, 1998, 114 games (671)
Ramon Sessions, 2007, 96 games (323)
Frank Kornet, 1989, 89 games (89)
David Noel, 2006, 68 games (68)
Jon Leuer, 2011, 46 games (46)
Jodie Meeks, 2009, 41 games (200)
Jerald Honeycutt, 1997, 41 games (54)
In looking at all of the second-round selections since 1989, there have been several players who have had solid careers in the NBA.
Here's a rundown of the second-round players from each of the last 23 drafts (1989-2011) that have played in the most NBA games to date.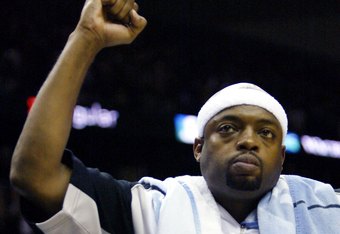 Stephen Dunn/Getty Images
Draft Year: Player, Team, Career NBA Games
1989: Clifford Robinson, Portland, 1,380
1990: Antonio Davis, Indiana, 903
1991: Randy Brown, Sacramento, 655
1992: P.J. Brown, New Jersey Nets, 1,089
1993: Nick Van Exel, Los Angeles Lakers, 880
1994: Howard Eisley, Minnesota, 786
1995: Eric Snow, Milwaukee, 846
1996: Malik Rose, Charlotte, 813
1997: Stephen Jackson, Phoenix, 794
1998: Rashard Lewis, Seattle, 934
1999: Manu Ginobli, San Antonio, 667
2000: Eddie House, Miami, 717
2001: Earl Watson, Seattle, 806
2002: Rasual Butler, Miami, 638
2003: Kyle Korver, New Jersey Nets, 664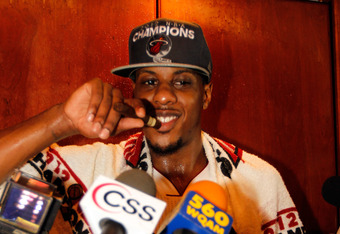 Mike Ehrmann/Getty Images
2004: Chris Duhon, Chicago, 560
2005: Ryan Gomes, Boston, 482
2006: Paul Millsap, Utah, 462
2007: Glen Davis, Seattle, 338
2008: Mario Chalmers, Minnesota, 289
2009: DeJuan Blair, San Antonio, 227
2010: Landry Fields, New York Knicks, 148
2011: Shelvin Mack, Washington, 64
Follow Jerry on Twitter @StatsonTapp