Spain vs. Italy: Euro 2012 Final Preview and Prediction
July 1, 2012
Shaun Botterill/Getty Images
When Euro 2012 started 23 days ago, no one could have foreseen how this tournament could become such a great success. Just weeks before the tournament, Poland's opposition leader stated that he wanted the final moved to Warsaw due to Ukrainian officials' treatment of ex-prime minister Yulia Tymoshenko.
Stories of racism also filled the airwaves. Just before the opening match of the tournament, Dutch players were subjected to racial taunts at the Netherlands' training center in Krakow, which cast a dark cloud over the opening match.
But it seems that those stories took place eons ago. After Robert Lewandowski scored the first goal of the tournament, football has thankfully remained front and center in these two former Communist states.
On the third day of the tournament, defending champion Spain started their attempt to remain champions of Europe by facing Italy in Gdańsk. Spain, who remained the juggernaut of the tournament in the first match, found themselves stopped by Italy in a 1-1 draw.
Using their classic defensive approach, Italy played a strong match. On a warm afternoon in northern Poland, Italy's three defenders stymied the attacking options of Spain. 
Italy did this through a variety of different tactics. They applied more defensive pressure in their defending third, which was evident in Spain completing just 80 percent of their passes in that area, while they completed 92 percent of their attempts on the other two-thirds of the field.
The Italians' pressure allowed them to successfully complete all 15 tackles that they attempted, along with intercepting 35 passes. Those 35 interceptions of Spanish passes is the highest total registered by Italy in any of their five matches in the tournament.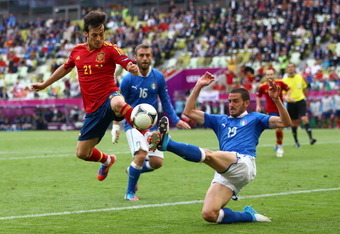 Michael Steele/Getty Images
Spain's quality has not been questioned much in recent years. After defeating Italy on penalties in the Euro 2008 quarterfinals, Spain have been on an unprecedented run that saw La Roja win their first European Championship in 48 years, along with the first World Cup in Spanish history.
Heading into this Euro, no one knew what to make of Spain. Already without two Barcelona superstars in David Villa and Carles Puyol due to injury and with reports of a divide in the Spanish camp, Spain were no longer considered to be the favorites to repeat as champions.
But Spain unified as a squad and have been superb since that 1-1 draw on June 10. After three wins in regular time and a victory on penalties against neighbor Portugal, Spain find themselves in the final.
What Italy did 21 days ago will be challenged in their first cup final in six years. After winning the 2006 World Cup, Italian football has not been the same since their title in Germany, with a failure to reach the knockout stage of the World Cup for the first time in 36 years the culmination in a dark six-year stretch.
The Azzuri have had a mini-Renaissance in this past month in their fifth straight European championship. Lead by Andrea Pirlo's creativity and masterful goalkeeping by Gianluigi Buffon, Italy reached their first Euro final in 12 years.
Both sides have put together impressive displays to reach the final. Here are the results of each match for the two finalists.
Spain
Spain 1 Italy 1 (June 10 - Gdańsk).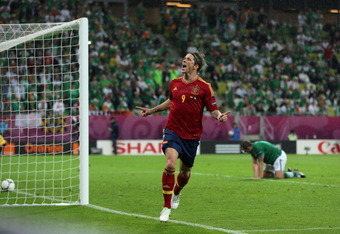 Alex Grimm/Getty Images
Spain 4 Republic of Ireland 0 (June 14 - Gdańsk).
Croatia 0 Spain 1 (June 18 - Gdańsk).
Spain 2 France 0 (June 23 - Donetsk).
Portugal 0 Spain 0 (Spain wins 4-2 on penalties). (June 27 - Donetsk).
Italy
Spain 1 Italy 1 (June 10 - Gdańsk).
Italy 1 Croatia 1 (June 14 - Poznań).
Italy 2 Republic of Ireland 0 (June 18 - Poznań).
England 0 Italy 0 (Italy wins 4-2 on penalties). (June 24 - Kiev).
Germany 1 italy 2 (June 28 - Warsaw).
Since their prior matchup, both Spain and Italy have shown instances of offensive brilliance while maintaining a strong defensive approach. Both Buffon and Iker Casillas have been phenomenal throughout this tournament, which has further cemented their respective legacies as the best goalkeepers of this generation.
Spain has watched different players star on the offensive, despite not using a striker for a majority of the tournament. Spain's midfield has been their biggest story of the tournament, thanks in large part to their successful use of a six-man midfield.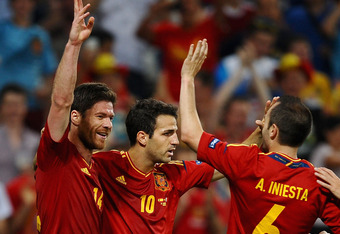 Laurence Griffiths/Getty Images
The five players who have started every match in that midfield—Xavi, Andres Iniesta, Sergio Busquets, Xabi Alonso and David Silva—have all been superb. Not only have they created numerous chances, but they have completed over 1,700 passes at an 88 percent clip.
Other midfielders, such as Cesc Fabregas and Jesus Navas, have been stars whether they have been afforded the opportunity to start or come off the bench. Both players were responsible for important Spanish wins in Euro 2012, and are the x-factor for their success.
Italy have found their success through a strong defensive effort. In Euro 2012, the Italians have conceded just three goals, despite facing the likes of Spain, Croatia, England and Germany.
Defenders such as Georgio Chiellini, Andrea Barzagli and Federico Balzaretti have brought a strong mix of experience and youth to this Azzuri side, propelling Italian football forward.
But Italy's most important player has been Andrea Pirlo. After missing most of the 2010 World Cup due to injury, Pirlo has once again proven that he is one of the world's best midfielders with a performance worthy of UEFA's Player of the Tournament.
Pirlo does have a goal and two assists, but by passing at an 88 percent clip and his 15 chances created have provided major dividends for Italy. Pirlo was exceptional against England, with a cheeky penalty in the shootout highlighting a great performance.
But Italy have been more than just Pirlo; players like Mario Balotelli and Danielle De Rossi have also been superb. Balotelli's brace against Germany and De Rossi's strong play in both midfield and defense have been critical parts for Italy's success.
Both sides have gone with steady formations throughout the tournament. Here are the projected lineups that will be used in the final.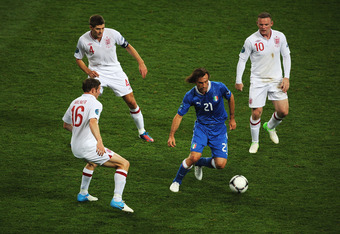 Christopher Lee/Getty Images
Spain (4-3-3)
Casillas
Arbeloa Pique Ramos Alba
Xavi Busquets Alonso
Silva Fabregas Iniesta
Instead of using a six-man midfield again versus the Italians, Spain will employ three traditional midfielders in Silva, Fabregas and Iniesta on top.
It is unlikely that Vicente del Bosque would consider using a striker considering Fernando Llorente has not featured, along with the bad form of Fernando Torres and a ghostly 54-minute performance from Alvaro Negredo against Portugal that was more hurtful than beneficial for La Roja.
Though there have been rumblings that Xavi might not start after he found his way on the bench for extra time, that is unlikely considering that he has been brilliant in Euro 2012.
Spain have not been at their best when they decide to employ so many playmakers. Here is a projected Italian lineup that could match up against this Spanish outfit.
Italy (4-3-1-2)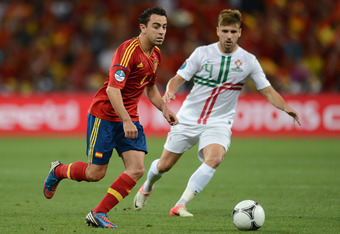 Jasper Juinen/Getty Images
Buffon
Abate Barzagli Bonucci Chiellini
Marchisio Pirlo Di Rossi
Montolivo
Balotelli Cassano
Italy will maintain that defensive framework that has worked wonders since the final match of the group stage. In the last 318 minutes, the Italians have only conceded one goal against opponents such as England and Germany. The only goal conceded was on a penalty in extra-time to Mesut Ozil in the semifinal.
The midfield of Claudio Marchisio, Pirlo and Di Rossi will be the most important part of the Italian game. They provide the critical link that starts counterattacks, which may be the only way that the Italians have a chance of scoring.
On top, Balotelli and Cassano have worked well together in the tournament. The play of Balotelli has been critical, especially considering his poor performance against Spain in the group stage. Balotelli has shown signs of maturity and is in position to win the Golden Boot for this tournament with three goals already on his record.
When both sides take to the field, they both will meet a familiar face in Portuguese referee Pedro Proenca. The referee of this year's Champions League final, Proenca refereed Spain's 4-0 win over Ireland in the group stage, along with Italy's victory on penalties against England. Proenca also refereed Sweden's 2-0 group stage victory over France.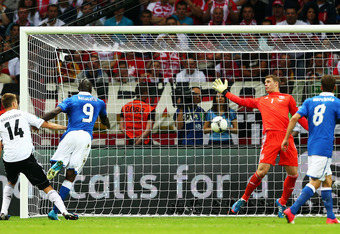 Michael Steele/Getty Images
So far in his first major international tournament, Proenca has been flawless. He has yet to give out a red card in any of his three matches in Euro 2012 and has only once given out a red card in a competitive international match, which was to Malta's Roderick Briffa in a 2007 qualifier.
However, Proenca is not afraid to blow the whistle. He has already whistled up for 82 fouls in his three matches, which includes 10 yellow cards. Two of the matches that Proenca has called have taken place at Kiev's Olympic Stadium, which should allow for a smooth match for the referee.
Considering that this is a cup final, it was a smart decision by UEFA to appoint a referee that keeps all 22 players on the pitch.
Outside of the referee appointment, there is not much news to report from each respective camp when it comes to injuries.
Once the actual match begins, it will be interesting to see what impact history will have on this fixture.
Much has already been made on Spain's 19-match run in internationals without a loss since their opening loss at the 2010 World Cup to Switzerland. Spain have won 17 of those matches, but both draws that Spain have suffered in this time-span took place in Euro 2012. Spain drew with Italy in the group stage, and their penalty win over Portugal statistically counts as a draw.
During this stretch, Spain have only conceded eight goals. Ironically, the only goal that Spain has surrendered Euro 2012 came from Italian substitute Antonio Di Natale, who scored on his first touch as a substitute.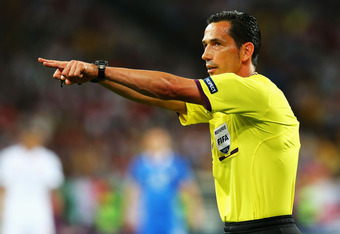 Martin Rose/Getty Images
Spain have met Italy seven times in major tournaments, but have never managed an outright win. The only success La Roja has achieved against the Italians came in a penalty shootout at Euro 2008 in the quarterfinals following a 0-0 draw.
Prediction
Both Spain and Italy have been chastised for being "boring" for their respective playing styles. Though either side is capable of brilliance, don't expect that to happen here. Just like many international finals, this will be a cagey affair.
When it comes to each nation's respective history, they both have shown success in winning matches by a tight score-line. Spain did that in all four of their knockout stage matches in the 2010 World Cup, while Italy almost always appear to win by one goal (which they have done twice in Euro 2012).
All-time, Italy have eight wins to Spain's seven. Though the last major win that Italy have earned against Spain in a competitive match took place in the United States during the 1994 World Cup, Italy have won just once since then, which took place in a friendly last August.
The last two Euro finals were decided by a single goal. But considering how Italy absorbs pressure and how Spain attacks, it is probably safe to guess that this could be a scoreless draw.
Only once before has a European Championship been decided on penalties. That took place in 1976, when Antonin Panenka took his now-famous penalty to give Czechoslovakia the trophy.
Spain have won four of the seven penalty shootouts that they have participated in, including three in the European Championships. Meanwhile, Italy have only won three of the eight shootouts that they have participated in, though two of those wins came in the Euros.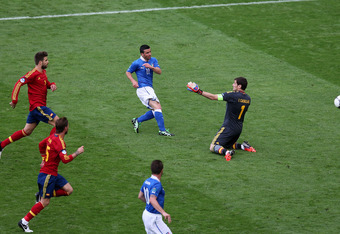 Alex Grimm/Getty Images
In 2008, Spain defeated Italy on penalties, but only one shooter from that Spanish lineup (Fabregas) will be likely to take a penalty once a shootout arrives. Both De Rossi and Di Natale missed their spot-kicks, but it is unknown if either player will want to shoot against Casillas.
Though Italy may have a poor record in shootouts, their players are still full of confidence and have appeared to reach their stride at just the right time. Assuming that Italy will keep their confidence after 120 minutes against the defending European champions, that will give the Azzuri a major boost. After all, the pressure will be on Spain to repeat.
Spain 0 Italy 0 (Italy win on penalties)