What If... the Eagles Had Drafted Jason Pierre-Paul Ahead of the Giants?
June 20, 2012

Thurs. April 22, 2010, 8:57 p.m. ET, Radio City Music Hall in New York: The Philadelphia Eagles trade the Denver Broncos two third-round picks in order to move up 11 spots in the NFL draft and select one of the class's highest-rated pass-rushers.
Sixteen minutes later, the New York Giants hold onto their No. 15 selection and take the next pass-rusher on the list.
The division rivals had taken the first two defensive ends of the draft. Neither were sure-things, obviously, but here we are 26 months later and Philadelphia's Brandon Graham is already a self-proclaimed bust, while Jason Pierre-Paul is already one of the best players in professional football.
I'm not pointing a finger at the Eagles here. Graham was considered to be a safer pick than Pierre-Paul, who had only 6.5 sacks in his one season at the Division I level. Graham wasn't as physically dominant, but he spent four years at Michigan, leaving school as the second-leading sack man in Wolvervines history.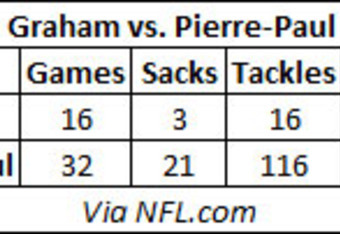 The difference might be talent and ability, but if we're handing out benefits of doubt, one big knee injury is what separates Graham from Pierre-Paul two years into their respective careers.
Graham tore his ACL in Week 14 of his rookie season. At that point, he had three sacks, and Pierre-Paul had four. Neither was killing it, but neither looked like a bust. But a healthy JPP kept progressing, while Graham was forced to miss the rest of 2010 and pretty much all of 2011.
Prior to the draft, the Giants were rumored to be interested in both Graham and Pierre-Paul, but we might never know who they had ranked higher on their draft board. All we do know is that the Eagles obviously felt more strongly about Graham than JPP. 
If the Giants also felt that way, they simply got lucky. And if Graham's slow start can be blamed completely on his injury, than the Eagles were simply the equivalent in the world of unlucky.
But what if things were reversed? What if Andy Reid could go back in time like Ashton Kutcher or Michael J. Fox and really screw with chaos theory?
While the Giants and Eagles—both of whom already had quality pass rushes and crowded defensive lines—wouldn't have been much better or worse with the swap in place in 2010 (neither Graham nor Pierre-Paul had great rookie campaigns anyway), it might have changed both franchises forever in 2011.
Under those hypothetical circumstances, here's how I think things would've gone down last season:
The Eagles make the playoffs in 2011
They likely still would've gone on that free-agent shopping spree last offseason. If Graham were healthy last summer, you could argue that they might not have invested in Jason Babin, but Pierre-Paul wasn't coming off a superb rookie campaign anyway. 
Even if they didn't bring in Babin, the pass rush would have been just as good, if not better, and they would have used that money elsewhere. Perhaps they would have added quality players to the next layers of the defense, making the team better against the run and pass. 
Philly missed the playoffs by only a single game last year. I think having JPP would have resulted in them winning at least one more.
With Pierre-Paul on their team instead of on the opposite side of the field, would the Eagles have lost to the Giants in Week 3? JPP made some huge plays in that game, including two sacks and seven tackles. 
Graham, of course, didn't play.
The Giants don't win Super Bowl XLVI
This should be obvious. Pierre-Paul had 16.5 sacks and a direct effect on several games. There's no way the Giants would've survived those injuries to Osi Umenyiora and Justin Tuck without him stepping up. And even when those guys were back later in the season and in the playoffs, JPP was still a force.
And then, of course, there was this...
Without that blocked field goal in Week 14 against Dallas, there's a very good chance the Giants would've missed the playoffs entirely last season. 
Remember: New York survived by only a thread in 2011, and I don't think that piece of yarn would've been in place had JPP not been there.
So, would the Eagles have won Super Bowl XLVI?
Since I'm essentially stating that Philadelphia would have stolen New York's NFC playoff spot in 2011, a not-so-far-fetched scenario exists whereby the Eagles, and not the Giants, would be the reigning Super Bowl champions right now had they simply gone with one top-tier defensive end over another midway through the first-round of the 2010 draft.
I'm not willing to make that prediction, but when you consider how well Philly was playing at the end of the 2011 regular season, it's a distinct possibility. 
Obviously, none of this really matters, but it's pretty freakin' fun to ponder. I'm guessing it's a little more enjoyable for Giants fans than Eagles fans, but it certainly sheds some light on why we agonize over every pick of every draft. Two years ago, it hardly seemed like the difference between Brandon Graham and Jason Pierre-Paul could be enough to win or lose a Lombardi Trophy.
Or maybe more than one.