Texas Rangers: Do They Deserve to Lead the American League in All-Star Nods?
June 19, 2012

Thearon W. Henderson/Getty Images
Remember when the only reason the Texas Rangers had an All-Star representative was because every team has to have at least one? I sure do.
Those days are long gone. In each of the last four years, the Rangers have had two starters, with four or more making it to the Midsummer Classic. Last year, and in 2010, Texas had five total players make it into the All-Star Game. 
This season, the two-time defending American League Champions, as of this writing, feature four of the top vote getters, with two—Nelson Cruz and Mitch Moreland—within striking distance of possibly joining four other teammates as starters for the 2012 MLB All-Star Game at Kansas City's Kaufman Stadium next month.
So, do the Texas Rangers deserve to lead the American League in All-Star nods?  Let's take a look at the Rangers top vote-getters and see how they stack up against the competition.
Josh Hamilton, LF .330/.390/.674 22 HRs, 62 RBI—5,414,880 votes 
The 2010 AL MVP has had a rough June. Over that period,  he's hit below the Mendoza line, and has missed the last three games with a viral infection.  
However, his numbers are still staggering. He was the American League's Player of the Month in both April and May, and if he's healthy, he stands a fine chance of having 30 HRs by the All-Star Break.  
Hamilton is clearly worthy of earning his fifth-straight All-Star start.  As of today, he was Major League Baseball's top vote-getter.
Ian Kinsler, 2B .274/.336/.504, 7 HRs, 35 RBI—2,580,306 votes
The argument can be made that both New York's Robinson Cano (.301/.368/.543, 13 HRs, 32 RBI) and Cleveland's Jason Kipnis (.280/.334/.448, 11 HRs, 41 RBI) are more deserving than Ian Kinsler to start this year's All-Star game.
And with Cano hot on Kinsler's heels in votes, with 2,565,046, there is a good chance that Kinsler might not be voted in as a starter.  Whether or not he makes in, though, I do feel that he is deserving of the honor.  Despite having six fewer home runs than Cano, Kinsler has more RBI, and Kinsler's speed (11 stolen bases in 15 attempts) is a key component to igniting the Rangers offense from the leadoff spot.
Don't get me wrong, Cano is a stud; his WAR (3.2) is higher than Kinsler's (1.8) and his UZR shows he's having a better year with the leather too (4.6 to -0.8). 
Jason Kipnis is having a fine season.  But with only 615,409 votes he doesn't have much of a chance of starting.
With Cano or Kinsler, the game will be represented well, as they are the two top second baseman in the American League.
Adrian Beltre, 3B .305/.335/.498, 11 HRs, 43 RBI—2,251,304 votes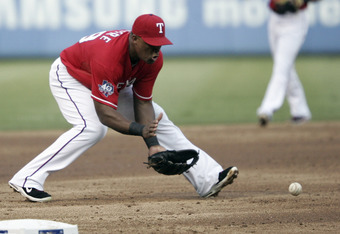 Rick Yeatts/Getty Images
There are several third basemen in the AL having spectacular seasons. The two having arguably the finest seasons at the hot corner should both be on the other side of the diamond—Mark Trumbo of the Los Angeles Angels of Anaheim, and Miguel Cabrera of the Detroit Tigers.
Trumbo .319/.376/.620, 16 HRs, 42 RBI strikes out way too much (55 times in 216 at-bats) but hey, when your slash line looks like that, I'm sure no one in Anaheim is complaining.  
No one in Anaheim is voting either, as Trumbo isn't even in the top five in votes for AL third basemen.
Miguel Cabrera is having a very "Miguel Cabrera" type of season: .310/.367/.537 14 HRs, 54 RBI. He still has a fighter's chance at earning the starting spot over Beltre, as he has 1,869,727 votes.
Even though Beltre has fewer RBI than Cabrera, a lower batting average than both Trumbo and Cabrera, plus fewer HRs, he's still deserving of the start in Kansas City next month.
The difference is defense.
Cabrera is a horrible first baseman, so it's no shocker that at third his UZR is a ghastly -5.6. Trumbo is a decent first baseman, but move him to third and it can be ugly. His UZR is -2.6.
Beltre, on the other, hand, has a UZR of 0.1. It's alarmingly low compared to last year's 11.2, but hey, at least it's not an integer.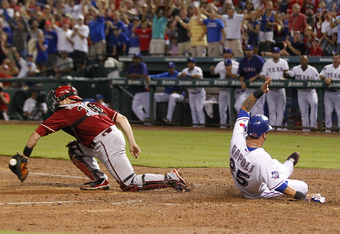 Rick Yeatts/Getty Images
Mike Napoli, C .243/.355/.454, 11 HR, 43 RBI—2,239,047 votes
It pains me to say this, but there are more than a few American League catchers having better seasons than Mike Napoli.  
Joe Mauer (.314/.415/.427, 33 RBI), and A.J. Pierzynski (.286/.329/.512, 12 HRs, 41 RBI) are two that are clearly having a finer first half than the "Napster."  
This is where the All-Star Game mimics your high school's student council campaign.  Simply put, it's glaringly obvious that this is a popularity contest, and the man who makes us chant "Nap-O-Li, Nap-O-Li!!!" is blowing away the competition, despite some inferior numbers.
With Mauer currently in second place with 1,283,804 votes and Pierzynski, with 1,048,603 votes in fourth, fans of these two are going to have to step it up big time for them to stand a chance at starting behind the dish in next month's Midsummer Classic.
Rangers on the Fringe of being voted in:
Nelson Cruz, RF .256/.309/.427, 9 HRs, 39 RBI—1,944,487 votes (fifth)
Until the day before yesterday, Cruz was actually in third place in votes amongst American League outfielders. It's a really tight race, as Adam Jones (fourth) is only 14,720 votes ahead, and Cruz needs just 52,544 more votes to surpass Jose Bautista for third place.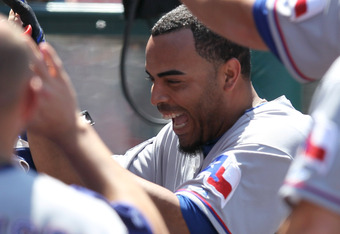 Stephen Dunn/Getty Images
Should Nelson Cruz be an All-Star starter? No, probably not. Like Napoli, Cruz is easily one of the most popular players on the team. Cruz is an integral part of the Texas Rangers, and if you take him away from last year's ALCS there really isn't a guarantee that the Rangers make it past the Detroit Tigers.
But his numbers really aren't that great thus far. I have no doubt he'll end up with 20-plus homers and 80-plus RBI, but there are four right fielders with more home runs, two with more RBI, and none with as many strikeouts (73).
Did I vote for him? You'd better believe it.
Elvis Andrus, SS .298/.373/.405—2,008,678 votes (second) 
I'm relatively certain that the Yankees' Derek Jeter (.317/.363/.423, 6 HRs, 24 RBI) is going to be the starting shortstop next month. He has 3,359,875 votes and, as we all know, fans of the Bronx Bombers definitely support their guys both online and at the ballpark.
Hey, Jeter's having a fantastic season, and the fact that he's leading all shortstops in votes shows that the fans are getting this one right.  But Jeter is such a terrible shortstop. Don't take my word for it, just take a look at his -11.7 UZR. Yes, he's almost twice as bad at shortstop as Miguel Cabrera is at third base.
Yowzers.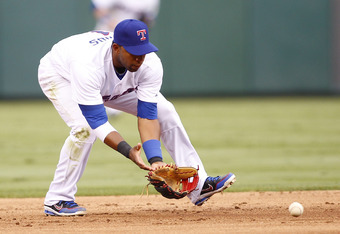 Rick Yeatts/Getty Images
No one cares about defense in voting though, so Jeter's a lock. Elvis Andrus, in my opinion, doesn't need to be voted in to start yet. But the 23-year-old shortstop is having a fine season too. He's a few clicks behind Jeter in BA and SLG, but has a higher OBP. And it's not even close with the leather, as Andrus has a 2.5 UZR.
Andrus has an outside chance this year, but as of today, he's trailing "The Captain" by over 1,350,000 votes. Rangers fans, take note, Andrus' future as the American League's premium short stop is close at hand.  
Mitch Moreland, 1B .276/.329/.519, 10 HRs, 25 RBI—1,202,724 votes (fourth)
Okay, how many of you thought at the beginning of the year that the Texas Rangers' "biggest weakness" would have more votes than Albert Pujols?
You've just got to love that.  And hey, he is having a better season than Pujols so it's justified. 
Moreland is a long-shot to get voted in to start. He trials front-runner Prince Fielder of the Detroit Tigers by 743,321 votes.  Moreland's numbers aren't good enough to start, but they're a welcome surprise and every time he launches a mammoth home run, you have to wonder if the Rangers might have themselves a future All-Star first baseman.
I doubt Moreland makes it in, and for my 10 cents' worth, I think the White Sox's Paul Konerko should be the starter. We'll just have to wait and see.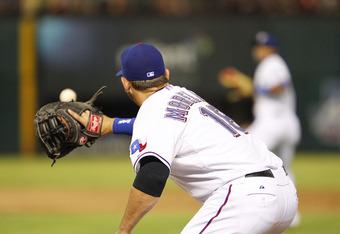 Rick Yeatts/Getty Images
So, do the Texas Rangers deserve to have four—possibly six—starters in the All-Star Game? You'd better believe they do.
The Texas Rangers are two-time American League Champions, and without key contributions from those possible six starters, it's highly unlikely they would've made it to the Fall Classic (or even the playoffs) the last two seasons. 
Don't agree with me? Hey, no worries. But you shouldn't complain about it. What you can do is close this browser, open up a new one and vote for your favorite players until your little heart is content.
For more Texas Rangers news, check out Baseball Do—you'll be glad you did