3 Reasons for a Boston Celtics vs. San Antonio Spurs NBA Finals
May 8, 2012

Ronald Martinez/Getty Images
It's been a wild NBA season full of surprises, twists and turns, but the ending has yet to be decided.
The Oklahoma City Thunder look well on their way to advancing to the Western Conference Finals after sweeping the Dallas Mavericks in the first round. The Miami Heat look poised to shut the door on the New York Knicks as the Heat head back to Miami with a 3-1 series lead.
The Indiana Pacers and Los Angeles Lakers are well on their way toward advancing to the next round, and the Los Angeles Clippers are making serious noise in the West after taking a 3-1 series lead with Sunday's 101-97 overtime victory against the Memphis Grizzlies.
However, the road to the NBA Finals may be paved for two teams that do not coincide with the entertaining storylines in place. Those two teams are the Boston Celtics and the San Antonio Spurs.
Here's why:
Reason One: Time Favors the Youth
Like watching Kevin Durant and Russell Westbrook play for the Thunder? How about LeBron James and Dwyane Wade for the Heat?
The names go on and on. Chris Paul and Blake Griffin for the Clippers. Rudy Gay and Zach Randolph in Memphis. Even Carmelo Anthony and a to-be-decided sidekick for the Knicks.
Guess what? Most of the guys are in the prime of their careers or approaching their peaks.
Durant and Westbrook, at 23 years old, have only played together for three years prior to this season. The duo, along with premier bench scorer James Harden, are still searching for the overall method to success. Gay and Randolph, at ages 25 and 30 respectively, both appeared and started in the league very early in their careers, and only in recent years have found the winning formula by playing parts in a team-first system for the Grizzlies.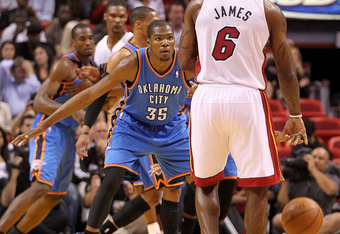 Mike Ehrmann/Getty Images
And even if you think that a 30-year-old Wade will see the ball less in South Beach in the foreseeable future, the fact that he will have James, who is in his prime at 27 years old, to run with will give him a chance to fight for titles into his mid-30s.
All those franchises have a chance to compete in the coming years, and we haven't even talked about the Clippers with Paul and Griffin, the Atlanta Hawks with Josh Smith and Joe Johnson, or New York.
In a shortened season, with so many ups and downs, surprises and storylines, the finale to this entertaining season, has still yet to be written.
It's been a discombobulated, disproportionately-constructed, but fantastically-captivating season worth of notes and foreshadows. That is why not just any season, but this season, should end with the Spurs and Celtics fighting it out one last time, neither knowing what awaits past this year.
Despite transforming his playing style, it wouldn't surprise most fans if Tim Duncan, at 36 years old, stuck around for the next couple of years doing what he's doing now – defense and rebounding – but how long he'll be able to fight for championships is uncertain.
The same can be said about Kevin Garnett, his creaky knees giving him less and less time to win another ring.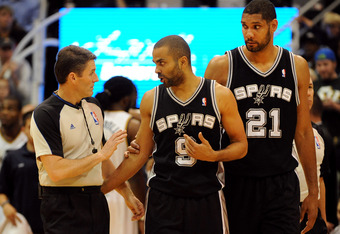 Steve Dykes/Getty Images
There's plenty of time for youth to flourish. Even Michael Jordan didn't even win his first title until he was 28 years old.
It's time for one last clash of two basketball titans. Youth can wait one more year.
Reason Two: Both Teams Have Changes in the Future
As the Thunder, Heat and Clippers appear to be NBA Finals contenders in the coming years, both the Spurs and Celtics have decisions to make as they head into transition years, whether they choose to see it that way or not.
Time is the ultimate factor, and for San Antonio and Boston, there are plenty of players heading into the twilight of their careers.
Duncan can really only keep up with what he's doing offensively for so long, and his career can change on dime as he gets closer to 40.
Point guard Tony Parker has also taken on a larger role for San Antonio at both ends of the floor. It's hard to imagine Parker's been in the league since he was 18. Only now, 11 years and three titles later, Parker, at 30 years old, is taking on a leadership role from the point guard-position.
For the Celtics, Garnett, Ray Allen and Paul Pierce are all question marks for the next two years, and only begin describing the upcoming storylines in Boston. The Celtics' front office needs to ultimately decide on Rajon Rondo as well.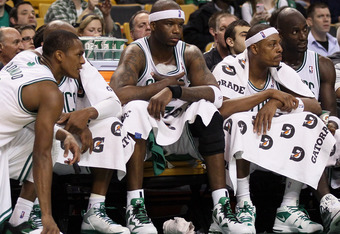 Elsa/Getty Images
With a deep rotation in a turned-upside-down Eastern Conference that lost Derrick Rose for the rest of the playoffs, the Celtics' chance is now. 
With a mysterious future lurking on fan's minds, the Spurs share a similar, brief opportunity.
Reason Three: The Last Time For A Duncan-KG Showdown
Both Duncan and Garnett have had legendary careers in the NBA and they're sure to land in the Hall of Fame.
Having both played at the same position, although there's the argument Duncan is a center, Garnett and his counterpart are pitted against each other in a debate for who had the better career.
Garnett joined the league at 19, and worked his way into becoming a sensation for the Minnesota Timberwolves. Now, over 45,000-plus minutes later, 14 All-Star Games picks and a title with the Celtics, he's entered a renaissance period at age 35.
Duncan's four titles speaks to his consistency and guile for his 15 years in the NBA. His line of 15.4 points, 9.0 rebounds and 2.3 assists during this 66-game, shortened season has been nothing short of amazing. The production is due in-part to his coach Gregg Popovich, whose management of Duncan's minutes played a key role in the veteran's reconstruction of his game.
With the way the game is played today, we may never see two careers quite like Duncan and Garnett. Wouldn't it be fitting to see them go at it one last time, not for who has more titles -- Duncan beats Garnett 4-to-1 -- but for who gets the last say, the final word?