NFL Offseason Mailbag: Never Too Early for a Super Bowl Pick
May 4, 2012

Jim Rogash/Getty Images
Every week (at least every week there's interest) I'll be conducting a Q&A with you, the dear readers of The Go Route, covering all the latest goings on around the NFL. You can submit your questions to me either via email (anagler@bleacherreport.com) or via Twitter (@Aaron_Nagler).
From Mike Bigari via Twitter:
Who are your early favorites to be in the #superbowl?
Way to start us off with a softball, Mike!
Obviously, any Super Bowl prediction made in early May is worth about as much as a Rex Ryan guarantee. With that said, as I wrote in my post-draft Power Rankings, my early pick for Super Bowl XLVII is a matchup between the New England Patriots and the Green Bay Packers. 
I can hear the groans already. Boring. Predictable. Popular.
Even worse, a Packers blogger picking the Packers. 
While that is probably all true, you can't deny that both teams are two of the, lets say, six or eight elite teams in the NFL and both spent the offseason trying to shore up their weakspots. Both tried to upgrade their porous defenses via the draft and the Patriots used free agency to shore up their problematic receiving corps. 
The fact is, any team that makes it through the playoffs and into the Super Bowl usually does two things. 1) Stays healthy and 2) Has a couple of breaks go their way during the season. We'll probably see a few new playoff teams (happens every year) and some mix of the usual collection of Patriots, Packers, Giants, Ravens, etc. when the postseason starts. After that, anything can happen. 
From @brwnsfan via Twitter: 
With the similarity in stats last year, do you think Greg Little is as good as Julio Jones? 
This is why much stats-based analysis and argument tends to fall short when evaluating football players. 
I actually really liked Greg Little coming out of North Carolina. He is perfectly suited to a West Coast Offense and its a real shame he went into the offensive equivalent of a Black Hole when he was drafted by the Cleveland Browns. Maybe a new quarterback and a running back keeping defenses honest will open up some new opportunities for him in 2012.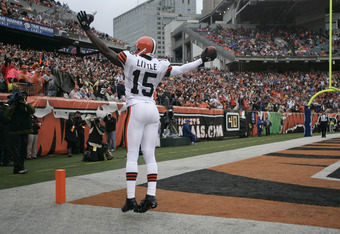 John Grieshop/Getty Images
But Little is simply not in the same league as Julio Jones. While their numbers may have been similar last season, Jones is simply more explosive and a better overall talent. Now, he's been hampered a bit by injuries and the Falcons offense in general kind of lost its identity last year. Over time, however, I think Jones will break out and show the rest of the league why Atlanta gave up so much to go get him in the 2011 draft. 
From Kasy Ray via Twitter: 
Do you think UFA CB Johnson has a chance to secure a starting spot with #Bucs? Or will his size limit his ceiling?
For those unfamiliar with the player Kasy is referencing, here's a great write up on former Iowa State cornerback Leonard Johnson by my B/R colleague Sigmund Bloom.  
As for Johnson's chances of making the Buccaneers, it's certainly possible he ends up on the Bucs final 53. Especially with a new coaching staff, which may be a bit more open minded when it comes to player evaluation due to the lack of attachment to established veterans, Johnson has an excellent shot at making a good impression early on in camp. 
One thing working in Johnson's favor is the fact that Ronde Barber's play left a lot to be desired last year. They need to get younger at the position. Throw in the fact that the team was reportedly shopping troubled corner Aqib Talib, it would certainly seem there is a desire to move on at corner. Johnson could be part of that movement. 
The fact of the matter is that one or two undrafted free agents make nearly every NFL roster every year. Johnson is certainly capable of doing so in Tampa Bay.