Breaking Down How the Indianapolis Colts Can Transition to 3-4 Defense
March 26, 2012

Ronald Martinez/Getty Images
Much of the talk surrounding Indianapolis this offseason has been about the quarterback position. Even though it was inevitable, legendary quarterback Peyton Manning was shockingly released as the franchise plans to turn a new leaf when they draft Stanford phenom Andrew Luck to be their signal-caller for the next decade and receiver Reggie Wayne is back with the Colts after his future was in flux. 
However, on the other side of the ball, there are significant changes being made. New head coach Chuck Pagano brings in a fiery and aggressive personality that is seen through his game plans on Sunday as the endless fire zone blitzes and other mind-bending pressure packages are sent to the headset of his inside linebacker and along with him comes a new defense known as the 3-4.
One example of Pagano's pressure package is a four-man blitz with seven dropping in coverage against the San Francisco 49ers. Looking at the diagram below, the Ravens have presented an odd front to the 49ers blockers with rushers to each side of it. To the left, there are three rushers and to the right, there are two.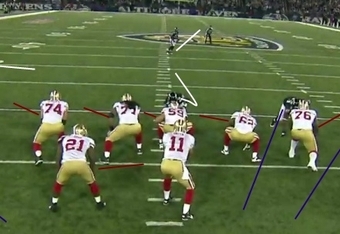 What this look does is pose problems for the 49ers offensive line because they must declare which side the blitz is coming from. Because of the strength in numbers being to the left, the 49ers decide that they are going to half-slide their protection to the left.
However, this ends up being a problem because two of the three defenders on the left end up dropping in coverage while two, along with the defensive end making it three, are sent to blitz from the right side, where there are only two blockers. Ultimately, what ends up happening is that four 49ers blockers block one defender to the left while two are left to block three on the right.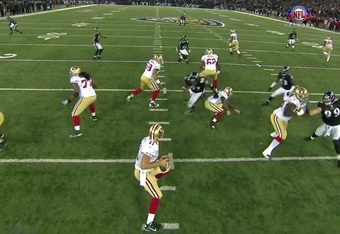 Bringing the 3-4 to Indianapolis 
Indianapolis' 3-4 defense, under the direction of Pagano and defensive coordinator Greg Manusky, is something new to the fans, who have watched the Tampa 2 philosophy wreak havoc on the opposition for the last decade. 
But how much different are the 3-4 and 4-3 philosophies? Is there really a big difference? If not, why do so many teams play it?
Truth is, the majority of  NFL teams are running some form of hybrid defense which sees them utilize 30 (three down linemen) and 40 (four down linemen) fronts, with the latter common on an obvious pass-rushing down. 
The Defensive Line
Where these two philosophies meet are in the defensive linemen techniques, which both feature a 3-technique defensive tackle or end in a one-gap mindset. What this means is that the 3-technique defensive lineman, who is aligned over the outside shoulder of the offensive guard, is attacking one gap downhill and looking to collapse the interior of the pocket.
With a 3-technique being present and two forms of 5-techniques (two- or three-point stance), all there's left is a single nose tackle who can align in a variety of techniques, most notably zero (head up on center) and one (outside shoulder of center).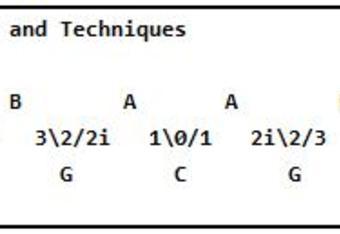 The Colts have six defensive linemen on their roster at the moment but the question is, how do they all fit in?
Starting with new acquisition Cory Redding, who played under Pagano in Baltimore. Redding was a quality player during his stay with the Ravens, applying pressure and playing well against the run. He played a variety of techniques, most notably the aforementioned 3-technique where he was very effective.
Redding's fit is at 3-technique as essentially a reduced end in the 3-4 defense and would probably slide down into a 1-technique in a four-man front, but the rest of the Colts defenders, who were present on the roster last season, are more difficult to figure out.
Like Redding, tackles Antonio Johnson, Drake Nevis, Ricardo Matthews and Fili Moala played multiple techniques on the defensive line. All played 1- and 3-technique at some point during the season, with Johnson serving the 1-technique and struggling while the others played some 3-technique and also had issues.
While I expect Moala to be reduced to a situational role, I still expect him to be a 3-technique behind Redding. However, Johnson, Nevis and Matthews will likely battle it out for the 1-technique with Nevis probably being the most interesting player of the three, to me at least.
Nevis came out of LSU with a very strong motor and was known as a disrupting, pressure player even if he didn't rack up sacks. However, he's had struggles at times in Indianapolis with injuries stunting his development, as seen last season in which he contributed with only 163 snaps, per Pro Football Focus. If healthy, I'd like to see Nevis be given a chance at this spot because of his talent and motor.  
The Linebackers
The Colts linebackers are going to be the most interesting players in this new scheme because it is a completely new transition for them. Starting on the outsides, pass rush demons Dwight Freeney and Robert Mathis are going to be moving from a three-point stance to a two-point stance.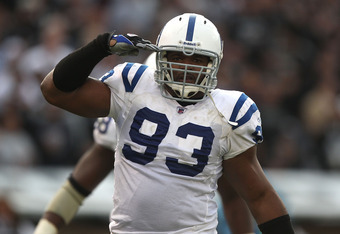 Jed Jacobsohn/Getty Images
One of the first things that comes to mind for many is, "our best pass-rushers sometimes dropping in coverage? Stupid!" It's true that in a 3-4 defense, one of the outside linebackers may drop in coverage but that's not always the case, as there are some one gap 3-4 schemes that don't drop their players in coverage much, such as Wade Phillips' defense in Houston and in Dallas.
Despite Freeney and Mathis likely to be mainly rushing the passer, it can still be a difficult transition to a standup role. The reason for this is because hand placement becomes an issue. When a defensive end is taught to explode off the line of scrimmage, he's taught to get his hands up immediately and attack the breast pads of the blocker. This is a natural jackknife-like movement for the pass-rusher, which makes it easier to win at the point of attack, and is naturally lower to the ground.
However, this changes from a three-point stance as the pass-rusher has his hands up already and requires him to sink his hips as well as bend his knees more to gain the leverage advantage—a difficult task.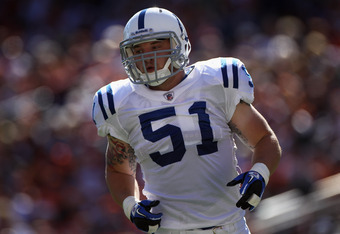 Doug Pensinger/Getty Images
On to the interior linebackers, Kavell Connor and Pat Angerer are the starters at the moment. Sounds ideal, right? Not really, especially with Connor. Kavell Connor is a talented pass-defender, but I don't find him to be equally talented downhill against the run as I see him shy away from physicality and struggle in dealing with blocks. Teammate Pat Angerer is the opposite of that, as he's active downhill and does a better job disengaging from blockers. He's likely to be the starter of the two, with Connor coming in on passing downs as a dropper or potential blitzing defender.  
Being Effective While Building
Speaking of the blitz, this is what Chuck Pagano was known for during his stint in Baltimore as a defensive coordinator. He did not hesitate to develop pressure packages and throw them at the opponent, often coming up with a successful result as seen earlier. Like many defenses in today's game, he utilized several fire zone blitzes that send five rushers and drop six in coverage.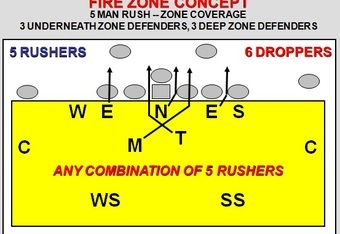 These types of blitzes along with Manusky's tendency of leaving his cornerbacks in straight man out of a one-high safety shell (Man-Free) mesh well together and they will be heavily relied on to ease the transition from to the 30 front.
The Colts may look to drop an extra defender in the box, which Manusky often does as noted, to relieve pressure on Freeney and Mathis as run defenders, instead allowing them to just get downhill and wreak havoc—something they are exceptional at. 
Along with pressure packages, the Pagano-Manusky led defense will likely utilize hybrid fronts to ease the transition to the new defense.