San Francisco Giants: The Biggest Question Facing Each Giants Pitcher in 2012
March 13, 2012

Christian Petersen/Getty Images
San Francisco Giants fans harbor no illusions as to how their team's success is determined. It's all in the pitching.
Speculate on Aubrey Huff's ability to rebound or Pablo Sandoval's pants size all you want; none of it matters if the pitching staff doesn't deliver at an exceptional level every night.
For as much promise as the stable of starters and relievers have to offer San Francisco in 2012, each player brings his own uncertainties with him to the mound. Here is a look at the most pivotal question facing each arm on the roster.
Can he beat Clayton Kershaw?
Tim Lincecum doesn't do second place.
At least, he didn't until Clayton Kershaw entered the NL West. Kershaw's record against the Giants last season (5-0, 1.07 ERA, 49 Ks) is devastating evidence of his effectiveness on the mound.
As both were the leaders of their respective rotations, Lincecum faced Kershaw four times in 2011. After losing all four of those games, Lincecum is ready to reclaim his title of Best in the West. Add to the drama a Cy Young for Kershaw to cap his season, and it is clear one of Linecum's main objectives in the coming season will be to top his rival in L.A. 
Matt Cain
Will he become a free agent?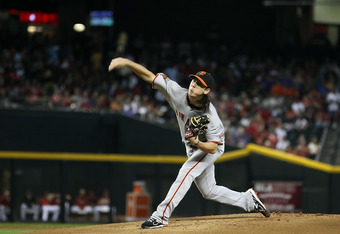 Christian Petersen/Getty Images
Everyone loves Matt Cain. His consistency, temperament and talent are top notch, and he is currently the Giants' longest-tenured player.
With free agency a season away, Cain's 2012 will be filled with speculation and assumption. If the Giants continue their tradition of providing anemic run support, will it be enough to sway Cain to test the welcoming waters of free agency? Will the incessant media coverage weigh on his performances? And perhaps most pressing of all, will the Giants be willing to shell out $100 million if that's what it takes to keep Cain around?  
Madison Bumgarner
Will the offense have his back?
You can imagine the conversation Matt Cain and Madison Bumgarner must have had at some point last season: Bumgarner asking Cain, "Is this really how it's going to be? I throw six shutout innings and get the loss?" Cain slowly nodding his head before they both spit sunflower seeds at a photo of Aaron Rowand.
The run support for Bumgarner in 2011 was atrocious. By June, Bumgarner was carrying a 1.93 ERA over his last nine games—and just a 2-5 record to show for it. MadBum isn't going anywhere, but if the offense can't back his strong performances, his efforts and emotional stamina may take a hit.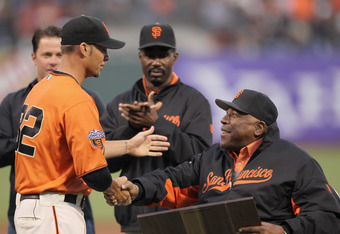 Ezra Shaw/Getty Images
Ryan Vogelsong
Can he duplicate his incredible 2011?
Ryan Vogelsong had the season of his life. His final numbers were beyond impressive (13-7, 2.71 ERA, 139 SO) and the momentum he gave an ailing team in need of some hope can't be measured.
And now it's next season. Aside from what is quite likely a minor back issue, Vogelsong has not given anyone reason to doubt he'll deliver in 2011. The true question is, in a career filled with missing years, trips across seas and Tommy John surgery, does Vogelsong have it in him to recreate the magic of last year? There's no precedent for the 2011 he had, and so it can't be known what 2012 will hold. 
Barry Zito
Does he have the goods to be in the starting rotation?
Barry Zito got a lot from the San Francisco Giants. There's his $126 million paycheck, and his 2010 World Series ring.
Yet, the most coveted prize of all has alluded him since he crossed the Bay: respect. I gave him some for nobly accepting his demotion off the playoff rosters in 2010, but for an athlete, especially one with a past pedigree like Zito's, pity is probably worse than scorn. He's running out of chances to do something right in San Francisco. Eric Surkamp will be only too glad to take his spot if he can't deliver on the mound (again).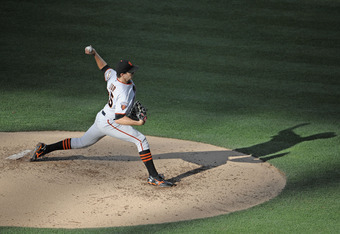 Denis Poroy/Getty Images
Jeremy Affeldt
With Javier Lopez aboard, is he just trade bait?
The luxury of left-handed specialists is usually reserved for the clubs with the deepest pockets. The Giants may qualify as one of those clubs, if not for the bloated, worthless contracts of Aaron Rowand and Barry Zito suckling at their payroll. Under their current limitations, many were taken aback when Brian Sabean signed both Javier Lopez and Jeremy Affeldt to new deals.
Lopez was untouchable in October baseball, and continued his dominance in 2011. Affeldt is an excellent pitcher, but he has every reason to watch his back, especially as the trade deadline nears. How the possibility of a pending trade will effect his game remains to be seen.
Brian Wilson
Is the elbow good to go?
Brian Wilson is no stranger to the DL. Last year he found himself sidelined for the end of the season with an inflamed elbow. Last month in Scottsdale, he confirmed suspicions that he'd in fact pitched all of last season somewhat hurt. Wilson of course also stated that he would be a hundred percent for opening day, but fans know never to take a player's assessment of their own injury as the gospel truth.
As the dynamic final act of a deep staff, Wilson is relied on to keep close games on the Giants' side. The status of his elbow and how it reacts to the daily grind of a full season will be closely watched by all.
Sergio Romo
Does he have a shot at becoming the closer?
If there's such a thing as being too good, Sergio Romo might be too good to be the Giants' setup man. He has come through in the clutch on numerous occasions, and he proved he can be counted on in any role Bruce Bochy opts to place him in.
With Brian Wilson signed through 2012, the questions around whether to extend the Beard or go with either Romo or prospect Heath Hembree loom. Romo has given no indication that he is unhappy in his current position, but he'd be crazy not to wonder if the ninth inning awaits him. 
Javier Lopez
Is Bruce Bochy ready to trust him again?
As last season limped towards its conclusion, a strange thing happened. Javier Lopez, lefty specialist and 2010 playoff stallion, became noticeably absent from the field. While appearing 13 times a month from April through July, Lopez took the mound a total of only 21 times in August and September. Even more confounding is that both Sergio Romo and Brian Wilson were hurt for the final two months of the season.
It's hard to know exactly what transpired to make Bruce Bochy get cold on Lopez, but until we see him accrue regular playing time this season, it remains a rather suspicious circumstance. 
Eric Surkamp
Can he break into the rotation? 
Arriving on the heels of Tim Lincecum and Madison Bumgarner is no easy task. Eric Surkamp proved as much when he joined the rotation late last season. After two decent outings, things fell apart for the young righty. His year finished with a 2-2 record, 5.74 ERA, and 17 walks to go with 13 strikeouts.
While poised to be a major force in future seasons, Surkamp is in need of more fine-tuning at the minor-league level before he can be considered a serious contender for a rotation slot. Even still, without a Roy Oswalt type veteran in the mix, Surkamp is the man if any of the starting five go down. 
Dan Runzler
Is his career over?
I was a Runzler defender and saw a lot of promise in the kid heading into last season. Unfortunately, reality differed with my prognostications when he posted a 6.26 ERA in 31 appearances.
Now Runzler is out four to six weeks with a "reinjured left lat muscle" (via the Mercury News). There's plenty of reason to think the injury will not require surgery and that Runzler can pitch himself into an open spot on the bullpen. However, his poor showing in 2011, coupled with the makings of a chronic injury, give me serious concern for his outlook going forward.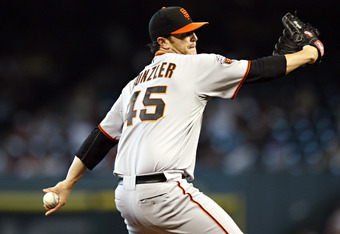 Bob Levey/Getty Images
Guillermo Mota
Will his arm hold out?
Guillermo Mota held it down in 2011. As Andrew Baggarly of Comcast SportsNet notes:
Before last season, Mota, 38, had spent 12 years in the major leagues and never had an appearance last more than three innings. He ended up eclipsing that mark four times in 2011, including a 4 2/3-inning appearance against the Minnesota Twins. 
You can't argue with stats like that, but you also can't expect to keep getting them. Mota signed a one year, $1 million contract last month. As he approaches 40, his arm will need to be protected more often than it's tested.  
Santiago Casilla
Is there a place for him in the bullpen?
And then there was Santiago Casilla. With most roles in the bullpen well established, the trouble for Casilla will be finding where to insert him in games.
His numbers from last season were solid: a 1.74 ERA in 49 appearances with 45 strikeouts. There is no question of his worth to the team or his production value. With Mota aboard as an innings-eater, Lopez and Affeldt facing the lefties and Romo and Wilson finishing out games, Casilla's place in the staff is less stable.
Honestly, Casilla is a prime pitcher with a great 2012 ahead of him. Perhaps the real question is which other players might find themselves forced to cede playing time to him.