NFL Free Agents 2012: Randy Moss Would Be Terrible Addition to 49ers
March 7, 2012

Jeff Gross/Getty Images
There is no way around it; the 49ers would be idiotic to sign someone like Randy Moss. 
So, reading what 49ers general manager Trent Baalke told Matt Barrows of the Sacramento Bee when asked about Randy Moss was a little troubling:
"Everything's in play. I mean, we're going to take a look at all our options. ... We're not going to rule anybody out."
Ultimately, Moss is not a good fit anywhere. The only possible exception would be a team that struggles to sell games out and is looking for a way to do that, but even that is a bad idea. 
But as for the 49ers specifically, there are no fewer than three reasons that Moss should be seen as an absolute no-go. 
Limited Effectiveness
Let's take a look at Moss' 2010 season, which was his last in the NFL. 
| | | | | | |
| --- | --- | --- | --- | --- | --- |
| Team | Games   | Receptions    | Yards    | YPC    | TD    |
| Patriots | 4 | 9  | 139 | 15.4 | 3 |
| Vikings | 4 | 13 | 174 | 13.4 | 2 |
| Titans       | 8 | 6 | 80 | 13.3 | 0 |
| Total | 16 | 28 | 393 | 14.0 | 5 |
That is hardly a good final memory to have for a 35-year-old receiver that just missed an entire season of NFL action. 
The 49ers need a receiver that can stretch the field. At one point, that was Moss, but that element has been absent from Moss' game since 2009. There is absolutely no reason to believe that this will all of a sudden come back as Moss gets older and more removed from the game. That isn't how things work. 
Character Questions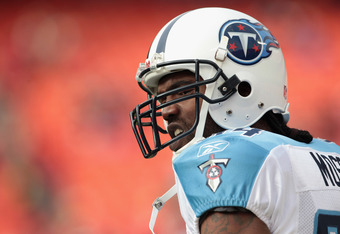 Jamie Squire/Getty Images
These have been detailed ever since Moss first stepped on to an NFL field. Heck, they were a big reason that he fell as far as he did in the 1998 NFL draft, and have never gone away. It's not exactly a frequent occurrence for an NFL player to play one season with three different teams.
Much like Terrell Owens, you can drown the character issues out when the person in question is completely healthy and putting up Hall-of-Fame numbers. 
But the problem is that when the player gets older and the effectiveness is minimized, the circus part of him doesn't leave town. As a matter of fact, it only grows, as great athletes are often the last to realize that they're not great anymore.
It wouldn't take more than one game where Moss got only a few targets for those problems to come back. For the 49ers, it's just not worth it. 
By all appearances, they were an incredibly tight team in 2011 that thrived in the overlooked role. Being a West Coast Team that hadn't enjoyed a lot of success in the last decade, that was likely to happen. 
With someone like Moss, they would be anything but overlooked. The attention would be there from Day One, and it wouldn't be positive. 
Lack of Need
The 49ers took the eventual Super Bowl Champions to overtime and handed them 10 points on fumbled punts, including the three that came in the extra period. 
This isn't to say that the 49ers are a flawless team, but they don't need to gamble on a player like Moss. Additionally, San Francisco has plenty of cap room. They can go out and sign a free-agent receiver, someone like Mike Wallace, who Barrows previously said the team should pursue.
The situation in San Francisco is not desperate enough on the field for them to gamble. It's also not desperate enough in terms of finances to go bargain hunting for a past great player, hoping he has one more good year left in him.