MLB Salaries: How Albert Pujols' New Contract Compares to Willie Mays' 1958 Deal
January 6, 2012
Stephen Dunn/Getty Images
Today marks the 54th anniversary of the day that Willie Mays signed a franchise-record contract with the San Francisco Giants—for a whopping $65,700.
In 1958, Mays was 26-years-old, still very much in his prime.
In his brief six-year career, he had already won the National League Rookie of the Year award, an MVP award, a Gold Glove, and made four All-Star appearances.
And the Giants signed him for $65,700.
Fast forward 54 years to 2012.
Albert Pujols just signed a contract with the Angels that guarantees him at least $240 million dollars over the next 10 years. It's heavily backloaded and full of performance incentives. Bleacher Report's Anthony Emmerling has a great read on the subject here.
In short, Pujols will earn $12 million dollars in 2012. (He'll earn $30 million dollars in 2012, when the deal expires in 2012). 
This got me to thinking.
Mays was clearly the best player in baseball in 1958. Pujols—some may argue otherwise—is the best player in the game today (at least the Angels must think so).
Of course, there are dozens of variables in play when contrasting the two players:
In 1958, baseball players didn't have super agents to help them negotiate mega deals. The color barrier was probably still a considerable factor. Television and cable contracts were nothing like they are today. Steroids were not yet prevalent. Mays was 26, Pujols 31. Pujols will undoubtedly join Mays in the Hall of Fame, but it's hard to imagine him ever surpassing Mays' career accomplishments.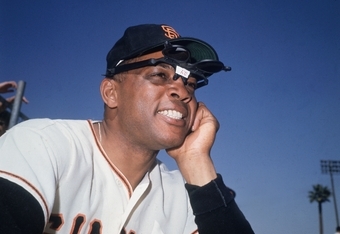 If one were to compare the contracts of Mays and Pujols, from a dollars-standpoint only, what would this tell us about the state of the game? Or the state of our economic system?
Curious, I decided to see what other everyday items would cost if they inflated like baseball contracts for these two top-tier players.
Full disclosure here. I am not a stats nerd.
While I agree they have their place, I don't pretend to advocate the use of sabermetrics. Never have, never will. About as close as I ever got to being a stats nerd, I guess, was in the 7th grade when a bunch of buddies and I started a 162-game Strat-O-Matic season. I kept all my own stats, using a basic Texas Instrument calculator, on college-ruled notebook paper. And I just stuck to what we saw on the back of players' baseball cards back then: home runs, runs batted in, batting average, steals, runs scored, ERA, wins and losses, strikeouts, and walks. (I remember my friends being quite impressed that I knew how to calculate an on-base percentage!)
Side note: with all due respect to those who are sabergeeks, I don't need WAR or WPA to tell me what I see on the field with my own two eyes: whether or not a player is of any value to the team or not. 
Anyway, back to the list.
The variables I am using here are simple:
$65,700: Mays' 1958 salary
$12,000,000: Pujols' 2012 salary
182.648401826484: the percentage increase between the two salaries.
What other items would cost if they inflated like baseball contracts over the past 54 years.
| | | |
| --- | --- | --- |
| Item | 1958 | 2012 |
| A loaf of bread | $0.19 | $34.70 |
| A gallon of milk | $1.01 | $184.48 |
| A dozen eggs | $0.86 | $157.08 |
| A postage stamp | $0.04 | $7.31 |
| Minimum hourly wage | $1.00 | $182.65 |
| A gallon of gas | $0.24 | $43.84 |
| A new mid-sized car | $2,200.00 | $401,826.48 |
| A new home | $30,000.00 | $5,479,452.05 |
| The average annual income | $4,650.00 | $849,315.07 |
Look at that last one again.
The average annual income for folks in 1958 was less than $5,000 a year. While salaries for top-tier baseball players like Albert Pujols increased by nearly 183 percent, did yours?