20 Things World Football Fans Can Look Forward to in 2012
Denis Doyle/Getty Images
Spain celebrate victory in Euro 2008
2012 promises to be a very exciting year for world football, with plenty to feed the appetite of all fans, from the casual to the diehard.
The main event on the field is sure to be the UEFA European Cup which is to be joint-hosted by Poland and Ukraine. Spain go into the tournament as favorites, but as history has proven, anything can happen with fixtures coming thick and fast in the flagship European international tournament.
As usual, the UEFA Champions League will be ever-present with a few fantastic matchups in the last 16, while the Europa League may be given an extra boost due to the presence of Manchester United and Manchester City—two teams that would have been confident of making the last 16 of the Champions League.
There is the African Cup of Nations, Copa Libertadores, the Olympics and the World Cup Qualifiers all of which display passionate affairs in the field, while far from pitchside the football fan can see their sport transcend the sporting boundary.
John Terry's court case is scheduled to begin in February of 2012 and this promises to highlight the importance of the professional footballer, and international captain, as a vital member of society. With the England captaincy often being suggested as a tool to be utilized as a carte blanche on and off the field, it will be interesting to see how the Chelsea skipper gets on in the criminal court.
Begin Slideshow

»
Clive Brunskill/Getty Images
Suarez vs Evra
Suarez has been at the forefront of King Kenny's Liverpool revival and the player will now have sit out for eight games while Liverpool try to battle it out without him, if his appeal is not successful.
A player that could start in any 11 across the world, Luis Suarez is a massive loss for Liverpool, especially when you look at who they have to take his place in the wings.
Andy Carroll, a young man of great potential, has not proven worthy of his £35 million price tag and has looked generally off the pace thus far this season. Craig Bellamy has looked sharp to his credit and Dirk Kuyt, despite looking very fit this season, cannot offer the same outlet as the Uruguayan.
Look for Dalglish to buy in the January window, or even look for a loan. Demba Ba's name has been thrown about, but with the striker due to leave for international duty for the African Cup of Nations, it seems doubtful.
Laurence Griffiths/Getty Images
Swansea, Championship Playoff Winners 2011
One of the greatest spectacles for the football fan: In June, four teams, those positioned from third to sixth in the Championship, will play for a place in the EPL among the big guns of England.
Last year's tournament was exceptional as Swansea saw off the much-favored Reading in the final to see themselves through to the big leagues, and are currently sitting pretty in 14th position.
After a long season, these games simply come down to who wants it more as the clubs' owners look on in a cold sweat with the possibility of £60 million coming their way through various TV deals and sponsorship.
David Ramos/Getty Images
Cesc Fabregas signing for Barcelona in 2011
The summer transfer window seems to be a lot more calculated than the January rush where managers under pressure will fork out ridiculous fees for emergency players they think they need.
A signing in the summer window tends to be a player who has been watched for a long time with a vision to take the place of a former stalwart in a side, add something new to help the team struggling in an area or in Manchester City's case, to buy all the talent so rivals cannot.
With European Cup being held in the summer, it should be interesting watching the bidding wars take place as talents emerge.
Julian Finney/Getty Images
North London Derby
February 26th is a date that will already be highlighted on most Arsenal and Spurs' fans calenders, as the classic encounter will be of more importance than ever with Spurs currently making an outside run at the title while Arsenal are back in contention too after making a shaky start.
The last four games boast an average of approximately five goals per game and this is one that neither side will want to lose.
With both Wenger and Redknapp playing attacking styles, this has become one of the Premier League's greatest fixtures and this year's will be sure to be the same.
Victor Decolongon/Getty Images
LA Galaxy with MLS Cup
Although this playoff scenario does not make headlines in Europe, in North America, it is essential viewing to football fans.
In November the LA Galaxy, with their rich attacking line of Landon Donovan, Robbie Keane and "Golden Balls" himself, David Beckham, lifted the cup after seeing off Houston Dynamo with a 72nd-minute strike from the jewel in the crown of US soccer, "Lando."
Scott Heavey/Getty Images
AVB with Porto winning UEFA Europa League
The Europa League has never drawn the international audience of their bigger brother, the UEFA Champions League, but the first set of knockout games is indeed something to be excited about.
Defending champions Porto will take on the might of Manchester City, who have been immense domestically so far this season, with Mancini's fabulous attacking style with the particular talents of David Silva, Mario Balotelli and Sergio Aguero lighting up defensive lines across England.
Manchester United will also take on Ajax in what promises to be a classic European encounter, with even Sir Alex Ferguson commenting on his excitement to play the great Dutch side in the tournament.
Gallo Images/Getty Images
Egypt after winning the African Cup of Nations in 2010
The African Cup of Nations is a great tournament to start the year, with all teams playing attacking football in a decreasingly unpredictable nature.
Egypt have now won the tournament three times consecutively and it will be up to the other forceful nations to stop them in an already-unprecedented sweep.
The subplot to this great tournament is the fact that it gives every European manager a massive headache when some of their best players have to go out on international duty at an extremely demanding time of year.
The tournament will kick off in late January this year and will be co-hosted by Gabon and Equatorial Guinea.
Denis Doyle/Getty Images
Spanish Celebrations
Yes indeed, we'll be straight back into it after the Euro Final, when the World Cup Qualifiers begin in September.
The eyes of the world are set on these games, and personally, from experience, they mean a lot to the smaller footballing nations.
As an Irishman I will never forget having my heart ripped out and put on a plate by the great Thierry Henry when Trap's Ireland were deprived of the lottery of penalties due to the now-legendary Henry handball.
This year will begin the new adventure of many international sides and the qualifiers should be as competitive as ever.
Richard Heathcote/Getty Images

Pending his appeal, Luis Suarez's return will be one of the main headlines of world football.
With his fiery reputation, much like Wayne Rooney, his reemergence could transpire as an onslaught of brilliance to be unleashed upon whomever he may be playing or an outpouring off emotion which could result in red cards.
Due to the talent the Uruguayan boasts, I'm sure it will be the talent that comes to the forefront and this ban is still depending on success of his appeal.
Santos win the Copa Libertadores
The Copa Libertadores is to South America what the UEFA Champions League is to Europe and with an audience of 135 million last year, it's sure to be just as widely received in 2012.
Santos will look to defend their crown they won over two legs against Uruguay's Penerol in 2011 when they enter the tournament in Round 2 as champions in February, while the games in Round 1 commence in late January.
Laurence Griffiths/Getty Images
Manchester Derby
January 7 will be an important date for all in the wide communities of the footballing dynasties of Manchester, as United take to the City of Manchester Stadium to try and right the wrongs of the 6-1 destruction derby and their FA Cup exit last year.
This game is not only important due to one of the team's futures in the FA Cup will come to an end, but also from a psychological standpoint as to who will have the edge when the two sides meet in the EPL on April 28.
Michael Steele/Getty Images
Lionel Messi Ballon D'or 2010
The Ballon D'or will be awarded in Kongresshaus, Zurich, FIFA's home city, on 9 January 2012.
The shortlist of the male contenders is made up of three players: Lionel Messi, Cristiano Ronaldo and Xavi Hernandez.
It seems that the same names pop up every year with regard to the most prestigious individual award in the beautiful game. Lionel Messi has now won the award for two years in a row and arguably is a shoo-in for the 2011 award.
Ronaldo, however, is a close contender for the title, but without boasting the silverware of the Argentinian, he could have the odds stacked against him.
Denis Doyle/Getty Images
Josep Guardiola and Jose Mourinho on the sidelines
April 22, 2012 will be the evening of the greatest game in football today, "El Clasico" between Barcelona and Real Madrid in the Camp Nou.
Barcelona recently saw off Mourinho's men 3-1 in their own backyard, but Real still sit top of La Liga by three points, and without any other team being able to beat them this year, it could mean that both teams may need to stay unbeaten until their meeting in April for Barcelona to clinch another domestic title.
Emotions run high in these spectacles that showcase all that is fantastic about the beautiful game.
Lintao Zhang/Getty Images
Barcelona vs Santos FIFA Club World Cup Final 2011
This competition is quickly building momentum, with Barcelona beating Santos to the trophy just last week to take the trophy for the second time.
With the competition bringing the six continental champions together along with teams from the host nation, it is quite a significant event on the calender coming right before the Christmas rush of football.
Laurence Griffiths/Getty Images
Mario Balotelli
Mr. Balotelli, you're borderline insane, and we love you for it.
What will 2012 hold for this once-in-a-lifetime personality?
2011 saw him setting off fireworks in his house before the Manchester derby, having a fire brigade called out to save his bathroom in the process.
An unpredictable man, but what an entertainer and he happens to be a fantastic footballer to boot.
We look forward to the next episode of Balotelli's.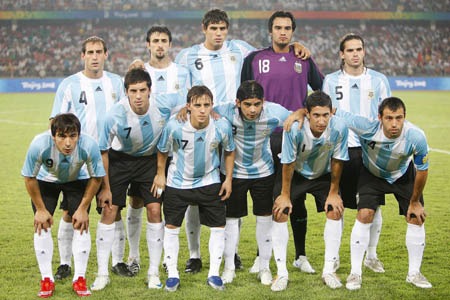 Argentina, Olympic Champions 2008
FIFA estimate that 504 footballers will compete on the road to Olympic glory in the men's and women's events.
The teams are made up of players under the age of 23, with each team being allowed to augment their sides with three players over the age limit.
With the UEFA European Cup already taking place this summer, European sides may find it hard to place their over 23s.
Spain's glory in the U-21 European Championships in 2011 may put them as favorites again but South American opposition tends to be just as harsh, with Argentina defending their title.
England is an amazing destination for a football tournament, boasting fabulous stadiums and a diehard fanbase.
Alex Livesey/Getty Images
Andy Carroll signing for Liverpool in January 2011
Oh yes, it's all about the panic buys in January, and we love them so much.
Torres to Chelsea last year for £50 million, Carroll to Liverpool for £35 million—it's always an event right up to midnight on the 31st of January.
Scott Heavey/Getty Images
Terry on Trial in February 2012
We've all viewed the video footage; we all have our own opinions on the matter.
John Terry's trial is one of those moments in football that transcends the back pages onto the front and it will be a roller coaster.
The trial will begin on February 1, 2011 and will be one of the most media-frenzied footballing events of the year.
A criminal court will decide on Terry's future, which will not lead to jail time but could ban him from the sport and leave him with a hefty fine to pay
David Ramos/Getty Images
Barcelona, Champions League winners 2011
The Champions League knockout stages will begin on Valentine's Day this year, and they are sure to be watched by millions as usual.
The flagship draw of European club football, the Champions League has proven to be a stage for the elite to shine on, with Lionel Messi in particular proving his ability in the tournament over the years.
The picks of the last 16 this year are Arsenal vs. Milan and Chelsea vs. Napoli, matches that are destined to be fiery Anglo-Italian affairs.
Julian Finney/Getty Images
The Tango 12, official ball of Euro 2012
There is nothing quite like an international tournament in the summer and Euro 2012 promises to be as exciting as any of them.
Spain go in as favorites once again, and on paper, they definitely should take the trophy home. However, there have been shock winners in the past with Greece taking the silverware in 2004.
This tournament holds some sentimental value for me as it is the first international tournament Ireland have qualified for in 10 years. Their achievement is getting there with the team they have.