Arsenal vs. Olympiacos: Squillaci, Arshavin, Mannone in Gunners' Greek Tragedy
December 6, 2011
Scott Heavey/Getty Images
It's 3:28 a.m. in India as I begin to type, and I really should be asleep.
But having just watched Arsenal's reserves get turned over in Piraeus by Olympiacos, my brain is a maelstrom of conflicting reactions. So before I go off on a completely unreasonable tangent, let me put this tie in some perspective, as much for my benefit as for yours.
An Arsenal "reserve" team, made up primarily of first-team substitutes and promising youngsters, played against the best available team for the defending Greek first division champions. (Potential mismatch.)
The Arsenal team that was selected has barely played together this season. In fact, five of the starting 11 had started five or fewer games before today's match. (Expect rust.)
Arsenal played away, in front of an intimidating full house at the Karaiskakis Stadium. Most of the team would not have previously played in such an atmosphere. (Nerves galore.)
There was nothing riding on the result of this game. (Complacency?)
With all that being said, the least I expected was consistent and relentless effort. These were players who had to present their case for future selection to Arsene Wenger.
Relative veterans like Andrey Arshavin, Yossi Benayoun, Marouane Chamakh, Sebastien Squillaci, Lukasz Fabianski, Johan Djourou and Tomas Rosicky who needed to show that they are not yet over the hill.
Youngsters like Emmanuel Frimpong, Francis Coquelin, Ignasi Miquel and Alex Oxlade-Chamberlain, needed their performances to shout out loud and clear: "I'm ready."
And that's what riled me the most—the fact that we didn't get consistent, honest effort from every player on the pitch. As far as I'm concerned, that's unpardonable. If you're playing for Arsenal Football Club, you have to put in 100 percent, whatever the game.
Rating the Players
If I were to put my most objective hat on, there were only three players who came out of this game with their credibility intact or enhanced—Thomas Vermaelen, Alex Oxlade-Chamberlain and Ignasi Miquel. 
Benayoun scored a quite fantastic goal, but I felt he was below par otherwise. Coquelin was steady without being anywhere near as dominant as he was against Manchester City. Chamakh worked fairly hard, but his performance was largely devoid of any end product whatsoever.
Frimpong was all hustle and bustle—and sometimes unnecessarily aggressive—but he, too, was technically poor and gave the ball away repeatedly and dangerously. 
Fabianski and Rosicky had brief cameos, and neither covered himself in glory. 
Santos and Djourou, the full-backs, definitely did not have their best night. Both were visibly slow on the ball, and even slower to track back.
Which brings us to the pantomime villains—starring Mannone, Squillaci and Arshavin.
The Italian keeper looked completely out of his depth. I know that his activity this season has been restricted to a couple of reserve team games, but there is no excuse for such ineptitude—poor decision-making, poor skills and poor judgment.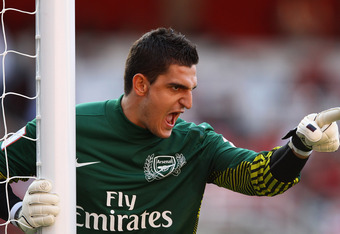 Richard Heathcote/Getty Images
I actually praised Squillaci after his assured performance against Manchester City, but tonight we saw the player we love to dislike—slow in movement, careless with possession, weak in communication and almost uninterested.
And as for Arshavin, I don't know what to say. I like Arshavin; I'd love to give him the benefit of doubt, point to last season's "efficiency" with goals and assists and predict that he will turn the corner. But if I did that, I wouldn't be honest. There is only so much patience that Arsene Wenger will have, and only so many chances he will give to the little Russian.
I think he has reached the end of his tether. And if he hasn't, he should.
Like I said earlier, I can live with a lack of talent and efficiency. But if a player is not putting in the bare minimum effort that comes arm in arm with the honor of being an Arsenal player, he has no place in the team.
Other Concerns
Injuries. And lots of them. 
Fabianski and Santos were both stretchered off. We can survive the loss of the keeper (we've got Almunia!), but if Santos has suffered from anything even mildly serious, we could be without all our regular full-backs for a few weeks, at least. 
And again, I'm not sure what went through your mind, but when Thomas Vermaelen clattered into the upright while trying to stop their first goal going in, I had my heart in my mouth. I just hope everything is intact, and he is raring to go against Everton on Saturday.
What Next?
It wasn't really an exercise in futility, but more of an opportunity wasted.
We now know a little better that The Ox and Miquel are ready to step up to the plate; that Coquelin needs more nights like this; that Frimpong needs a loan spell under a good manager; that Djourou needs an occasional kick up the backside; that Chamakh is lost and confused; and that Fabianski is still Flappyhandski.
That the Verminator is indispensable. 
And that Arshavin, Squillaci and Mannone are not.
It's 4:32 a.m. now, and I'm beginning to ramble. Good night.