Juventus Defeats Lazio 1-0 in the Battle of Serie A Titans
November 26, 2011
Paolo Bruno/Getty Images
Breaking news: Simone Pepe has just agreed to retire from soccer, move to America, and join the PGA tour. OK, that didn't happen, but Pepe's golf themed goal-scoring celebrations are certainly providing him with plenty of putting practice. At least it seems that way, since I've seen said golf celebration two games in a row. Pepe's lone goal today means that he is now in the midst of a goal-scoring streak. If he keeps it up, great. If not, well then it's a good thing he's an incredibly hard worker.
Indeed, Pepe's hard work is one of the main stories from today's game. As he always does, Pepe left it all on the pitch today. Furthermore, for the first half of the game the only truly dangerous Juventus attacks were emanating from the flanks. In fact, Pepe's goal came off of a lateral pass from Alessandro Matri, who was out on the left wing.
The flank-based success is a result of two things: the skill and good coaching of the Juventus side, and the Lazio midfield's lackluster defensive performance. Their inability to help defend on the wings put too much strain on Lazio's full-backs, and thus the Juventus attack was successful from the flanks.
With that said, the Lazio midfield was very effective when attacking, as evidenced by Hernanes's multiple threatening shots on goal. He may not have helped Lazio's defending efforts that much, but man did Hernanes give the Juventus defense some problems.
One play, in particular, comes to mind when thinking about Hernanes. He fired off a shot towards the Juventus goal, and it just barely missed and hit the post. A Lazio player received the rebound and fired off another shot. However, Gianluigi Buffon was right there to stop it.
Buffon made a number of plays like that, and he may very well be my "Man of the Match." Gigi Buffon did not let other men's mistakes ruin his blank sheet today. He made a number of difficult saves and blocks, insuring that Juventus stayed atop after the first goal. Perhaps his most impressive save of the game came after Leonardo Bonucci misplayed an attempted clearance (a truly rare occurrence). Tommaso Rocchi, one of Lazio's forwards, recovered the ball after Bonucci's mistake, and he sent out what looked like a sure goal.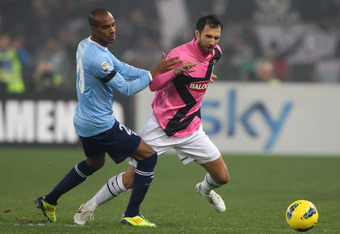 Paolo Bruno/Getty Images
Then, of course, Gigi Buffon managed to just get his hand to the ball, changing it's trajectory so that it did not reach the goal. Today, Buffon proved that he is still deserving of the nickname "Superman."
Additionally, it's worth noting that other members of the defense made their own heroic plays. For example, at around the 50-minute mark, Hernanes took a shot on the Juventus goal from a very threatening angle. This shot looked like it was going to foil even Buffon, but then Lichtsteiner threw his body in front of the ball, deflecting the shot. Andrea Barzagli made a similar play later on.
These plays were emblematic of the fail-safes that Antonio Conte built into his defense. The fail-safes work like this: If the defense does allow an attacking move to break through (not that they allow that to happen so easily), then (nine times out of 10) a lone member of the defense will do something to stop the play OR Gigi Buffon will just make a spectacular save.
Perhaps that is why Juventus has one of the best defenses in Italy.
This game also featured Fabio Quagliarella's third appearance of the season, and his second in a row. It's very clear now that the absence of Quags was not due to any sort of bad relationship between he and Conte. Adamo Digby (of Juventiknows.com) conclusively ended any theories I had about a negative Conte-Quagliarella relationship, as he (Digby) discovered that Quagliarella's father is a scout for Juventus. It's pretty clear that Conte was giving him time to either learn the new system, or heal from his injury. I am hoping that Tuesday's game against Napoli (Quags's old club) will see his first goal of the season.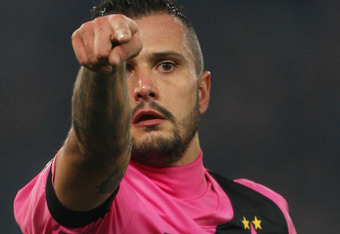 Paolo Bruno/Getty Images
There is one bit of bad news for Juventus fans: Claudio Marchisio has been automatically suspended for one game, as he's reached a certain amount of yellow cards. This is quite unfortunate, as the midfield trio of Marchisio, Andrea Pirlo and Arturo Vidal has been one of the main reasons for this Juventus side's dominance. Michele Pazienza is the most likely candidate to fulfill Marchisio's role against Napoli (coincidentally Pazienza's old team), but that's using the assumption that Conte will use his semi-4-3-3 against Napoli. Knowing coach Conte, he has a new trick up his sleeve to ensure a successful result.
Today, Juventus added three points to their point total. Even better, they defeated a team that had been dead even with them in the standings. This Juventus side has beaten almost every "big" side in Italy. A.C. Milan, the reigning champions of Italy, were the victims of a 2-0 thrashing from Juventus. An upcoming game against Udinese is the most important game left in the first half for Juventus. Udinese is near the top of the table, and if Juventus can beat them then they will have beaten all of the top four teams in the Serie A table (excluding themselves, for obvious reasons).
The announcer for the game today mentioned how this year's Juventus team looks like the Juventus of old. He's right. The reasons for this resurgence are many, but most of them relate to Antonio Conte's superior tactics and coaching. Not to denigrate the performance of the players, which is obviously a huge factor in the team's success, but Conte is the conductor of this footballing orchestra.